Post by realview on Sept 24, 2019 23:59:54 GMT
Tale of the Tape:Jenna Louise Coleman:
Age: 33
Height: 5'2
55-14-1 (52KOs)
Former BBU flyweight champion, former FCBA JMD champion.
Vs
Lily Collins:
Age: 30
Height: 5'5
27-11 (27KOs)
This week we go to two elite flyweights in the world of celebrity boxing, former champion Jenna Louise Coleman and Lily Collins surprisingly haven't fought so far.
Lets start with Jenna who you'll know mostly from her time on Doctor Who and currently playing Queen Victoria on TV.
In the ring she has faced the likes of Christina Ricci, Sophia Bush and Scarlet Johansson, which time she has become a JMD champion in America, while being the longest BBU flyweight champion in history, owning the record for BBU wins in a row.
Her style is very much the classic boxer, she is good at dodging to get in close and has a world class jab, which has allowed her to be at the top of the rankings of the BBU.
Her biggest weakness is her power; she hasn't the biggest punch as she needs to wear down opponents, so she isn't that great in a straight up slugfest.
Now to Lily who you may know her dad Phil, Lily herself has found success on the TV, she made her name in the movie "Mirror Mirror" but also has won acclaim for her role in Extremely Wicked, Shockingly Evil and Vile.
In the ring she has found gold yet; since signing with the Vixens though she has been consistently near the top of the rankings for the past three years, fighting the likes of Cheryl Cole, Emma Watson and Vanessa Hudgens.
Her style is more a boxer/puncher, she has a crisp jab and has some nice power to be an all rounder of skills, the biggest improvement under Vixens training has been her accuracy of punches.
The biggest weakness she has though she isn't the best at anything, she is good at everything but several fighters are better at different things then her, she also has lost her temper in fights; leading to her getting sloppy.
That's the fighters; to vote click on the link at the bottom of this post to select who you think would win in the ring, to hopefully help you here are pictures of the fighters.
Jenna Louise Coleman: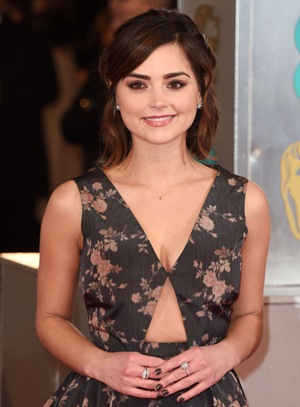 Vs
Lily Collins:
To vote on who you think would win; click the link below:
vote.pollcode.com/43766625
The result will be announced next Wednesday morning, so don't forget to get your votes in as soon as you can, a big thank you to everyone who takes the time to vote.