Post by girlsfriday on Nov 27, 2019 17:21:27 GMT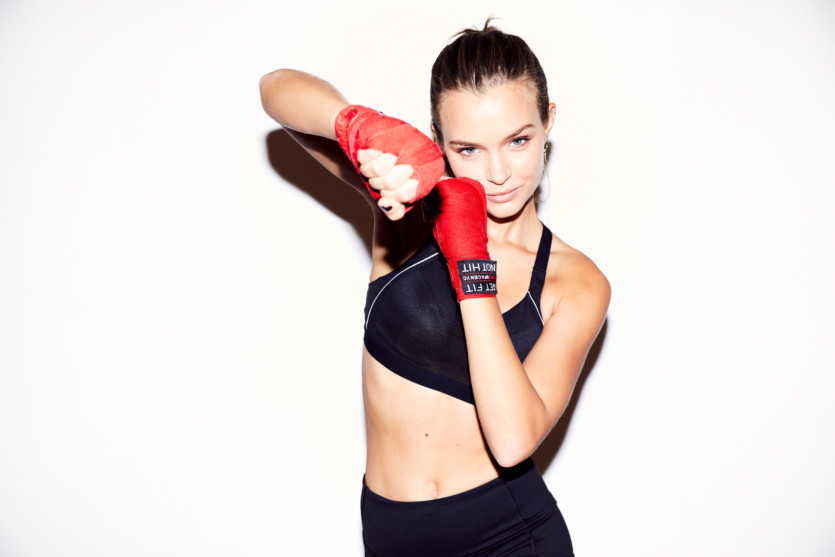 Vs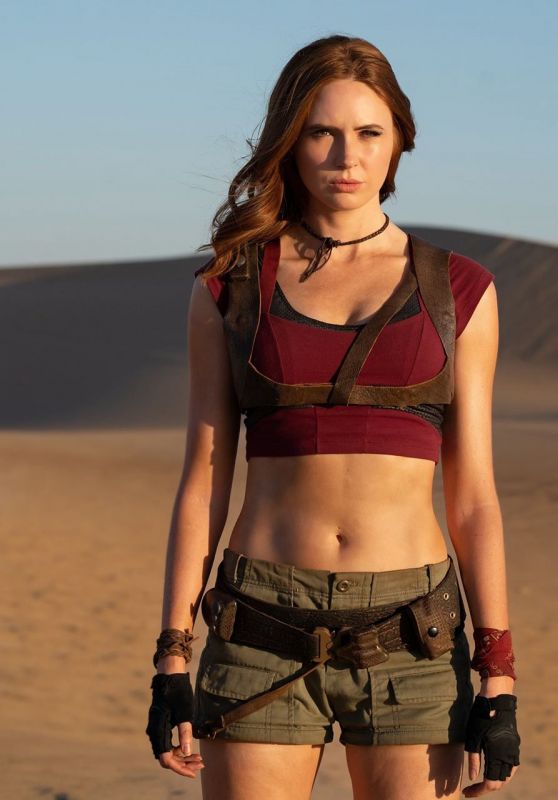 (Written by Girls Friday/Results by Lookout!(Girls Friday vs Lookout! Atlantic Boxing)Intro:
The opening fight tonight here in the BBU Arena in Cardiff sees Josephine Skriver take on the returning birthday girl Karen Gillan.
Josephine is 26 years old; she stands 5'11, holding a record of 8 wins, all coming by way of knockout, with 2 defeats.
Karen is 32 years old; she also stands 5'11, holding a record of 4 wins, all coming by way of knockout, with 9 defeats.
The fighters were interviewed in their locker rooms before the fight, BBU TV's Anna Woolhouse first steps into Josephine's locker room, seeing the Danish model stretching to warm up.
Josephine stops as Taryn waves in Anna, she tells Anna "hey *waves* I am getting to do what I know other models would love to do and smack around a Hollywood star for fun" winking at the interviewer.
"Seriously Karen has done well for herself out of the ring, but she isn't someone I am afraid of, the fact it is her birthday means nothing to me, she can get a drink from her stable after I wreck her to make her feel better" says Skriver with a cruel tone.
Taryn tells Anna that is all the time she'll give her, tapping the interviewer on her back as Anna says "thank you" before finding herself nudged into the hallway.
Heading into the Lookout! Locker room, Anna sees Karen is shadow boxing before she stops, nodding over to Anna with a big grin, Nicole Ritchie tells Anna she has a few minutes before they need to go back to warming up.
"So I guess my birthday present is to bash around a lanky model, I'll have to thank Nicole for giving me this gift with the biggest piece of my cake" Karen tells Anna with a chuckle.
When asked about why she hasn't been in the ring the past two years, Karen says "I have been so busy with the Marvel movies, this was really the first time I have had to be able to get back into the ring"
Smiling as she flexes her arms, Karen adds "thanks to those movies I feel in great shape, though getting back into the Lookout! Gym has been amazing, getting my boxing juices flowing again"
Fighting time; Josephine heads out first with Taryn Terrell and Eva Carneiro behind her, she struts down the aisle with her arms out at her sides.
The model wears a maroon sports bra, matching trunks with "Skriver" in white letters on her waistband, maroon shoes and white boxing, her blonde hair is tied into a braid.
Climbing through a ropes with a smile, Josephine gives the fans a wave before she settles into her corner to warm up, Josephine waving Karen to come out.
Now out comes Karen with Nicole beside her, she is full of joy it seems as she jogs down the aisle, giving high fives to some in the front row as she goes.
The actress is wearing a red sports bra, red and white striped trunks, white shoes and white gloves with red thumbs, her red hair is tied into a ponytail.
Stepping through the ropes into her corner, Karen laughs when she gets happy birthday sung to her by the crowd, even Josephine smiles across the ring seeing a sold out crowd sing.
After all the fun is finished; the fighters come to the ring center, their demeanors are now serious as they stare into the others eyes, bouncing on their toes all the while.
The fighters bump their gloves together hard, then turn back to their corners with the crowd roaring for the fighters, the bell rings to start 10 rounds of welterweight action.
Round 1:
At the bell both fighters come out trading jabs, each looking for how they can land their power shots, Karen doubling up her jab it seems to try to out work her opponent in the opening thirty seconds.
Deflecting a right from Karen allows Josephine a chance to land a right up to the cheek of the Marvel star, followed by a left across her cheek.
Maybe some nerves on show from Karen as she steps back behind her guard, giving Josephine more freedom to be aggressive, drilling more punches towards the head of Gillan.
Moving around the outside of the ring throwing single punches that catch Josephine threw a lax looking guard, the Danish model looking more focused on being on the front foot.
In the final minute Josephine lands a digging straight to the body, an overhand left knocks the head of Karen to the side, she is getting pressed along the ropes behind her gloves.
When the round ends Josephine jogs back to her corner to be met by happy looks from her corner crew, even if the crowd seems to be rooting for Karen.
Round 2:
The crowd support seems to spur Karen on as she comes out her corner, dipping down to land to the abs of Josephine before getting on the move.
Josephine stalks Karen around the outside of the ring, both landing some stiff combinations when they come together in heated exchanges.
But Karen seems to be leading Josephine around more, dodging more punches as she looks warmed up, predominantly targeting the body of Skriver to drive air from her.
With a double jab landing to the belly button of Josephine, Karen just missing with an uppercut as the younger fighter leans her head back out the way.
Josephine coming on stronger in the final moments of the round as Karen walks onto a straight to the top of her head, a left cross smacking her across her jaw.
At the bell Karen says "yes" as she pumps her right fist into the air, sitting on her stool with Nicole telling her "keep it going! You have more skill then she'll ever have"
Round 3:
They both are now throwing more flurries as they move around the ring, Karen again looking to stick and move, not let Josephine unload her power on her.
But a left cross catches Karen on her cheek, an uppercut that knocks the redhead onto the back foot, with Josephine following in with more punches to her face.
Karen needs to clinch up as she is knocked into a corner, after the referee breaks them apart, Karen can get into space again.
Problem for her is Josephine is after her straight away, knocking back Karen with a jab/right hook, keeping Karen stuck on the defensive.
When the round comes to a close, Karen looks to the heavens knowing that was a terrible round for her, Nicole gives her advice on what to change, while trying to keep things calm.
Across the ring Josephine grins as she listens to Taryn, Eva wiping her down as the Girls Friday crew seem confident with how things are going so far in the fight.
Round 4:
Karen is trying to be a hard target for Josephine, who is looking to keep on top of her, each landing stiff punches through the others mitts when they move in closer.
Slipping a straight, Karen lands a counter right to the chin; as Josephine's head turns, Karen steps inside with two hard rights to the body.
Keeping Skriver herded towards the ropes, Karen shows she can be aggressive too, they are landing mostly straight punches to the others marked up cheeks.
The bigger firepower seems to be coming from Karen though, having the extra room to load up on her shots, she hits her opponent with some meaty looking hooks to face and body.
Smacking a double jab into the nose of Gillan in the final moments of the round, it allows Skriver to get off the ropes, the bell rings though before she can really press forwards.
The crowd seem to be enjoying this back and forth between the fighters, while the fighters look to their coaches for advice on what they need to change up in their tactics, sensing this is going to be more closer then they would like to admit.
Round 5:
The early going sees Karen ducking down to step in to land two hooks to the body, before getting nudged back to the outside by the Danish fighter.
Feeling she needs to press more, Karen is forcing more fiery exchanges between the fighters, they bump heads when both go for a hook, the referee warning both to be careful as they rub their heads.
As the round gets just past the half way mark, Karen lands a nice right to the abs, she takes a left across her jaw though, A RIGHT HOOK TO THE JAW OF KAREN SENDS HER DOWN TO HER SIDE!
Josephine looks confident that's it as she heads to the neutral corner, 1...2...3... Karen gives her head a quick shake as she crawls on all fours towards the ropes, 4....5....6.. Grabbing onto the ropes, Karen starts to pull herself up 7....8... On her feet is Karen with the referee checking her, allowing her to continue.
As they fight on; Karen is focused on clinching up with Josephine it seems, spoiling the aggressive work from Skriver, who nearly shoves Karen through the ropes at one point, showing her frustration growing.
The bell rings to end proceedings, Josephine returning to her corner shaking her arms to keep them loose, telling Taryn "next time I'll finish her night off I promise"
In the Lookout! Corner Nicole is washing the face of Karen, giving her a rallying speech to her fighter, who nods as she looks across the ring to her opponent.
Round 6:
Josephine is hunting down Karen around the ring, headhunting as she looks to finish this fight, drilling some nice crisp punches through the mitts of the Marvel star.
Maybe she is overly keen though as Karen slips a straight to counter with a right to the body, a left though lands near the ear of Gillan to knock her back out the pocket.
The left eye of Karen starts to look puffy, she backs up around the ropes, Josephine swinging more hooks as she wants to batter the actress.
Instead though the British fighter ducks a right hook before landing a right to the ribs again of Josephine, who the more she gets hit there is looking to be bothering her.
Both fighters going toe to toe on the inside, sweat flies off them as the crowd cheers them both, at the bell they hold their hands up with a grin to each other, enjoying this fight as they return to their corners.
The Lookout! Corner focus on reducing the swelling around the left eye of Karen, who winces as it is being touched, her supporters cheering her on as she stands for the next round.
In the Girls Friday corner, Taryn warns Josephine not to take the remainder of this fight lightly, Eva putting an ice pack on the body of the model as it has red marks over it.
Round 7:
Circling they both land through the others gloves, Karen's left eye is like a bullseye it seems for Josephine, who backs up the actress with rifling punches into it.
A cut opens under the left eye of Karen, who is moving her head more to dodge punches, not relying on simply blocking punches and sitting back.
It looks to pay off for Karen as she slips a jab to land a right under the ribs of Josephine, ANOTHER RIGHT LANDS SWEET TO THE SIDE OF JOSEPHINE, WHO GOES DOWN HOLDING HER SIDE, ON HER KNEES LOOKING AT THE REFEREE!
The Gillan fans roar as she heads to the neutral corner, Karen staring at Josephine with a hopeful look, 1...2...3...4.. Josephine rubs her side as she looks to be wincing, 5...6...7.. She tries to get up but is too hurt to do so, 8...9...10 Josephine is counted out!
Winner Karen Gillan KO Round 7After:
A great comeback in more then one sense here for Karen, who raises her fists into the air as the crowd cheers and applauds her, the proud Scottish fighter sheds a tear of joy.
Nicole waves Karen over to give her a hug, heard telling her "I hope this gave you a great birthday" Karen laughing as she points at her wounded left eye, which Nicole gets to work on cleaning up.
While Josephine sits on her stool catching her breath, an ice pack being used to numb the pain in her side, she apologizes to her corner team as they look disappointed that this fight went wrong after they got control of it.
Both fighters once they are ready come to the center of the ring, where they share an embrace as Josephine says to Karen "don't think that was a gift to you, you tough bytch" both chuckling together as they joke about the hell they put the other through.
Karen gets her hand raised to a loud roar from her fans, Josephine giving the winner the spotlight as she leaves the ring, annoyed with herself but promising Taryn she will come back stronger.
While the Lookout! Celebrations begin as Nicole waves for something, it turns out that is a blue birthday cake held by Jenna Louise Coleman and Doutzen Kroes.
Karen fights back tears as she says her thanks to all the group, Nicole joking "I wish the crowd saved singing happy birthday to you for now" winking to Karen as they all laugh in the ring.
After blowing the candles out; Karen thanks the crowd and her stable for this moment, joking she wished her eye wasn't as hurt right now would be her wish.
They leave the ring together with Karen telling the others they can have some of the cake when they win their fights, hoping this will be a big night for the stable.