Post by realview on Apr 28, 2020 23:02:51 GMT
Tale of the Tape:Emma Watson:
Age: 30
Height: 5'5
33-24 (29KOs)
Current FCBA flyweight champion
Vs
Michelle Keegan:
Age: 32
Height: 5'4
44-38 (39KOs)
Former BBU flyweight champion, former FCBA JMD champion
This week we focus on two of the British greats that shockingly have never fought in their decade plus careers, we see who you think would win in the ring.
Let's get started by talking about the woman most famously for her film career, especially in the Harry Porter films, she has after debuting back in 2009 tasted gold when she won the FCBA flyweight title against bitter rival Kristen Stewart.
She has fought the likes of Hall of Famers Vanessa Hudgens and Michelle Williams, with other future hall of famers like Jenna Louise Coleman and Cheryl Cole on her résumé.
Her main strengths she utilizes is her height, one of the tallest flyweights around, she boxes at range with a great jab, wearing opponent's down with great footwork.
The weakness though has been her suspect inside fighting, that height counts against her when faced with a compact fighter in close warfare.
Now to her opponent in the opposite hypothetical corner, Michelle made her name on Coronation Street, since then she has been voted most sexiest in the world, starred in shows like Our Girl and in the ring has taken two belts in her career.
A career that has seen her face the greats like hall of famer Hayden Panettiere, tough hard hitters like Selena Gomez and Demi Lovato, while battling the best of Britain to become the BBU flyweight champion.
She also likes to box her way around opponents, whereas Emma is more a counter puncher, Michelle likes to be more aggressive, using her punches to knock opponents near the ropes.
Her weakness is also her inside fighting, she has been out muscled by smaller fighters, with her struggling to fight her way off ropes or corners.
That's the fighters, to vote go to the bottom of the post and click the link, first here are pictures of both women to hopefully help you pick a winner.
Emma Watson:
Vs
Michelle Keegan: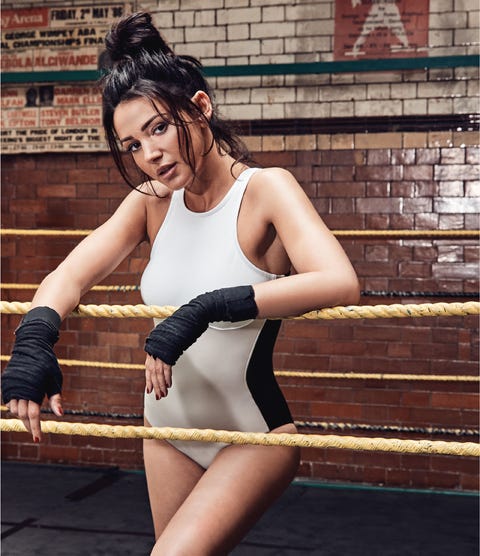 To vote click on the link below and choose who you think would win in the ring:
vote.pollcode.com/68712561
Remember the result will be announced next Wednesday morning, so please try to get your vote in as soon as you can, thank you to everyone who does vote.