Post by girlsfriday on Aug 31, 2020 18:22:58 GMT
Fleur East: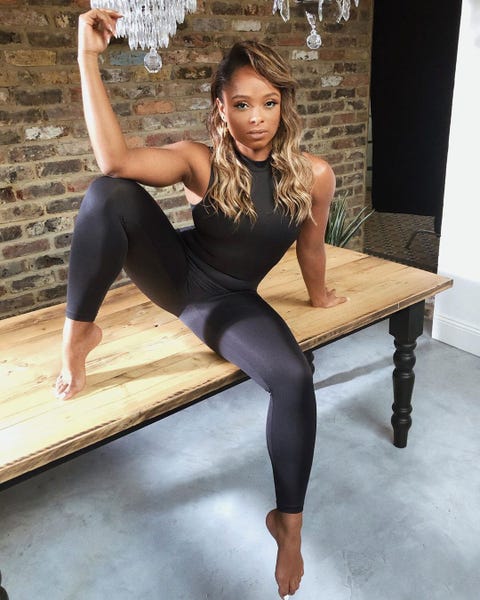 VS
Lucy Mecklenburgh:
Tale of the Tape:Fleur East:
Age: 32
Height: 5'6
8-2 (8KOs)
Vs
Lucy Mecklenburgh:
Age: 29
Height: 5'6
3-8 (3KOs)
(Free Agent vs Free Agent)(Written by Girls Friday/Results BBU)Intro:
We are live in the world famous York Hall in London, two local lasses lace up the gloves to duke it for pride and to maybe start to breakout in their careers, Fleur East and Lucy Mecklenburgh fight tonight.
Looking over their records of course pundits are siding with Fleur, though Lucy got most of her negative record before she really got serious into fitness and the sport of boxing, getting most of her wins later in her career so far.
Heading into the fight tonight, Fleur made it simple as she spoke to Kate Abdo on the BBU TV set, telling the presenter "look this is simply about keeping my name out there, I got lost in the shuffle once before, never again will I be ignored" looking serious as she sat on the stool next to Kate.
"Lucy isn't any real threat to me, sure she has gotten into great shape, just look at me though" Fleur says as she stands up, lifting her black shirt to reveal her toned abs, tapping them as if to guide the camera where it should be filming.
"I'll knock her out before I take out the likes of (Rita) Ora and (Ellie) Goulding, I'm the best singer to fight in the BBU and damn well the best bantamweight in this organization" a stern look on East's face as she finishes, stepping off the set as even Abdo looks a little affair to the more serious looking Fleur.
Lucy on the other hand doesn't look so daunted by the task she will be faced with as she takes up the hot seat, shaking the right hand of Kate's before she gets down to talking business.
"Look I get it, I am the underdog as usual when stepping into a boxing ring, my record makes me look a chump right?" Asks Lucy as Kate looks awkward trying to think whether to answer.
Lucy saves her the bother by telling Kate "it does, look I know I should have done better in my career, the thing is unlike most people in the BBU, I can honestly say I am in the best shape of my life, working my arse off to get back into the ring, where I'll shock the world" smiling as she looks confident.
Flexing her arms, Lucy says "Fleur has big guns but so do I, difference is I know how to box as well, she is a slugger and boxers beat those, so put your money on me" grinning as she stands up.
Fighting time, out comes Fleur first with her coach behind her, she is wearing a black robe with a purple floral pattern down the front and back, her eyes are firmly on the ring as her fans chant her name.
Stopping at the ring steps, Fleur raises her arms out to the side as her coach helps her take her robe off, tonight she wears a violet bikini with black trim, black gloves as her hair is braided, rumours are she asked for the attire tonight to be bikinis to show Lucy whose the physically more impressive.
Climbing inside the ropes, Fleur raises her gloves in the air to acknowledge her fans, her demeanor doesn't change though as she warms up in her corner by using her coaches hands as punch pads.
Lucy now heads out the curtain, standing proudly at the top of the aisle wearing a white bikini with a white sarong around her hips, she blows kisses to the crowd as she walks to the ring.
Standing on the ring apron with eyes firmly on Fleur, Lucy slowly drops the sarong to reveal her own tight toned body, she steps inside the ring after where she gets her white gloves put on by her coach in her corner, stretching to get ready to fight.
The referee waves both to the ring center, where the fighters square up to each other, both are hard bodied and physically very similar, Fleur the bigger build but not by much as they touch noses, showing neither is afraid of the other.
They are told to touch gloves, which seems a test of strength in itself, cracking their gloves into their opponent's, no love lost here it seems as too much pride is on the line for that, once back in their corners the bell rings to start 10 rounds of bantamweight action.
Round 1:
"Ding" coming out their corners with eyes firmly locked, Fleur is stalking the more fleet footed Lucy around the ring, both throwing single punches as they look to find their range.
Fleur steps in with two cross punches that Lucy easily steps out the way of, instead it's Lucy landing a double jab to the mouth of the older fighter, then moving away when Fleur again plants her feet to swing.
Most of the success in this round so far is going to Lucy, she isn't throwing anything big, just staying on her toes to make sure the juggernaut like power of Fleur doesn't land on her cleanly, ramming her punches through gaps in the black woman's defenses when they present themselves.
With less then a minute to go, Fleur times her attack better with a jab/right cross combo catching Lucy, the attack switches to the body when Mecklenburgh tightens her guard, the first time in the round that she has been under sustained pressure.
With Fleur forcing the action now, digging away to the abs of her opponent, though it leaves her open to two cross punches to the side of her head, Lucy trying to fight her way off the ropes in the dying moments of the round.
At the bell the fighters jog back to their corner, Lucy to most starting the fight start, though Fleur showing a taste of why she is such a fearsome fighter in the division, both look up for this one as they get up for the next round.
Round 2:
Starting off similar to the opening round, Lucy slipping punches to counter punch, up on her toes as she looks to be hard to hit, Fleur wanting to close the gap between them more quickly.
A double jab smacks Mecklenburgh onto her mouth, Fleur stepping in closer to begin unloading her harder punches, pressing back the white woman into the ropes, where Fleur tries to take her head off with an uppercut.
Pulling Fleur into a clinch after the first minute, Lucy forces the referee to step in to break them apart, Lucy getting back into space as she looks to stick and move, not let Fleur pin her down into the ropes or in a corner.
Drilling punches into the cheeks of Fleur as she moves, Lucy looking to get her momentum back in the second minute of the round, taking several back but keeping up on her toes as she moves around.
A left cross smacks Lucy across the face, Fleur coming on strong as she rifles in two straights to the face, stepping in tight to her opponent as she backs Lucy to the ropes again, when Lucy protects her face Fleur swings in hooks to the body up till the round ends not long after.
Round 3:
Sticking to her game plan of wanting to keep on the move while drilling punches into gaps in Fleur's defences, Lucy isn't looking like a three wins in eleven fights type of boxer, keeping Fleur at the end of a punch early in the round.
Though East shows off her power when she closes the gap, landing her left cross to the cheek of Mecklenburgh, followed by a right straight into the face of the reality star to back her up.
When Lucy is near the ropes, she dips under a right cross while countering with an uppercut to the body, then a left hook to the ribs before she sneaks out back into open space in the ring.
Fleur looking annoyed as she hunts down Lucy, needing to move quickly to close down the more mobile fighter, leading to some heated exchanges around the ring when East can push the pace.
The final minute of the round sees Lucy dipping under a left cross this time, using her left shoulder to bump back Fleur, then banging in two overhand shots to the jaw of the singer, muscling her to the ropes to the joy of her corner crew.
Both women trade up till the bell, where Lucy again looks to have surprised some at ringside with her speed and smarts so far, Fleur on the other hand stays standing in her corner while burning a hole with her eyes through Lucy.
Round 4:
After being told to cut off the ring quicker, Fleur is using her jab more to try to herd Lucy where she wants, both landing stinging jabs to cheeks as Lucy tries to continue being elusive while they move around the ring.
A double jab smacks Fleur onto her lips to make her groan out, she just leans out the way as Lucy goes to swing in a right hook, leaving Mecklenburgh open to a right cross as Fleur resets her stance.
Seeing her chance now, Fleur knocks back Lucy with a left cross opening her up to a straight to the brow, throwing more punches now, Fleur drives Lucy into a corner, where she lands several hard shots across the face of Lucy.
Who clinches up to stop the assault, the referee needed to pull the two glistening fighters apart as they grind bodies together in their power struggle, with both back towards the center of the ring after Lucy escapes the corner.
Catching Fleur charging in with a double jab to her right cheek, Lucy shows she isn't badly hurt yet, keeping the fight to the outside as they fight around the ring, up till the round comes to a close.
Banging her gloves together as she eyes up Lucy, Fleur is looking more desperate to hurt her opponent, not exactly poker faced as she scowls at her from her corner, though her coach is happier with her effort this round.
Round 5:
Coming out more quickly this round, Fleur forcing the exchanges as she comes looking for Lucy, whose maybe starting to show a little ring rust as she is struggling to keep on her bike along with her jab.
A left smacks across Lucy's face, with a straight following into the top of Mecklenburgh's face, Fleur stepping into Lucy to body her to the ropes, throwing uppercuts into the body of Lucy to make her hiss out.
Using her left forearm to try to open up space between them, Lucy is trying to fight back, prove she hits as hard as the crowd cheers both women on, sweat flies off them but Fleur is looking to be taking the hits better.
An uppercut knocks Lucy back onto the ropes, while a left hook opens a cut under the right eye of Lucy, now panic stations for the reality star as she tries to clinch up with East, INSTEAD A LEFT HOOK TO THE JAW ALONG WITH ANOTHER FLUSH UPPERCUT SENDS LUCY DOWN TO ALL FOURS!
"Woo!" Yells Fleur as she raises her arms in the air with a big grin, referee ordering her to the neutral corner as she looks happy to gloat over Lucy, 1...2...3....4.. Whose dripping blood from that cut to the canvas, 5...6.. Lucy puts her left glove on the middle rope, 7...8.. But she can't find the strength it seems to get up, 9...10 she is counted out!
Winner Fleur East KO Round 5After:
If Fleur wanted a workout; well she got one tonight, she is now beaming as she jumps up and down with her arms in the air, taking in the plaudits from the crowd as she has knocked Lucy into a stupor.
After pulling her gloves off, Fleur heads over to Lucy, pulling her hair so she can stare into the eyes of the beaten fighter, telling her "I knew you were a wimp, running away like that bytch" smirking as she then kicks Lucy in her backside.
"If you like running then maybe you like crawling, come on bytch show this crowd how pathetic you really are" says Fleur before she grabs the hair of Mecklenburgh again, this time leading her like she is her prized pooch at Crufts.
Lucy is wobbly but does crawl around looking humiliated that she lost and is now suffering this, Fleur just laughs at her while taunting her with "look at you bytch! You're nothing but my little bytch!" Lucy's fans might be upset, it is hard to tell as Fleur's fans are laughing and cheering their hero.
Once the lap is done, Fleur shoves Lucy to her side with her foot in the side of her body, telling Lucy "now play dead like a good little bytch before I really hurt you" grinning like a Cheshire cat as Lucy curls up on her side.
The coach of Lucy is finally able to check on her, patching up her eye after helping her up to her feet, the ropes holding Mecklenburgh up as she still looks shaky, she thanks her coach for their help, even as she winces as they do so.
Across in her own corner, Fleur high fives her corner crew, getting a hug from her coach as they tell her "good job tonight" Fleur looking in a much better mood then she did coming into this fight, though she will know she needs to work on closing down her opponent's better in future.
Coming to the ring center, Fleur can't help chuckling as she sees Lucy is being helped out the ring and up the aisle, the winners left hand being raised as she poses for the crowd with her right arm flexed.
After she steps out the ring, Fleur signs a few autographs from people in the front row, heading to the back as she talks to her coach, telling them drinks are on her as they are laugh, looking excited for the future.