Post by girlsfriday on Oct 28, 2020 20:53:38 GMT
Alesha Dixon (Beevers Babes) vs Jessica Schwarz (Lioness Club)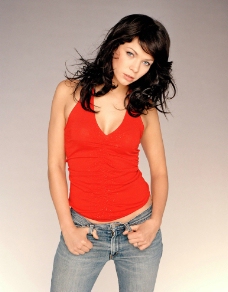 It is inevitable perhaps that these two rivals should fight on this 10 year anniversary card, Alesha still needing to settle a score with the German, who has been dominant for most of those years
The girls are in the ring – Alesha in a scarlet one piece, and Jessica in black leather
Round 1
Jessicasteps up early, looks to close the distance but misses a hooking combo to the head and gets whacked in the ribs as Alesha pens up from both flanks, peppers the older woman in the midsection and backs her against the ropes with ease. Jess tries to duck to the side, but her footwork is no match for Dixon's and the dancing singer bangs a series of sound punches to the German's body beginning to really impe herself of Jessica, who hasn't found her straps yet, and looks to get away from trouble, but she hits the Brit on the retreat, and that brought her up short. Jessica has Alesha swaying, but doesn't rush it though, keeps doing her job and has Dixon on the ropes before finally stepping away from danger. Now Alesha looks to be in trouble, but she blocks Jessica who is breathing heavily towards the bell in a tough opening round.
Round 2
Alesha comes out quickly, and she hits Jessica hard to her body, making her stumble, the Brit suddenly in the driving seat, and she's starting to knock Jessica around the ring forcing her stand and trade, then hitting her face hard, and a little too often, and the German features are showing signs of wear, with a graze appearing along her left cheek where Alesha's right glove keeps landing. Jessica tries to clinch, and now it's Alesha who takes punishment to her body in close, and Jess has the ability to push her back and whip punches into her face again, the Brit now looking crestfallen as she feels the bout being prised away from her. Now she tries to counter, but eats three hard left jabs, and she's on the ropes, covering up, takes a good right cross, her own left cheek beginning to bruise and swell, too. Alesha goes for the uppercut, but takes too long, and this time she gets turned, backed up to the ropes, and is just about to take her punishment when the bell ends the round, leaving Jessica frustrated.
Round 3
Alesha's dancing well out of her corner, shows Jessica some good moves, and she sticks her left jab nicely into the taller girl's face again, then whips a right across her cheek, and skips off before the older girl's able to counter. Jessica backs off, gets popped again with a left jab, and she's against the ropes as Alesha closes in, boxing well, really moving, then she slams the singer in the ribs with her left hook, and Alesha's hurt! Now Jessica shows the singer a few moves of her own, and they seem to involve landing hard punches in her abdomen, and she's giving her punishment with her right and her left glove, Alesha drifting backwards, getting backed into the ropes herself now, and Jessica is starting to control the girl, getting her where she wants her, and she gives her a couple of heavy blows to the ribs, almost pulls her gloves down, then slams that left hook home, and Alesha staggers, spitting blood as she clinches and hangs on, Jessica knowing she can still hurt now, and she satisfies herself with a few hard hooks to the singer's body, and she's got her bending and beginning to wail.
Round 4
Taking a deep breath, Alesha again starts quickly, and if anything, she's speeding this up now, really going for Jessica's body, and bringing the girl's guard down, and now she lands a couple of jabs, then a hook, a cross, and another jab. Jessica fights back, clearly bothered, but her punches are untidy, missing Alesha, who retaliates quickly, again whipping her gloves into the German's face,  and she glares at her, then she drills a straight right jab between Jessica's gloves into her mouth. The older girl needs to clinch and hold on here, and she's doing just that, frustrating Alesha, who mistimes a fairly hopeful right uppercut, and again Jessica finds the space and courage to fight back, lands a good shot, but can't get out of Alesha's range again, and her defence is all over the place as she loses her shape, and she's easy meat for Alesha to avoid then hit, as this fight starts to swing back the singer's way.
Round 5
Back they come again, and Jessica's the girl starting with the better punches in this round, as she finds Alesha's face with her left hook, once, twice, three times, Alesha stepping off, inviting the German to trade, but she isn't biting, bides her time, and Alesha can't resist, swings a left hook at Jessica's body, which the older girl avoids, then she snaps Alesha's head back, the Brit angry with herself for falling into Jessica's trap, and she stands off a little more, boxes Jess from arm's length, the German girl also back in cagey mode, happy to jab at Alesha's face for now, but it's the Brit who lands the crisper punches when they trade again, Jessica having to keep that guard in place, with Alesha landing a good right cross to her cheek, following that with a pair of shots to Jessica's body, trying the uppercut, but finding it blocked, Jessica ending the round in better shape as she hurts Alesha with a nice left to the cheek.
Round 6
Alesha's again come off her stool looking the better bet for a win, strolling around the ring now, but she's also closing Jessica down, the German fairly static now, and Alesha gives her three right hooks to the face, then a left to the mouth, and down goes Jessica Schwarz, on her back and looking stunned, but she gets to her feet  at 8, and she seems to insist she's OK, although her face is swollen, and her eyes glassy! Alesha shakes her head, but she's not showing Jessica any mercy, and a stunning right uppercut sends her former tormentor into a neutral own corner, arms splayed, defenceless, and ready to be finished off – but the referee steps between the girls, he stops the fight!
Result: Alesha Dixon stopped Jessica Schwarz in round 6
Alesha really looks in the mood to celebrate after a crushing win over her long time rival, who has collapsed after the fight and leaves the arena on a stretcher.
Could Alesha Dixon really mount another challenge for a BBU Belt at the age of 42 – she has said she wants to have a go at lightweight?