Post by girlsfriday on Feb 24, 2021 14:50:47 GMT
BBU Flyweight Title Fight
Zara Holland (Kears Kats) vs Ewelina Lizowska (Lioness Club)
Written by Knowlesley/Result by Lookout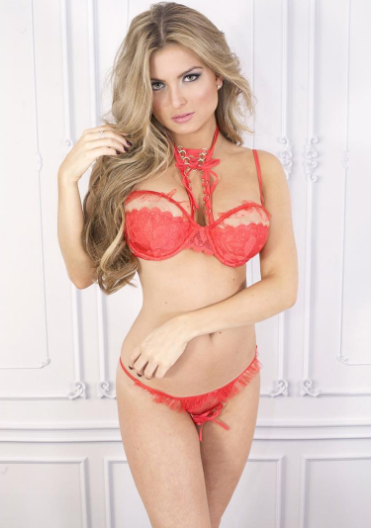 After a fairly routine and simple first defence against the ever popular Michelle Keegan, 25 year old Zara is looking to retain her title and extend her 12 fight winning streak against unbeaten 29 year old Ewelina, who has demolished 10 opponents so far in her BBU career
One of these girls will taste defeat tonight – but who?
Ewelina is first in the ring, looking good in a red vest top with white pants, her gloves and boots matching her pants, and she's looking pretty damned good.
After a short wait, Zara joins her, the former Miss Great Britain wearing black leather bra and panties, black boots and black and white gloves, and she's looking as gorgeous (and cheap) as ever
The girls have traded a few insults since the fight was announced, but they clearly have respect for each other as boxers
Round 1
And so they begin – Zara keeping a wary eye on the hard punching Ewe, who comes at her within the first thirty seconds, bumping Zara's head backwards with some straight punches, the blonde knocked out of her stride already, and she's covering, watching Ewe from between her gloves, and now she comes back at the brunette and chops a right hook across her face, which makes Ewe step back, Zara moving in closer to take advantage, but Ewe's suckered her, and lays into her body real hard, thumping the champion to her ribs, belly and tits in a feverish assault, Zara's eyes wide in shock as she takes a beating in the opening round, the blonde unsure how to react to this, because she's used to being the aggressor, so she fights back, and lands a couple of decent punches on Ewe's face, but the older girl doesn't seem bothered, and she gives Zara some more shots to her body, even trying an uppercut at the close of the round, but mistiming it
Round 2
Ewe was impressive in the opening round, and she's still boxing well, beating Zara to the punch again as they clash in the centre of the ring, the champion still unable to get a decent punch on target, while Ewe keeps thudding her gloves into Zara's body with ease, Zara forced to clinch and hold on, then she gives Ewe a good left jab on the break, and that's caught the brunette off guard, and she looks vulnerable now, Zara giving her some good punches to her face, Ewe needing to cover, which isn't in her nature, and instead she decides that attack is the best form of defence, and hits Zara hard to her ribs, the blonde taking a step backwards again, before hitting Ewe to her face with a nice left jab, although the challenger doesn't seem to have been hurt as yet
Round 3
Zara starts the round beautifully, landing her jabs flush in Ewe's face, the older girl not flustered though, and she comes back at Zara, and starts to dig punches into her flanks, the blonde not happy about that, and not defending very well, Ewe spotting that she has the champion in trouble, hits her hard to her body with a left hook, stabs a right jab into her mouth, then crashes another left hook across her cheek, and puts her down!  Zara has been sent down to the canvas, gets to her feet at 6, blinking hard, her right cheek looking a little bruised, and the referee lets the fight go on, Ewe, trying to get to Zara to finish her off, but the busty blonde is managing to keep her at bay, Ewe foolishly giving up on battering Zara's body as she tries to win with one good punch, and that's giving the champion the chance to recover, although she's unsteady as she goes to her corner at the bell, Gail Kim giving her a talking to as she sits
Round 4
Zara still looks in a slight daze, and her right cheek is definitely swollen, a lump on the cheekbone there making a good target for the Polish girl, and she very swiftly sets about landing punches on it, Zara backing away, but Ewe may just be losing the momentum, because the blonde is managing to block her punches, and pressing her backwards as well, Ewe needing more space to be able to stay mobile, as Zara gives her a sweet one-two and knocks her backwards towards the ropes, but the brunette recovers quickly, and when Zara closes in, hoping to find her more punchable, she strikes back, and works Zara around, turns her, and hits her body as she puts her against the ropes instead, Ewe beginning to school Zara now, outboxing her, and now starting to make the champion look shabby, a smear of blood now appearing round her reddened nose, Zara looking sad and a little frustrated that the challenger won't stay still to be punched, and Ewe's bossing her right now
Round 5
With her face wiped clean, although bruised and swollen, Zara looks a little better, and she lands a couple of decent jabs on Ewe early on, only for the challenger to fight back yet again, pinging the left hooks into the champions ribs once more and making her defend, Zara covering at first, but then she fights back, and the girls trade punches in the centre of the ring, Zara's jabs at last beginning to have some impact as Ewe concedes ground to her and nods to admit that she lost that little battle, Zara grinning now, and coming forwards again, takes a blow to her ribs, but although she winces, she comes straight back at Ewe, and hits her to the face, the brunette seeming to slow down a little, right up to the point where she thuds a left hook into Zara's bruised right cheek, although the blonde comes through that and lands a sweet jab and cross combo just before the bell, as she keeps a foothold in this fight
Round 6
Ewe's blowing hard, but she comes at Zara again in the opening seconds, bumping the blonde's head backwards with some neat punches, and she has the champion backed into a neutral corner, where she keeps her for vital seconds as she works on the babe's lovely body, left and right handed punches slapping into Zara's flesh, the blonde fighting back, but in comes a left hook again, and Zara's back on the canvas, on all fours, then she wipes blood from her nose with the back of her glove and gets up again at 7, takes another left and right hook salvo to her body, then fights back, almost in desperation it seems, as Ewe stands back, and picks her off with nicely timed punches, Zara desperate to hang onto her title, Ewe equally desperate to wrench it from her, and she's sensing victory, moves into Zara and tries to finish her off with a right uppercut, Zara riding the punch, and striking back hard, nailing Ewe with a right hook, and the brunette's wobbling, flailing her arms as Zara turns her around, jabs her face backwards to keep her steady, backed into the ropes, she then rips another right hook into Ewe's mouth, and she goes down real quick, and clearly isn't getting back up again!
Result:  Zara Holland knocked out Ewelina Lizowska in round 6, and she's still the BBU flyweight champion!
The arena is hushed, because Zara was certainly not the better girl tonight, although in knocking Ewe out she was clearly the winner!
Once she has been brought round, Ewe's announcing, "I want a rematch!" with Zara responding, "Any time, you glass jawed b1tch!"