Post by girlsfriday on Jul 28, 2021 6:28:22 GMT
Ivana Baquero:
VS
Jenna Louise Coleman: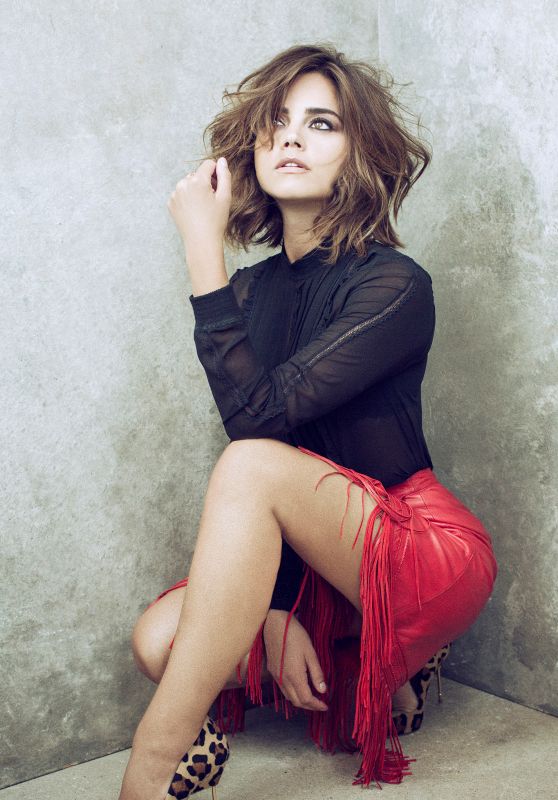 Tale of the Tape:Ivana Baquero:
Age: 26
Height: 5'3
15-3 (14KOs)
Vs
Jenna Louise Coleman:
Age: 35
Height: 5'2
60-22-1 (57KOs)
Former BBU flyweight champion.
Former FCBA JMD champion.
(Written by Girls Friday & Lookout/Results by Lookout)(Girls Friday vs Lookout! Atlantic Boxing)Intro:
To think five years ago Ivana Baquero and Jenna Louise Coleman shared the ring for the first time, Jenna at that time was the BBU flyweight champion, Ivana just beginning her own career, what followed was ten gruelling rounds of action that finally ended when Jenna knocked out Ivana in the dying moments of the fight, that was voted the fight of 2016.
In 2017 almost a year to the date in June, they fought once again as Ivana started to climb the rankings, Jenna having lost her title to Cheryl Cole was looking to humiliated her rival to remind the division who the boss was, shockingly in another fight of the year Ivana was able to score a unanimous decision, even after the bell both wanted to fight as the rivalry looked to be boiling over.
Shockingly it's been four years since then, seemingly both fighters managers wanted to keep them apart, fate is a funny thing, with Ivana getting on a roll to the point she is arguably right in the title mix, Jenna is coming calling again to try to remind Ivana where they stand it seems, trash talk over social media led to challenges that their managers couldn't stop them from or make it look like their fighter was scared or they didn't believe in them.
With the contracts signed on camera at each fighters, the BBU TV reporter Anna Woolhouse asked Ivana first for a word in one of the Girls Friday offices at their gym for a few words on what this fight means to her, the Spanish actress says "simply that f**king bytch is an overrated fatty cow" eyes full of fire, her Latin temper on show as she clenches her fists wearing a red dress.
"Jenna has looked down on me since day one of me joining the BBU and my stable, to have fought her on my debut and nearly beat her I know I spooked her, took her a year to give me the rematch I deserved, look at us now, Jenna has done nothing while I am knocking out bytches in one round, so porky I am ready to finish this rivalry with me on top" says Baquero as she slams the pen down she wrote her signature with, then storms out the room as Anna looks stunned by the passion on show.
Anna then was on hand for Jenna's signature, she wore a navy blue dress with black heels as she signs, telling Anna "god I almost forgotten about Ivana, I mean she has lived off a fluke win against me for so long, it's time I remind her who the best damn flyweight the BBU has ever produced is" smirking as she sits on the desk in the Lookout stable office.
"See Ivana has and always will be never in my league, the referees got it wrong four years ago, this time the judges won't get a chance to rob me, Ivana is going down" says the English actress, who stands up and calmly leaves the room as she looks the polar opposite of Ivana, hence the natural hatred they have for each other.
Fight night in the BBU Arena in Cardiff, first through the curtains comes Ivana with her coach Taryn Terrell and cut woman Eva Carneiro, she jogs down the aisle banging her yellow gloves together, eyes firmly on the ring as her fans chant her name.
Stepping through the ropes into the ring, Ivana is wearing a red sports bra with yellow trim, matching trunks and shoes as she shows her national pride, hair is braided as she jogs to her corner, pacing side to side as she warms up throwing punches, Taryn not needing to give her a pep talk.
Here's comes Jenna through the curtain with coach Nicole Ritchie beside her, she is wearing her traditional attire of a Tardis blue sports bra, matching trunks, shoes and gloves, hair in a ponytail as she looks calm and collected on her way to the ring.
Getting inside the ring, Jenna walks to her corner after giving Ivana a cold stare, she bounces on her toes in her corner as she stretches, Nicole massaging her shoulders as she tells her fighter "just another day at the office" making Jenna grin, giving a high five to Nicole before heading to the center of the ring.
Where the referee has brought them, smartly the referee keeps between them as Ivana looks ready to tear the head off Jenna, who simply smirks at her as the referee goes through their instructions, once that is over neither touches the others gloves, instead they turn back to their corners, once everything is ready the referee signals for the bell to start 10 rounds of flyweight action.
Round 1:
Stepping out their corners with eyes full of hate, it isn't long before Ivana is trying to work on the inside, forcing the issue with a left across the face of Jenna, who tries to ward her off with a double jab into her face, ending up getting caught with a straight into her abs.
Fighting at midrange around the ring, Jenna clearly wants to keep this a boxing match, peppering the face of Ivana with her jab, slinging in a good straight behind it to force her opponent to cover up more tightly, she dances on her toes as the opening minute goes by with Coleman starting to get a rein on Baquero.
But a jab into her chest opens her up to a right cross up top, Ivana gets right into her grill as she pounds the body with short hooks, driving the English fighter onto the ropes, where Ivana lands some short uppercuts that makes Jenna clinch up, there's a little dirty boxing with digs into each others kidneys till the referee can separate them.
Once they resume Jenna is forced into another heated exchange, Ivana really driving the action here, making Jenna set her feet as they slug it out in close, fists not always landing flush, when they do the one being hit grunts out, Ivana landing the cleaner shots after giving her foe a nudge back.
At the bell Coleman looks furious as she storms to her corner, banging her gloves together as Nicole reminds her "this is what we expected, you know you'll have to weather the storm the beat her" Jenna nodding as she takes a drink, looking to cool off as Ivana stares like a huntress at her target from her stool.
Round 2:
Knowing she is going to be charged at, Jenna moves more side to side with her straight punches catching Ivana to her cheeks, the Spanish star looking to close that gap, getting a little too reckless as she misses with sweeping cross punches, taking counters back into her face to mark it up.
A one-two combo pierces the guard of Ivana, causing her to back off as her bottom lip starts to bleed, Jenna not looking to give her any breathing room, pounds in a follow up one-two to the abs of her rival, leaning out the way of a right cross then landing a straight as she shows off her legendary boxing skills.
Ivana is being driven now around the ring, she isn't looking so great being on the back foot against such a precision puncher, Jenna switching targets where she sees openings, just taking single punches from Baquero from her opponent sees wide open spaces to strike, beyond that Ivana is subdued.
Till there's less then a minute to go, Jenna lands a straight to the body, Ivana reading it takes the chance to land a left hook to the jaw of Jenna, a straight then slams into her nose to back her off, with Ivana like a lioness roaring as she comes firing in, Jenna needing to use her footwork to keep things on the outside.
At the bell Ivana curses herself as she turns to her corner, Jenna slightly more relaxed but the way she got caught at the end of the round seems to bug her, both fighters coaches trying to get them to relax as they talk about the first two rounds, both taking a round each convincingly.
Round 3:
Both now working mostly behind their jabs, Ivana showing off her boxing skills, even as Jenna seems to be on top in the opening moments, Ivana nearly catches her out with a feint and a right hook, Jenna's eyes narrowing as she knows she has to watch out for little tricks from her rival.
After a solid enough opening minute for Coleman behind her jab, Ivana times her charge beautifully, deflecting a straight to hammer in a right to the solar plexus of Jenna, she swings away at the body as she moves in closer, head under the chin of Coleman as she bullies her onto the ropes.
Groaning out with each hit that lands, Jenna finally holds onto her opponent after a struggle, forcing the referee to split them up, before Jenna can really reset herself Ivana is quickly on her, both digging their feet in, heads grinding as they body up, barking with effort as they work away.
Pulling in Jenna with her left, the right of Ivana lands to the body, referee warning Ivana to stop holding as they are split up, Jenna happy for that as she has room to work now, both drilling straight punches into faces as time ticks away in the round, when the bell rings they both return to their corners after a tense stare down.
Round 4:
Starting off with more flurries from both women, Jenna catches Ivana on her bottom lip with a double jab, causing Ivana to back off as more blood flows from the cut, with Jenna pressing forwards with a straight into the chest of Ivana.
Who soon finds herself on the ropes, Jenna testing her guard out with a rapid fire three punch flurry, when she sees she isn't getting through that way, Jenna throws a few looping hooks that connect, making Ivana have to hang onto her, referee needed again as they start throwing rabbit punches to back of heads, getting warned to keep this clean, they nod even as they both don't look like they mean it.
Resuming fighting they both nearly bump heads as they throw in straights at the same time, a left cross catches Jenna under her right eye, causing a little mouse to appear, a follow up right to it makes Coleman back off as her comes Baquero.
Using her jab again, Jenna manages to heed off the charge, though both women are slugging it out more, Jenna keeps getting drawn into Ivana's type of fight, though she surprises Ivana late on by stepping out the way of a right cross, landing a counter uppercut to rock back the Spanish fighter.
At the bell both women jogging to their corners, with their crews working on patching them up, Jenna telling Nicole "god I hate her" as Nicole just solemnly nods, Ivana wiping the blood from her chin from her lip, shaking her head as she stares at Jenna.
Round 5:
Working in close range to start, Ivana pushing the pace again, with Jenna clipping her behind the head with a left cross, forcing Ivana back when she lands a short right into the abs, taking the center of the ring as she slams in another clean one-two combo to the face of her foe.
Jenna showing off her skills again, sniper like shots landing through the guard of Ivana, causing a little blood from her opponent's bottom lip to drip onto her chest, Jenna looking calm as the first minute of the round passes by with her on top.
Things turn around though when Ivana deflects a jab, hammering one of her own into the chin of Coleman, a right cross follows as she fights her way to the inside, as they exchange Ivana gets clipped behind her head, she comes up with an uppercut that rocks Jenna onto her heels.
Back goes Jenna now as she is driven into a neutral corner, head under the chin of Coleman as Baquero works the body with a flurry of short hooking shots, Jenna pulling her into a front headlock as the referee quickly breaks them up, forcing them apart after a little struggle.
When they resume with forty seconds to go, Ivana is right in the face of her rival, Jenna defending herself as she ends up shoved to the ropes, gloves up as the hooks come in again till the bell rings, a shove from both fighters as tempers flare up with some nasty insults flying, they calm down enough to return to their stools.
Round 6:
The action is starting to get scruffy as Ivana tries to force her way in close, using forearms and her shoulders to try to bump back Jenna, who is slamming in her jab downwards when she gets an opening, along with short cross punches in a hectic opening forty five seconds.
A left hook catches Ivana to the side of her head, allowing Jenna to knock back the younger woman with a two punch combo into her face, knocking back Baquero to the outside part of the ring, Coleman is placing her punches again, even sneaking some into the bra cups to rile up her rival.
Who manages to catch her out with a left hook up top, then a straight into the forehead, Ivana has opened a small gash under the right eye of Jenna, which she starts targeting as she backs up the former champion across the ring, crowd is chanting for both women as this is another war of attrition between them.
Less then thirty seconds to go after hard fought back and forth action, a missed straight by Ivana leaves her open to an uppercut that snaps her head back, as Ivana backs up a step A LEFT HOOK HITS HER ON THE JAW TO SEND HER TUMBLING TO HER BACK!
The Girls Friday corner looks in shock as they see their fighter down, Jenna smiling as she jogs to the neutral corner, 1...2...3.. Ivana turns to her front blinking to clear her vision, 4...5...6.. She pushes to all fours, punching the canvas with her right, 7...8.. Then pushes to her feet with a slight wobble, gloves up as the referee checks her over.
Soon enough the bell rings with Jenna making a big statement there, she sits on her stool tapping her toes, wanting to be back out to fight, Ivana meanwhile is worked over quickly by her corner, Taryn checking she is OK as Ivana assures her it wasn't that hard a fall, Taryn trusting her but warning she'll throw the towel in if Ivana is getting hurt.
Round 7:
Coming out on her toes looking for a chance to hurt Ivana early on, Jenna is stalking the Spanish fighter around the ring, drilling in a few jabs before just missing with a right hook, Ivana looking more cagey with her own jab, moving her upper body to dodge.
As Jenna comes in with a straight, Ivana dips under it landing an uppercut into the body of Jenna, who groans out as she steps back, where Ivana slams into her stomach again with a right to the body, JENNA GROANS AS SHE STEPS BACK, A ONE-TWO INTO HER LIVER SENDS COLEMAN DOWN ONTO HER KNEES!
Ivana stares into the face of Jenna as she yells "f**k you!" Then heads to the neutral corner, 1...2...3.. Jenna spits out her gumshield, breathing hard as she tries to catch her breath, 4...5...6.. Jenna tries to get up, 7.. She groans and falls back to her knees, holding her stomach, 8...9...10 it's over!
Winner Ivana Baquero KO Round 7After:
Coming back from going down in the sixth, Ivana storms over to Jenna to kick her in the chest, knocking her to her back as clearly she isn't done with her rival, slapping Jenna across her face with her glove after mounting her, yelling "you are nothing Jenna! Just a flabby old cow that is done!" With Nicole rushing in to pull her off her fighter.
The referee gets out the way as it is chaos in the ring, Taryn getting involved as Nicole yanks Ivana off of Jenna by her hair, with the former wrestler tackling her down to the canvas, ground whistling and cheering as they watch those two rolling around pulling hair.
As Jenna rolls to her front sobbing, things don't get better for her as Ivana sits on her back, gloves pulled off as she yanks Jenna's head at an awkward angle back, Jenna screaming "let me the f**k up!" Tears streaming down her face as Ivana cruelly grins at the hurt she is putting on her bitter enemy.
Meanwhile Taryn uses her size advantage to pin down Nicole, scissoring her waist as Nicole taps her legs, screaming in agony as her face starts turning a shade of red, referee waving security in to pull the two fights apart, they struggle but get the groups apart.
The two camps are now in each of their corners, Jenna getting helped out the ring by Nicole, she wipes the tears off her face as she promises her coach she will smash Ivana's face in next time she sees her, tossing her gloves off as she heads to the back.
In the ring Ivana points at the camera, telling the BBU flyweight champion Ewelina Lisowska "I hope the champion saw what I did, I want your belt bytch!" Getting a loud roar from her fans, flexing her arms with a wink before heading to her corner.
After getting her left arm raised to make the result official, Ivana steps out the ring thanking Taryn for having her back, Ivana has her sights on wearing gold, it's clear she is far from being done with Jenna, will Ewelina give her the shot or will Ivana be looking at another fight first?