Post by Vassago on Sept 6, 2021 13:47:41 GMT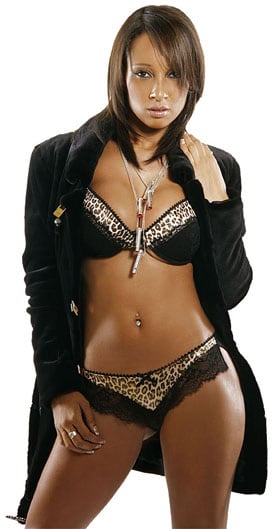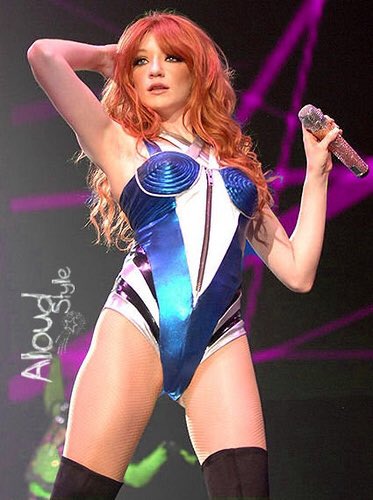 Lisa Maffia (Beever's Babes) v Nicola Roberts (Lioness Club)

Results: BBU; Story: Knowlesey
There is no love lost between these two girls!
They have fought 3 times, and Nicola has won each time, firstly on points, then knocking Lisa out in 5 rounds in both of the other fights, making the former champion kiss and lick her ass the first time, then forcing her to lick her pussy until she came the second time.
Now 42, can Lisa get her revenge?
She has promised to whip Nicola raw, but the redhead has scoffed at that idea, telling the former champion to bring her whip to the ring, but be ready to feel it across her bare back and butt.
Nicola is first into the ring, wearing a tight sparkly baby blue t-shirt and white hotpants, the 35 year-old looking slim and fit. Lisa, of course, is wearing a black leather outfit, this time a basque and knickers, her suspenders hanging loose as she is not wearing stockings. As threatened, she is carrying a fearsome leather whip, which she points at Nicola, "This is for you, Ginger b1tch!" Nicola points at her crotch, and sneers, "Your tongue's gonna go right up there again, you c**t! Then I'll whip you until you beg for mercy!"
The pair glare at each other as the referee gives them their final instructions, asking, "You fist bumping?" to which Nicola snaps, "F*ck off! My fists are for hurting sluts like this, not bumping!" Lisa just gives Nicola a death stare and smacks her gloves together, "Let's f*cking do it!"
Round 1
As expected, neither girl holds back, as Nicola bangs some peachy jabs into Lisa's face, knocking her head backwards, Lisa laying into the younger girl's pale body, and she has to retreat, but that seems to suck Lisa into a savage trade off of punches, Nicola really getting stuck into the older girl, left jabs followed by a right hook, then another, then a left uppercut, and Lisa's wobbling already, Nicola grinning, "F*cking whore!" then she hits Lisa hard in the belly with a straight left, before dropping her to the canvas with a right hook to her unprotected face, Lisa on her side, head lolling as she squints at her corner, Nicola barking, "F*cking get up, tramp!" Lisa doing just that as the referee's count reaches 7, fans cheering for the Liverpool girl as she hits Lisa again, and again, good, straight punches which bang Lisa's head backwards, her nose already dribbling blood, her left cheek a little swollen, and Nicola thuds another solid right handed punch onto that swelling, sending Lisa teetering backwards, her legs looking shaky again, as the younger girl hits her body, big, ripping left and right hooks savaging Lisa as Nicola shows her no mercy, giving the former champion a torrid beating in this one-sided opening round, sneering, "Want me to knock you out now, or give you more, you slag?" Lisa cannot answer as her mouth gets smashed with a left cross, and she's back on the canvas, on her back this time, but not out, Nicola goading her, "Thought you were tough, you slut? You're f*cking nothing!" as Lisa struggles to her feet at 8, and now, with very little time left in the round, Nicola comes in close, hits Lisa hard in the gut, then holds her in, telling her, "This is gonna be your last fight, b1tch! I own your f*cking ass!" the bell pausing Lisa's torture.
Round 2
It's not looking good for Lisa, as the doctor examines her left cheek and eye, which has now closed up, "Nicola's broken your orbital bone, honey! It's over!" but a dazed Lisa mutters, "No way! I won't quit!" Her seconds shrug, "Let her fight on, mate! Nic deserves to finish her off!" Lisa winces, but knows it's true – Nicola Roberts owns her, but she must fight on, and gets to her feet to carry on, Nicola straight at her, thudding punches into her face, "Shall I finish you with an uppercut again, pussylicker?" she goads, as she presses Lisa back against the ropes, hitting her ribs with left and right handed punches, Lisa barely able to respond, "Who cares? Just get it over with!" as Nicola kind of stands her up with a shortish uppercut, Lisa's face unprotected, Nicola grinning, "You're my b1tch now!" as bandmate Cheryl Cole screams out, "Do it, Nic! She's finished!" and now Nicola frowns, "G'night, b1tch!" before ripping a left hook, right hook combination into Lisa's face, the battered former champion draped backwards over the top rope, unconscious, Nicola standing over her as she slides slowly to the canvas at the Liverpool babe's feet.
Result: Nicola Roberts knocked out Lisa Maffia in round 2
Nicola is delighted to have destroyed Lisa tonight, and she's a very popular winner here, fightfans cheering as they watch a revived Lisa being hauled across the ring, where Kimberley Walsh and Nadine Coyle pull her upright, Nicola demanding, "Anything to say, before I whip your scabby ass, b1tch?" to which Lisa responds, "Just this!" as tears run down her swollen cheeks, "I'm finished in BBU! Beever's Babes has sacked me, and now I'm to be your sparring partner, as you beat me into retirement!"
There are many celebrations, culminating in Lisa being stripped, bound against the turnbuckle, and whipped across her back, following which she's dragged, semi-conscious back to Nicola Roberts dressing room for further duties.