Post by girlsfriday on Nov 1, 2021 8:34:24 GMT
Laci Kay Somers:
VS
Sophia Bush:
Tale of the Tape:Laci Kay Somers:
Age: 29
Height: 5'7
Bra Size: 34F
W/L: 3-1 (3KOs)
Vs
Sophia Bush:
Age: 38
Height: 5'4
Bra size: 36C
W/L: 37-30 (35KOs)
Former BBU JMD champion.
(Chimera vs Girls Friday)(Written by Girls Friday/Results by Lookout!)Intro:
Five years ago Laci Kay Somers became the first signing of the second management team of the Girls Friday stable, she left the stable to focus on her modeling career, coming back to boxing with help of the Chimera stable, she takes on the veteran Sophia Bush with Bush being a three year resident of the G.F stable, they clash here in the Utilita Arena in Newcastle.
The fighters discussed the fight on their social media accounts, with Laci posting "god it's great to be fighting again, training under Christina Hendricks and Sofia Vergara is amazing, now it's time I remind you UK fans whose the hottest blonde in the game!" Posting a photo herself to prove her point.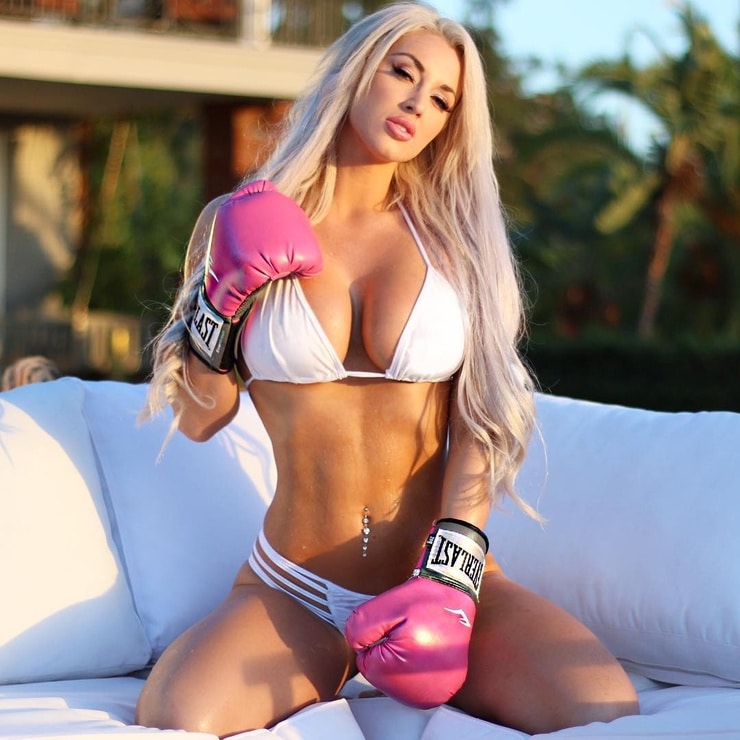 In reply Sophia posted "I never got a chance to share a locker room with you Laci, maybe for the best if you are as swallow as you acting, you left boxing because you didn't have the dedication to the sport, that's why I am still sticking in, why I am wanting to fight till my own twentieth anniversary in the ring, you'll see what real hard work achieves" along with her own boxing photo.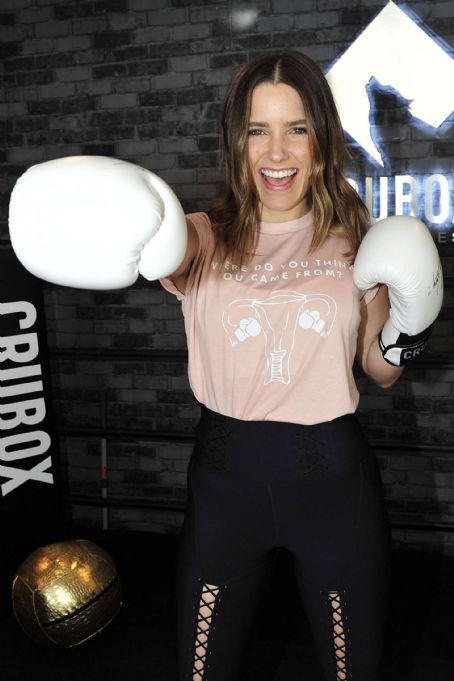 Fight night, Laci steps out through the curtain onto the aisle with her coach Christina, she struts down the aisle wearing a white bikini with matching gloves, her hair tied back into a ponytail, she thuds her gloves together after stepping into the ring, smirking as she looks confident her comeback is going to be a success.
Sophia comes out now with Taryn Terrell, she is smiling as she jogs down to the ring wearing a black bikini with matching gloves, her hair is braided, she slides through the ropes eyeing up Laci, Taryn rubbing her shoulders as she is telling Sophia how to conquer this bigger opponent.
The fighters come to the middle of the ring, stretching as they eye each other up, eyes narrowed as they don't seem impressed by what they see, when told to touch gloves, Laci slams hers on top of Sophia's to show how little respect she has for her, Sophia shaking her head before they jog to their corners, bell rings to start 10 rounds of JMD action.
Round 1:
Kicking off fighting around the center of the ring, Laci using her height well to drill her jabs into the top of Sophia's head or chest, switching up nicely as Sophia is only able to land grazing shots to the breasts of the Chimera fighter, getting a feel for each other.
Sophia manages to deflect a jab to step inside to land a short left hook to the right breast, an uppercut follows to make Laci retreat back a step as her breasts jiggle up and down, she needs to push back Bush to reopen the gap between them, getting to understand that she can't let Sophia have such an easy time to break to the inside.
Harder shots coming from both women, Sophia getting nudged back by a left to her face, Laci planting her feet as she hammers in a left/right straight into the center of the veterans chest, forcing back Sophia towards the ropes as Somers shows off her raw power.
Able to knock aside a left cross, Sophia pounds in one under the ribs of Laci, then a short right hook again into those breasts of the taller blonde, things are starting to get scruffy as Laci is needing to give Sophia a shove, she is landing more punches but Sophia is showing terrier like qualities to keep sticking in, when the bell rings the fighters trade a few nasty words as neither is enjoying the others tactics so far, a strong start though should have Laci smiling.
Round 2:
Resuming around the center of the ring, Laci drilling in straight shots around the chest of her opponent, giving Sophia a headache as the smaller fighter has to find a way to get around these long limbs flying at her, chest already starting to get a little red.
Feinting with her left, Sophia steps to the left side of Laci, pounding in two short rights into the left breast of Somers, making Laci grit her mouthpiece, stepping in closer to force the issue as they slug it out in close, this is where Laci's long arms start to work against her as Bush is landing the cleaner shots on the inside.
Pushing back Bush, Somers lands a jab/right cross, getting back the veteran to the outside again, though Sophia again is sneaking to the inside after using her movement, her experience showing as she slams in an uppercut to nearly knock the left boob out the cup of Laci's bra.
Final moments of the round sees Laci use her strength to bump back Sophia with a left shoulder, landing several more clean punches between Sophia's gloves, more to the top of the actresses head to make her have to tighten her guard up, at the bell Sophia now has given Laci a view of what she has to work against.
Round 3:
Back at it they come, Laci starting to move in a little more to land her power punches, working from mid range with her feet planted, Sophia happy to take the challenge head on, crowd roaring as they see breasts being jiggled around chests by these big hits that lands clean.
A left cross stings the breasts of Sophia, who finds herself worked back onto the ropes after a three punch combo slams into her boobs, Sophia tightening her guard, allowing Laci to start opening up on her more, using her left to push back Bush onto her heels, digging in two rights to the abs then a short left hook into the breasts, Sophia clinching up with Laci, who uses her height to lean on the smaller fighter.
They resume with Sophia able to sling in a left hook to the jugs of her opponent, catching Laci a little flat footed as she starts to swing in hard shots to make Somers now retreat back, the stunning model using her left to nudge back Sophia once again, exchanging hard shots as they plant their feet.
Needing to keep nudging back Sophia, Laci is looking frustrated as she is having to keep forcing back her opponent, at the bell Laci has some redness forming on her tits, though not as much as Sophia has, already both fighters tits being worked on as they stare daggers at each other from their stools.
Round 4:
Stepping out their corners with eyes narrowed as they box around the center, a rushed left cross by Laci leaves her open to a counter right into her breast, an uppercut lifts her jugs up nearly into her chin as Somers backs off, Bush pressing the action now with more body shots.
Trying to keep nudging back Bush, Somers is getting hit more cleanly around her boobs then her coach Christina would like, another uppercut has Laci's eyes go wide, a right hook sends a little sweat off that bust, ANOTHER UPPERCUT LANDS TO MAKE LACI FALL TO HER KNEES CRADLING HER BOOBS! THE BLONDE TITAN HAS CRUMBLED HERE!
Sophia keeping calm as she walks to the neutral corner, taking a deep breath as she watches the count, 1...2...3.. Laci looks to be fighting back tears, 4...5...6...7.. She is rubbing her boobs, hoping to numb some of the pain, 8...9...10 Laci can't find the will to get up! Fight over!
Winner Sophia Bush KO Round 5After:
Never count out Sophia against the bigger, younger women, she looks to the heavens with her arms in the air, then marches over to Laci as her demeanor changes, remembering all the crap Laci threw her way before and during the fight.
Tugging her gloves off under her armpits, Sophia pushes Laci back against the ropes, pulling Laci's arms across the middle rope, she tells her "you understand about hard work now? You are just a blonde bimbo that needs to go back to playing fighter in front of a camera" slapping Laci across her face with her right hand.
Reaching back to unhook her own bra, Sophia gets a loud cheer as Laci's eyes go wide at the bare breasts in front of her face, a "JMD!" Chant begins as the fans know what is happening now, seeing Sophia grab a pleading tearful Laci by her hair to press her face into those sweaty breasts, her JMD experience showing as she hooks Laci behind her head to have a tight smother on her.
Laci tries to fight with slapping rights to the back of Sophia's back with the gloved fist, it doesn't deter Sophia one bit, with weaker slaps coming by the model, till they stop altogether as she has passed out, Sophia letting Laci go as she raises her arms to a loud roar from the crowd.
Going over to her corner Sophia is pleased to be greeted by a black silk robe to hide her jugs, keeping it loose at the front as her breasts as still sore after all, Taryn giving her a pat on the back as she says "that's why we wanted you to join so badly" making Sophia grin back at her.
All the while Christina is giving Laci the smelling salts treatment to waken her up, Laci needs help to get out the ring as she is still a little light headed from that smother, her down as they go to the back, this was not the debut for the Chimera stable that Laci wanted.
While the winner jogging asks the referee not to raise her hand in case anything shows that shouldn't out the robe, both laughing as Sophia winks to the camera nearest her, leaving the ring soon after as a lucky young man in the front row gets her bikini top as a memento of tonight, Sophia keeps on going even after set backs, will her hard work get her a second JMD title in future?