Post by Vassago on Dec 27, 2021 3:05:37 GMT
Challenger - Inna:
VS
Champion - Ivana Baquero:
Tale of the Tape:Inna:
Age: 35
Height: 5'4
W/L: 15-13 (15KOs)
Vs
Ivana Baquero:
Age: 27
Height: 5'3
W/L: 18-3 (17KOs)
Current BBU flyweight champion.
(Romanian Invasion vs Girls Friday)(Written by Girls Friday/Results by Lookout!)Intro:
Now it's time for the BBU flyweight title to be defended, Romanian singer Inna hopes to strike it lucky at her second try at the world title, while Spanish actress Ivana Baquero is hoping to keep hold of the belt in her second defence of the title, right now both are the most in form fighters in the division, who leaves the world champion?
These two have a little history, back in 2018 they fought it out and Ivana came out on top by referee stoppage in the sixth, Inna reportedly wanted to fight Ivana in a rematch straight away at the time, of course that didn't happen and she has had three years to plan on beating her rival.
Going into the fight both women were allowed to speak their mind at the press conference for the event, with Inna certainly showing her national pride as she walked onto the stage wearing a Romania flag pattern dress, a confident smirk as she looks at the journalists.
Maybe upstaging the champion, who comes onto the stage wearing a simple red dress, though Ivana has the world title around her waist and an cocky grin as she sees Inna staring right at the belt.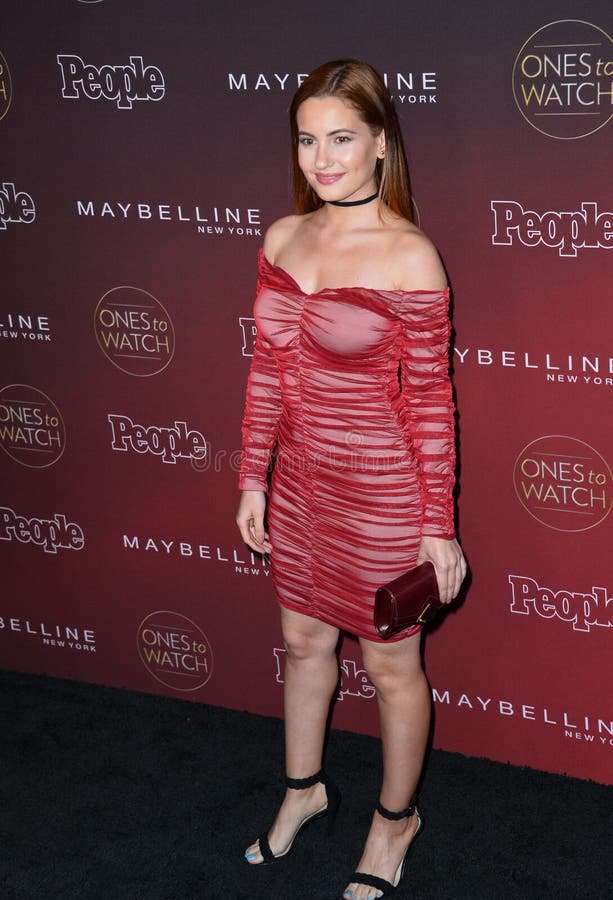 Both fighters square up to each other at the center of the stage for the face off, a few whispered words are exchanged, judging by their expressions it certainly isn't about exchanging phone numbers, organisers stepping in to separate the two as Ivana takes her belt off her waist to hold up in her right hand, telling her challenger "get a good look, that's as close as you'll ever get" Inna looking ready to charge, being held back by a security guard till she cools off.
A podium is placed at the center of the stage now, with Inna given the chance to speak first, strutting up to the podium as if she owns the stage, Inna tells the assembled crowd of journalists and VIP guests "this has been too long in coming, me and you Ivana in a ring together, more importantly me getting a shot at that belt" she points with her left hand over to Ivana, who now has it resting on her right shoulder.
"Unbeaten in my last six fights, I destroyed my supposed equal in Elena (Gheorghe) two months ago, yet you chose f**king Diana (Korkunova) for your first defence! Diana who lost that belt, maybe I should kick her ass to show how stupid that was when I take that title from you Ivana, you robbed me three years ago when we fought! Now I take what's important to you!" Says Inna as she gets animated, turning and pointing at the champion, who simply grins through her speech not looking worried.
Inna moves aside with hands on her hips, with Ivana moving to the podium and placing the title onto it, she brushes a few loose strands of hair behind her ears, before she says "trust me Inna I don't like you either, hearing you cry and whine, no wonder you own stablemate Elena wanted to knock your head off, I'd have kicked you out my stable myself if I were there" Inna grits her teeth at that, fists clenched as the tension between the women is clear.
Ivana stares back at her, then asks the crowd "should we wait till tomorrow night?" Then before getting an answer Ivana and Inna have charged each other, heels kicked off as hands go into hair, both proud women yanking the other around till they trip and end up in a catball, security with the fighters managers Corina Caragea and Melanie Sykes break them apart with great effort, as both screams abuse in their native tongues and kicks bare feet at the other, Inna is led off the stage as Corina tells her to save it for the title fight, Ivana hair a mess grabs the title and tells Inna "you're dead bytch!" Before storming off the opposite side with Melanie working to cool her off.
Fight night, out first comes Inna with her manager Corina acting as her coach tonight, Inna has the Romanian flag draped over her shoulders as she walks down the aisle, aiming to be the first Romanian to win BBU gold, she looks understandably serious as she steps through the ropes into the ring, her attire consists of a dark blue sports bra, Romanian flag pattern trunks, red shoes, blue gloves, while her hair is in a braid.
Here comes the champion now as Melanie leads her out holding the title belt up, though it looks like Taryn Terrell will be her coach, while Eva Carneiro works as her cut woman, Ivana bangs her red gloves together as she walks down the aisle with her usual all business look for a fight, getting into the ring opposite Inna with both women staring hatefully, her attire consists of a red sports bra, red trunks with yellow stripes down the sides and matching boots, her hair is also braided.
Referee makes sure to stay between the fighters as the instructions are read out, the title belt is held between the fighters, though the fighters are staring exclusively at their opponent, the tension could be cut with a machete, when told to touch gloves they simply turn their backs and head to their corners, all they care about is getting the win, once ready the bell rings to start 10 rounds of BBU flyweight title action.
Round 1:
"Ding!" Out their corners with eyes piercing through their guards at their opponent, both start off swinging a right hook behind their jab, both ending up close as they start to pound away on the inside, Inna giving Ivana a shove after taking a left/right hooking combo under her ribs, landing a one-two combo straight into the face of the champ in an energetic opening thirty seconds.
Inna tries to follow in with a jab/right cross combo that just misses it's target, instead a counter overhand left slams across her cheek, with an uppercut not landing flush, it does force the challenger to back off with Ivana happy to charge in to pressure her onto the ropes, working the body with several short shots till she is pushed off.
Ivana is pushing the pace as she swings in hooks, Inna defending herself well for the most part, getting caught with punches onto her cheeks, landing several clean punches into the face of the Spanish actress, shoving Baquero to the outside so she can land a double jab/straight to snap back her head.
Final forty five seconds of the round, Inna misses with a left cross, two right hooks lands under the ribs of the Romanian star, a short left cross catches Inna on the jaw, with Ivana driving her into the neutral corner, going to work on the singers body to make her groan out, at the bell the referee is quick to get between them in case they kick off, with both women scowling at the other before deciding to go back to their corners.
Round 2:
Doubling up her jab to stop giving Ivana as easy a time closing the distance, Inna showing the champion a new look, with Ivana having to use her own jab more, stalking after the challenger around the ring, getting top aggressive when she swings in an overhand left that sails past Inna, who instead digs a short right to the body, then a short left hook to the jaw of Baquero.
Who finds herself being worked back onto the ropes, Inna using her jab to bring up the guard before ramming in her right square into the body of Ivana to make her groan, a left/right hook combo lands to the cheeks of the champ, Ivana dragging Inna into a clinch, with both women grappling along the ropes.
Once broken up Ivana is quick off the mark to land a straight into the lips of her opponent, then swings in a left cross that just misses, Inna moving to the outside as she rams another double jab into the top of her smaller opponent's head, knocking her back to the outside part of the ring.
Again late in the round Ivana is able to crouch under a straight to bang in two body shots, then lands an uppercut to knock Inna onto her heels, back across the ring goes the singer as she groans out, Ivana getting clipped across her face when she has Inna on the ropes, both women letting their hands go in the remaining seconds of the round, once the bell rings there's a few words exchanged in their native tongues before walking to their stools.
Round 3:
Moving her upper body more to dodge the jabs coming her way, Ivana trying to adapt what is being thrown at her, taking a few punches around her cheeks to mark them up, with a left cross catching Inna on her cheek with a straight on the chin of the Romanian, snapping back her head as Ivana starts to press back Inna towards the ropes.
Giving Ivana little shoves to stop her crowding her, Inna is having to box off the back foot, the fighters fans whistling and cheering their fighters on, both landing stiff shots through guards, with Inna taking a hard right onto her chin, with a left cross following, Ivana muscling Inna onto the ropes as she works the body, with some catching Inna across her boobs to make her hiss.
Shoving Ivana off of her, Inna lands a one-two to the face of her opponent, a left cross opens up Ivana to another straight into her face as Inna shows she won't be bullied so easily, leading to Baquero finding herself being herded along the ropes with a minute to go.
Both let their hands go in the final moments of the round, with the fighters barking in effort as they try to knock each other around, with Inna knocking back Ivana to the ropes with a double jab square into her face, the bell rings with both landing a right after the fact, referee warning both to keep it clean, staring hard at each other before they retreat to their corners.
Round 4:
Using little nudges along with her jab, Inna is trying early to establish her reach where she wants it, Ivana like a terrier keeps coming at her, problem with that is you can leave yourself open, which happens to the champion as she misses with a right cross, eating a double jab square onto her nose, then a straight to the top of her head to knock it back.
Inna looks to have found another gear, picking her punches better as she finds holes in her opponent's defences, beating Ivana to the punch to knock her to the outside of the ring, where she starts to unload combinations, one one-two combo opens a cut on the bridge of Baquero's nose to make her grunt out and grimace.
But before Inna can get too comfortable, a missed straight by the challenger leads to an uppercut that straightens her up into a left hook on the jaw, suddenly Ivana coming to life at the half way stage of the round, bullying back the challenger across the ring onto the ropes, where Inna pulls her into a tight clinch, both fighters sweat soaked bodies grind along with their foreheads.
Split up by the referee, Inna is back to rifling in punches through the mitts of Ivana, who looks to be trying to make up for her slow start, but is walking into punches that cause more blood to trickle from the cut on her nose, the round comes to an end with Inna walking back to her corner with her right arm in the air, letting Ivana know she schooled her that round.
Round 5:
Back out they come with sweat starting to fly off when a fighter gets hit, with Inna again controlling the early action with her punches drilling onto that cut, making her wince as Inna starts to back the champion up, barking in effort as these aren't soft punches she is throwing.
Crouching under a straight Ivana lands two left hooks to the body of her opponent to get some groans, an overhand right misses though as Inna reads the plan well, instead shoving back the Spanish fighter to ram a straight into her face, making Ivana back off as a left cross slices the air in front of her.
Back along the ropes goes Baquero, unusually in her shell as Inna is proving a rampant test here, outworking the champion as she looks to bully her, Inna fans starting to chant her name as they smell blood in the water.
But maybe Ivana was playing possum as she takes a right into her chest, she lands a left hook out the guard to turn the head of Inna, a follow up right hook knocks back the Romanian, with Ivana making up lost ground with a flurry on the inside, the bell stops her getting into her groove, with Ivana looking to the heavens, Eva needing to work on patching up her cut, Inna staring hard on her stool at her opponent, wanting more of the champion.
Round 6:
Inna looking to push on as she sends more punches towards the head of Ivana, maybe getting too predictable as Ivana slips a jab to hammer in a right to the chest, then a left hook lands onto the jaw of Inna to turn her head; seeing her chance, Ivana drives Inna into a neutral to drill away to the body.
Pushing off Ivana, Inna drills in a double jab to the top of the champions head, a missed straight though leads to another left hook knocking sweat from the challengers head, with Ivana again driving back Inna onto the ropes, mixing in short hooks with uppercuts as they slug it out in close, heads bumping as the referee warns them about their heads.
Holding onto Ivana, Inna starts throwing rabbit punches, with Ivana snarling as the referee steps in to split them up, a shove between the fighters before they get back to action, slugging it out at midrange as Inna grits her gumshield and looks to take the fight back to her rival.
Less then thirty seconds to go, Ivana gets knocked back onto the ropes as Inna catches her with a left across her face, followed by an uppercut to send sweat and blood flying, Ivana covering up as Inna is now the one trying to make up for lost ground, a frustrated look on her face when the bell rings, both fighters give the other a dirty look before returning to their stool, Inna with a little swelling under her left eye, Ivana with a fat bottom lip from the clean shots she has taken.
Round 7:
A little slower to engage but still throwing with menace, Inna starts off strong with a three punch combo that knocks back the champion, but when she loads up a right hook that Ivana is able to spot and lean out the way of, instead a straight bangs into the nose of the challenger.
As they keep trading hard shots, Ivana soon crouches under a jab and lands an overhand left that turns Inna's head, then a right lands square into the solar plexus of the singer, who groans as she backs up a step, arms dropping as that looked to have winded her, A FOLLOW UP LEFT/RIGHT HOOK COMBO LANDS SQUARE ONTO THE CHIN OF INNA! WHO IS SEND TUMBLING TO HER BACK!
The Spanish fighter roars as she looks to the heavens, loving that knockdown as the referee has to nudge her to the neutral corner, 1...2...3... Inna shakes her head as she sits up, 4...5...6.. Pushing up to her right knee, 7...8.. Inna looks knocked loopy as she slips over to her right side, head clearly buzzing! 9...10 it's all over! Inna is counted out!
Winner and still BBU flyweight champion Ivana Baquero KO Round 7After:
A hard fought victory for the champion as she raises her arms while turning towards the crowd, Inna rolls to her front covering her face, heard sobbing as this was a big chance for her to win the title, instead she has Corina heading over to her to console her.
Ivana heads over to her own corner looking relieved as Taryn gives her a warm hug, Eva patting her on her left shoulder, both telling her how proud they are, Ivana wiping a few tears of joy as she knows Inna was starting to get firm control of things in the fourth and fifth, she had to rally to win this fight.
While Inna is helped to her feet and over to her stool, she seems to have come around as she looks at the canvas utterly disappointed by this defeat, Corina rubbing her arms as she tells her to use this as motivation to come back stronger, Inna nodding as she looks up, she has done it once before to get back into title contention, she'll hope to do it again.
For now though she remains on her stool as Ivana heads to the middle of the ring, carrying a Spain flag as the BBU committee member puts the title around her waist, Ivana raises the flag in the air to cheers from her supporters, who have clearly come to support her.
Inna shakes her head before being helped out the ring, this may not be the last these two see of each other, with Inna wanting to score one over on Ivana someday judging by her comments to her coach/manager, who tells her to focus on her next fight before thinking of Ivana.
Who is walking around the ring doing a lap of honour, a big beaming smile on her face as she keeps her title, soon she leaves the ring with the Girls Friday crew, how will 2022 shape up for Ivana? All that matters right now is that she has finished this year as the best in the division.