Post by Vassago on Dec 27, 2021 3:10:43 GMT
Lottie Moss:
VS
Maisie Smith:
Tale of the Tape:Lottie Moss:
Age: 23
Height: 5'5 ½
W/L: 9-6 (9KOs)
Vs
Maisie Smith:
Age: 20
Height: 5'5
W/L: 6-0 (6KOs)
(Lioness Club vs Marti's Maulers)(Written by Girls Friday/Results by Lookout!)Intro:
A clash that has been brewing the past few months, Lottie Moss and Maisie Smith have both been dubbed the future of the bantamweight division, which one will lead the way as the best in the coming years? Well tonight might give an answer to that question.
Lottie fired out on her social media before the fight "finally I get that ginger whinger Maisie in the ring, you have used my name for the last time to try to make yourself a star, why people put us in the same class in the BBU I don't know, I mean look at me and then look in a mirror honey, you have no class, no looks and soon no undefeated record bytch" along with this photo to try to prove her point.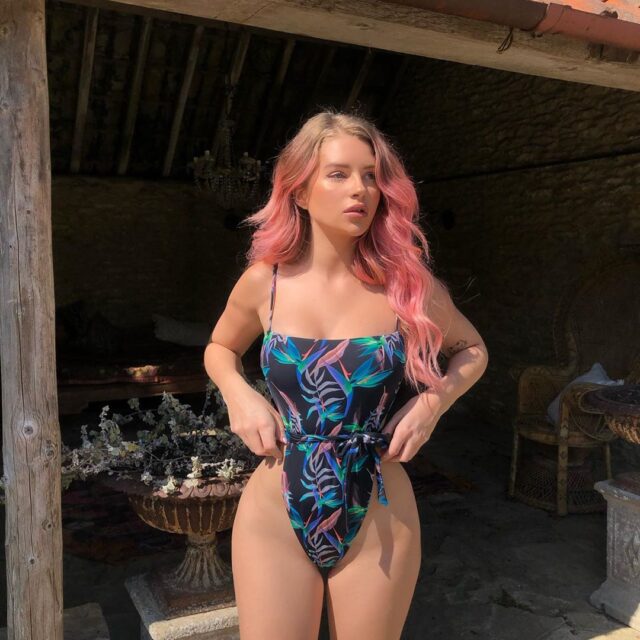 With Maisie not shy with her own reply, posting "oh Lottie I know you think your Only fans sickos makes you a big star, unlike you I actually have talent and didn't need a famous sister to live off, I can't wait to finally get in the ring with you and knock you out you nasty blonde sl*t, no running away from me" with her own photo to show her impressive body off.
Fight night, first through the curtain is Lottie with her coach Melanie Brown, Lottie is wearing a white sarong as she walks down the aisle, grinning as she takes in the crowds whistles and cheers, Melanie takes off the sarong before Lottie steps into the ring, wearing a white bikini and matching gloves, her hair tied into a ponytail, bouncing on her bare feet as she gets told off Mel to shut up Maisie.
Who walks through the curtain with Mel's former bandmate in the Spice Girls Emma Bunton, she walks down the aisle wearing a red bikini with matching gloves, her hair braided as she climbs into the ring, her eyes stare daggers at Lottie as she gets into her corner, banging her gloves together as Emma massages her shoulders to keep her loose.
When the fighters come together at the center of the ring they go nose to nose, an intense stare down between them as their corners grin confidently, the fighters clearly hate one another's guts as they push each other when told to touch gloves, exchanging a few one word insults as their coaches tell them to save the passion for the fight itself, returning to their corners with the crowd whistling and cheering both women, the bell rings to start 10 rounds of bantamweight action.
Round 1:
Kicking off the action fighting around the center of the ring, Lottie doubling up her jab early on, looking to keep Maisie from planting her feet early on, with Maisie looking like she is trying to be patient, she normally likes to throw power punches early but is throwing her own jab to try to gauge the range.
When Maisie does throw a right hook it misses as Lottie dances back out the way, instead a one-two smacks Maisie on her lips, with Lottie smirking as that sets off the fiery redhead, who swings in two cross punches that miss their targets, instead it's Lottie showing her boxing prowess to keep snapping back the head of her rival with counter straight punches.
Heading to the halfway mark of the opener, Maisie finally lands a meaningful punch, dipping under a jab to hammer in a straight to the abs of Moss, an overhand left smacks the model across her cheek to turn her head, Maisie not going to turn down an invitation to stretch her elbows, starts to bash Lottie back to the ropes with a loud cheer from the crowd, Lottie grabs onto Maisie in a clinch as her back touches the ropes.
Once they are broken apart they trade around the ring, Lottie happy to move back to keep the range, with both fighters slamming in some meaty straight punches into their opponent's face, Lottie landing the cleaner punches as she seems to be leading Smith around the ring, at the bell Maisie stares hard at Lottie, who cheekily sticks out her tongue as she isn't afraid one bit of the hard hitting redhead.
Round 2:
Trading more shots now as they open up more, Maisie again is pulling the trigger too early on her power punches, allowing Lottie to dodge then land a counter across her face, a counter right opens up a cut on the bottom lip of Maisie, with Lottie soon landing a one-two combo straight into it to make Smith cry out.
That cut is giving Lottie a bullseye to target, she rifles in punches onto it when the chance presents itself, making Maisie grimace and opening her up to hooks as Moss is starting to show she isn't a feather fisted fighter, she can bang in some hard shots herself as she works back Maisie towards the ropes.
Again it has been a bad first half to the round for Maisie, she is getting caught with straight punches square into her face, making Emma in her corner look worried, Lottie though misses with a straight as Maisie blocks it with her glove, a right lands square on Lottie's chin with a short left cross following to turn the blondes head.
On the charge comes Maisie, showing why she is so dangerous as she bulldozes Lottie back with hard shots landing, bullying the model into a corner, where she hammers away to the body with hooks, Lottie not enjoying those shots one bit, grabbing onto Maisie tightly to force the referee to step in, broken apart Lottie is on the defensive, with Maisie showing fight to come after her till the bell rings, Maisie bangs her gloves together in frustration, knowing these first two rounds have went poorly for her.
Round 3:
Keeping her guard more tight after talking to her coach, Maisie is starting to now mirror the movements of Lottie, who is outworking Maisie in the opening moments, she isn't landing much cleanly as Maisie looks fully focused, as shown by her parrying a jab away and landing a left cross to the cheek of Lottie.
There's a firefight at the center of the ring as Lottie doesn't want to give any ground, she can't match Maisie for raw power though, with an uppercut soon snapping her head back, sweat going flying as now the redhead powers back Moss onto the ropes, where she goes back to the body, wanting to wear down the faster fighter.
Who has to shove back Maisie to get away from the ropes, Lottie looks a little worried as now she is getting stuck in hard fought exchanges, Maisie not letting her get away so easily now, with meaty hooks now starting to find a home onto the cheeks of the model to turn her head with sweat flying off.
Backed onto the ropes again goes Moss, who quickly clinches up with Smith, both grinding foreheads as they free a fist to hammer into the others kidneys, hissing in their opponent's face till they are broken up, Lottie the quickest off the mark to land a three punch combo into the face of Maisie.
It looks like Maisie lost her focus for a moment there, leading to Maisie getting clocked through her mitts to her face again, blood is starting to run from that cut lip onto her chin then her breasts, with Lottie pushing her onto the ropes, Maisie snarling as Lottie rams her left forearm under her chin, hammering her own right into the abs of Smith till the round ends, both women cursing the other as the referee gets between them to stop any afters, they return to their stools looking annoyed.
Round 4:
Lottie looks to return on the front foot, ramming in two punches to Maisie's one, taunting the younger fighter as she looks to rile up Smith, who obliges to swing in two hooks that find thin air, instead a straight lands on those cut lips, followed by a left hook on the chin to send blood and sweat flying off the redhead.
It's certainly been a headache of a fight so far for Maisie, who is being yelled at to keep her cool by Emma, Mel across the ring smirking as she sees Lottie picking her spots to land rifling punches, holding when she gets caught and is driven back to frustrate the actress, the Lioness Club game plan looks to be working.
Before they can get too confident Maisie catches Lottie with a left across her cheek that is followed by an uppercut, knocked onto her heels by Maisie, Lottie is finding herself being driven into a neutral corner, where the body shots start to come raining in, Lottie swinging short rights into the side of Maisie's head, a right lands borderline on her bikini bottoms to make her cry out, she isn't the only one crying out as Mel yells foul! Referee takes no heed of her though.
After a clinch is broken up allowing Moss to get out the corner, Lottie again is boxing on the back foot, Maisie is definitely making headway though as she is catching Lottie onto her chin, opening her up for more hammering body shots that has Lottie groaning out, at the end of the round Mel enters the ring to have a go at the referee, who warns her not to overstep as Lottie points at where she says she got hit, which looks lower then where the punch did, Maisie shaking her head in her corner, Emma reminding her she needs to start picking up rounds and not worrying about that drama.
Round 5:
Trading stiff punches as guards are now opening up further, both wanting to hurt their rival as they step in more with their punches, Maisie soon slips a straight and bangs in an uppercut on the solar plexus of her opponent, Lottie gasps out as her eyes shut, she is looking hurt as Maisie pounds her around the side of her head with lefts.
Lottie backing off as Mel looks scared for her fighter, Maisie like a shark smelling blood in the water, showing off her own skills by feinting to open up Lottie to more clean shots, a right cross adds to the woes of the model as it opens a cut above the left eyebrow.
Holding onto Maisie, Lottie can be seen calling her a bytch, Maisie not mincing her words either as they hammer in kidney punches in the tight clinch till they can be broken up, Lottie showing fight to land a three punch combo into Maisie's face, crowd roaring as they see the blonde pressure Maisie back towards the ropes.
A sneaky uppercut catches Lottie onto her chin, sweat with blood goes flying and the tables turn again, crowd is now on its feet yelling for both fighters, Lottie trying to fire back but Maisie's focused now, hammering back Moss with punches square into her face, when Lottie is on the ropes the crowd get to see how hard those body shots are as Lottie firm bum keeps clenching with the force ripping through her body.
Another tight clinch comes late in the round, Lottie needing a breather as Maisie cruelly forces her forehead into the cut on her face, once split up the referee warns Maisie to keep it clean, back at it they go with Lottie not having as much a spring to her step, head being snapped back by a one-two square through her guard, the bell dings with both women still fighting as tempers are boiling over, coaches needed to drag away their warriors to their corners, crowd chanting "let them fight!" As the referee goes to warn both fighters to obey their orders, Mel giving the referee an extra hard look when they come to the Lioness corner.
Round 6:
Lottie seems to have recovered somewhat from the last round, though she still isn't quite as mobile, with Maisie hunting her down around the ring, both fighters gloves are stained in blood now to show how much damage they are willing to do, punches smack through guards, both fighters whining out as neither is enjoying getting hit one bit.
A missed left cross leaves Lottie open to a counter right onto her chin, then a left hooks lands under her ribs, Lottie winces as she backs off, but Maisie is quick to shove her into her own corner, Melanie yells the referee about the shove, she can also hear the thuds from Maisie's body shots, ripping into her fighters body as the crowd cheer Maisie on.
Clinging onto Maisie, Lottie pants "I... hate you" before landing a right handed rabbit punch behind Maisie's head, Maisie digging her left into the kidney of Lottie as even the clinches are hard fought, referee splits them up with another warning, though they seem to becoming redundant if it leads to nothing.
Heading into the final minute after Lottie keeps on the move, Maisie smartly cuts off the ring and lands a straight into that cut above Lottie's left eyebrow, Lottie cries out before a left slams across her chin to rock her, A HARD RIGHT BANGS INTO HER LIVER AND DOWN GOES LOTTIE TO HER LEFT SIDE CURLED UP HOLDING HER STOMACH!
Mel wants to complain but just looks to the heavens hoping for a miracle, 1...2...3... Lottie spits out her gumshield as she is sobbing, 4...5... Blood drips onto the canvas from that cut, 6....7... Maisie stares hard at Lottie, taking in some deep breaths in case she needs to be ready, 8...9...10 she doesn't though as Moss is counted out!
Winner Maisie Smith KO Round 6After:
Maisie had to dig deep there to overcome Lottie, both fighters giving a taste of why they are the future of the bantamweight division here in the BBU, also why this might be the birth of a new long term rivalry as the winner pulls her gloves off under her armpits and drops them to the canvas as she walks over to Lottie.
Grabbing the beaten fighter by her hair, Maisie drags her over to the Marti's corner with Mel arguing with the referee, she doesn't see Lottie is in trouble as she is sat up against the bottom corner, Maisie telling Lottie "this is to remember me by" pulling her bottoms up into her bum so Lottie gets a full view of her toned backside, before giving Lottie a truly full view when she presses it into Lottie's face, giving her the old stink face to the delight of the crowd.
Melanie seeing what is going on rushes to drag Maisie off by her hair, Emma rushing in to tell Melanie to let her go, Mel gives Maisie a slap before she does as payback for what she did to Lottie, with Emma having to get between her friend and her fighter, Lottie all the while is being checked on by the ringside doctor.
"You f**king tell Charlotte to be ready!" Yells Maisie as she rubs her cheek she got slapped on, Melanie yells back "you ain't ready for Charlotte bytch! She'll f**king maul you!" The referee needed to help Emma try to keep these warring parties apart, as Melanie looks ready to take off her shirt and bare knuckle box Maisie right now.
Once things cool off and Lottie is on her feet with an icepack on her stomach, Melanie helps her out the ring, both giving Maisie a death stare as the redhead doesn't exactly give them a loving look, the Lioness Club duo leaving with their tails between their legs tonight, Lottie will have gained a lot of knowledge how to beat Maisie if the first half of the fight is anything to go by.
In the ring after Maisie is patched up and her bum sponged off of sweat and blood, finally she can get her right hand raised in victory, pushing her record up to seven wins without loss, her fans are roaring and she might have gained a few more supporters on this form tonight, she flexes her arms for the cameras as she stares them down, maybe a hint to the bantamweight champion Charlotte Church of what could await her in future, that's if Charlotte is even the champion come the end of tonight.
Either way as Maisie steps out the ring, a clash between Maisie and Charlotte maybe inevitable, especially as Maisie seems to have the Lioness Club stable at war with her, judging by her smile she doesn't seem too worried about that, even as Emma does walking behind her, maybe wondering if she should send a peace offering to her friend.