Post by ibb on Mar 7, 2022 10:48:15 GMT
Demi Rose 26yo 5'2 32DD vs Elettra Lamborghini 27yo 5'5 34DD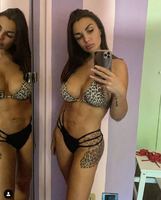 Prefight
Both Demi and Elettra meet for some photo shoots in Ibiza, and this obviously does not go unnoticed by the two girls, who having recently fought for the Jmd title, following a meeting of their managers, have concluded an agreement to face each other in a private, topless bare-handed boxing match.
The match
the first to enter the ring is Elettra she is wearing only a panther thong, she goes to the blue corner ready to fight;
then Demi arrives she wears a zebra thong, she goes to the red corner ready to fight.
Round 1
At the bell, both girls run against each other, with a single goal to demolish their respective boobs, which are hit by furious hooks, and Electra goes down centered by a terrible uppercut to her left nipple, she gets up immediately, but she is pushed to the ropes, where Demi inflicts a very hard beating on her, with her tits being milked and deformed over and over again, the bell saves Electra.
Demi 10- Electra 8
Round 2
At the bell the match turns into a titfight, with the two busty babes banging their boobs hard, but it's still Demi who takes over, pushing Elettra to the ropes, and pummeling Electra's nipples with uppercuts, who moans at each. blow, but that in minute 3 reacts by responding blow for blow, however not coming out of the ropes and continuing to suffer up to the bell.
Demi 20- Elettra 17
Round 3
At the bell Demi advances, but is intercepted by a tremendous uppercut in the chin, which stops them, so Electra can rage on her tits with hard criss-cross hooks, but again Demi punishes Elettra's nipples by drilling them with hard jabs that make Elettra scream from the pain, but Electra reacts by pushing Demi to the ropes, and tormenting her boobs with double hooks in the closing seconds of the round.
Demi 29-Elettra 27
Round 4
In the first minute Elettra struggles by squeezing and suffocating with her tits Demi, who from minute 2, is made to suffer from harsh combinations of hooks in the ribs, which inexorably make her retreat on the ropes, where from minute 3 she is hit hard by combinations of hooks and jabs to the tits, the round ends with Demi hugging Elettra desperately.
Demi 38- Elettra 37
Round 5
At the bell it is again Elettra hitting hard Demi hitting her chin repeatedly, Demi is wobbly but she goes clinch, now the two wrestles, boobs against boobs, and it is Demi who takes over putting Elettra on the ropes, in the last minute, repeatedly hitting Elettra's face with criss-cross hooks, until the end of the round.
Demi 48-Elettra 47
Round 6
The two busty girls are obviously tired, and now the punches are slow, but still in the center of the ring it is a real slugfest, with Elettra taking over by demolishing Demi's hips and tits, Elettra takes Demi to the ropes, and with her opponent practically defenseless, she starts hitting wildly every inch of the body of the face and especially of the breasts of Demi, who wobbles several times, but manages to survive the punches of Elettra.
Demi 57-Elettra 57
Round 7
The match restarts with the two girls who resume tromenting their tired bodies, and it is Demi who takes over by repeatedly hitting Elettra's chin, but Elettra does not hold back and it is she who demolishes Demi's left tit with a long series of uppercuts, until Demi hits Electra's left nipple with unspeakable violence, shutting Electra off, and putting her on the ropes, and hitting her with dozens and dozens of hooks on her big tits, only the bell saves Electra.
Demi 67 Elettra 66
Round 8
We have reached round 8 and for Elettra it is an absolute novelty, an unexplored ground, despite this the two girls now very tired almost by mutual agreement lean against each other with the left arm on their respective shoulders, while with the right they begin a wild and primitive exchange of blows, demolishing every possible inch of their bodies and their big boobs, after a minute of this, it is clearly Elettra who hits harder literally lifting her opponent off the ground with each punch, but without being able to put it down.
Demi 76 -Elettra 76
Round 9
Electra is simply exhausted, while Demi takes a second wind hitting Electra's face mercilessly left and right, until Elettra goes down again, Elettra gets up again, and despite the pain and fatigue, she faces Demi in the center of the ring, where despite her courage, Electra is severely punished for the remaining time, especially her boobs, are subjected to a hard beating.
Demi 86-Elettra 84
Round 10
Electra has completely run out of gas, so Demi with great gusto dominates her, hitting every inch of her body first, and then of her breasts, now purple and livid, Electra stoically remains standing clinging to the ropes, but doing so in the last minute Demi she is free to slaughter her boobs, with dozens and possibly hundreds of terrible blows, leaving her in tears and beating at the bell.
Demi 96- Elettra 93
Demi Rose wins by unanimous decision
Postfight
Demi just declared winner grabs Electra by her big tits, and she with unspeakable nastiness starts milking them in every direction, up down left and right, then always holding Elettra by her tits, she starts banging her tits, on the face beat and full of tears of her opponent, while Elettra's nipples literally explode spraying milk in every direction, then Demi lets Electra go into the corner, but only to give the coup de grace to her, that is to inflict a humiliating ass-smother up to when Elettra passes out, then Demi leaves the riing winning and satisfied leaving Elettra beaten and humiliated