Post by realview on Mar 9, 2022 0:49:33 GMT
Tale of the Tape:Ellie Goulding:
Age: 34
Height: 5'5
W/L: 10-9 (9KOs)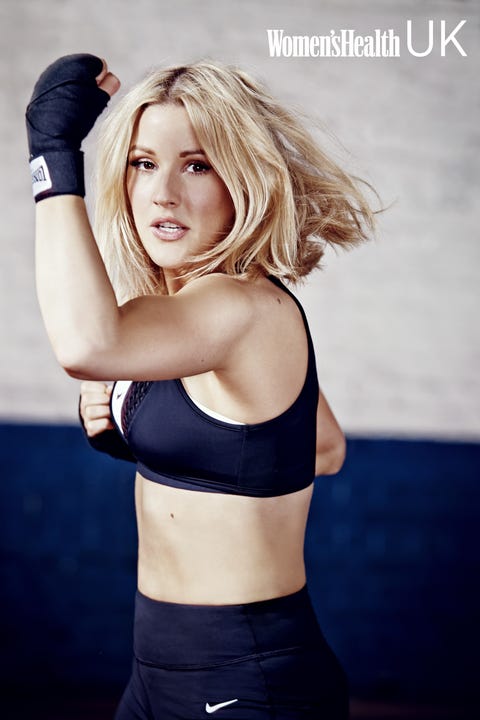 VS
Una Healy:
Age: 40
Height: 5'7
W/L: 26-23 (20KOs)
Former two time BBU bantamweight champion.
This weeks poll we have went for Twp fit singers, one in Ellie Goulding who was once seen as a possible champion, the other a former two time bantamweight champion Una Healy, who is on a slide at the moment, question is which one of these beautiful women do you believe would win if they met in the ring.
Let's start in our red corner with Ellie, the blonde beauty started her career with a run of three wins out the gate, even after two defeats in the FCBA, she ended her second year with five wins and those two defeats, after that is where she has struggled for consistency in the ring but is still dangerous against any opponent, especially with her boxing training that she took up several years before her BBU debut.
In the ring she has beaten the likes of Rita Ora, Kimberley Walsh and holds a hat-trick of wins over Tulisa Contostalvos, usually the people who have beaten her are the top level fighters like former champion Dorota Rabczewska (Doda), Camila Cabello and our current BBU JMD champion Charlotte Church, who also used to be a two time BBU bantamweight champion.
Ellie's style is very much a text book boxer, she doesn't load up much on punches unless she hurts you, patient as she works behind her jab, looking to create openings, she has a good mix of speed and power, along with nice footwork honed off years off her training on stage and in the ring.
What's her weaknesses? Well while Ellie has tremendous technical skills, she isn't the fastest in the division or the hardest hitter, her chin has been questionable, with many seeing that as the reason she hasn't fulfilled her potential in her younger days of becoming a champion in the BBU.
Now to our blue corner and a future BBU Hall of Famer, Una Healy is one of the rare two time BBU champions in our just over a decade long history, she has been arguably the best in all the BBU pound for pound at one point, dominating the bantamweight division as if it were her kingdom that she sat on the throne of, lately things have taken a down turn for her, still you can't sleep on her or you'll be napping on the canvas.
Her career started in 2011, knocking out Leilani Dowding in her debut, her first year in the ring saw her amass a record of eleven wins out of fifteen fights, over the years she has beaten the likes of Doda, hall of famer Jessica Schwarz and Melanie Brown to name just a few of the top names on her CV, with people like Renee Herbert beating her lately though, is Una's time being a force in the division over?
Style wise Una is a good technical boxer when she wants to be, she looks to scrap with opponent's, when she takes the center of the ring Una might very well be the best to ever control it, forcing opponent's along the ropes, using her piston like jab like a jackhammer to break through defenses, you can't question her heart either after the beatings she has taken and still won at the final bell.
Though that feeds into her weaknesses, where Una once was tougher then granite to break down, her punch resistance is waning now, also at the age of forty she has lost some speed and reflexes aren't as on point, so relies more on keeping things in close to start till she can rock you backwards.
That's the fighters, now it is up to you our fans to vote on who you think would win if they fought in our BBU boxing rings, just click the link below and make your choice:
vote.pollcode.com/98676721
Remember the voting ends next Wednesday morning when the result will be announced, get your votes in as soon as you can, thank you so much to everyone who takes the time to vote, we hope you enjoy following the poll.