Post by girlsfriday on Jul 28, 2022 15:54:17 GMT
Natalie Alyn Lind:
VS
Maisie Smith: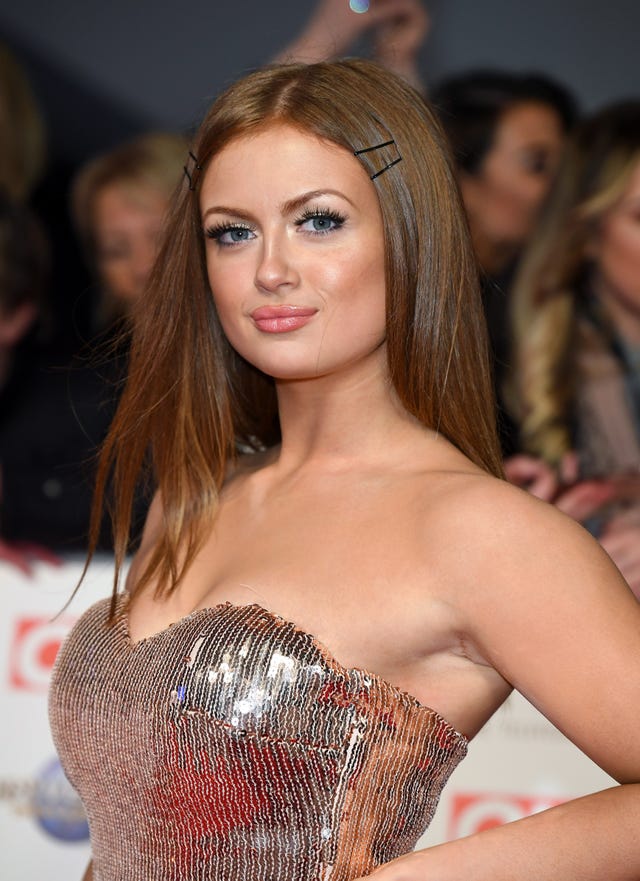 Tale of the Tape:Natalie Alyn Lind:
Age: 23
Height: 5'5
W/L: 22-14 (22KOs)
Former FCBA JMD champion.
Vs
Maisie Smith:
Age: 21
Height: 5'5
W/L: 9-1 (9KOs)
(Foxfire Boxing vs Marti's Maulers)(Written by Girls Friday/Results by Lookout!)Intro:
Battle of two young guns, one from the FCBA in Natalie Alyn Lind and in the opposite corner is Maisie Smith representing the BBU, both women are seen as possibly being the future faces of their organizations, right now which one of them is the better fighter.
Natalie has come over to the BBU Arena in Cardiff for this bout, she speaks to BBU TV's Denise Van Outen, with Natalie stepping into the arena to get a look at it before the ring and everything is set up the next night, she dismisses the venue by saying "hmm I have been to bigger mansions then this place" not exactly endearing her to Denise, who gives her a quick glare.
Denise fires back in a way by asking how confident Natalie is after losing to Lili Reinhart for the FCBA bantamweight title only last month, the Canadian actress now the one to give a hard stare at Denise, verbal jousting clearly between them, Natalie responds "that has just fired me up to come to your small island to kick the crap out of your prospects" grinning again as Denise nods with fists clenched.
Natalie adds "see I have watched Maisie in videos and she is a one dimensional fighter, if she came to the FCBA she'd be eaten alive, hell I'd have taken her out by now, she will regret signing the contract to fight me when I embarrass her by out classing her" smirking as she sees Denise's glares, Natalie steps up to her and whispers something that makes Denise give her a shove, the youngster laughing as she walks away, Denise remembering her job as she looks ready to kick off her heels and scrap with Natalie on camera.
Hopefully for Denise it is less tense with her and Maisie, both embrace as Maisie looks serious, sitting down at an empty cafe early in the morning, Maisie tells Denise "I can't wait for this fight, when my management team told me that Natalie was seeking to fight someone from the BBU, I told them they better give her team a call to set this up" that gives Denise a big reason to smile.
Asked why she wanted this bout so badly, Maisie answers "I am seen as part of this next generation of fighters right, in the BBU I see myself as number one on that list, the ACB has Elisha (Herbert) who I'd love to fight someday, then the FCBA has a few who want that title, Natalie for me is right in that conversation, so I want to show the world that I am the real deal, the woman to bet on ruling the bantamweight divisions of the world for the next twenty years, I start now by beating that smug airhead" Maisie needing to take a drink of coffee, looking fired up now as the interviewer nods looking excited herself by the drive of this young talent.
She finishes by saying "fact Natalie has talked shit about me since the deal was signed by us makes it all the more worthwhile for me, she has said she'd slap me if we were in the same room, hence why she won't do media with me, while I would love to shed the gloves and show her how we settle grudges on the EastEnders set when I was there, I will more then settle for beating her in the ring, stand over her broken body after I cut her down with my fists" Denise wishes her good luck, giving Maisie a fist bump with a big beaming smile.
Fight night, first through the curtain comes Natalie with her trainer Virginia Madsen, she doesn't bother acknowledging the crowd as she walks to the aisle wearing a white satin robe, which comes off as she reaches the ring steps, revealing a white sports bra, white trunks with gold stripes up the side, matching boots, gold gloves as her hair is tied into a ponytail by a gold coloured ribbon, climbing into the ring with a confident smile, she leans against the turnbuckles in her corner waving Maisie to come out, showing no fear of her opponent.
Who comes out moments later to loud cheers, Maisie walks down the aisle with purpose as her coach Jill Halfpenny follows her, Maisie is wearing a red sports bra with three thin white stripes on each side, matching trunks and shoes, white gloves as her hair is tied into a braid, she steps into the ring banging her gloves together as she bounces on her toes, eyes firmly on her opponent, who warms up in her corner now.
The referee waves the fighters to the center, where they quickly square up touching noses, referee needing to push them apart with insults flying, Maisie gives Natalie a slap with her left glove, Natalie looks shocked and manages to land her own before their coaches get between them, the referee sighs before they warn both to keep control and follow their orders, both nod as they scowl at each other, then jog back to their corners, clearly just hate for each other then any respect, once the referee is happy that everything is ready, the bell rings to start 10 rounds of bantamweight action.
Round 1:
Out they come to a cheer from the crowd, who get to watch them trade stiff single shots to start till Maisie steps inside with a left followed by a right cross that land on the cheeks of the blonde, who takes a step back when a right hook is loaded up, Maisie looking fired up as she hunts down Lind, getting popped into her face by single punches in reply.
Into the second minute, Maisie misses with a right cross, Natalie dance back before peppering in a one-two combo flush to the face of the redhead, Natalie starting to get her rhythm going now with her combinations, Maisie too open as she looks in a foul mood, letting her emotions get to her as she swings more instead of finding her range.
Last forty seconds, Maisie gets inside again after dipping under a left cross, banging in a few body shots before she is nudged back, a right hook slamming onto the cheek of the English fighter, with a left cross slamming into the chest of Smith to rile her up further, the round soon ends after a hard exchange of punches, referee quick to get between them as their eyes are locked in an intense stare, fists firmly clinched in their gloves before they jog to the stools.
Round 2:
Back out come the fighters, again Maisie on the front foot, forcing the issue as both driving in stiff punches to faces, already marks are showing as neither is holding back on their punches, instead trying to enforce their will on the fight, late in the opening minute a left hook to the body of Natalie is followed by an uppercut to knock her back a step.
Maisie now herding Natalie around near the ropes, with body shots looking her best weapon right now as Natalie is protecting her head for the most part, landing a few counter strikes back into Maisie's face when she can, problem for Lind is Smith isn't giving her much room to breath, especially with the clean shots thudding as Natalie groans out.
Needing to clinch up with Maisie, Natalie lands a few rabbit punches as Maisie goes for her kidneys in retribution, referee breaks them up with a warning for them, with the space Natalie can get back on the move, letting Maisie come after her as she lands several crisp counters, keeping the EastEnders alumni at range for the most part till the rounds ends, solid round for Maisie there as she sits down looking across the ring at Natalie with a venomous look.
Round 3:
Maisie is really fired up for this, Natalie can't seem to get into gear as quickly as her opponent, finding herself caught with a double jab on her lips, followed by a looping right hook that lands on her jaw, Maisie is holding the center of the ring bullying her foe around the outside part of the ring.
After a hard opening minute for her, Lind is trying to swing back to ward off her opponent, instead missing with a right hook that has her open to a counter left around her ear, GROANING OUT AS SHE STUMBLES A STEP TO HER LEFT, AN UPPERCUT LANDS ON HER CHIN TO SEND HER DOWN TO HER KNEES!
Jogging to the neutral corner, Maisie bounces on her toes as she stares intensely at her opponent, 1...2...3... Natalie shakes her head as she looks stunned by those punches, 4...5...6.. Nodding over to her corner, Natalie seems to be indicating that she is OK, 7...8... Standing up with both fists raised, she tells the referee firmly that she is fine.
Back at it they go with just over a minute left, Maisie looking for the knockout now, missing more then she is landing while Natalie goes into defensive mode with her jab firing out and moving around the ring, a clubbing left hook though catches her to the jaw to make Natalie groan, she is pressed to the ropes, desperately pulling Maisie into a front headlock, referee breaking them up warning Natalie to release when told, the round soon comes to an end with a relieved look in the Foxfire camp, they get to work checking on Natalie, who has a small cut under her left eye to give her something to worry about, Maisie meanwhile looks like she wants to charge across the ring and end this now, standing instead of sitting as Jill tells her to keep her cool.
Round 4:
Heading out their corners with clearly different levels of confidence right now, Maisie looks loose in her punching, Natalie more tense as the better work rate is coming from the redhead, who is looking for the big punch and just missing her target, she has opened the cut a little more with a left cross though, making Natalie wince as she steps back and moves around near the ropes.
As Maisie does manage to get inside, Natalie is quick to clinch up, referee again warning them when rabbit punches come in, both simply don't like each other and it is showing in this fight, split up but back at it as Natalie is slowly getting her urge to engage back, maybe realising she has no hope in hell of winning just backing off all the time.
Late in the round Natalie finds herself driven into a corner, shelling up as Maisie goes to the body, wanting to break down the blonde as the crowd roar Smith on, Natalie fighting back though as she whacks in some nice hooks around the ears of her rival, before they end up clinched again, heads grinding along with their bodies, the referee struggles but breaks them up, not long later the bell rings as Maisie has really grabbed hold of this fight, Natalie shakes her head as she returns to her corner, clearly not how she expected this fight to go, Virginia needing to earn her money giving advice to Natalie on how to turn this ship around.
Round 5:
Stepping out to fight the punches are certainly not getting softer between them as sweat flies off when combos land flush, Maisie lands a few more whacking body shots, taking a few around her chest in reply as Natalie using a little of her JMD experience, trying to throw Maisie off her game.
An overhand right by Smith misses, instead it's a left cross counter from Lind that lands, along with a straight into the face of Maisie, Natalie pushes Maisie back two steps with a follow up double jab/straight combo, causing a trickle of blood to run from the nostrils of the English lass, who swings back but is starting to get hit with more punches now as Natalie seems to have found her mojo.
There's a clash of heads late in the round, with the referee stopping the action a moment to check on the fighters; happy they are OK, they resume with both bodying up to work, thudding shots being landed as they plant their feet and swing through their hips, Natalie maybe showing her experience edge or boxing IQ uses her left to give Maisie a small nudge, then swings with an uppercut that lands flush to knock back the head of Maisie, with the follow up straight punches knocking Smith to the ropes, the bell rings to end proceedings, Natalie almost swearing as she looks to be buzzing now, Maisie needing to shake off that barrage as she sits down, Jill and her crew now working to patch up their fighter.
Round 6:
Natalie looks to have her rhythm set now as she is catching Maisie cleanly on her bloody nose, taking a few hard hits back but she is controlling the early action, stepping back when Maisie swings in a left cross that finds air, a one-two combo smacks Maisie into her face to make her whine out, the redhead backing off for really the first time in the fight.
A double jab from Natalie opens up Maisie to a right hook on her jaw, Maisie showing her toughness to land a jab in return but Lind isn't looking as worried about her power right now, INSTEAD A LEFT CROSS MISSES AGAIN BY SMITH, INSTEAD A RIGHT HOOK LANDS FLUSH ON HER JAW, FOLLOWED BY A LEFT TO HER CHIN! DOWN GOES MAISIE TO HER BACK GROANING!
Natalie smiles as she looks down at Maisie, needing to be told again to go to a neutral corner, she does so with her blood stain gloves raised in the air to show the crowd what she has done to Maisie, 1...2....3....4.. Maisie rolls to her left side grimacing, 5...6...7... Tears in her eyes as she gets to all fours, blood dripping from her nose to the canvas, 8....9....10 Maisie can't find the strength to get up, it's all over!
Winner Natalie Alyn Lind KO Round 6After:
Natalie was certainly made to work for that victory, coming back from being put down and under relentless pressure from her opponent, Natalie showed off her skills and toughness that has made her such a fearsome prospect already in the FCBA over these past few years.
Off come the gloves of Natalie as she pulls them off under her armpits, marching over to Maisie, she sits on her back and uses her left hand to pull Maisie's head back, Maisie's eyes are watering as her nose continues to drip blood, Natalie tells the crowd "this is your best prospect here? She isn't in my league! Never will be!" Bold statement after the actual performance of both fighters was very close, Natalie though wants to make sure everyone is focused on the winner clearly.
"Oh I wish I made this a pony saddle bout, though I could maybe ride you bare back" says Natalie, who then kicks her heels into the sides of Maisie to try to get her to move with her on her back, over comes Jill as she sees enough, dragging Natalie off by her hair, Virginia quickly across to shove Jill off of her, the referee trying to gain order as they get between the two coaches, who are screaming at each other about their fighters along with unflattering terms about the other.
Natalie rubs her scalp before giving Jill the middle finger salute, Virginia herding her back to her corner, as Jill gets to finally check on Maisie, who looks distraught by what happened, Natalie gets her gloves handed to her by the referee, with the winner telling her coach "I'll keep these on my mantle as the day I showed the BBU whose the boss in the bantamweight division" Virginia nods but doesn't look that interested as she tries to cool off.
Across the ring after Maisie is helped to her stool, her nose is patched up as Jill makes sure to tell her "you fought brilliant, just little mistakes and that lucky cow beat you, you're improving every fight, next time you will knock her clean out and we won't have to listen to her bullsh*t ever again" Maisie thanks her coach for the kind words, rubbing her eyes dry, this result will sting for a while though after being on top and ending up second best in the end.
As Maisie is helped out the ring, Natalie heads to the center of the ring, getting her left hand raised as she has her right on her hip, giving a sneering look to those fans cheering her, she tells the camera "I am the face of this division in the world" before she heads out the ring, her and Virginia heading to the back together.
This was a good scrap between two of the future faces of their organizations, maybe the first of several fights judging by the animosity between them, as they grow as fighters in their organizations and maybe in each others, this is probably the beginning of the comparisons and the chase to be the first to win a linear title in their divisions.