Post by girlsfriday on Aug 7, 2022 6:24:30 GMT
Rebecca Romjin:
VS
Kate Upton: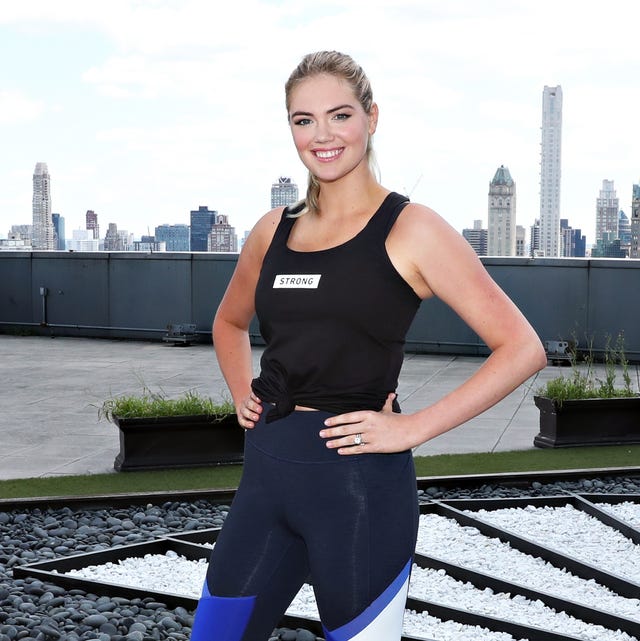 (Girls Friday vs Lookout! Boxing)(Written by Girls Friday & Lookout!/Results by Lookout!)(Sparring at Gotham)Intro:
Sunday was a day for Rebecca Romjin to blow off some steam, after six days of training models at the Girls Friday stable who weren't always happy to do a five mile run early in the morning or would complain over feeling tired after lifting weights, she needed to relax and the best way Rebecca found to relax herself was ironically through boxing training, to be precise more beating the stuffing out of a punch bag like it owed her money.
This Sunday didn't seem any different, she stepped into the gym she'd been using the past year, the world famous Gotham boxing Gym in New York had been recommended to her by her new friend and one of the fighters of the Girls Friday stable Dua Lipa, who was one of many models and celebrities used when they weren't part of a stable, Rebecca used it as her refuge, even as she was offered free use of the G.F gym.
After waving to all the trainers she'd gotten to known, some of the other women who'd become friendly with her, along with a few scowls exchanged with some of the younger celebs who clearly didn't enjoy having an older woman in their midst to ruin their fun, she made her way to the locker room, slipping out her black denim jeans, black vest and sneakers, Rebecca changed into her usual black sports bra, short black trunks and was getting her hand wraps all sorted as one of her best friends in the gym came in and both started discussing life and joking about training.
Suddenly the friends eyes went wide and her mouth became agape, Rebecca thought she had said something rude by accident, though she was only talking about maybe treating herself to a glass of wine that night, it dawned on Rebecca after a few moments that her friend was looking past her, Rebecca curious what it was that spooked her slowly turned around and her cheeks flushed red.
Standing barely any distance away was Kate Upton! Only a few short short weeks Kate had knocked out Rebecca's protégé Josephine Skriver and then tried to humiliate Josephine, something that had not sat well at all with Rebecca as she had been heard saying "god I hate that smug bytch, I hated her when I fought and I will always hate that fat f**k" about Kate.
A smug smile came onto Kate's face as she saw Rebecca in this "chance" meeting, standing with a white blouse on, blue denim jeans and black heels as she placed her bag on the same bench as Rebecca, Kate said "fancy meeting you here" the tone was sarcastic as Rebecca placed her hands on her hips angrily staring at Upton.
"When the hell did you start coming here?" Asked Rebecca, not hiding the venom in her words as Kate continues to smirk, all the while she slips off her blouse to bare her famous jugs, not caring if anyone was staring, which of course the other women bar Rebecca were looking at.
Kate replies "what business is it of yours if I come here? It's a free country and I can go anywhere I want" slipping off her heels as Rebecca clenches her fists, the other women in the gym watch keenly at this interaction, seeing two strong blonde alpha females testing each others wills it seemed, both not taking their eyes off the other as the tension rises.
"What it has to do with me is that I don't come here to share this gym with a smug f**king cow like you, neither does anyone here" says Romjin in response, she steps forwards a step, her friend looks torn whether to tell Rebecca to leave it or not, Rebecca is after all not exactly in her twenties anymore, though still has a body to die for.
Grinning as she looks down a second, Kate then lashes out with a slap as she turns into it, cracking Rebecca on her cheek, telling her as Rebecca rubs her cheek "yes I heard your little opinion on me after I beat your bytch Josephine down at my feet, call me smug all you want but you were never the fighter I was, all you are is a jealous little co..." She is interrupted by Rebecca slapping her back, then grabbing her hair as both slam into the lockers with a loud thud.
Curse words are being exchanged as some of the women watching urge them to smash each other, the older heads risk their health to pull the two big blondes apart, Rebecca roaring "you wanna test that theory you fat cow! Meet me in the ring and we can spar" some groan hearing the word, others know that is not most likely what is to happen between them, Rebecca grabs her hand wraps and black boxing gloves, not bothering to put any boxing boots on as she barges into Kate and nearly gets another tug of her hair for it, instead Kate seems to prefer the idea of sorting it in the ring.
After talking to one of the trainers in the gym, Rebecca is led to one of the rings, not quite a standard ring as it is used purely for training and sparring, Rebecca stretches in the red corner after putting on her gloves, her friend brings her black gumshield out and is given the role of her second for this fight.
It isn't that long later that Kate comes out with a group of women in awe of "The Queen" as she wears a gold coloured sports bra, matching short trunks and gloves, she is barefoot too as she climbs through the ropes into the blue corner, one of the trainers offers to work her corner, Kate nods as she doesn't seem to care who it is, all she seems to want is a crack at Rebecca in the ring.
There's a lot of chatter at ringside as the other women training move to surround the ringside area, not normally is this sight seen for a sparring session, with several going into their bags to bring out a smartphone to record what is about to happen, some even taking bets on who is gonna come out on top of this.
The trainer who was asked about this fight taking place checks both fighters over, once satisfied they are ready and want this, they head to the center of the ring as they take the referee's job, announcing "this is five rounds of sparring ladies, once the bell rings to end the fight it is done! Now let's go!" A bell on an automated timer is started and the fight begins!
Round 1:
"Ding!" Straight away it is clear neither is holding back on their punches, drilling them through their opponent's guards to smack gorgeous faces, Rebecca sneaking in a shot to the famous jugs of Kate but not getting preoccupied by them, knowing Upton with whack her with a hook over the top if she isn't careful, a closely fought start as neither overpowers the other.
Kate tries stepping in with a left cross, that is blocked by the right glove of Romjin, who replies with a jab square into the face of Kate, followed by a short right across the jaw of the younger fighter, Rebecca can be heard hissing "f**king bring it" at Kate, not looking impressed by the multiple time champion as she presses her rival to the outside part of the ring, Kate looking a little wary that maybe Rebecca isn't completely done as a fighter yet, especially when she lands hooks around the guard to the cheeks of Kate.
Final thirty seconds to go, Kate shows her claws as she dips under a right hook, banging in a short left/right body punching combo, an overhand left then slams across Rebecca's cheek to turn her head, Kate now drives Rebecca to the ropes, snarling "you asked for this" as she throws in hooks to the body to make Rebecca grimace, pulling Kate into a clinch, both threaten to spill out the ring as they wrestle, referee dragging them back through the top and middle ropes as the bell dings to end the round, there's an angry shove between them before the proud blondes return to their corners, getting a quick drink as they glare at each other.
Round 2:
Walking out their corners with a few threats of what's to come being exchanged, they trade more stiff combos to start, warmed up to the task as the women outside the ring cheer them on, the crowd split between the younger women cheering Kate on as she whacks in a jab followed by a right cross that sends Rebecca back two steps, then the older women cheer as Rebecca steps back in with a jab/straight combo into the face of Upton to show she won't back off so easily from this fight.
After the opening minute of the round, Kate whacks Rebecca on her jaw with a left cross, followed by an uppercut that sends the older fighter into the ropes, Rebecca shelling up as Kate squares up to her, whacking in thudding hooks to the body of Rebecca again, asking "do you like that bytch?" With Rebecca responding with a left forearm shove to the chest of Kate, followed by a right cross onto her chin to make Kate retreat back.
There's times in the round that look like a bar room brawl as they nearly clash heads trying to knock the other out with big hooks, Rebecca losing her cool with Kate, takes a left hook onto her ear, followed by a right on her cheek to make her retreat late in the round, Kate grinning as she waves Rebecca back at her, trading hard single blows as Rebecca boxes around near the ropes and Kate keeps her herded near them, the round comes to a close with Kate grinning as she returns to her corner to stand and get wiped down of sweat, Rebecca taps her gloves together annoyed at herself for getting whacked around at times that round, there's a few arguments outside the ring brewing over who is on top of this bout already.
Round 3:
Resuming fighting around the center of the ring, the cracks of leather smacking flesh ring out as even with 10oz gloves on, they are marking each others cheeks up, Rebecca lands a crisp double jab into the nose of Kate, causing a few of the younger women to gasp as they see a thin trickle of blood running from Kate's left nostril, Kate doesn't look too bothered by it as she ducks under a straight aimed at it to land a jab into the toned abs of Romjin to make her step back.
Second minute sees Kate catch Rebecca on her jaw with an overhand right, that makes Rebecca stumble back a step as Kate wades in with a left hook to the body, the younger women now roaring their champion on, KATE REPAYS THAT SUPPORT WITH AN UPPERCUT SENDING REBECCA DOWN TO HER BACK!
The referee/coach looks a little surprised, which let's Kate gloat over Rebecca "can't take a punch anymore old bytch" laughing at her rival, then being nudged over to a neutral corner as she flexes her arms for the crowd, 1....2.....3... Rebecca turns to all fours looking furious with herself, 4.....5.... Pushing to her knees, Rebecca is red cheeked as she stares hatefully at Kate, who blows her a mocking kiss, 6....7.... Rebecca gets to her feet, telling the ref "let me at the bytch" as they check she is out, they allow the bout to continue after wiping Rebecca's gloves down.
Kate pushes out the corner looking to really hurt Rebecca, who barrels into her as it turns into a bit of a brawl, referee needing to pry them apart when they lock up and swing in rabbit punches behind heads, warned that if they keep on doing that then the bout is over, both nod as they take a few deep breaths to cool off, no glove touch in apology, just back to smacking each other up until the round ends moments later, Rebecca spits out her gumshield into her right glove, telling her second "I will f**king hurt that cow" the second telling her to cool off, Kate meanwhile just smirks as she definitely enjoyed putting Rebecca down.
Round 4:
While Kate is looking to push the pace up a notch, Rebecca looks to have calmed down enough to remember to use her jab, popping Kate around that bloody nose to stop her charging right through, though Kate is the one landing the heavier shots with hooks cracking Rebecca onto her cheeks to give them a pink hue.
A right turns Rebecca's head as Kate looks to drive her into a corner, as she rears back with a left hook, Rebecca swings in an uppercut that knocks Kate onto her heels, with a gutteral roar Rebecca sends in a jab/straight/jab combo to rock back Kate several steps as sweat goes flying from the blonde mane of Upton, who looks a little stunned that Rebecca has so much fight left in her, Kate covering up as Rebecca now herds her around near the ropes.
Kate lands several solid punches in return when she gets out from behind her guard, even opening a cut on the bottom lip of her rival, but a little shove and a left hook on her jaw reminds Kate of Rebecca's power, another jab/straight combo to the nose of Upton has her backed to the ropes with more blood starting to run from it, the crowd noise has died down a little just so they can hear the thuds ringing out as they are amazing by the power of both women and their toughness, the bell dings with the referee risking their health to get between them, eyes full of fury as they return to their corners, sweat coating their magnificent bodies as they shake their arms to keep them loose for the final round.
Round 5:
The start is a little more cautious from them, the pace they set maybe starting to catch up with them or simply they don't want to make a mistake, a few jabs pepper the nose of Kate to rile her up, swinging in a right hook that finds thin air, REBECCA INSTEAD CATCHES HER WITH A CLUBBING LEFT AROUND HER EAR, DOWN TO ALL FOURS STUMBLES KATE!
"Not so tough now bytch!" Barks Rebecca in anger at her downed rival, walking to the neutral corner as her supporters roar her on, 1...2....3... Kate looks befuddled why there is even a count, claiming it was a slip, 4...5...6.. "F**king bias bullshit!" Roars Kate, before shaking her head of cobwebs, maybe showing a little acting on her part about how hard she was hit, 7...8.. Pushing to her feet, Kate raises her gloves to show she wants more of Rebecca, referee wipes them down and let's the girls at each other.
Resuming with both swinging in hard shots, they aren't landing too cleanly as they most catch shoulders or thin air, trying to end this now in the most brutal knockout they can muster, ending up clinched up trying to overpower their opponent as one word insults are exchanged, tripping up to the canvas as legs get tangled and the referee has to break them up to get them back to their feet.
Final moments sees both landing stiff single punches, almost taking turns to hit each other as the girls are ringside are in a fever pitch roaring them on, a few getting into shoving matches as they bump elbows, being pulled apart by other coaches, Rebecca surprising Kate with a jab on her nose, followed by a right hook that puts her on her heels, at the bell the referee steps in to stop the bout, both spit out their gumshields into their right gloves, eyes locked firmly on their opponent as it looks like they are seeing if they want more.
Instead they think better of it as they return to their corners, gloves taken off and both are cleaned up, Rebecca admitting to her second "I missed a good brawl, Stana (Katic) was a great boxing opponent, this was fun" smiling for the first time since she laid eyes on Kate, who looks glad to be cleaned up, flexing her arms for supporters with a grin, sure she has won this, both heading to the center of the ring for the referee to decide who won, they are told along with everyone at ringside "it was a tough decision, by three rounds to two, Rebecca won" with Kate looking gobsmacked, Rebecca grins as she raises her arms in the air.
Winner Rebecca Romjin UDAfter:
The crowd is buzzing, obviously surprised by this outcome, but none more so than Kate.  Kate is furious as she whirls on a very flabbergasted referee demanding an appropriate reaction or better yet, a reversal.   The mere fact that she has to argue that she beat Rebecca is an insult as is the fact that she has to explain to the referee how to do their job.  The referee is backing up as this is more than he signed up for when he showed up for work today.   Kate looking positively furious as he advances, growing increasingly louder when Rebecca steps in.  Gripping Kate's shoulder as Upton whirls around, bringing her palm up for a bitchslap but Rebecca is prepared.   Catching Upton's brawny bicep in one hand, she goes to tug her forward as she buries one thigh upwards between Upton's thighs to freeze her foe.   Upton shouts in shock as it's Romjin's turn to smirk right into Kate's face as she goes to wrap her own strong forearms around Upton's face to fold her forward into a front sleeper of her own.  
Kate's moans of agony are suddenly muffled as one hand presses between her thighs to massage away the ache from the low blow but her other hand comes up to shove at Romjin's forearms to try to pop her head free as she goes to turn away from the smother.  Trying to turn her head free to the side as Rebecca pushes forward.  Strong thighs barreling forward as she goes to smash Upton back into the corner to take away some of her leverage.  Kate's thighs wobbly from the shot just seconds ago as her butt and back thump into the turnbuckle, still trapped in the smother.   Rebecca leaning forward, making Kate take all of her weight as she groans out into Kate's ear angrily, cinching up her arms tightly to really mash her foe's face into her own proud breasts.
"Kate, I warned you, you fat f*ck.  Do you know why I was picked to be the trainer for my stable?   I'm not some pushover - I'm a four time f*cking Welterweight champion.  I'm one of the best to ever step into this ring and you thought you could waltz into my gym?   You thought you could beat me here in front of everybody.   Why?   Because you think you're Kate the Great?   No - you're a fat f*cking cow and you don't scare me." Rebecca snarling, just really unleashing years worth of frustration into her taunt and smother.  
Kate trying to push free out of the turnbuckle, shoving at Rebecca's forearm and tummy, planting her feet to try to shove free.  But, Rebecca's position is too dominant and Kate is too breathless at the moment to mount a full escape.  Rebecca takes a step backwards or two to let Kate feel like she's made some kind of progress, then she roughly ragdolls her back into the turnbuckle.  Burying her face even deeper into her cleavage as Kate moans out, slumping back into the turnbuckle as she is squirming and slapping at Rebecca's back.  Slapping at her sweaty backside and butt, trying to tug her head free but Romin has the smother expertly applied so that every way Kate turns, it's just more jug.   Kate is fading fast, but Rebecca not going to let her go out quite yet.  
Rebecca continuing to taunt her as she release the smother momentarily to let her draw some air as she spits out, "This is my gym and these are my girls.  If you ever face anybody from Girl's Friday again, if you win, you leave them alone.   If you don't, I'm going to do this again.  I'm going to smother you over and over until the lesson sinks in.  You may think you're the Queen, Kate, but royalty can get kicked off of the d*mn throne.  I'll put you out to f*cking pasture, you cow and if you ever think you want to try again, come find me in the gym.  Know how it'll end?  Just like this!!"  
Rebecca just cinching up her arms, flexing up those biceps as she just draws Kate deeply into her jugs to cut off any response from Upton, which at this point, would be positively venomous.  Kate thrashes, slapping and shoving, trying to twist free as she howls muffled, but quickly fades under the renewed focus from Rebecca's rack.  Unable to breathe or fight free, Kate slumps forward as Romjin maintains the smother.   Holding onto it for a few more seconds as she purrs, then goes to release it as Kate puddles down to her knees and then Rebecca hip-checks her towards her back.  
Rebecca bringing her fists up into the air, sauntering around the ring now in triumph as the assembled crowd cheers, although a few supporters of Kate boo loudly.  Rebecca letting it all sink in as she smirks, thrusting out those jugs that just smothered out Kate until one of Kate's entourage comes in to retrieve her friend and Rebecca barks out, "NO!  Leave her right there in that ring until she wakes up.  I'm going to finish my workout because beating Kate didn't even work up a sweat.  As I do, I want to look over and in fact, I want everybody to look over to remember whose gym this is.  It's mine and Kate better not fc*cking forget it." as the entire crowd looks down at Kate, who is one jugged-out beauty on the canvas.  Face red and slick with jug-sweat, chest rising and falling as she is sprawled awkwardly on the mats as Rebecca steps over her towards the gym to the cheers and adulation of the other gym members.  They cheer even louder as Rebecca juts out her jugs, flexes one bicep and flips off Kate with the other hand in a photo that makes its way through social media within minutes. Will Rebecca have any issue with keeping her stable in line right now?  Probably not for quite a while.  Will she need to watch her back for the inevitable revenge of one Kate Upton?   No question about that.  Does Rebecca care about that today?  As she heads back to the punching bag to celebrate her victory, absolutely not.   This is far from over, but for today, smothering out Kate Upton makes Rebecca feel like she is on top of the world.