Post by girlsfriday on Sept 29, 2022 18:39:34 GMT
Jorgie Porter: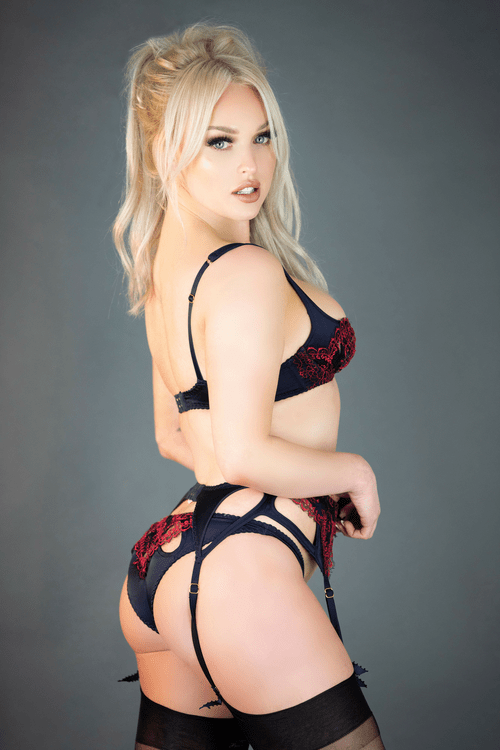 VS
Roxanne Pallett:
Tale of the Tape:Jorgie Porter:
Age: 34
Height: 5'2
W/L: 22-13 (21KOs)
Vs
Roxanne Pallett:
Age: 39
Height: 5'1
W/L: 26-33 (26KOs)
(Glamour Boxing Academy vs Kear's Kat's)(Written by Girls Friday/Results by Lookout!)Intro:
The BBU flyweight title is on the line later tonight, well Jorgie Porter and Roxanne Pallett battle it out once again for the right to challenge whoever emerges the champion tonight, the fact that these two former stablemates dislike each other helps add extra drama to the fight.
The last time they fought was last year, with both letting their feelings out for each other in a vicious war, Jorgie won the fight by knocking out Roxanne in the sixth round, can Jorgie do it again with a big chance on the line or will Roxanne get her revenge.
Before the bout both were interviewed at the BBU TV studios about the fight, Denise Van Outen did the duties of talking to the fighters, wearing a red dress as she sat on a stool, first to sit on the stool across from her was Jorgie wearing a lime green dress with her trademark smile.
Asked about her feelings towards Roxanne now, Jorgie answers "they haven't changed much since our fight, she was a pain in the arse when we shared a locker room, she tried to bully me in our fight and last I checked I knocked her out, so how she keeps getting into these positions I don't know, maybe she does her best work in the bedroom as it has never been in the ring" Denise stifling a chuckle at that.
She is then asked about the importance of being the number one contender, Jorgie replies "for me I should be getting the title shot now, I am coming off four straight wins, Holly's people contacted my stable manager about possibly being given a shot this month, so I am not exactly pleased I have to jump through a hoop to earn what I feel I already have with my performances" fists clenched as clearly it bugs her deeply.
Final question is who she wants to win the title fight between Bianca Atzei and the flyweight champion Holly Hagan, Jorgie tells Denise "frankly I don't care as long as I get my shot, I don't want to sit around for a year while people play politics, when I beat Roxanne a second time I want my due shot" fired up as much about her rival as the title situation.
Roxanne meanwhile sits on the stool later wearing a black dress, she tells Denise "this has been a long wait for me to get my bloody rematch with that blonde bimbo, f**king Jorgie has run from this knowing I will beat her arse and show she fluked our first fight" straight away getting to the point.
"Then when I am done humiliating that w***e, I will finally get my chance to be the BBU flyweight champion, it feels like the champions are scared to fight me, well you can't f**king hide forever, that title will look so much better on me anyway" grinning as she speaks, Roxanne has certainly never lacked confidence.
Denise asks who she'd like to face if she wins this bout, Roxanne answers "f**king first I am winning this fight, secondly who gives a flying fook if it is that Italian slag or Holly f**king Hagan! Neither are worth a poke but I will happily smash either one to win the title, I am long overdue being crowned the best damn fighter in the division" she then walks off without a goodbye to the interviewer, causing Denise to mouth "cow" as Roxanne heads off.
Fight night, first through the curtain comes Jorgie wearing a white silk robe, that comes off at the top of the stage thanks to her coaches help, revealing a white lace bra and knickers set, white tights with a garter belt and white gloves, her hair is in a ponytail as there are plenty of whistles aimed her way as she walks to the ring, stepping into it moments later as she blows a few kisses to the crowd, before stretching to warm up.
Now here comes Roxanne with her coach Gail Kim beside her, she smirks as she gets a loud response too, wearing a black version of Jorgie's gear, she struts down the aisle looking like she hasn't a care in the world, that's till she gets to the ring steps in her corner, staring hatefully at Jorgie across the ring, she climbs into the ring with a venomous stare aimed at the blonde bombshell across from her.
For the second time in their careers they walk to the middle of the ring for a face off, Roxanne of course making her mouth go, telling Jorgie "I am gonna beat your f**king arse across this ring you dirty blonde w***e!" With more insults coming till Jorgie pushes her, referee getting between them with coaches holding them back, a chant of "let them fight!" Doesn't help matters, but both cool off enough in their corners for the referee to signal for the bell, beginning 10 rounds of flyweight action.
Round 1:
Quick start from both as they step in to work, Roxanne getting the first really solid punch with a left hook on the jaw of the blonde, then rifling in a straight to knock back Porter a step, it's looking an early mistake from Jorgie as Roxanne presses her back to the ropes, especially as the brunette is taunting her "that all you got bytch" while plugging away at the abs of her younger opponent.
Jorgie pushes back Roxanne so she can move off the ropes, showing her fast hands with a crisp jab/straight combo banging into the face of Roxanne, more punches now starting to come from the energetic Porter as Pallett puts her guard up higher to try to protect her face, Jorgie digging to the body when that happens, Roxanne stands her ground to land a left/right hook combo to show she won't back off so easily.
Again Roxanne grabs control of the action after landing a straight into the nose of her rival, a short left hook follows before an uppercut to the body of Jorgie has her backing off, Roxanne looks in a street fighting mode as she pushes back Roxanne to the ropes, slugging her to the body with her left forearm pinning Jorgie to the ropes, referee splits them up with a warning to Roxanne about using her forearm, both go toe to toe in the dying moments till the round ends, a set of nasty looks being exchanged as these two seem natural rivals.
Round 2:
Back at it they go with a flurry of punches being exchanged by both fighters, they are certainly motivated out the gates for this one, Jorgie this time the one to land the eye catching punches as she slips a straight, coming around with a right hook under the eye of Roxanne, then a left hook on her opponents chin to make the Raven haired Roxanne retreat back a step.
Pushing the pace now with quick fire combos, Jorgie is moving in and out of range, frustrating Roxanne with her punches slamming into the face and abs of the Cumbrian lass, Roxanne waving Jorgie to bring it as she is landing only a few really solid punches.
Roxanne does manage to catch Jorgie with a solid jab into her chest, closing up to her as they slug it out on the inside, Roxanne looking more at home there as she swings in some uppercuts, making Jorgie retreat with a double jab smacking the Kear's Kat fighter in her face, soon enough the round comes to a close with Roxanne calling Jorgie a "pussy" for as she sees it running, Jorgie's coach on the other hand sees it as smart boxing as they smile.
Round 3:
Trading more jabs off the blocks, Roxanne is maybe loading up too much on her right as Jorgie dodges then lands counter punches, whacking Roxanne back across her face to the delight of her fans, Roxanne though gets in close with a little shove with her left to the chest of Jorgie, then slamming a right hook across her cheek.
Both are bodying up whacking away with thudding punches, barks and groans can be heard alongside the slaps of leather, neither fighter wanting to give an inch as they work away, till Jorgie cuffs Roxanne around the back of her ear with a right hook, then steps back quickly to open up space for an uppercut, Gail Kim claims an illegal hit to the back of the head, that falls on deaf ears as Jorgie powers forwards with a flurry of punches into Roxanne's face, till she is held by Pallett.
Split up by the referee, Roxanne looks furious as she steps forwards, missing more then she lands as Jorgie picks her off with jabs and cross punches, the round ends with Porter getting another round on the board, though Gail yells at the referee to do their job as Roxanne returns to her stool.
Round 4:
It looks like Roxanne has realised she hasn't the speed to match Jorgie, she does though have raw aggression, using little shoves to try to keep Jorgie off balance, it isn't pretty as both women throw hooks, not all landing but Roxanne manages to work Jorgie towards the ropes with a left shoulder bump, then sends in two right hooks around into the cheek of the busty blonde.
Pushing apart from each other, Jorgie is finding it harder to create space to work, being drawn into fire fights by the older fighter, Roxanne able to catch Jorgie out with a straight on her lips, then a left hook on her chin to turn her head, Roxanne again works Jorgie to the ropes, working the body of the younger woman with short digging punches till she is held onto, broken up by the referee with looks that could kill aimed at their opponent's.
With space to work now Jorgie starts to get her rhythm going again, but Roxanne isn't letting her off too easily, slashing in hooks around the jugs of Jorgie to try to throw her off her game, with Jorgie hissing when she is hit cleanly there, she rifles in a jab/straight to the face of Pallett to try to make her regret going for her boobs, the bell rings with Roxanne looking more relaxed now after a better round, though the expressions on both fighters faces is they really want to hurt each other.
Round 5:
Again another energetic start as Roxanne really wants to close the gap on Jorgie, who lands several solid punches into the face of the former "Emmerdale" star to get her supporters roaring, still Roxanne gives her more a shove then a jab to her face, JORGIE DOESN'T SEE THE UPPERCUT BEHIND IT TILL IT'S ON HER CHIN! DOWN ONTO HER BACKSIDE GOES JORGIE!
Roxanne spits at the feet of Jorgie, that will be a fine from the BBU committee, she walks to the neutral corner arms in the air to a mixed response, 1...2...3... Jorgie shakes her head to clear any cobwebs away, 4...5... Then starts pushing herself up, 6....7... Getting up as it looks to have been more a flash then substance knockdown, Jorgie is checked over as she raises her gloves, showing she wants more.
Resuming fighting around the center of the ring, Jorgie is being more cautious with half the round still to go, Roxanne hissing "come on you c**t" as she doesn't hide her hate for the blonde bombshell, both landing stiff punches to each others faces as they box, Roxanne landing a straight into the lips of her opponent, opening a cut on the bottom lip of Jorgie to get her fans roaring her on.
Jorgie finding herself being herded near the ropes, Roxanne working away with hooks behind her jab, all the way till the round ends, great round for Pallett as she marches back to her stool, telling the crowd "she is f**king toast!" As Gail smiles, Jorgie meanwhile punches the top turnbuckle in her corner before sitting down, wincing as her lip is patched up by her corner.
Round 6:
Resuming the action with Roxanne looking for the killer blow, she isn't landing though as she is loading up again too much, Jorgie punishes her with a left hook that lands right on her eye, Roxanne crying out as it looks puffy right away, another hook on it makes Roxanne retreat back as she is hurting.
An uppercut catches Roxanne to send her reeling back, it's amazing how quickly things can turn around, Jorgie now whacking away at her rivals face, Roxanne needing to clinch up, right eye nearly shut from those nasty hooks, referee splits them apart as both land rabbit punches to the back of their opponents head.
Back at it they go, Roxanne though is the one being bullied back, her vision problems meaning she is missing a lot, getting countered by hard hooks as she stumbles back into a neutral corner, Jorgie's eyes lighting up as she steps in, bloodying the nose of Pallett with a short left hook across it, when the bell rings it is a relief to the Kear's Kat corner, Gail and her crew needing to get to work on patching up their girl, Jorgie meanwhile stays standing as she stares angrily at her rival, that knockdown certainly pissed her off!
Round 7:
Out they come with Jorgie dancing side to side as Roxanne tries to walk down Jorgie, missing as Jorgie lands a left hook under the swollen eye of the Cumbrian lass, an uppercut rocks Rozanne back onto her heels, JORGIE POUNDING IN HER PUNCHES AROUND THE CHEEKS OF HER RIVAL, ROXANNE FINDS HERSELF BACKED TO THE ROPES, ANOTHER UPPERCUT LANDS ON THE CHIN OF PALLETT! DOWN CRUMBLES ROXANNE TO THE CANVAS!
Jorgie walks over to the neutral corner with her supporters cheering her, 1...2....3....4... Roxanne groans as she turns her head to the right side, laying on her front, 5....6...7.. Gumshield falls out her mouth, 8...9....10 it's all over!
Winner Jorgie Porter KO Round 7After:
That's Jorgie getting the number one contenders spot and beating her rival, the winner walks over to the beaten Roxanne, planting her foot on her back as Jorgie flexes her arms for the crowd, telling Roxanne "not so talkative now you f**king w***e!" As she grinds her foot into the back of a groaning Roxanne.
Leaving Roxanne so she can return to her corner, Jorgie gets a hug before she sits on her stool, getting cleaned it as it dawns on her, saying "oh my god! I finally am going to get a shot at the title!" Her coach smiling as they simply nod, knowing how long this has been for her.
All the while Gail shakes her head, disbelieving that Jorgie beat Roxanne once more, kneeling down to check on Roxanne, Gail slowly helps her up, then takes her to her stool as Roxanne certainly looks to have suffered a beating in the end at the hands of her bitter rival, head down as Gail calls her a dumb bytch, showing her frustration at this defeat.
As soon as Roxanne is patched up, she is helped out the ring as Gail gets help from two of the medics at ringside, all Gail do is ponder what the hell to do next with Roxanne as clearly she feels this might be one of the last chances she has a getting a title shot, though knowing how Roxanne is, she certainly won't agree with that.
Back in the ring, Jorgie mockingly waves Roxanne away, telling the referee "thank f**k the bad smell has left the ring" with the referee stifling a chuckle, then Jorgie gets her left hand raised in victory to make it official, she has the next title shot at whoever wins later tonight.
Going to a camera on the ring apron, Jorgie with a smile says "I don't give a crap who wins tonight, all that matters Bianca and Holly is I get my chance finally to win that title, so whoever wins better hug that title at night, soon enough it will be wrapped around my waist" tapping her abs where the belt will be, mouthing "new champion" with a cheeky wink.
Leaving the ring with her coach, the Glamour Boxing Academy has already one champion in Catalina Otalvaro holding the JMD title, could they end the year with two champions, Jorgie certainly looks excited about getting the title fight, now can she put the work in to grab the title for herself?