Post by girlsfriday on Sept 29, 2022 18:44:07 GMT
Olympia Valance:
VS
Maisie Smith: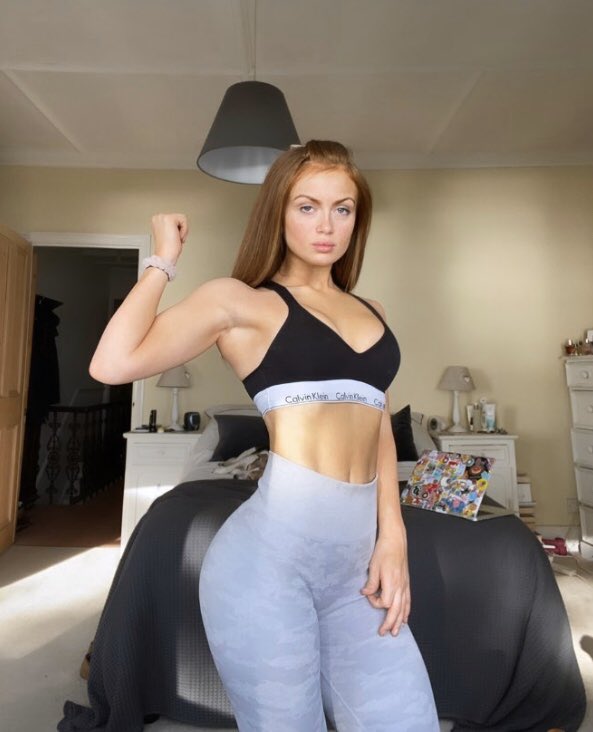 Tale of the Tape:Olympia Valance:
Age: 29
Height: 5'8
W/L: 18-2 (18KOs)
Former ACB bantamweight champion.
Vs
Maisie Smith:
Age: 21
Height: 5'5
W/L: 9-2 (9KOs)
(Girls Friday vs Marti's Maulers)(Written by Girls Friday/Results by Lookout!)Intro:
Next up two of the best bantamweights around right now battle, former ACB bantamweight champion Olympia Valance looks to get back on the winning path after losing her title in her last fight, Maisie Smith meanwhile is after another crack at the BBU bantamweight title, who is going to win this clash?
While the fighters mostly kept to training away from the media, they did sent out messages during the announcement of the fight on their social media to hype up the bout, while also having a dig at their opponent.
Olympia posted on her account "I have watched Maisie keep on winning, now I get to see first hand if you truly are going to be great or simply beating nobodies, since your two losses are to the only two good fighters you have faced, fact is I have proven to be championship level, when will you?" Showing respect with a hint of a back handed slap at the end.
Maisie meanwhile wrote "hey gang, make sure to pay to see me whoop that Aussie bytches arse, like your terrible soap opera Olympia I am going to cancel your career at the top" Maisie certainly not pulling punches in her message to her fans.
Fight night, out first comes Olympia with her coach Taryn Terrell, she walks down the aisle looking relaxed as she chats to Taryn, she is wearing a green sports bra with gold trim, matching trunks and shoes, gold coloured gloves as her hair is tied into a braid, she steps into the ring tapping her cheeks with her gloves to get focused for this big fight.
Now here comes Maisie with her coach Jill Halfpenny, she has a laser focus on the ring as she jogs down the aisle, she is wearing a white sports bra with red trim, matching trunks and shoes, red gloves, hair in a ponytail, she bangs her gloves together as she stares at Olympia.
The referee brings the fighters to the center of the ring, the fighters lock eyes as Olympia stares down at Maisie, with both fighters having their gloves on their hips in a power pose, they swipe their gloves together with their opponent to show a minor amount of respect, then return to their corners ready to start 10 rounds of bantamweight action.
Round 1:
Off they go out their corners, circling with Olympia looking to use her height right out the gate, Maisie stabbing in her jabs around the chest of Olympia, missing with an overhand right as clearly she hoped to bait her opponent in, problem is Olympia is fully alert and counters with a right cross to knock the flame haired fighter back a step.
Olympia gets control of the middle of the ring with a double jab pushing back Maisie, with Maisie landing short left hooks trying to ward back the taller fighter, with Olympia landing a jab/straight into the face of her opponent, then pushing Maisie to the ropes, landing a left/right hook around the guard to the cheeks of Smith.
Who pushes off Olympia, moving forwards to get into the face of her opponent the Aussie, both slugging away to the body, nearly clashing heads off when they nudge apart and come back together, an uppercut catches out Valance to knock her head back, Smith driving her to the ropes, but it's not long later till the round comes to an end, great start to the former ACB bantamweight champion as she jogs to her stool, Maisie tapping her gloves together.
Round 2:
Back out they come with Maisie looking to push the pace quicker, digging into the abs of her opponent after nearly landing her head right into the chin of Olympia, who needs to push off Maisie to create space, stabbing in a double jab to the forehead of the smaller fighter, Olympia getting more up on her toes to move around her opponent while dictating the range.
Maisie looking to keep the tempo up, but she misses with a right hook, Olympia steps back to dodge, then lands a straight into the nose of Maisie, THEN LANDS A LEFT HOOK ON THE TEMPLE OF THE SMALLER FIGHTER TO FORCE HER TO TAKE A KNEE!
Olympia jogs to the neutral corner not looking too fussed, maybe expecting an early night here, 1...2...3...4... Maisie shakes her head to get rid of the cobwebs, 5....6... She punches the canvas with her right in anger, 7...8.. Then stands up, fists raised to show she can fight on.
The fighters resume fighting with Olympia looking for a knockout punch, Maisie moves her head more to dodge then strike back at Valance, they both land several hooks around the cheeks of their opponent, soon the round ends with Olympia making a big statement with the knockdown.
Round 3:
Olympia now looking to be the one applying the pressure, she slams in a jab/straight through the guard of Maisie to her face, Maisie needing to keep her guard high, moving around Olympia as she looks for a way to get back into this, Maisie landing a left hook into the ribs of Olympia to make her grunt.
A missed straight from Olympia at the head of Maisie, leads to Maisie countering with a right just above the waistband of her opponents trunks, followed by an overhand left to the ear of Olympia, making her stumble a step to the left, Maisie opening up on Olympia to push back the Aussie onto the ropes, firing her fists into the abs of Valance to make her grunt out till she can hold onto her.
Broken up with less then a minute to go, Olympia has to get back behind her jab, Maisie keeping the heat on as she stalks after her opponent, both landing thudding punches through guards to knock back the head of their opponent, at the bell Maisie nods to Jill before she sits down, Olympia taking a breath to not show her annoyance at being pushed back after only putting Maisie down in the round before.
Round 4:
Both starting off quickly as they trade at midrange, Olympia it seems wanting to make Maisie respect her after the last round, problem is Maisie crouches under a right hook, landing a straight right under the chin of Olympia, followed by a left hook that sends a little sweat flying off, Maisie then stepping in closer, making her opponent bark out as she whacks in several short hooks into the ribs of Olympia, who clinches up with her to slow her down.
Pushed apart, they resume with Olympia scowling at Maisie, banging in jabs and straights around the forehead of Maisie, she isn't really throwing any big punches, maybe a little worried after her lack of success the last two rounds, with Maisie soon able to pick her spot to deflect a jab with her right glove, landing a short left hook on the chin of Olympia.
Late in the round Maisie is herding Olympia around near the ropes, both landing crisp punches but the better power shots are coming from Smith, who lands a left/right hook combo on the jaw of Olympia to rock her head around, an uppercut just misses it's target, Olympia instead landing her own right cross to the face of Maisie to get herself off the ropes, the round comes to a close with both fighters giving their opponent be hard stare before walking to their corners, getting wiped down as their coaches speak to them, Maisie still behind on the scorecards but clawing the scorecards back her way.
Round 5:
Trading at midrange again as the round starts, Maisie showing good upper body movement to dodge then land to the body and chest of Olympia, who smacks her back with more short hooks as she looks to open up, crowd getting behind both fighters as the cracks of leather ring out.
A missed right hook by Olympia leaves her open to a right hook into her solar plexus, that looks to have winded Olympia, WHOSE GUARD IS OPEN AS AN THUNDEROUS UPPERCUT KNOCKS HER ON HER HEELS, LEFT HOOK ON THE CHIN OF VALANCE SENDING HER DOWN TO HER LEFT SIDE!
Maisie raising her arms into the air as she walks to the neutral corner to loud cheers, 1...2...3... Olympia rolls slowly to her front groaning, 4...5...6.. Olympia isn't moving much more, 7...8... Maisie faking a yawn as 9...10 it's all over!
Winner Maisie Smith KO Round 5After:
That's another former champion on the record books of Maisie, she struts around the ring with her arms in the air, yelling "f**k all my doubters!" Banging her chest with her right glove, making it clear to all those who criticised her after her defeat to Natalie Alyn Lind that she is well on the rise to the top.
To further prove her point as the referee checks on Olympia, Maisie stands with her feet either side of the beaten woman, arms in the air so fans can see which of them rules this ring, Taryn coming into the ring telling Maisie to buzz off, with Maisie telling her to make her, Jill looking to calm things down tells Maisie to come back to her corner, which she does with a smirk aimed at Taryn.
Olympia getting checked on, moments later she is on her haunches getting a drink as she comes around from being put down hard, admitting that Maisie can throw a real solid punch, yeah she must be hating the fact that she let Maisie off the hook after putting her down in the second.
Maisie on the other hand doesn't look the least bit bothered by being put down, she has the win and tells Jill "I know I can win a title around here, I am so sick of these wannabes telling me I am not as good as them, look what I did to that cow there" pointing at the former ACB champion to prove her point, Jill telling her that she will need to not get over confident as her career continues to move upwards.
Soon the fighters come together at the center of the ring, scowls being exchanged before the referee raises the right arm of Maisie in victory, Olympia gritting her teeth not to say anything, instead leaving the ring with some help from Taryn.
While still in the ring, Maisie flexes for the cameras, showing off all the hard work she has done physically, ready for more big fights as she is truly becoming one of the new faces of the BBU, though all she will be working towards is another shot at the BBU bantamweight title someday.
For now it's all about celebrating tonight, though she tells Jill "keep giving me the tough tests and I will keep on winning" making Jill smile, she has to be excited to train someone like Smith, the prodigy of the Marti's Maulers.