Post by Dave Knowles on Dec 1, 2022 14:22:24 GMT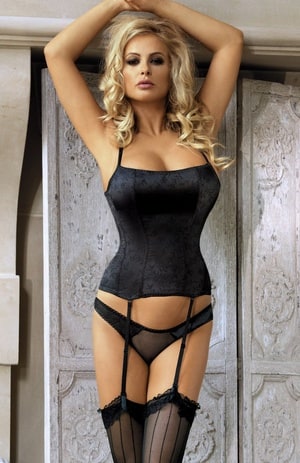 Beautiful Polish fitness model Wioletta Pawluk
is about to go public with a new stable she is forming with the help of former BBU bantamweight champion Dorota Rabcewska, who has supplied the veteran British campaigner Alesha Dixon to be the first opponent for Wioletta's poster girl Paula Tumala.
The stable will be called "Polskie Piekno"
Paula is first to enter the ring, gorgeous in a scarlet bra, panties, suspenders and stockings, the blonde waiting only seconds to be joined by Alesha in her baby blue bodice and knickers, and both girls look ready for this fight, Paula promising Alesha that she'll be her new mistress later
Round 1
Alesha starts well, jabbing neatly, and she's moving Paula around the ring, the rookie startled by her aggression, Alesha looking better than she has for a while as she constantly pops those punches onto Paula's lovely face, but the lovely blonde isn't looking troubled, and it seems that the ageing Alesha isn't hurting her, and gradually Paula starts to fight back, and she's quickly landing some decent right jabs to Alesha's face, the Brit getting the worst of a violent exchange of punches as the round draws to a close, Alesha's face looking scuffed and grazed, and Paula's finishing the round with a flurry of big punches to the former champion's body, working her into a neutral corner, and keeping her there with a series of left and right hooks, to have Alesha panting and grateful to hear the bell.
Round 2
After com9ing good in the second half of the opening round, Paula's gaining confidence, and now she's really finding her stride, knocking Alesha's head backwards with her crisp jab, the Brit bleeding from her nose after a crushing right cross smacks into it, but she stands her ground and fights back, and just as in the first round, she bravely stands and trades punches in midring, but she soon regrets that when Paula lands a lovely left hook on her cheek, and that has a stunned Alesha staggering backwards, until she backs into the ropes, a lump swelling on her right cheek, and another left hook to her jaw floors her. Alesha's up on her feet at 8, but she looks really shaky, Paula giving her some more heavy body punishment as the round draws to a close, and she's got poor Alesha wilting at the bell, the Brit stumbling back to her corner, dropping to her knees as she reaches her seconds
Round 3
This fight could be over soon, as, coaxed by Doda in her corner, Paula is working Alesha over to her body again, the Brit's resistance draining away as the blonde babe lands big, slapping punches until the veteran Brit can't take anything more, and she goes down on all fours gasping, and she isn't looking good right now, but gets up at 7, her eyes clenched tight as tears leak down her cheeks, Alesha in pain and really flakey, and Paula can end this fight right now if she wants. The blonde babe unloads more punishment, swatting Alesha's face right and left, blood spraying from her nose, Paula looking to measure her up, and she nails Alesha with a crushing left hook, the British veteran down, arms and legs splayed, the referee completing a totally pointless 10 count, looking just a little too excited as he administers the count from between Alesha's open legs.
Result: Paula Tumala knocked out Alesha Dixon in round 3
Wioletta Pawluk is delighted to have her first stable victory, hugs Doda and her protégé Paula, and tells Paula, "Bring the bitch over, and have some fun!" when she sees that Alesha is conscious again.
Paula strides across the ring, and grabs Alesha's hair, pulling her on her knees across to Doda, asking, "What shall I do with your weak puppy dog?" as she straps a collar and lead to the Brit's neck, Alesha totally submissive once more, and kissing Paula's feet, a cane being thrown into the ring, which the lovely blonde retrieves, taps on her thigh, then thrashes Alesha's buttcheeks with six lashes, making her scream
Wioletta Pawluk laughs at Alesha, and tells her, "And now meet your next opponent - Aleksandra Ciupa!"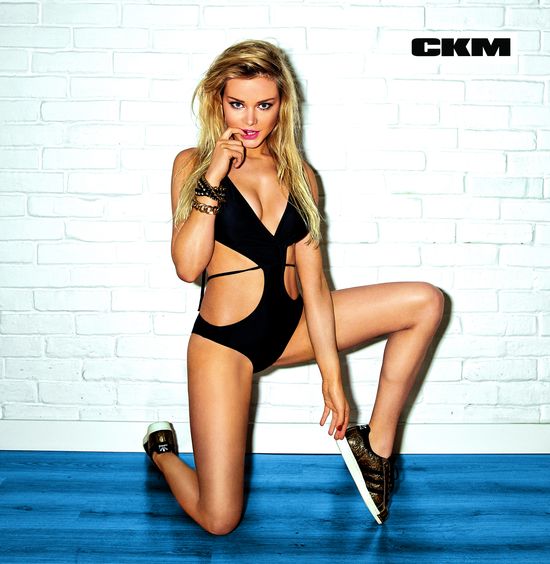 Another gorgeous blonde appears, and poses in front of Alesha, promising, "You will taste my body after I beat you – understand?" Alesha sobs quietly before Doda drags her away