Post by Dave Knowles on May 3, 2023 17:50:02 GMT
Once again, 44 year old British babe and former bantamweight champion finds her way to the ring to face a girl who has been primed to beat her up – this time it's the gorgeous 39 year old Natalia, for whom this will be a BBU debut, but who is an experienced fighter and one tough cookie
Alesha is wearing a red bra and panties this time around, with matching stockings and suspenders, whilst Natalia wears a similar outfit in baby blue, and both ladies are looking exceptionally hot
Word has it that Doda has allowed Alesha to train properly for this fight, after she showed up for the contest with Ola Ciupa after a couple of crazy days and nights with a few hunky guys
Round 1
Natalia takes charge early, finding Alesha's face with her sweet punches, Alesha's head getting bopped backwards as she tries to get in close to the Polish girl, but to no avail so far, Natalia looking a class boxer tonight as she jabs Alesha's face from distance, closes her into a neutral corner, but doesn't seem in a hurry to batter the older girl, and when Alesha manages to clinch, Natalia whispers, "I'm gonna keep you pretty, honey. I wanna enjoy myself with you later, and those lovely lips of yours are ripe as peaches!" Alesha shudders, and as soon as the referee breaks the girls, she hits Natalia in the cheek with a neat left hook, the Polish girl taken aback, telling Alesha, "That's not very nice, lover girl!" and she thuds three heavy blows into Alesha's body, the Brit moaning as she drifts backwards, but covering well, so that Natalia can't get to her with her attempted facial assault
Round 2
Now Alesha's decided to attack Natalia quickly, and she gets through to the younger girl with a good left jab and right cross combination, but Natalia just grins, then sets her face in a more determined glare before hitting the Brit in her belly with two solid straight righthand punches, Alesha panting, stooped a little, and Natalia punishes her for her softness with a left hook to her ear, then a right hook to her cheek, Alesha stumbling, trying to clinch, as Natalia presses her backwards to the ropes, and this time she decides to hurt the older babe, stinging her face with a straight right, then a great left hook which half turns her, before ripping another right into Alesha's ribs, followed by another, Alesha squealing gently as she drops to her knees in front of the lovely Polish girl. The referee counts slowly to 7 before Alesha gets up again, and she has Natalia in her ear again, "Soon be over honey – then we can get nice and friendly back at Doda's!" as the bell soon ends the second round for the two lovely ladies
Round 3
It's clear that Alesha's in some pain as her seconds rub her body over, but her face is holding up well, although that might change as Natalia hits her in her mouth with a right cross, the Brit's head jolted backwards from the power of that punch, but she's not just here to get a beating tonight, and she's fighting back as best she can, but she's just not able to hurt the younger girl, Natalia shrugging off Alesha's quick and accurate left jab as she does what she can to stop the Polish babe coming forwards, but Natalia's grinning again, clinches, and she's in Alesha's ear again, nipping it cheekily with her teeth, then rubbing her lips over Alesha's cheek as she murmurs, "You're all mine, honey! I'm taking you to oblivion tonight!" then she whips a swift right hook into Alesha's body, and pushes her backwards, starts to throw a right hook at the Brit's face, but stops herself, smiling, "Not yet, babe!" and she gives her a couple more in the ribs telling her, "Just a nice little tickle there for you!" as Alesha at last responds, "You're so powerful! Please put me out of my misery!" to which Natalia laughs, "When I say so!" and cuffs Alesha's ears with a left and aright hook to close out another round
Round 4
Natalia comes forward with some purpose now, having endured a talking to between rounds from Doda, who seemed to have her hand down her girl's panties for several seconds, making the babe squirm, and her eye's are glistening now as she hits Alesha to her body again, the Brit trying to keep her guard intact, but it's tough for her against a fitter, stronger opponent, and it looks very much as though Natalia has decided to finish the former champion off very soon, but she's kind of backing away after Alesha lands a left jab and right hook combination of her own, and the girls are very much in the centre of the ring now as Natalia jolts Alesha's head back with a couple of right jabs to her forehead, and she's winding up a left uppercut – here it comes! Job done! Alesha Dixon had no answer to that brutal punch, and she's flat on her back, arms and legs spread wide, finished in a flash!
Result: Natalia Siwiec knocked out Alesha Dixon in round 4
It may be that Alesha isn't much more than a jobber these days, but Natalia is impressive! Even at 39 she could just be a contender for the BBU bantamweight or even lightweight belts, because she has real power
Now it's time for the fun to start, as Natalia hauls a still groggy Alesha off her stool, and parades her around the ring, sliding her fingers down the back of the Brit's knickers as she takes her on a walk of shame, and now she turns her, the lovely ladies nose to nose, and demands, "Kiss me!" Alesha obeys quickly, the two babes sharing a long kiss before Natalia promises Alesha, "When we get to Doda's I'm gonna strip you, bed you, scissor you and trib you until you pass out!"
And now the fans are cheering again – into the ring walks Alesha's next opponent - Klaudia El Dursi!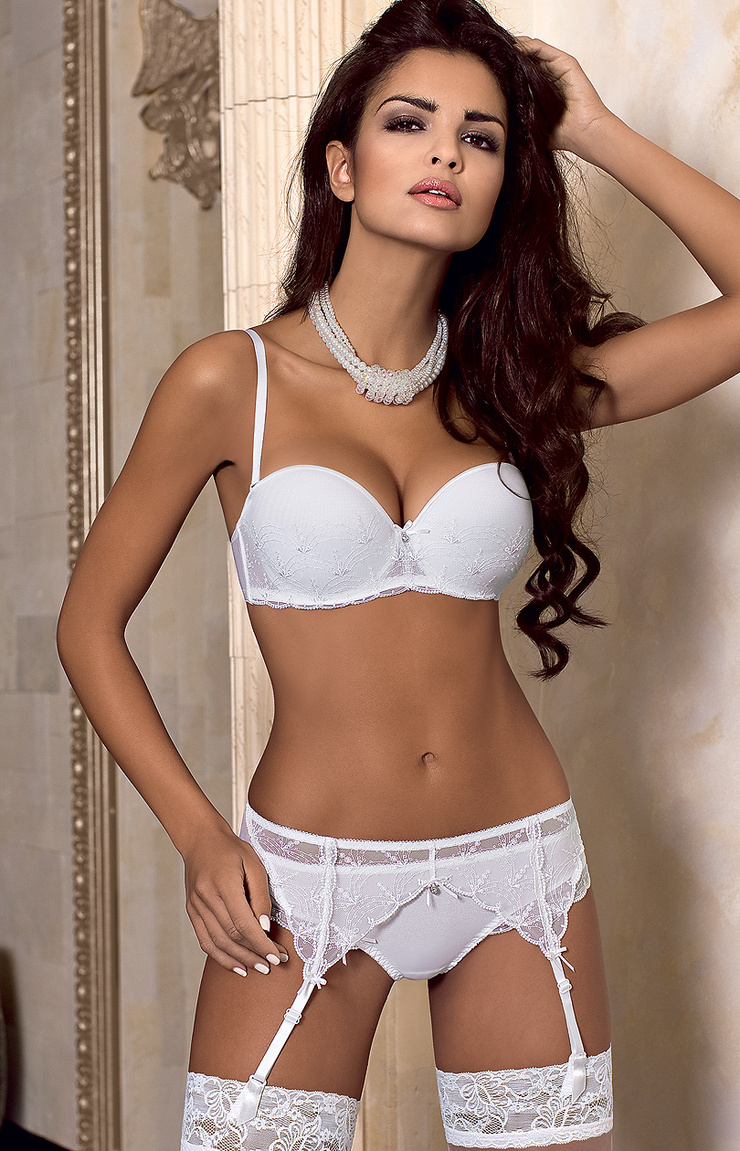 She stands in front of Alesha as Natalia turns her to face her next opponent, and she tells the Brit, "I'm not as nice as this girl! I'm gonna bust you up and whip you when we fight!" Alesha shudders at the thought, and almost looks grateful when Natalia walks her from the ring