Post by Dave Knowles on May 11, 2023 10:16:01 GMT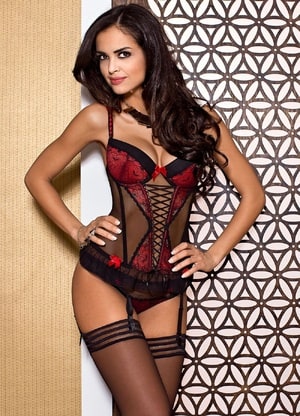 Alesha's back in action in Poland, this time against 34 year old powerhouse Klaudia, who has stated her desire to demolish the ageing Brit as quickly as she can
Into the ring come the ladies, Alesha in pale blue corset and knickers, Klaudia in scarlet bra, panties, suspenders and stockings, the pair of beauties barely looking at each other, until Klaudia reminds Alesha, "I'm gonna beat you and whip you! It's gonna hurt, bitch!" Alesha looks scared to be honest, and this could be a horrid experience for her, because Klaudia doesn't look like she's joking!
Round 1
Alesha moves towards Klaudia gingerly, and immediately feels the Polish babe's power as she unloads a couple of fearsome left hooks on the former champion's face, gives her a hard right in the belly to follow, then crushes her spirit with another left to the face, Alesha down inside a minute, already hurt, her right eyebrow cut open, oozing blood as she somehow gets to her feet again at 8, hardly capable of standing unaided, never mind boxing, as Klaudia rips punches into her abdomen, Alesha just taking her punishment like a good girl, the Polish starlet pressing her back into the Polish Beauty corner, where Doda shouts, "Do it!", Klaudia responding by stabbing Alesha's face with sweet left jabs, and up comes the right uppercut, catching Alesha flush and knocking her senseless, the poor woman almost flipped over the ropes, eyes tight shut
Result:
Klaudia El Dursi knocked out Alesha Dixon in round 1
Well, that was as brutal as it gets!
Several minutes pass by before Alesha is conscious again, and she's immediately dragged across the ring by a couple of big guys, one of whom rips off her corset as the other slips her knickers off, and they're holding her steady for her post fight punishment, Klaudia brandishing a horsewhip before sliding it over Alesha's face, telling her, "I'm only gonna whip your back and ass for now, bitch!" but there's more to come another day!"
Now into the ring comes Alesha's next, and hopefully fer her sake, final, Polish opponent, Joanna Opozda, who looks absolutely gorgeous, and pants, "Not too much, Klaudia! Leave me something to play with!"
Klaudia laughs, rubs the whip up and down Alesha's thighs, then stands back and flays her back with a mighty lash, the Brit screaming in agony, her body twitching as she pleads, "Please don't!" but Klaudia grins with evil intent, draws back her arm and lashes the whip across Alesha's bare asscheeks, making her scream again, blood seeping from the two wheals on her back, Doda telling Klaudia, "One more!" and the Polish beauty gives herself a little more room before sending that whip in a large arc to explode on Alesha's back, the Brit screaming for her life before the two men let her collapse to the canvas, Joanna Opozda laughing as she watches her future opponent writhing like a tortured worm