Post by girlsfriday on Sept 28, 2017 15:01:06 GMT
Vs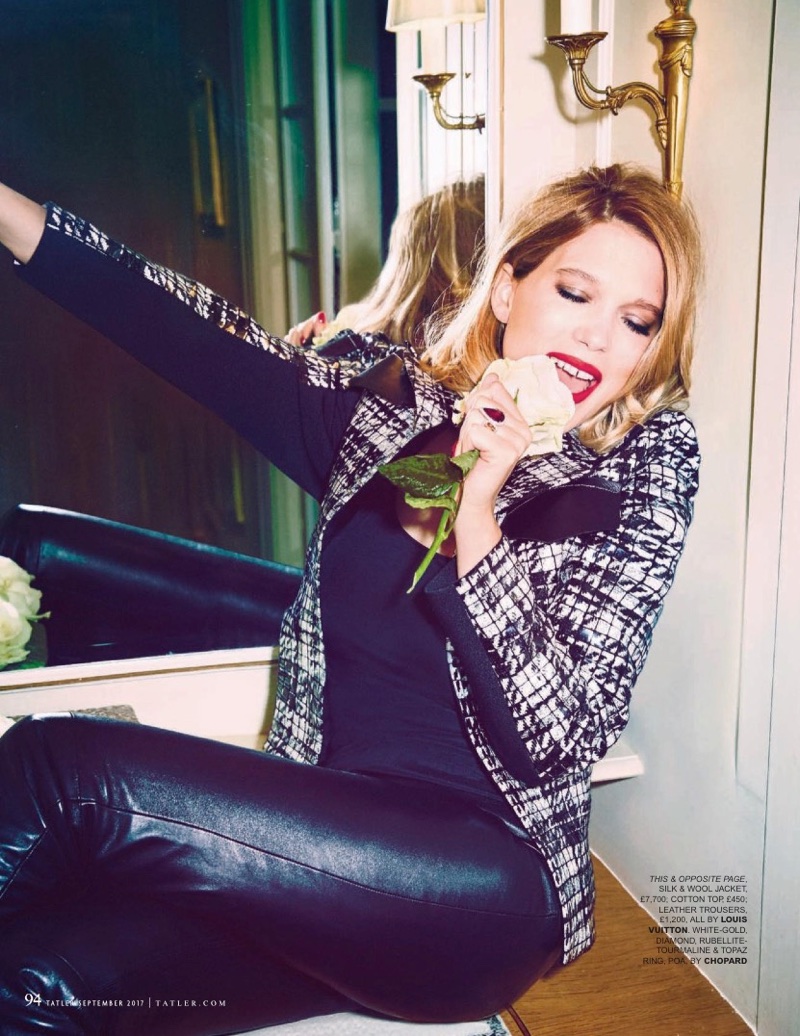 (Written by Girls Friday/Results by Lookout!)(Latin Union vs Latin Union)Intro:
The second of our three title fights tonight sees the BBU bantamweight title on the line, Elodie Frege challenges her stablemate Lea Seydoux for the belt.
The challenger Elodie is 35 years old, she stands at 5'7, has a record of 20 wins, 15 by knockout and 43 defeats, she is a former BBU bantamweight champion.
The champion Lea is 32 years old, stands at 5'6, has a record of 19 wins, 18 by knockout and 10 defeats to her name, this is her second defence of the title.
It is an odd sight to some who've never seen this before, two stablemates staring daggers at each other as there is a lot of tension in the room over the title and personal pride.
Latin Union management has to tell both to separate as they look close to coming to blows, maybe more to this then just the title.
Sitting at their tables with the title belt held on Lea's shoulder, it is Elodie who gets to speak first "I know their are critics like those Real View guys and Tess whatever her name is who doesn't think I am worthy of even being in the ring most days" her face curled in a mask of rage as she thinks about them.
"But I am the best French fighter, I have held that belt before, I also was a French champion and last I checked I own a win over Lea, not just in that ring I might add" Elodie hinting at more troubles between these two as Lea stares daggers at her.
Elodie finishing with a simple "to those who don't believe in me, when I become the champion once more, well you know my number to apologize too"
Lea grips the title hard with her right hand as she says angrily "Elodie is living off her name, I know she politicked for a title shot with our management, but if she'd have asked me for this fight, I would have given her it anywhere and anyway she wants it to be because I owe you an ass whopping"
Adding "anyone who knows us Latin blooded girls, yes me and Elodie have argued, have fought hard in sparring, we have even fought in the lockers and the showers because we are proud women and if you call either of us out, we will fight you anywhere, that is why I still respect you to a degree"
Lea finishing with "but I hate you! I am sick of you strutting around the gym, claiming to be the best in France, I am not just the best French fighter, I am the best in the world and you will learn to respect that!"
Both girls look ready to throw down as their coaches rush to hold them back, spitting insults in their native language at each other as this fight has another dimension of being a grudge fight.
Fight night, Elodie is out first, her coach tonight is long term friend Ariane Brodier, Elodie bouncing on her toes at the top of the entrance way, before starting her march to the ring.
She's wearing a tanned bikini with brown gloves, her long red hair is braided to show off her stunning face.
Soon she's climbing into the ring, shadow boxing on the way to her corner to keep herself limber as Ariane tells her in French "this is your time to shine"
Now out comes the champion to a loud cheer, Lea Seydoux pumps her fists into the air as her coach Asia Argento holds the title belt up in the air for the crowd to see.
The champion is wearing a navy blue bikini with matching gloves, she has her blonde hair up in a ponytail to show off her goddess like features to the world.
Climbing into the ring, she bows to each side of the ring, taking a moment to scowl at Elodie before jogging to her own corner to warm up.
Soon they are brought to the ring centre, the crowd watching closely as the girls touch heads and stare deeply into the others eyes, looking for a hint of weakness in the other.
When asked to touch gloves, they have to be told to by their coaches, neither really wanting to though, so they give each others gloves a quick swipe.
Lea waving for the crowd to cheer loudly as she jogs back to her corner, the referee signals for the bell to start 10 rounds of BBU bantamweight championship action.
Round 1:
Out come the fighters with similar stances, tight guards and up on their toes, they've spent hours sparring together so the early action is as close as you'd expect with these two.
Both snapping jabs through tiny gals in the others defences they've found in their training, Elodie landing a straight punch to the top of Seydoux's head.
But as she tries to step in tight, Lea leans out the way of a follow up left cross, before coming back with two straight punches to the face of her rival.
Elodie tries to step back, but Lea rushes forwards, snapping the head of the redhead back with three punched straight to her lips.
The challenger forced to fight in tight, both girls ripping away at the others bodies with rights and lefts to the sides, both grunting as leather meets flesh with sickening thuds.
Elodie though looks surprised by the aggression from Lea, who digs two short sharp right body punches into the abs of Frege, who gasps out and is forced to cover up.
Lea lands a right around the guard of Elodie, looking the most aggressive she probably ever has as she tries to break the guard of the challenger with a flurry of punches.
The redhead starts to slip under the punches, using the aggression from Elodie to force mistakes from the champion, countering with straight punches as she uses Lea's own peak a boo style of boxing against her, taking the punches on her guard and fighting from her back foot.
The round ends with both girls still swinging at each other, their coaches pull them apart, they spit insults in their native tongue as they try to break free.
Back on their stools, they are told off by their coaches, keep this a boxing fight and keep the schoolyard fight stuff to their pasts.
Asia though smirks as she cleans Lea up and tells her "I'll give you some credit, you definitely took the fight to her, use that fire to burn her hopes to the ground"
Round 2:
Lea trying to go on the attack from the bell, both girls trading jabs to the others faces as they circle each other, till Lea goes to land a hard right.
Elodie leaning out the way, countering with a straight to the lips of her opponent, then stepping in to land two hard body shots to each side.
The champ nudging her back with the left, missing with a straight as Elodie retreats into space and cockily waves Lea to bring it.
Which of course she tries, snapping her punches onto the guard of Elodie, who lands her counter punches to the nose of the blonde.
Lea taking another stiff straight onto her lips this time as she misses with a jab, Elodie starting to look more aggressive herself now, slamming two cross punches to the cheek of Seydoux.
The challenger forcing her rival onto the ropes, digging away around the guard to the face of Seydoux, she grunts with effort as she looks to rip her way through that guard.
Lea gets sick of being pinned on the ropes, so starts to fire back; the two fighters trade hard shots across the others cheeks
The crowd starts chanting for both girls as Lea nearly headbutts Elodie trying to force her way free from the ropes, the challenger stepping back and Lea finds her way off the ropes.
Both fighters digging away to the others bodies in tight as the round is about to end, finally doing so with both girls shoving each other away, eyes cold towards each other.
Then they head back to their corners, their coaches cleaning their faces, each fighters cheeks starting to have a pink hue to them.
Elodie looking more relaxed, watching Lea looking upset in her corner with glee, she tells Ariane "I am in that bytches head, I can't wait till we are back in the gym together with me holding the title"
Round 3:
Elodie let's Lea try to come on the attack from the off, parrying her punches and countering with straights and jabs, she is showing she can put on a defensive masterclass when she wants too it seems or Lea is too angry to concentrate.
The challenger digging her punches into nose of Lea, some blood trickling from the nostrils of the champ as Elodie continues to control the pace of the fight.
Lea wipes the blood from her nose, maybe it finally dawns on her she can't continue to fight this way, Elodie continues to push her back with her jab.
But Lea parries a right cross and snaps a straight to the top of her opponent's head, both girls starting to catch each other through the others guard to their faces.
Elodie manages to land a right cross to the cheek of Lea, but she eats an uppercut as she tries to keep the pressure on Lea, her head snapping back and Lea is now the one on the front foot.
Lea landing two more punches to the top of Elodie's head, the redhead needing to cover up as the champ hammers away at her guard.
She manages to sneak out a few straight punches to catch Lea to her nose, but gets caught with a right hook to turn her head.
The blonde singer manages to land three punches across the face of Elodie, who yelps out in pain, the bell ringing before Lea can do much more.
This time Lea jogs back to her corner without much incident, she looks to have gotten into her comfort zone, beating her rival up is certainly one way of getting into it.
Elodie looking annoyed at herself, looking at Lea getting her nose cleaned up, she knows she had Lea on the ropes literally and let her off the hook.
Round 4:
Both girls look to find an opening to do some real damage, Elodie starting to struggle as Lea shows her impressive footwork and hand speed now that she is fully focused on the task.
Several counter punches land into the face of Elodie; who tries to keep on the front foot, but she is now the one looking frustrated as she takes a double jab straight onto her nose.
Lea takes a jab to her abs, but blocks a follow up right to her face, instead she fires another uppercut to the chin of Elodie, who stumbles backwards a few steps.
The challenger forced to cover up as she looks stunned, Lea forcing her onto the ropes, the champion trying to break the guard apart with an onslaught of punches.
Elodie trying to slide along the ropes to escape being hammered, but she takes a right to her cheek, that opens her guard up, Lea landing another two hooks to the side of her face.
The redhead clinches up with Lea, Seydoux whispering something into the ear of Frege, it won't be friendly of course, the referee having to pry the girls apart.
Separated, Elodie comes back at Lea to try and show she isn't hurt badly, the girls working on the inside with their punches digging away to bodies or faces.
Till Lea steps back and lands a right hook to the side of Elodie's face, the champion landing another right across the face of her rival.
The round ends with Elodie's hands starting to drop, Lea looks to have stunned her as she heads to her corner, she isn't saying much as Ariane tries to waken her up.
Lea and Asia chatting as Asia cleans her face up, she tells her "you've hurt her, picture her shutting up now during training, none of this best French fighter crap" clearly Lea and Asia are both upset by Elodie in general.
Round 5:
Elodie looks to try to match Lea's legs, but she just can't as she misses with a straight punch and takes a hard right to her lips in reply.
She seems to still be a little shook up from the last round, Lea ducking under a right cross before coming back up with an overhand right that clearly buckles her legs.
The challenger tries to fire back, landing a jab to the nose of Lea, a left cross though catches her across her cheek to make her stumble back a step.
Then Lea comes in with two more cross punches across her face, followed by an uppercut that lifts Elodie onto her toes before she crumbles to the canvas in a heap.
The crowd going wild as Lea raises her arms in the air and after the referee checks on Elodie, he waves the fight is done as she is knocked out cold!
Winner and still BBU bantamweight champion Lea Seydoux KO Round 5After:
Lea gets her revenge, after 5 long years of waiting for a perfect time, she has retained her title and can look down at Elodie with a big smile on her face.
Asia and Ariane both go to help Elodie up, waking her up with smelling salts so they and the doctor can see how she is.
After Elodie comes around, she nods that she'll be OK, her eyes though go straight to looking at Lea flexing her arms in her corner and cheekily winking at her stablemate and rival.
Elodie can be seen muttering some insult, of course she isn't happy how things have played out, Ariane and Asia telling both girls "it's done now OK? Touch gloves"
But Lea scoffs "she didn't do that when she beat me" she heads over to Elodie, telling her "I kicked your ass bytch! Don't you dare claim to be better then me when we get back to our gym"
Elodie replies "you were lucky you bytch!" As Lea goes to kick her, Asia has to grab her before she can do it, the bigger girl dragging her fighter back to her corner to stop her hurting Frege badly.
Ariane taking that as her cue, helps Elodie up; who looks like she still wants a crack at Seydoux, even as she wobbles standing up, she is pulled out the ring by her friend and told "we are going to have this out in the stable office Monday Elodie"
Lea is ready to argue with Asia over stopping her shutting Elodie up, but the referee comes over with the reason both were in the ring, the big gold belt in his hands, making her smile proudly that she still holds it.
Getting the belt around her waist, Lea shouts "keep bringing them and I'll keep knocking them out!" To the cheering fans, nights like this make all the trials and tribulations worth it.
Asia giving her a big hug and most likely she will get a massive hug off more girls when she gets back to her stable.
But will there be any after effects because of this fight, surely Latin Union management will not be happy with having two fighters in their camp trying to kill each other, but they have a history of letting girls sort disputes in the ring, so maybe business continue as always.
The other big question is who stops this woman, she beat the mighty Una Healy, the formerly undefeated Fleur East and now a former champ in Elodie Frege.