Post by Vassago on Dec 26, 2017 18:03:38 GMT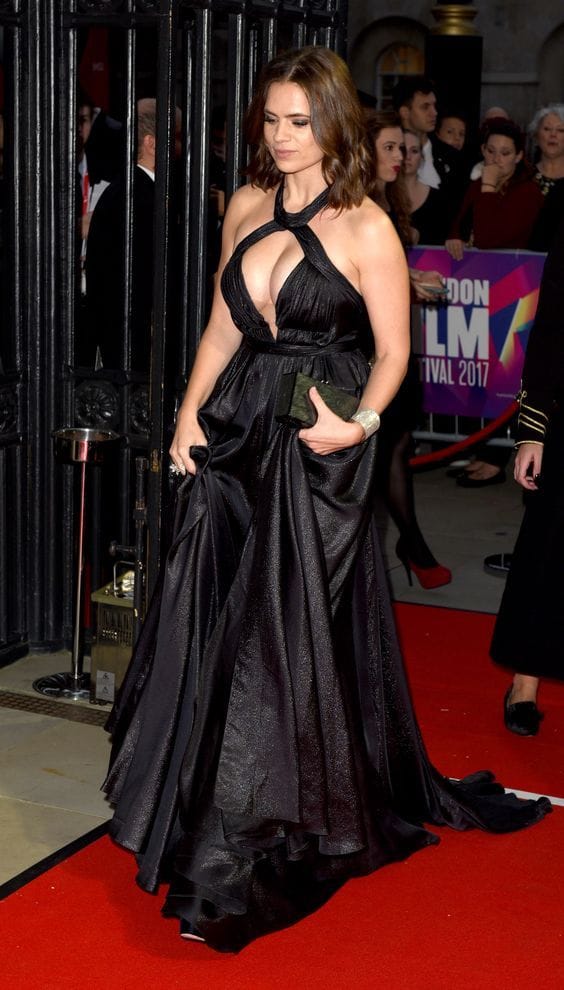 Vs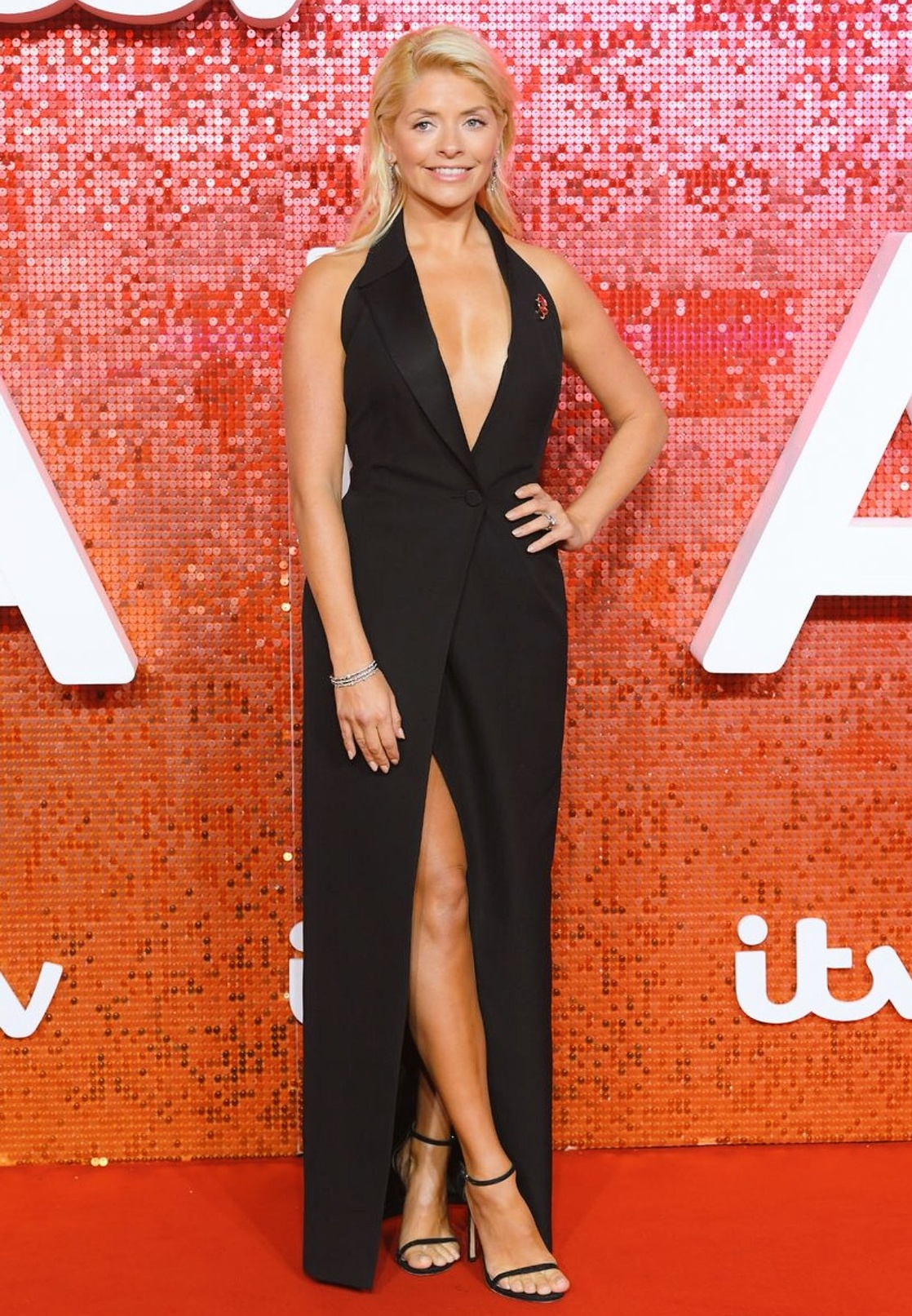 (Written by Girls Friday/Results by Lookout!)(Pretty Little Punchers vs Girls Friday)Intro:
The BBU JMDD title is on the line now, as Hayley Atwell looks to win
the title off the champion Holly Willoughby in a battle of two of
England's best busts.
Hayley is 35 years old, stands at 5'6 1/2 and holds a record of 12
wins, 10 knockouts and 6 defeats, her jugs are size 36DD.
While the champion Holly is 36 years old, stands at 5'8, holds a
record of 10 wins, 9 by knockout and 4 defeats, her jugs are size 34D
and she is the first and only ever BBU JMDD champion.
At the press conference; both girls gave the sea of journalists one
hell of a view, they hug each other tightly as they giggle and can be
heard joking about the photos that are being taken.
They soon head to their tables with big smiles on their faces, Hayley
is the first to speak "I have enjoyed the times I have been
interviewed by Holly, so it is surreal to have to punch her mighty
boobs" laughing as she looks over Holly who grins back in return.
"I like Holly a lot; this is JMD fighting though, this is going to get
personal, especially with the BBU JMDD title on the line, that is
something I want dearly so sorry Holly in advance" says the Hollywood
star.
Holly doesn't lose her smile, in fact it grows as she replies "I like
you too Hayley, you are one of the most honest people I know of, you
also have jugs to die for, though of course I am proud of mine"
pointing at her jugs.
Lifting the diamond encrusted title bra off the table, she continues
"I also love this though, so when we step into that ring, it is all
about this, we can go for a drink after the fight but in that ring, I
have to prove that I am the alpha around here"
Both women stand up and come together one last time before the fight,
they smile and shake hands; wishing each other good luck as they
continue to keep things friendly for now, knowing as they part that
things won't be soon enough.
Fight night, out comes Hayley first, she is wearing a United Kingdom
flag pattern sports bra, navy blue trunks, shoes with red laces, red
gloves and her brunette hair is up in a ponytail.
Her coach Nia Peoples walks behind her as the challenger heads to the
ring with a serious look etched onto her face.
Before she climbs into the ring and bows to each side to a loud cheer
from the crowd, Hayley always popular where ever she goes, allowing
herself a quick smile before getting back into her fighting mindset
while warming up.
Now out comes the champ Holly, she is wearing a gold sports bra and
trunks, with silver shoes and gloves, while her blonde hair is up in a
ponytail.
Lauren Berlingeri holds the title up in the air as the Girls Friday
crew head to the ring, Holly smiling as she waves to the fans on the
way to the ring.
After stepping into the ring; Holly blows a kiss and gives a wink to
Hayley before she jogs to her corner to limber up.
The crowd look excited as the girls come to the ring centre; both
touch heads as they stare right into each others eyes, looking for any
weaknesses.
After the instructions are read out, the girls bump gloves before even
being asked and jog back to their corners, no more talking is needed
it seems as 10 rounds of BBU JMDD title action begins now.
Round 1:
"Ding" out come the fighters with similar stances, trying to be
compact early as they test the other out with jabs aimed at the others
jugs.
Holly scores the better punches early due to her slight reach
advantage, digging her punches to the top of Hayley's head to try to
loose her guard up.
But Hayley surprises Holly by slipping under a right to land two shots
to the body, followed by one across the jugs of the champ.
Who doesn't let that go without throwing her own shots across the jugs
of Hayley, leading to the two standing and trading in close to the
others mighty jugs.
Holly doesn't look as comfortable in this close as Hayley digs two
straight punches to the centre of her left jug to cause her to groan
out.
As Hayley looks to build off the last combo, she gets caught to the
face with a straight punch, followed by two lefts across her jugs.
The fighters each stare hard at the other as they trade single punches
to the others jugs, before Hayley tries to step inside, taking a right
that clips the top of her head.
Holly powers forwards with two punches that snap Hayley's head back,
then two punches across the jugs of Atwell, which wobble side to side
and force the brunette to cover up.
The champ finishing the round strongly as she keeps Hayley behind her
guard with seconds left in the round.
At the bell; both girls nod at each other after a good round for them,
Holly finishing the round the happier it could be argued, but Hayley
showed already why she was picked to be the challenger.
Round 2:
Both fighters step out with an idea now of how physical this fight is
going to be, they stand and trade early on at midrange, jugs shaking
around under the power hits.
Before Hayley parries a right and steps in tight to dig three rights
under the left jug of Holly, nearly knocking it out of the cup it's
in.
The champion wincing as Atwell digs away to her body and jugs, with
Holly only able to land glancing blows to the top of the actresses
head.
Holly manages to nudge Hayley back and catches her with right hook to
the cheek of Atwell to force her back a step.
Willoughby then lands several punches across the jugs of her opponent
to continue to back her up towards the ropes, starting to look like
she is getting into a groove.
Hayley though slips under a right cross and comes back with an
overhand right that turns the champs head around.
With the Agent Carter star bullying the TV presenter back across the
ring with repeated body shots, forcing Holly back behind her guard as
the crowd already begin a dual chant for both fighters.
Hayley trying to break open the guard up of the champ with uppercuts,
but Holly leans back out the way of a right hook aimed at her head and
counters with a jab to the nose of Atwell.
The bell soon enough rings to end the round with Holly telling her
coach "I knew she'd be tough, this is so much fun" which Lauren
replies "keep serious OK babe!"
Hayley looking equally chipper in her corner, though both girls need
their jugs to be washed down with a cold cloth to dampen the pain they
are suffering already.
Round 3:
Both fighters bang their gloves together before they head out to
fight, a quick nod of respect before they start off the round with
jabs at midrange.
Again though Hayley powers in close to slam a right into the jugs of
Holly several times, the blonde groaning out loudly as sweat flies off
into the air.
But the champion grabs onto Hayley to stop her punching, then pushes
her off balance to a warning from the referee, maybe showing she will
do what she needs to win.
As Hayley comes back in; this time Holly catches her with a double jab
to the face of the challenger, followed by two quick uppercuts to the
jugs of her opponent to drive her back onto her heels.
The champion now is the one trying to break apart the guard of her
opponent, ripping away at the body of the smaller fighter with
thudding strikes.
But it leaves her open up top, Hayley landing an overhand left that
opens up Holly to more punches to her face as the challenge looks to
power onwards again.
This time though Holly decides to stand and trade, both fighters using
their left to nudge their opponent's back, before landing with their
rights with power shots.
They end up clinching up as they clash bodies, they look happy to take
a moment to catch their breathes for the moment, both wincing as their
jugs bump in the clinch.
The referee separates the girls, where they settle for trading single
punches as they look for an opening to strike with another power
punch.
But the seconds tick away and the round ends with both girls knowing
they need to step things up to separate how tight things are so far.
Heading to their corners, the girls eyes lock across the ring, nodding
to each other as they smile at each other as if to say how hard they
are going at it.
Their coaches work to wash the sweat off them that has them glistening
under the lights, their jugs are worked on once again as they start to
look marked up.
Round 4:
This time Hayley looks to make the first real move, after a quick fire
exchange between the fighters to the jugs of their opponent, the
smaller fighter doesn't let Holly step back far.
Instead she keeps in close, forcing the champion to fight on the
inside; she keeps banging her fists across the jugs of Holly to drive
her back towards the ropes.
As Holly's back hits the ropes, she fights back; leading to both
fighters trading in close; the noises out of the champs lips out
through show she is getting the worst of these exchanges.
It forces Holly to clinch up, with the fighters digging their free
left fists into the others kidney area, before the referee drags them
apart.
Once in space, Holly looks happy to work off her back foot, landing
several jabs to the top of her opponents head to keep her off her for
now.
The champion needing to block against a right hook aimed at her jugs,
before firing back with a straight onto the top of Atwell's right jug
to force a gasp out the brunette's lips.
The fighters separate as they circle; again they fall back to the jab
for the moment, till Hayley pushes her way forwards to get back to
work on the body of the blonde.
She manages to press Holly behind her guard and onto the ropes, Hayley
pounding away at the guard; looking to really hurt her.
The challenger lands two straight punches into the abs of Holly,
opening her guard up to allow her to start pounding away at the jugs
of Willoughby.
Holly's jugs go all over as she grimaces each time she is hit, the
champ needing to shove her opponent back to create space to escape to.
The round ending with Holly hiding behind her guard, Hayley looking
more confident after a strong round, jogging to her corner with a
small smile on her face.
While Holly winces as her boobs are worked on, Lauren telling her "you
can do this babe, I have seen you work too hard to earn this title to
lose this now"
Round 5:
Hayley is trying to keep the pressure on Holly, stalking the champion
back across the ring, banging her punches off the gloves of the taller
fighter as she backs her around the ring.
The challenger gets caught by a straight to her nose, some blood
starts to trickle from the brunettes nose as she backs up a step.
Holly though steps inside to land two more punches to her nose, before
working the jugs with hooks to really get some noise from her
opponent.
Now Hayley is forced behind a guard and onto the ropes, Holly not
getting too close, working off mid range to slam her punches straight
into the body of Atwell, who groans each time she hits.
Hayley trying to fight back, landing some cracking shots out of her
precarious position to look like she is going to escape off the ropes.
A straight to that wounded nose though makes her yelp out and another
two punches across her face force her to clinch up.
The fighters look to be bumping jugs in the tight clinch, till they
are broken up, with both looking hurt as they don't exactly move
around as quickly as before.
Holly again gets several punches through to the face of Hayley, before
she tries to land a follow up left hook that the smaller fighter ducks
under.
The brunette digging an uppercut under the left jug of Holly, causing
her to gasp out in pain and be pressed into a corner, her jugs are
pounded side to side.
The bell rings to end the round with both fighters passing each other
by to get to their corners, behind the others backs they show the pain
they are in by the wincing they do, looking like they are fighting
back tears.
Sitting down; their coaches work on icing their jugs to numb the pain,
again it looks like they are tied on the judges scorecards as the
crowd cheer the fighters on, pundits all scratching their heads on who
will win this fight.
Round 6:
The fighters don't look too keen to get into each others faces,
instead staying behind their guards early to work away from.
That changes when Holly manages to dig a right into the side of the
face of her opponent, before landing a double jab to the nose of the
actress.
Sweat and blood flying off the face of Hayley, knocking her back
towards the ropes till she can clinch up to protect herself.
The referee steps in to separate the fighters, both girls getting
their fists up as quickly as they can, with Holly looking to get back
on the attack.
Hayley though parries a straight and steps inside to land an uppercut
to the chin of the champion, whose legs start to wobble as the
challenger starts to rip through her defences.
A FLURRY OF PUNCHES SMASHES ACROSS THE JUGS OF WILLOUGHBY, THE
CHAMPION FALLS TO HER KNEES IN TEARS AS SHE CRADDLES HER JUGS!
The referee begins to count 1..2...3...4.. Holly looks up with tears
in streaming down her face 5....6....7... Hayley watching closely,
preying the count goes faster 8....9......10! Holly is counted out!
Winner and New BBU JMDD champion Hayley Atwell KO Round 6After:
Hayley covers her face to hide the fact she is crying, finally she has
won a title after years of hard work, the crowd stand and chant her
name to show how much they love her and are happy for her.
The former champion Holly sits on her heels, she is sobbing as she has
lost the title she wanted to make special, though it looks like Hayley
will get to define the opening era of the JMDD division in the BBU
now.
The new champ heads over to Holly, helping her stand as she tells her
"I'm sorry it had to be like this, for the record you gave me as hard
a beating as I have ever received in my career"
Holly wipes the tears away from her eyes, replying "you deserve this,
I wish you all the best babe" the girls coaches coming out to take
their gloves off.
Lifting Hayley's hand up shows the respect these two women have, with
Hayley thanking the ever gracious Holly for the display.
When the JMDD humiliation is mentioned, Holly's eyes grow wide as she
looks at Hayley, who rubs her hands on her own jugs.
Telling Holly "I don't know if I could smother you, my jugs feel like
they've grown two sizes thanks to your heavy hands"
Holly instead takes her own bra off to wolfwhistles from the crowd,
giving it to Hayley and saying "since you can't smother me now, here
is a trophy on top of the title" with Hayley taking it looking
shocked.
"Thanks Holly" is all Hayley can think of as Holly adds "well you can
make a date to smother me in private if you definitely want that"
winking as she starts to feel better.
Hayley kisses her cheek to show her thanks, before Holly leaves the
ring, wincing as her jugs bounce up and down.
While in the ring, Hayley gets handed the BBU JMDD encrusted title
bra, she waves off putting it on as her jugs really are that sore.
Instead she holds up the title in her right hand, while her left holds
up Holly's bra, the new champs eyes lighting up as the crowd stand and
applaud her.
Hayley soon leaves the ring, who she picks first to challenge her is
already being asked, the era of Atwell has begun.