Post by girlsfriday on Mar 28, 2018 13:45:39 GMT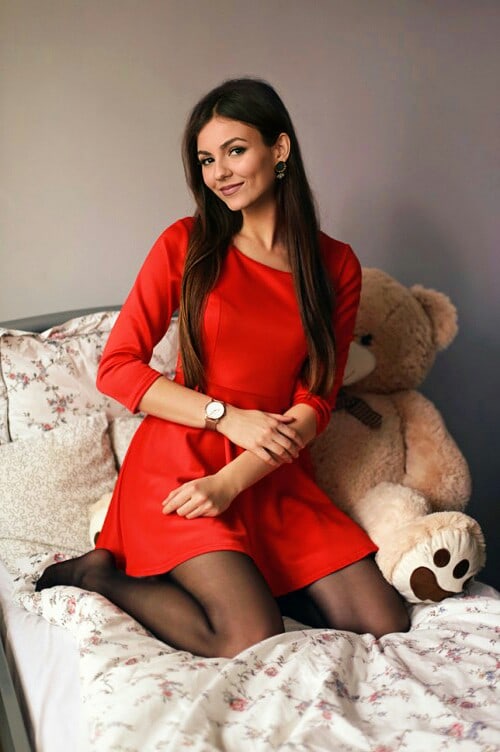 Vs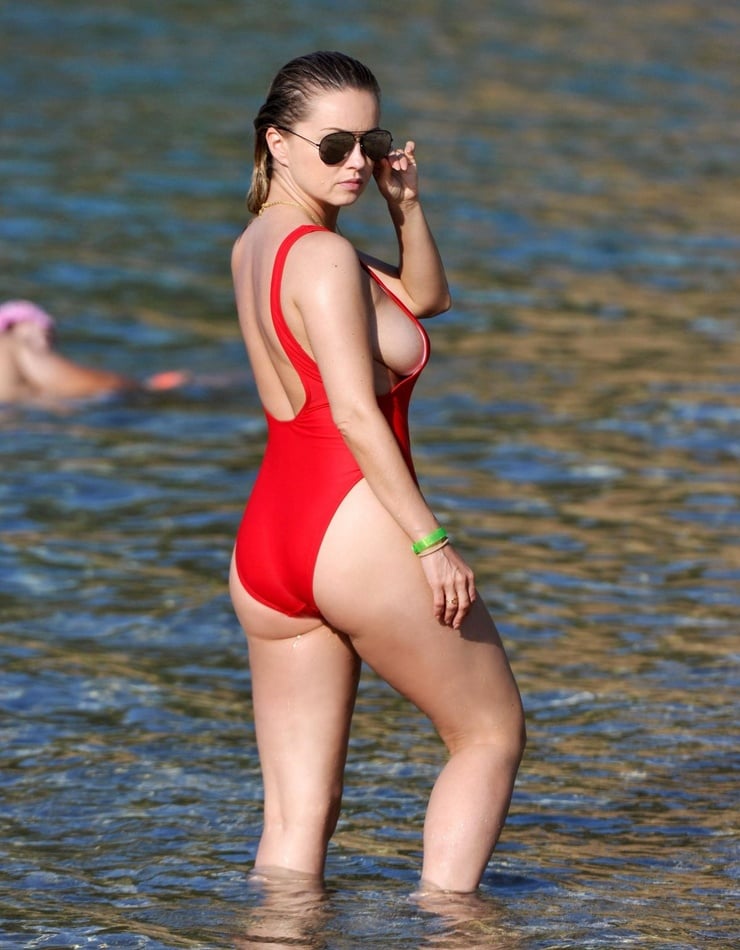 (Written by Girls Friday/Results BBU)(Free Agent vs Free Agent)Intro:
The next fight tonight sees an international flair hit the card as American Victoria Justice fights Poland's Ola Jordan.
Victoria is 25 years old; stands 5'5 1/2 and holds a record of 11 wins, all by knockout and 9 defeats.
Ola is 35 years old; stands 5'2 and holds a record of 13 wins, 9 by knockout and 8 defeats.
The fighters were interviewed in their gyms, with Victoria smiling as she says "anytime I get a chance to prove myself in that ring is always fun, especially that I feel in perfect shape now to really tear through these bytches as I want that title around Cheryl Cole's waist"
Talking of her opponent; she says "Ola should be a good test, I won't pretend I have ever watched her prance around a dance floor, but I have seen her fight and she is good, just not good enough to do much to me other then fall on her back at the touch of my fist"
While Ola looked serious as she said "so Victoria thinks that she is suddenly such a super fighter right? I mean she has done nothing in America, she beat Emma Watson here but it was hardly a fight that people will be talking about for years, people have already forgot it"
Sneering as she continues "Victoria isn't getting a title shot before I am here, she can get to the back of the queue after I shove her down into the gutter where she belongs"
Fight night; out comes Victoria first with her coach beside her, wearing a black hoodie as she shadow boxes before heading down to the ring.
The crowd cheering her on as she looks stotic, concentrating on what she is going to do inside and trying to hide any butterflies she has in her stomach.
Stepping into the ring and heading to her corner; Victoria's coach helps to take her hoodie off to reveal she is wearing a black sports bra, black trunks with a gold strips up the side and a gold waistband, gold gloves and black shoes, her hair is braided for battle.
Now out comes Ola; dancing onto the stage with a big smile on her face, her coach behind her as she begins her march down to the ring.
Her attire is a yellow sports bra, matching trunks with "Jordan" in blue letters on her waistband, blue gloves with yellow shoes, her blonde hair is up in a ponytail.
Stepping into the ring; Ola gives Victoria a quick glare, before settling into her corner and limbering up for the battle ahead.
The fighters come to the ring centre for the final instructions; looking each other down before they lock eyes, a few insults exchanged as they want to get this fight going.
Asked to touch gloves; they swipe their gloves together and jog back to their corners, ready to start 10 rounds of flyweight action.
Round 1:
Out come the fighters with Victoria looking to control the early action with her reach and height advantage over Ola, who was showing off her footwork to dance around her opponent with her head bobbing and weaving to stop Victoria landing anything serious early on.
It is a cagey start between them; with Ola able to slip inside several times and test the body of the youngster, she gets clipped across the top of her head as she moves back.
Ola dips under a straight and comes inside to land two body shots and just misses with an overhand right as Victoria moves back out the way.
As the dancer tries to come forwards; Victoria drills her to the face with a jab onto her nose, followed by a right across her cheek.
The fighters circle and trade stiff jabs; with Victoria trying to pressure Ola back with two punches that smack off the gloves of the Polish warrior, who slips under a left cross and lands a right across the cheek of Justice.
Victoria stepping back and Ola pushes forwards to drill away at the abs of the American, enjoying the loud grunts from the brunette as she forces her on the defensive.
The bell rings with Victoria looking a little frustrated, she was hoping to fly out the gates and make her mark early, instead she watches as Ola has a swagger to her step on her way to her corner.
Round 2:
Ola again comes looking to frustrate Victoria; dipping under Victoria's punches and countering with shots to her body.
The youngster tries to push forwards but she is swinging for the head of Jordan and only finding air as the blonde dances out the way.
A right by Ola under the ribs of Victoria opens her up to an overhand left that catches her opponent on the side of her head.
Victoria moving back to cover up as Ola pounds her guard to try and drive her back to the ropes, but Victoria catches her over the top with a right cross and a left hook to knock Ola back a step.
The girls again settle into circling; trading single punches as Ola keeps to the outside and hopes to catch out Victoria once more.
She tries dipping under a right cross; only landing a glancing shot to the body as Victoria dances back and lands a straight to the top of the blondes heads to ward her off.
Late in the round; Ola deflects a jab and digs two short sharp punches to the body to cause Victoria to gasp and retreat back.
The bell rings with Victoria covering up as Ola forces her backwards, Ola again has that swagger to her step, knowing she has early control of the action and is loving the look on Victoria's face.
With Victoria looking annoyed as she sits down; her coach telling her to calm down and think things through, going through different tactics on how to take down Ola.
Round 3:
Back out come the fighters; Victoria looking more aggressive from the bell as she looks to take the ring centre, with several punches spiking Ola on top of her head to drive her to the outside.
This is looking more like the crowd expected as Ola is forced to circle on the outside of the ring, keep her guard tight as punches come towards her head as the bigger fighter looks to pin her to the ropes.
But as Victoria steps in with a straight; Ola slips underneath and steps in tight to work the body again, forcing Victoria to move back.
Ola though keeps in close and soon Victoria decides to fight fire with fire, leading to a heated exchange that gets the crowd going.
Swear flies off both women as they trade in close range, Ola looking the happier as she works the body, starting to mark it up as she drives Victoria onto her heels.
Justice gives her a nudge with her left forearm and lands a right cross that turns Jordan's head to the side, leading to the singer bashing her opponent to the face with three punches to drive her back.
Ola tries to get back at Victoria; dipping down but isn't quick enough to get in close, instead taking a shot to the top of her head and a left cross to the side.
Leading to the late part of the round Ola covering up as Victoria drives her backwards to the ropes, with the bell ringing to save Ola being punished further.
This time Victoria gives a little booty shake for the crowd and Ola's benefit before heading to her corner, making the blonde scowl in reply.
Ola this time needing her face to be washed as it is starting to get marked up, she takes a breath to calm down as she stares across the ring at Victoria.
Who is looking more relaxed; though her coach reminds her that Ola is too dangerous to get overly cocky with, she nods in reply but still has her smile.
Round 4:
This time Ola rushes out the corner, leading to both women meeting in the ring centre to go toe to toe, trading stiff shots as Ola looks to make her mark on Victoria.
A right sails over Ola's head as she ducks, THE UPPERCUT SHE COMES UP WITH LANDS ON VICTORIA'S CHIN AND PUTS HER ON HER BACKSIDE!
The referee nudges the gloating Ola back to a neutral corner before he counts 1...2..3.. Victoria looks more stunned that she is down then badly hurt 4...5 smacking her gloves off the canvas before 6...7 she beats the count.
The fight is allowed to continue with Ola looking to come straight at Victoria, who shows that she isn't badly hurt by jabbing Ola to the face to keep her back.
But Ola parries a straight and lands one of her own to the center of Victoria's abs, following with a left cross to her cheek to open up her taller opponent.
Ola forces Victoria onto the ropes; with Victoria covering up as Ola works her body, smacking the sides of her opponent as she tries to open her up to finish the fight.
The bell rings though and Ola whips her ponytail into the face of Victoria, making the youngsters face turn red with embarrassment.
Victoria storms back to her corner as her coach works on cleaning her up, eyes burning a hole through her opponent as she stares at her.
While Ola just ignores her, focusing on her coaches words as he washes her down, standing up; she looks ready to relieved more punishment to the youngster.
Round 5:
Back out comes Ola with her eyes square on Victoria, she comes right at her with her punches targeting the abs of Victoria to try and open her up top.
But Victoria is fighting more off the backfoot now, catching Ola coming forwards with punches to the top of her head to keep her back.
Till Ola slips under one and lands a right to the side of her opponent's body, forcing Victoria to fight in close range as the girls slug it out.
Ola backs up Victoria with body shots thudding in to cause the brunette to wince as she finds herself nearly on the ropes.
But Victoria shoves Ola back and cracks her to the top of her head with a right hook that knocks sweat off the Polish warrior.
Ola tries to come at Victoria with a right cross to her ribs, she is met with a stiff straight to her nose though and a left cross.
The American is starting to get some momentum going, forcing Ola to fight at midrange now as she catches her between her mitts on her nose.
The dancer comes forwards with an uppercut drill of two punches that miss as Victoria leans back and moves out the way, behore countering with a double jab to the top of Jordan's head.
The round finishes with Ola getting another right onto her nose, blood trickles from her nostrils as the bell rings and she looks annoyed to say the least.
All her early work hasn't paid off yet, with her coach working on her nose to stop the bleeding and telling her not to waste her energy on pointless punches.
Victoria seems to be breathing harder from the body work but nothing too worrying for her coach it seems, he of course tells her to focus on smacking the bloody nose of her opponent and catching her out with a power punch.
Round 6:
Ola looks to get back at Victoria from the bell, scoring a few shots to her abs as the younger fighter moves backwards.
But Victoria catches Ola on her nose with a double jab that makes her groan out, the dancer trying to duck down to get inside, it just leads to a right hook to the top of her head to make her stumble back a step.
Victoria now seems to have her rhythm as she moves around Ola; striking her on her nose as she moves around her.
More blood runs from the nose of the blonde as she goes defensive to protect it, Victoria though steps inside to rip away at the sides of her body to cause her to groan out.
The fighters begin to trade to the body, Victoria losing the exchange as Ola rips away at her abs to drive her backwards.
Soon Ola barges Victoria onto the ropes, Victoria still has a lot of fight in her as she fires back, the crowd roaring them on as sweat and blood flies off the fighters.
A right across the nose of Ola makes her howl and step back; Victoria keeps being aggressive as she smacks Ola to the top of her head to knock it backwards.
Ola needing to clinch up to stop being driven backwards, both looking to enjoy the moments rest as they rest on each other till the referee splits them up.
With the last few seconds of the round seeing Victoria pounding Ola's guard as she keeps her on the defensive, till the bell rings and the girls head back to their corners with hurt looks on both their faces.
Ola's corner again working on her nose, blood covers her mouth from her nose showing how bad it is getting, she tells him "that f***ing bytch is going down"
Victoria has similar goals in her mind, her cheeks are puffing up and she is rubbing her abs, which her coach ices to numb the pain.
Round 7:
Back out come the fighters; Ola tries to protect her nose as she works behind her right hand more, Victoria sensing she has badly hurt her opponent, steps in with a left feint and lands a right hook around the guard to turn Ola's head.
Ola covers up as she finds herself being forced back around the ring by a barrage of punches from Victoria, most hitting the gloves of the Pole.
The singer changes tact; pushing Ola onto the ropes, she rips away just under the ribs of Ola with right and left hooks that make her gasp and opens her up top.
Ola tries to fire back but she is in a bad position, ESPECIALLY AS A RIGHT SNAPS HER HEAD BACK AND A LEFT HOOK WOBBLES HER, A RIGHT HOOK PUTTING HER DOWN TO HER SIDE!
Things have completely turned around now as Ola is down 1...2...3 blood drips off her nose to the canvas 4..5 but she turns towards the ropes and grabs onto them 6...7 using them to pull herself up 8 beating the count and telling the referee she can continue.
Allowed to do so; Ola tries to come off the ropes but Victoria meets her quickly, landing a straight right on the nose of Ola to bring tears to her eyes, BEFORE SHE POUNDS HER ONTO THE ROPES, JUST SMACKING THE SLUMPING OLA'S HEAD AROUND TILL THE REFEREE STEPS IN, WAVING THE FIGHT OFF!
Winner Victoria Justice TKO Round 7After:
Victoria pulls things around after a bad start to the dangerous Ola, getting the win in the end but many fans look disappointed that she didn't get to put down Ola again.
Who is bemoaning the stoppage; even as the ropes seem to be the only thing holding her up, blood drips from her down onto her jugs to show how badly beaten she was in the end.
Victoria just heads over to her and tells Ola "just admit I owned your ass bytch" with Ola staring up defiantly, earning her a slap with the right glove from Justice.
Both girls get into a clinch and hammer the others body, with Victoria pressing Ola to the ropes and beating on her till the coaches and security drag her off the beaten girl.
Ola falls to her knees crying as her coach has to help her to her corner and work on cleaning and patching her up, Ola looking dejected right now but seething inside at Victoria, wanting to kick her arse for this defeat.
While Victoria struts around the ring, breathing hard but victorious, showing off her blood stained gloves as a mark of her victory.
"Bring on your f***ing best!" Roars the young woman as she revels in her win, not caring that Ola is staring daggers at her.
Soon enough Ola's coach is happy to get her out the ring, her face looking a little puffy but certainly not as bad as before, she tries to look her usual self as she heads up the ramp standing proud but it's a hard loss for her when she considers how success she was early in the fight.
While Victoria just ignores her, focusing on bigger things herself as she speaks to her coach as she gets her gloves off, asking him "do you think the bigger named fighters around here will have taken notice?" Which gets a big smile and nod from him.
Before the leave the ring together, Victoria with the blood stain gloves hanging around her shoulders after they've been tied together as a warning to other fighters who want a piece of her.