Post by girlsfriday on Jun 27, 2018 7:24:51 GMT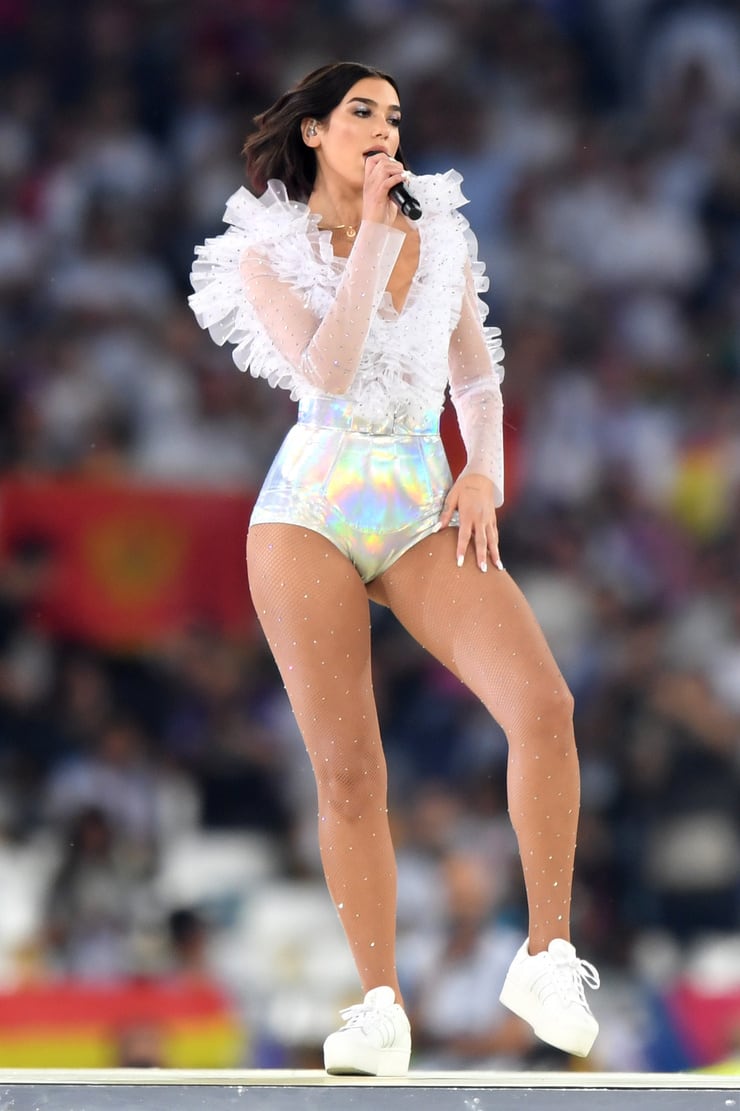 Vs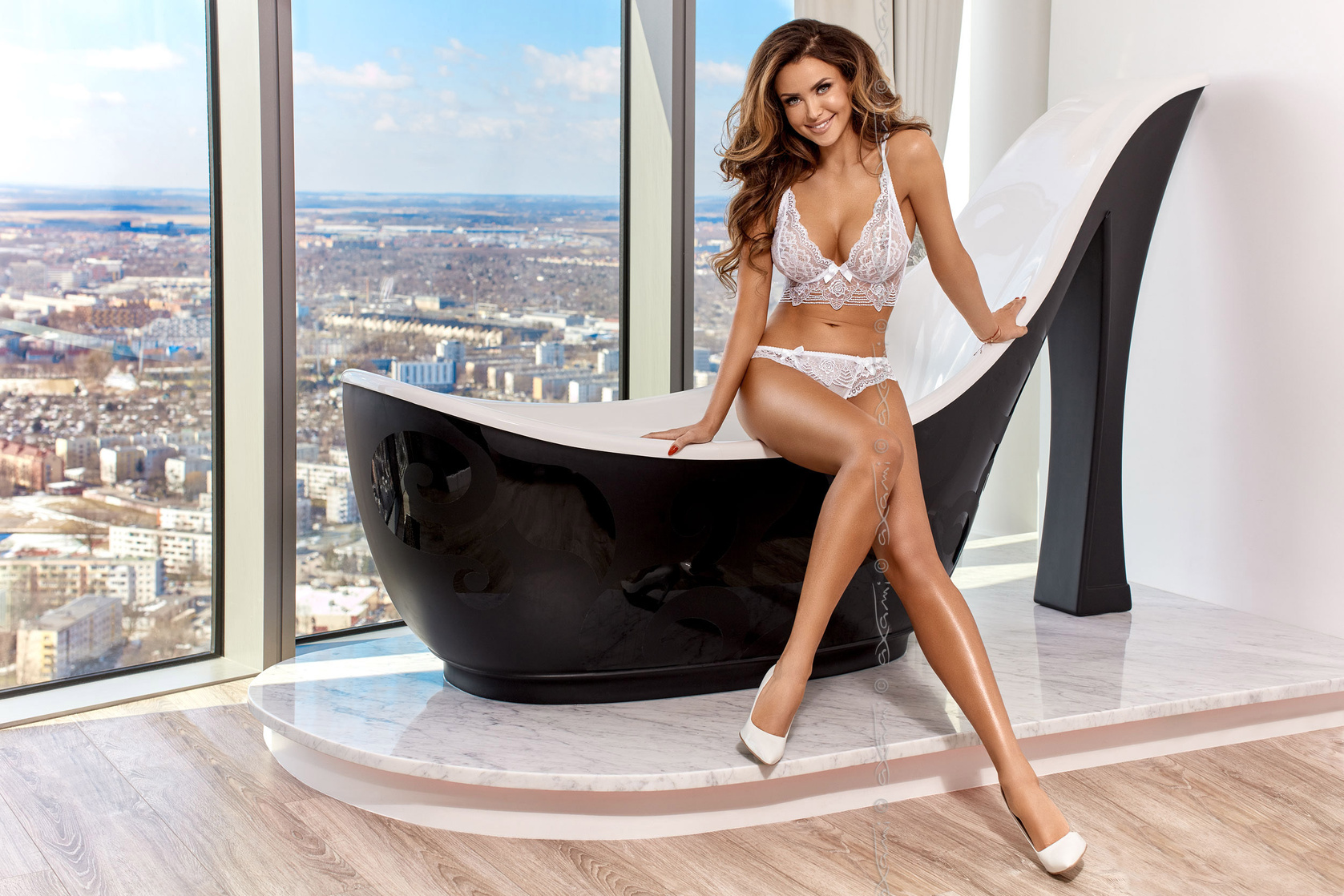 (Written by Girls Friday/Results BBU)(Free Agent vs Free Agent)Intro:
The unbeaten Dua Lipa puts her record on the line against the newly released from her stable Monika Pietrasinska, Monika desperate to prove herself going forwards in her career by taking this big scalp.
Dua is 22 years old; she stands 5'8 and holds a record of 6 wins, all by knockout.
Monika is 30 years old; also stands 5'8 and holds a record of 6 wins, all by knockout and 3 defeats.
The fighters were interviewed at their gyms; with Dua telling the press "I really can't believe this past year, I have been given awards for my singing, I got to sing at the Champions league final a month ago and in the ring here, I have been flying"
Smiling proudly; she continues with "I have heard rumours of me signing for the Girls Friday stable, as of now that is definitely not happening, I hear that Monika has a bee in a bonnet over said rumours, not my problem though now she wants it to be, I'll have to shut her up"
Monika meanwhile looks pissed off after working out; telling the press "I am sick of hearing about Dua; look she is good at singing, in the ring though I haven't seen anything I think is that great"
Asked if the rumours are what I'd getting to her, she replies angrily "look! I am not part of the Girls Friday stable anymore, they can sign anyone they want; me! I am interested in beating that bytch, pure and simple!"
Fight night; Dua comes out with her coach by her side, the singer raising her arms in the air as she heads to the ring, with her fans roaring her on in her hometown, Wembley coming alive.
Her attire tonight is a red sports bra with white polka dots, red trunks, red gloves with white thumbs and red shoes, her hair is braided.
Stepping into the ring; Dua bows to each side, before jogging to her corner, getting her focus as she warns up to get ready for the biggest test of her career.
Now out comes Monika; her face a mask of anger as she marches down to the ring with her coach behind her, she throws a few punches through the air as she gets closer to the ring.
She is wearing a white sports bra with light blue trim; matching trunks, light blue gloves with white thumbs and white shoes, her hair is in a simple ponytail.
Climbing into the ring; Monika locks her eyes with Dua, wanting to rush over and punch her right now it seems as she bounces on her toes side to side in her corner.
The fighters are brought to the ring centre by the referee; who stays in between the fighters as they scowl at each other.
When asked to touch gloves; they swipe them together and jog back to their corners, the referee signals for the bell to begin 10 rounds of lightweight action.
Round 1:
Out come the fighters with probing jabs to start off; while both are the same height and reach, Dua is landing the better punches early down to her movement.
But Monika surprises Dua by striking with a straight up the center to the nose of the singer, opening her up to a follow up left and right that strikes Lipa across her cheeks to push her back.
Dua looking a little surprised as she has to dance backwards; with Monika being ultra aggressive, coming straight at Dua with her punches smacking off the gloves of the younger woman.
Monika bullies Dua towards the ropes, banging in body shots as the Londoner tries to match her intensity, both letting their hands go, with the Polish model looking the better fighter as Dua is stuck too close to the ropes.
It leads to Dua needing to shoving Monika to open up space to move into, with Dua able to start counter punching Monika, as the model tries to keep rushing the youngster.
The late portion of the round sees Dua able to get in some stiff shots to the face of Monika, who just before the bell lands a right hook that turns Dua's face and Monika looks to be almost snarling, wanting to keep going at Dua with the referee watching closely.
Instead she turns on her heels and heads back to her corner, having to be happy that she took the first round with the way she kept Dua under wraps.
Round 2:
Monika again charges Dua back towards the ropes; throwing more punches aimed at the head of her opponent, who covers up and dances back around the ring, trying to keep off the ropes.
The Polish warrior barges her left into the body of Dua, smacking her right across the cheek of Dua as she drives her onto the ropes.
Back in tight go the fighters as slug it out; Monika trying to make this uncomfortable for Dua as she used her left to pin Dua back by pressing it to her jugs, while her right swings at the side of her body and head.
The referee breaks them up as he spots Monika's illegal move, once apart; Dua is able to move back into space and starts dodging more punches with her movement, making Pietrasinska miss with headhunting punches.
Leading to Dua catching Monika with a double jab to her nose and a right hook that knocks her opponent now back a step, allowing Dua some success on the front foot.
But Monika parried a straight and landed one of her own to the top of her head, with both fighters trading angrily, with Monika backing Dua up with two cross punches turning her face side to side.
With Dua surprisingly being kept on the defensive; Monika keeps on the attack as she throws a flurry of punches aimed at the head of the English lass.
The bell rings with Dua looking frustrated as she heads back to her corner, Monika starts to crack a smile as she heads back to her own corner, knowing she has control of the fight.
Round 3:
As the round begins; Monika tries to rush out her corner to continue the aggressive bullying of Lipa she has been using from the start.
But Dua is moving more and seems to have realised she needs to step up the pace, moving on her toes as the fighters trade stiff single punches that either find guard or face.
As Monika tries to step in and land a right cross; Dua slips under and lands her own right to the ribs and follows with a left up top to the cheek of Pietrasinska.
With Dua moving back out the way of a counter right and lands a jab straight to the nose of Monika, as the youngster starts to control the action with her speed.
Smartly Dua is boxing on the outside as Monika keeps trying to keep on the front foot, with Monika starting to look annoyed as she is struggling to land the power punches she was before.
In the final moments of the round; Monika deflects a straight and lands a right to the body of Dua, stepping in close to start trading hard shots with the crowd roaring Dua on, but Monika again looks the stronger in these inside exchanges.
The bell rings with both fighters marching back to their corners; both fighters staring across the ring as they are washed down, with Dua looking the more marked up of the two.
Round 4:
This time Dua makes her mark early as she moves on the outside of Monika and fires her jab out as a marker.
Monika keeps stalking forwards; keeping her guard high as she tries to deflect the punches of her opponent and try to catch her out.
With a lunging right hook from Monika missing by Dua leaning out the way and firing her right off the lips of the model to keep her back.
Before Dua steps in with a double jab finding a hole through the mitts of Monika and two body shots to try and force her backwards.
Monika catches Dua coming back though with a straight off her head, stepping in close range to trade with Dua, who tries to step back into space.
But Monika is keeping in close and finding her punches catching Dua on her face, with blood running from the nostrils of the youngster as she knocks her head back and forces her onto the ropes.
As Dua's back touches the ropes; Monika starts applying the pressure on her opponent, who is covering up tight, leading to Monika switching her punches up to the body of Lipa.
Dua pulling Monika into a clinch; maybe showing a moment of weakness as Pietrasinska's corner team tell her to break free and bash up the youngster.
The referee steps in to break them apart; Dua quickly moving off the ropes with Monika keep stepping forwards, keeping Dua towards the ropes and behind her guard as the round comes to a close.
At the bell; Monika nods over to her coach as he gives her the thumbs up, clearly believing she has Dua under total control and is really hurting her.
Dua needing a pep talk from her coach as she sits down; with her coach admitting that she is behind on the scorecards but tells her she is good enough to turn this around.
Round 5:
Back out come the fighters with continuing to keep the pressure on Dua; hoping to make her crack as she keeps snapping her punches towards the head of Dua, with several getting through to smack her on her bloody nose.
As Monika tries to land a left cross though; Dua dips under and comes up with an overhand right that cracks her to the side of her head.
Monika steps back and gets caught by a straight off her chin, followed by a left across the cheek of the Pole to force her back onto her heels.
Dua stepping forwards as she looks to force Monika back, Monika needing to cover up as she is forced towards the ropes, with Dua switching up to the body of her opponent to try and open her up.
But Monika catches her with a left cross and a straight to knock Dua back a step; the fighters nearly bump heads as they work in tight.
Dua quickly steps back a step and lands an uppercut that knocks Monika's head back, with sweat flying into the air as Monika is knocked back a step.
With the late part of the round seeing Dua bully Monika onto the ropes, using her left to keep the guard up high of her opponent, while her right drills into the body to make Monika cry out.
The bell rings with Monika giving Dua a shove as she passes her, clearly frustrated by finding herself shoved back by the singer, who just glares at her as she passes.
Dua getting a nod from her coach on the great work in the last round, though they have to work on cleaning the nose up again of blood.
While Monika has her coach telling her to keep her utmost focus or she is going throw this away, she gets her face washed down and her body iced.
Round 6:
Now Dua is starting to grow stronger it seems as she catches out Monika coming in with counter punches, drilling her punches off the face of the older fighter.
Maybe the temper of Monika is starting to get the better of her as she throws more wilder punches to try and get back control of the fight.
One missed hook sails over Lipa's head as she dips down and lands a hard right into the abs of Monika to make her wince and move back.
Dua comes up with a right cross and a left to the ribs of Monika to keep her guessing where the next punch is coming from, with Dua dancing back out the way of a counter right with a small grin on her face.
Monika can be seen scowling as she pays Dua back by feinting with a left and landing with a right around the guard to the side of her head.
With Pietrasinska now stepping inside to land a right straight onto the nose of Lipa to start the blood flow again, leading to Dua covering up as she grimaces and finds herself being driven back.
Late in the round; Dua has herself being herded towards a corner and it forces her to come out fighting, the girls are knocking sweat off of each other and blood comes off Dua's nose.
The bell rings to end the round with neither fighter looking pleased; Dua getting her nose worked on again by her coach, who doesn't look happy with her for getting hit as badly on it after controlling the early action in the round.
In the other corner; Monika sitting starting to breath a little harder, she chats with her coach about the fight as he tells her to fight smarter.
Round 7:
The fight starting to slow down by the looks of it; by the looks of it playing into Dua's hands as she still has some spring in her step as she moves around Monika.
Who looks to be loading up on her punches, looking to catch Dua on her bloody nose and bring more misery to the youngster.
But as she tries to come inside; Dua is catching her as she moves around her, rifling her punches into the marked up face of the model.
Monika with a right hook that misses as Dua leans back and catches her flush on her face with a straight, before moving back as Monika tries to connect with a left cross.
As Monika comes forwards and tries to catch Dua, she is stunned as Dua throws a feint left AND COMES UP WITH A VICIOUS UPPERCUT THAT CATCHES MONIKA ON HER CHIN AND PUTS HER ON HER BACKSIDE!
Dua jogs to a neutral corner as Monika sits looking stunned; 1..2...3...4 Monika shakes her head and gets to a knee as she stares at the referees count 5...6...7...8 before standing up with a wobble to her step, putting her gloves up to show she is OK to continue.
The referee allows her to continue; with Dua probing at first when they start fighting again, clearly believing that Monika is still dangerous.
Monika nearly catches Dua with an uppercut of her own as the younger fighter steps in to land a straight, moving back just in time as she spots it coming.
Late in the round; Monika gets caught with two punches through her mitts to her face, forcing Monika to back up as she is finding it easier to hit her opponent.
The bell rings with Monika with her hands on her hips as she heads back to her corner, her cheeks are starting to look puffy as she sits down and gets cleaned up.
While Dua takes a deep breath; this is the longest fight she has had in her career, now it is gut check time for her, can she finish the job or will she drop the ball?
Round 8:
Dua comes out and looks to keep coming forwards; while Monika is happy to try and counter her, both landing single punches early in the round as the tempo slows down as both women are clearly tiring.
But when Monika comes forwards to try and land a straight that Dua parries it, with Dua landing one of her own and a left hook smacks Monika across her cheek.
The crowd roar Dua on as she seems to be getting the better of Monika, knocking her head back as they trade, ducking under a right cross and comes up again with an uppercut that knocks Monika onto her heels.
Dua powering forwards with punches smacking the face of Monika, with a right busting the nose of Pietrasinska to even that score up it seems.
Monika desperately tries to clinch up with Dua, who steps back and shoves Monika to her face with her left, BEFORE LANDING A VICIOUS RIGHT HOOK THAT TURNS MONIKA'S LEGS TO JELLY, WITH A FOLLOW UP RIGHT TO THE SIDE OF HER HEAD KNOCKING HER DOWN TO HER SIDE!
The crowd look to be hoping that Monika doesn't get up 1..2...3...4 blood drips from Monika's nose to the canvas as she turns to her front and tries to push herself up 5...6...7 but as she tries to, she falls back to her face as she is too weak 8...9...10 and ends up being counted out!
Winner Dua Lipa KO Round 8After:
This was by far the toughest fight in Dua's career, with Monika pushing her hard though most if it and dragging the youngster into the deeps of the late rounds.
Dua celebrates with her coach, giving them a hug as the coach tells Dua how proud they are of this win, while pundits at ringside seem to note that this has to have raised Dua's stock further in the BBU.
While Monika is helped over by her coach, she spits her gumshield out as she stares up at the sky with a look of utter disappointment.
Getting helped up and taken to her stool; Monika gets her face cleaned up of blood, with Dua coming over to try speak to her to show respect for a great fight.
But as Dua comes up to her; Monika tells her "just leave me be bytch" and turns to look at her coach, with Dua nodding and heading back to her own corner.
Monika gets help to leave the ring; she looks upset as she marches up the ramp to the back, she must be wondering where her next win is going to come from after starting her career so well.
In the ring; Dua smiling as she waves to the fans, thanking them for their support tonight as they chant her name in reply.
Soon Dua leaves the ring, wiping her brow as she jokes with her coach, lots of people believe this woman has a big future, can she fulfil her potential and be a champion? She has plenty of time to do it.