Post by girlsfriday on Aug 29, 2018 7:34:37 GMT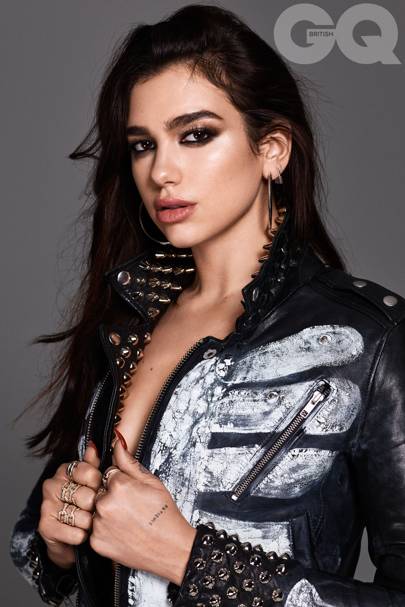 Vs
(Written by Girls Friday/Results by Lookout!)(Holloway Boxing vs Girls Friday)Intro:
The main event of this months PPV sees the undefeated Dua Lipa look to claim the BBU lightweight title off of champion Alessandra Ambrosio here on Copacabana Beach in Rio De Janeiro.
Dua is 23 years old; she stands 5'8 and holds a record of 6 wins, all by knockout and 0 defeats.
Alessandra is 37 years old; she stands 5'9 ½ and holds a record of 27 wins, all by knockout and 6 defeats, this is her 5th defence of the title, which if she wins will make her tie with Lisa Maffia for most lightweight title defences in the BBU.
Both women met at a press conference for the fight, with both women posing for the cameras looking serious as they stand nose to nose.
But as soon as that is over; they shake hands and look genuinely happy to see each other, before they head to their tables to speak to the press.
Dua is giving the nod to speak, straight away talking about an elephant in the room "so I know there was a lot of rumours that I would be a stablemate of Alessandra's at the Girls Friday stable, I can confirm I did have talks with their management team but as you can see, I am a proud member of the newest big stable in celebrity boxing, Holloway Boxing"
She smiles as her manager puts their arm on her shoulder, she continues "I have to prove though that I belong amongst some great up and coming fighters like myself, my goal has been to win the BBU title, so let's see if I can fulfil one dream and prove I deserve my spot in my stable"
Alessandra through all Dua's speech has nodded and smiled, now she gets to speak to the press, she says "for the record I'd love to have worked with Dua, maybe take her under my wing if she had joined my stable"
Then she adds "but I want tests at this level, if she was with me then this fight wouldn't be happening, I have watched her groan in that ring, been on cards with her and spoken to her as a friend after fights"
Alessandra holds the title up in her right hand as she tells Dua "once that bell rings; I won't be that friendly older figure in the locker rooms, I will be the biggest bytch you have ever met, I will be doing everything to beat you Dua and it will be up to you to prove to me that you are at this level, I damn well am not going to just hand this to you as I go on to make history for the most title defences"
Dua nods as both women look serious again; both knowing that friendliness stays in the locker room till one has proven superior to the other, both getting up and leaving the stage soon enough.
Fighting time; the ring posts have been set up directly into the sand, with bleachers surrounding the ring with a sold out crowd watching this major fight.
Out comes Dua with her coach and her stablemate Anllela Sagra providing back up, she looks focused as she heads onto enemy territory, this being Alessandra's hometown.
Her attire is a red bikini with white trim, white gloves with red thumbs and her head is in a ponytail.
Climbing into the ring; while she isn't getting a loving reception, Dua still shows the fans respect by bowing to them, then heading to her corner where she warms up and Anllela tells her "this is your time, bring home the gold!"
Out comes Alessandra now to a loud roar from her fans, she gives them her customary samba style dance before she begins her strut towards the ring, while her coach Taryn Terrell holds her the title belt and her cut woman Eva Carneiro follows behind them.
Her attire is a green bikini with a Brazil flag pattern on the right bra cup of her top, her gloves are green with gold thumbs and her hair is also in a ponytail.
Climbing into the ring; the noise is deafening as she does a lap inside the ring, shaking her booty playfully at Dua as she passes her corner and blows her a kiss as she gets to her own.
Taryn reminds the champion to take this fight seriously as she drills Alessandra through her warm up in her corner.
The fighters are brought to the ring centre by the referee; all the smiles are gone as both stare holes through the other, the tension could be cut with a knife right now.
When asked to touch gloves, they touch them up respectful, with both women wishing the other luck before they jog to their corners, the bell ringing to start 10 rounds of BBU lightweight title action.
Round 1:
"Ding" out come the fighters with another glove touch before they settle into their stances, with both testing the others reflexes out.
A lot of respect it seems as the early action is very methodical from the fighters, circling and trading stiff jabs as they cancel each other out.
Till Dua ups the pace; feinting with her left and dipping down to land a double jab to the abs of Alessandra, moving out the way of a straight from the hometown favourite.
Dua starts taking control of the action; using her speed and footwork to move around Alessandra, sticking and moving as she has the champion missing her punches.
As a right sails over her head, Dua steps in and lands a left to the ribs of Alessandra and just misses by inches with an overhand right as the supermodel steps back out the way.
When Dua tries to pile on the pressure, Alessandra manages to land a straight to the nose of her opponent, then steps in close to force a fiery exchange as seconds tick away in the round.
The bell rings to end the round; Dua smiling as she heads back to her corner, Anllela giving her words of encouragement as she sits on her stool and gets wiped down by her coach.
The opposite corner is more tense; Taryn barking at Alessandra to stop showing so much respect and to go out there to punish Dua as she would any other fighter.
Round 2:
This time as both women come out to fight, they are more forceful with their punches, circling each other as they look for a chance to catch the other out.
Dua again shows her speed to come inside to land a left and right to the face of Alessandra, then move back out the way of a right cross.
But the next time Dua tries to move in close, Alessandra leans out the way of a jab and right cross, then as Dua tries to follow her, Alessandra dips under a straight and works the body with three hard punches.
That forces Dua to step back and now the champ shows off her skills, working behind her jab to keep Dua on the outside, then stepping back as Dua tries to close the distance and landing cross punches to the top of her head to ward her back.
Dua though shows off her own smarts, feinting to make Alessandra back up; then slipping under a counter right to land a right of her own to the abs of Alessandra.
With both fighters moving up on their toes and looking to outwit the other, Alessandra manages to catch Dua with a straight through her mitts to her face and pushes forwards with two more punches to her ribs as the bell rings to end the round.
This time the crowd let out a loud cheer; they know Alessandra must have won that round, the Girls Friday corner teams seems to agree as they tell Alessandra how much better that was.
The Holloway corner is nice and relaxed; Dua telling her team that Alessandra is good, Anllela replying "you're better" as Dua nods.
Round 3:
Alessandra seems to catch out Dua with the early pressure she is applying, catching Dua with a straight to her nose and forcing her behind her guard and aimed towards the ropes early.
Dua has to try and use her footwork to get out of trouble, but when Alessandra sees her chance, she strikes with a right around the guard to keep Dua in front of her and bangs away at her abs to drive her onto the ropes.
Both let their hands go as Dua looks to fight off the ropes; Alessandra wants to keep her pinned on them, leading to the crowd roaring.
Alessandra is landing the better punches as she can load up on them more, catching Dua across her cheeks with a left and right cross to knock her back behind her guard.
When the champion works the body of Lipa with hard rights and lefts, the challenger has to clinch up with Ambrosio, who scrubs the back of Dua on the ropes to make the clinch as uncomfortable as she can.
The referee steps in to break them apart, with Anllela shouting for Dua not to make anymore backwards steps from now on.
But it is easier to say then do; Alessandra looking to keep the pressure up as she keeps stalking Dua around the outside of the ring.
Till she misses with a straight as Dua dips under it and lands an overhand right to turn Alessandra's head to the side.
Dua comes on strong in the final 10 seconds as Alessandra covers up under a flurry of punches aimed at her head.
The round ends and Dua looks annoyed as she heads to her corner, knowing she got schooled that round, Anllela acting like quickly to tell Dua "don't give up! This is what we have worked for, you know how good she is! Prove to her how good you are!"
The other corner looks more relaxed, with Taryn telling Alessandra that she is doing great and to finish the job as quickly as possible as they don't want a long drawn out affair.
Round 4:
This time Dua meets Alessandra head on, the fighters slug it out to a loud roar from the crowd as both women grunt and groan as each thudding shot lands to their face.
Dua looks to have made a tactical error as Alessandra lands two hard punches that knock her head back, she covers up as Alessandra continues to head hunt her.
But the challenger steps out the way of a lunging right hook and fires back with a double jab to the nose of Alessandra.
With Dua looking to have her rhythm back as she gets back on the move, proving elusive as she dodges Alessandra's punches and comes firing back with punches mainly aimed at the abs of the Brazilian stunner.
Alessandra does manage to land a left cross that keeps Dua in the firing line for another two punches to her face, blood runs from the bottom lip of Dua as she is forced towards the ropes.
Dua clinches onto Alessandra to stop her building up a head of stream, with the referee splitting the fighter apart and allowing Dua to move into space to work in.
The speed of the youngster is proving too much for Alessandra right now as she gets countered with an uppercut that knocks her back a step.
Dua coming on strong as the round isn't long to finishing, Alessandra forced to cover up as she is getting swarmed by her opponent.
The bell rings with Dua pumping her right fist in the air as she smiles when heading back to her corner, Alessandra doesn't look pleased by the celebration as she glares at her challenger.
Dua's bloody lip is cleaned up by her coach, Anllela smiling at her friend as the coach goes through what she needs to do now to push onwards to success.
While Alessandra has her puffy left cheek worked on, Taryn not looking pleases but keeping calm to tell Alessandra "we both knew that Dua was quick, you have dealt with this before, so f*** her up!"
Round 5:
Dua looks to continue where she left off; she dances around the champion, who keeps compact with her guard, knowing that Dua is getting to get punches in, so wanting to be as protected as she can.
It allows Dua the freedom though to work, with the challenger slamming several punches into the abs of Alessandra to try and open her up more.
The crowd look worried as Dua is the one setting the pace, mostly getting clipped by single punches from Alessandra as she lands combos to the body when up top doesn't work.
But as she tries to come in with a jab to the body and right cross up top; Alessandra leans out the way of the right cross and comes back with a left hook that turns Dua's head.
The champion comes to life as she drives Dua back with multiple punches catching Dua on her bloody lips, making the challenger wince and cry out.
Dua again though grabs onto Alessandra; who let's out an exasperated groan, the referee needed to break them apart.
Which once apart; Dua is able to get on her bike and keep going back to her stick and move tactics, that has Alessandra looking second best.
The late part of the round sees Dua miss with a straight as Alessandra times it right, parrying the punch and coming back with a right across the lips of Dua and a follow up left cross.
The champion gets in close to trade with Dua in tight, both women going toe to toe in close range till the bell rings to end the round.
The Holloway corner team is still all smiles as Dua heads to her corner, telling her that she has Alessandra rattled, pointing across the ring at her opponent and telling her "she is there for the taking"
Alessandra looks frustrated; staring into the crowd and seeing family members who've come to watch her, Taryn sees that and shouts at Alessandra "you know you're letting them down right now! Come on Alessandra! This is for your family and the title, go out there and beat up Dua"
Round 6:
The challenger is looking to keep on top of things, with Dua keeping on the move with her jab her main weapon and Alessandra having to follow her.
When Dua looks to come inside by dipping down, Alessandra moves out the way of a right hook aimed at her ribs, then as Dua tries to step back, Alessandra catches her with a jab and a right hook.
That pushes Dua back and Alessandra pushes forwards, finding gaps in the guard of Dua to back her up towards the ropes, with Dua only able to land single punches in return.
When Dua goes to clinch up with Alessandra, she gets hit with an uppercut that wobbles her knees and forces her to cover up.
For the first real time in her career; Dua looks in trouble, she is stuck near the ropes as Alessandra hammers away at her guard.
The champion uses her left to shove Dua onto the ropes, where she begins hammering the body of the challenger, making her cry out.
Dua looks to fight her way off the ropes, but the shots of Alessandra are rocking her head back, blood is running from her lips is dripping onto her chest.
The bell rings with Dua shaking her head, trying to clear some cobwebs as Anllela comes out with her coach to help her to her stool, where they do their best to patch her up.
While the Girls Friday corner looks more calmer now, Alessandra only has eyes on Dua though as she looks like she wants to pounce on her.
Round 7:
Dua looks more defensive as she comes out; flickering her jab out to keep Alessandra away from her as the champion stalks her around the ring.
Alessandra soon enough parries the jab and comes inside with her punches ripping away at the abs of Dua, who gasps and is driven onto the ropes.
The challenger looking in trouble as she tries to throw back punches, she can't match the intensity of the champion right though as these body shots seem to be taking the wind out of her sails.
Alessandra changes up her punches as she moves back enough to land an uppercut, DUA LOOKS ON SPAGHETTI LEGS AND A RIGHT HOOK SENDS HER TUMBLING TO THE SAND FACE FIRST!
The referee checks on Dua, then begins to count as she stirs, 1...2...3 Dua slowly rolls to her side to breath, 4...5...6 her gumshield comes out as she groans with her eyes shut, 7...8..9...10 and soon she is counted out!
Winner and still BBU lightweight champion Alessandra Ambrosio KO Round 7After:
The crowd stand and roar as Alessandra falls to her knees in celebration, this is a massive emotional victory as she has tied for the most defences and done it in front of friends, family and fans.
Meanwhile Dua is checked on by her coach and ringside doctor, Anllela looks down in disbelief at her friend as she thought Dua was going to do it.
Dua is helped to sit up; though she is crying as she can't believe she lost when she had so much success through the middle part of the fight.
Soon enough she is helped over to her stool so that she can be cleaned up, Anllela telling her how proud she is of being stablemates with her after the effort she just put in, helping stop the tears from Dua.
After both women have their gloves taken off and Dua nods that she is OK to come to the ring centre for the final result.
As Alessandra gets her hand raised and holds up the title in her other hand to a loud chant of her name, Dua respectfully applauds her and is going to head out the ring, till Alessandra shouts "wait Dua!"
The champion hands the title to Taryn and heads over to Dua, after giving her a big hug, she tells Dua "honestly you pushed me harder then most do in here, you are going to be a champion someday, I can see it"
Dua fights back the tears as she says "thank you" Alessandra lifts her left hand up as the crowd stand and applaud Dua, who says thank you to the crowd too.
Both embrace again as Dua looks overjoyed even in defeat to know that she is thought so highly of by someone like Alessandra, who nods at Dua as she turns to leave the ring.
Anllela on the other hand stares hard at Alessandra, shouting at her as Dua leaves the ring "tell your friend Kendall (Jenner) that her ass will be mine soon enough" Alessandra scowls back at her as clearly respect doesn't extend between them.
After the Holloway girls leave the ring, Alessandra asks for a microphone off the referee, he waves for one from a stage hand and as Alessandra gets the title put around her waist by Taryn and the mic in hand, she has something clearly on her mind.
"First I want to say a big thank you to everyone who came to support me, Dua was far from an easy fight and I am honoured to have won here in my hometown" says Alessandra as the crowd shout that they love her.
After tapping the belt, she continues "now I'm tied for most defences with Lisa Maffia, so how about it Lisa? Me versus you, I am giving you a chance to stop me from becoming the sole record, so you game bytch?" The crowd seem excited by the idea.
Alessandra blows a few kisses before she exits the ring with her corner crew in tow, with a big night of celebrations planned.