Post by Lookout! Atlantic on Jan 1, 2019 7:32:26 GMT
Kate Upton versus Kelly Brook

Titfight Match I
(Words and Results by Lookout!)*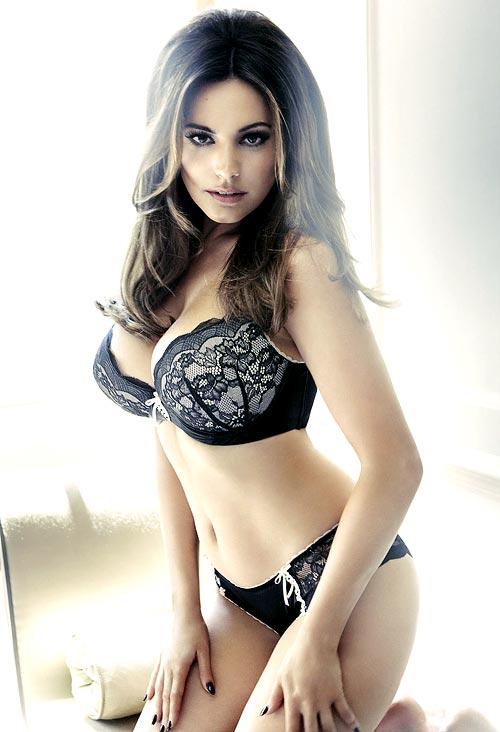 This was a match-up that the fans couldn't believe was taking place, but if you heard both fighters talk about it, then this match simply had to take place, even after the recent series between the two of them that had seen Kate Upton emerge triumphant over the course of seven (7) grueling bouts. However, perhaps the most important of these and the one that had put Kate in the most vulnerable position psychologically, had been the fourth (4th) bout which had been a Jugs of Mass Destruction (JMDD) bout between the two of them and Kelly had emerged victorious in that contest.
Since then, Kelly had continued to proclaim her chest the best in the world, which had left Kate fuming. As Kate declared to one of her friends at a recent modeling event, "Of course I owned Brook like the bytch she is, but she isn't broken. Not like she should be. She keeps talking about how she has the better tits and how she isn't scared to put them up against me in a titfight. The fact is she f*cking well should be and when I flatten her tits, that is going to take away her pride as well. There will be NO freaking question when I'm done with her who has the better boobs. It's going to be me and she is going to surrender to my superior tits."
Kendall Jenner, another rival of Kate, questioned why Kelly would go back to try to taking down Kate when she had so recently been destroyed by her and encouraged Kelly to let Kendall wear her down first.
"You ever heard the phrase you kill the head and the body will die?" Kelly said with a snarl, "Well, Kate barely has a brain, so for her, it's a little bit different. Kate thinks she's tough as sh*t, but if you can get to that overrated rack of hers, she's finished. Break her jugs and her body is going to follow. I just have to prove that I have the better tits, which we all know I do, then I can finally finish her the f*ck off. I'm sick of her proclaiming she's the Queen, so when I ruin her tits, she'll regret ever thinking she was better than me. I'm going to be the first to officially own Kate's tits."
Clearly, lots of pride on the line here between two of the bustiest girls in the world and with two of the most famous set of jugs in the world competing in a series of titfights, there is clearly a lot of interest. After some discussion between the two parties, they decided on a series of Best Of 5 in titfights and just so there was no question of who was superior, they decided to do it publicly. Tickets for these events were astronomically expensive, but there was no doubt in the slightest that they would be worth every penny. For those who weren't extravagantly rich or have the right connections, they would also be broadcast live over the internet for a slightly less exorbitant fee. Regardless, if you wanted to find out who has the better jugs between Kate and Kelly as badly as those two beauties do, then there's no reason not to find out. Blonde versus brunette, British versus American, Kate Upton versus Kelly Brook in a series of titfights - the stakes can't get much higher and tonight, is the beginning of this event as both fighters show up at the penthouse where tonight's event is scheduled to take place and the event is filled to capacity. Intensity and rumors are both running high as both Kelly and Kate arrive for the battle ahead...
First of all, Kate looked confident as she pulled off her light blue sweater and skirt, standing clad only in a sheer turquoise top and matching knickers. Her rounded ass, now fully visible, pushed against the fabric, and there was a noticeable silence as the large crowd feasted their eyes on Upton's incredible curves. If the American beauty realized that everyone was staring at her, she certainly didn't let it show. Kate's thick nipples protruded through the thin top while she waited for her competition.
All eyes turned as a curvy brunette made her way to the center, looking quite seductive with her meaty, luscious body and crimson lingerie. Kelly's impressive cleavage every available gaze as Kelly walked up to Kate. This was the second time that these two would be competing and Upton's face was stoic as she stared back at the brunette. Both competitors disrobed at the same time. Kelly, still wearing her bra, flung the garment off and revealed her ample breasts, which shook pleasantly while the famous brunette posed for the crowd. The Brit's nipples were hard and thick, and she cupped her large boobs as she stepped towards the gorgeous American girl. Kate's thin see-through top slid over her full, round breasts, jostling her gravity-defying boobs and shaking them as she discarded the top.
"Whew, nice pair, Katie," Kelly called out with a low whistle, bouncing her own sizable breasts. "I can't wait to feel those perky tits yielding to my stronger boobs." Kate smiled back good-naturedly. "Many have tried, Kelly, none have succeeded."
The two pairs of breasts seemed fairly evenly matched in terms of size. Kelly's set did look just bigger, although they certainly hung slightly lower on her chest than Upton's exceedingly firm pair did. Still, the Brit's boobs had a nicely rounded shape, and jiggled enticingly as she stretched out to give everyone a good look. It seemed like this as going to be a epic match, even if many in the audience did once again give the edge to Kate. Kelly had a careful but confident smile on her soft face, and everybody wondered if she had a plan to defeat the American beauty's perfect breasts.
"Whenever you're ready, Kelly" Kate grinned.
Kelly sprang forward, slamming her chest straight into Upton's luscious boobs. Both pairs distorted at the point of contact, compressing as they were forced together. Kate's seemed to be more affected with the impact, but little ripples flashed across both sets. Kelly stepped back and Kate, obviously experienced, slammed forward herself. The Brit's eyes widened at the speed of the move, as the two sets flattened at the tip. While Kelly's boobs certainly seemed to spread out more quickly and fiercely, Kate's firm breasts also dented quite a bit. The curvy Brit winced, but slammed back. Kate took a direct blow from Kelly's right breast across her own, sending little waves from the inner side of her tit outward. Upton grunted but pushed forward, sliding her boobs across Kelly's and letting the brunette get a feel of her firmness. "Yeah, look at those soft boobs open up for me," Kate smirked. She shoved once more, and again Kelly's heavy boobs yielded slightly. The women glanced down to see their tits battling between them, their breasts shoving to gain and lose footing with each movement. Nobody was not surprised to notice that Kate's big, perfect boobs were giving up somewhat less ground than her opponent's.
Kate continued by grinding her right tit into Kelly's left, pushing in so that the brunette's boob slowly pushed out. I found it kind of hot, watching Upton spear another girl's big, powerful tit. Kelly groaned as her other tit was pushed inward slightly, leaving both her tits momentarily impaled by Kate's very firm pair. Kate pulled away for just a moment, and Kelly sighed as she felt her boobs rebound into their original, round shape. Her relief was short lived as Kate remained the aggressor, this time lining her intimidatingly hard boobs up and slamming them forward. Kelly's flesh rippled as it was pushed back and outward, and I heard the pretty Brit moan as she watched Kate's attempts to invade her large orbs. Upton ground for a second, but pulled away, seemingly looking down to take stock of the situation.
Kelly acted quickly, and dipped her waist just enough to send her wrecking ball mammaries into the underside of the American beauty's perfect boobs. Kate's boobs moved this time, flattening slightly at the bottom while the bulk of her mass shifted upwards, wobbling up her chest. Her pink nipples danced as Kelly's attack shook Upton's firm tits. Kelly shifted her weight, and before Kate's round, powerful boobs stopped jiggling, Brook's right breast slammed into its counterpart. Kate groaned this time as she felt her right tit mashed inward, and again, the older brunette poured on the pressure, forcing her set on top of Kate's.
The gorgeous blonde grunted as her tits compressed beneath the slightly larger pair, seemingly filling back out as Kelly pulled away. Both breasts jiggled from the release, and both women eyed the four boobs before them. It was hard to tell who moved first, but almost simultaneously, they launched their breasts at the other pair. Each orb compressed at the point of contact, forcing soft, supple flesh to spill out the side of the impact point. Both women held their breasts in the position for a while, twisting their hips, testing their firmness against one another before pulling away.
The girls took two huge strides, fast and crisp. Both pairs of tits slapped against each other loudly. Everybody watched four huge, nubile breasts wobble and shake away from the other, driven by the force of impact. Both women winced, but both also thrust their chests forward again. While the impact was lessened because of the lack of momentum, neither woman seemed to hold back and both pairs of ample breasts quivered. After a while, the women pulled each other into a tight hug.
The heavy boobs bounced and shook as they slid against the opposing pair, dropping against their chests as the contact was broken, only to push up, out, and sometimes even down as the girls pushed their tits together again and again. Kelly shoved her torso to the left while her heavy tits were still touching Kate's, sending a shot into the larger breasts and causing them to shake and wobble just slightly. The brunette winced as she felt Upton push back, sending Kelly's supple tits a bit further back before they separated and each pair regained its natural shape. Kelly kept her eyes down as she thrust forward again, drilling her supple flesh into Kate's dense boobs. Both breasts folded and bent as the two women swiped their chests together. Kate's left boob found its way atop Kelly's right breast, shoving the pliant flesh down, and in reaction, Kelly shoved her torso up, her right tit sloping around and across Upton's left breast before the brunette's left breast lay atop Kate's left jug. They went back and forth a couple of times, each breast slipping and slapping across the opposing gland.
Kelly prepared for another slam, and Kate fell back a step. The blonde grinned, obviously thinking she had the her opponent on the run, but the younger girl quickly slung her tits from the left. Kate's big right boob slammed into Kelly's teat, sending Brook's flesh rocking over her torso. Kelly wasn't ready to give up just yet, though. She pushed her jiggling pair forward, forcing Kate's round flesh to briefly splay across her chest. The gorgeous blonde groaned as her tits quivered. "You've got some nice boobs there, Kelly," Kate admitted grudgingly, panting a bit. "Not bad for a little girl. They're certainly a lot firmer than they look." Not put off by the thinly-veiled insult, Brook again slammed forward, both tits firing upwards and Kate staggered. The impact sent her firm tits wobbling, something the American beauty hadn't experienced a lot.
Kelly again thrust forward and landed what, judging by the look on Kate's face, must have been a stinging blow to her left breast. The brunette's firm flesh rolled slightly from the impact, and the jiggling teat withdrew with a sharp jerk, causing more waves to course through the entire boob. Another shot from Kelly's full left breast slammed into Kate's right, forcing Upton's round boob to wobble once again. Kelly repeated the move with her other breast, and soon Kate's tits were both shaking on her frame. "Let's get them bouncing," Kelly grinned. Another shot from Kelly's smooth, meaty left tit followed, and Kate's jugs were each shaking independently of the other.
As Kelly paused to admire her own handiwork, Kate took advantage, and slammed her larger breasts into Kelly's pair. Kelly's tits almost looked as though they'd been partially swallowed for a moment before Kate pulled back, slamming forward again so rapidly that her opponent barely had time to register the blow before Kate's next strike. Kelly grunted as Kate's thrust slammed into her sizable tits. The American beauty's next stabbing move sent waves of flesh on the Brit's chest, and she thrust back, grunting as she felt Kate's firm tits against her own. Kate's pert tits pushed the Brit's softer-looking boobs outward more, but the jiggling udders seemed to hold up well enough against the bigger boobs of her rival. Kate slammed forward again, causing Kelly's boobs to wobble more as the brunette's plentiful jugs shivered before coming to rest on her chest. Kate wiggled from left to right, forcing Kelly's boobs to shift and shimmy before the older girl withdrew. As she pulled away, the crowd saw that both women's tits had already begun to redden.
Kelly retaliated by smashing her left tit into Kate's right, compressing Upton's perfect breast before it bounced back to its original shape. Another shot sent Kate's left breast across her chest, trembling as Kelly reared back for another strike. Kate shifted almost imperceptibly, and as Kelly reared back, Kate's shoulders twitched before she sent her sizable jugs careening into her opponent. The blow was not matched well, but Kate's left boob slammed into Kelly's left tit as both women staggered. The slap echoed off of the walls.
Kelly recovered more quickly, a move I attributed to her burning desire to teach Kate a lesson, and slammed both of her tits into Kate's again. Both of Upton's boobs compressed again, springing back to their original form, only more red. Kate reached up to grab Kelly's shoulders, but Brook batted her hands away. The motion seemed to distract Kelly, though, and Kate pounced on the opening, launching an uppercut into Kelly's boobs. The brunette's tits jiggled wildly from the impressive strike, and Kelly stumbled, almost falling.
Kate had taken the advantage after the quick uppercut, grabbing Kelly's shoulders and swinging her chest like two dense wrecking balls. The first blow she landed, from the right, pushed both of Kelly's seemingly softer tits against her ribcage, bending them before they slowly flopped back to their original position. Kelly grunted as she felt Kate's dense boobs burrow into hers, but unwilling to give up the advantage, put her hands on Kate's waist. Using her grip on her foe's center of gravity, she whipped herself into Kate, coiling, then snapping her lower back so that her heavy mams drilled Kate's boobs. The groan from Kate was low and guttural as a grin spread across Kelly's pretty face, and she briefly slid her chest from side to side, savoring the sensation. "I'm going to flatten your perfect boobs, Kate," she taunted her opponent. "You've got a great rack, but I can feel those firm jugs starting to soften up."
Kelly repeated the previous snapping move, looking for all the world like a snake as her supple back rolled and then snapped forward. Kate's breasts flattened on impact, but each time regained their flawlessly round shape. "Yeah, can you feel my puppies wearing your precious boobs out?" Kelly breathed out confidently. Kate swung her tits wildly to avoid the next blow, and did so, but made no contact of her own. On the back swing, however, Kate's left teat glanced Kelly's boob, the former's thick tip scraping across Kelly's areola. Kelly winced at the contact, pulling back and slamming forward again. Kate shifted, and another glancing blow forced both pairs of breasts to shift and slide against the other.
Both women were now shifting their torsos, sending wave after wave of titflesh over the other's pair. Kelly's tits seemed to fold and bend on the first pass, but when she pushed her tits in more, it was apparent that Kate's tits, too, were yielding. Upton's mouth opened, and her eyes went wide as Kate felt her rival's heavy tits straining against her own set. They had done a number on each other! All four tits between them were shaking, wobbling as tit met tit. The American beauty's perfect pair, which had seemed firmer than Kelly's, was now shifting almost as much as her opponent's larger tits. Both glistening sets morphed and rolled, but regained their almost round form each time. Kate, apparently a bit miffed by the fight the busty brunette was taking to her now quivering boobs, looked up from the fleshy struggle and growled. "Gotta give it to you, Blondie, I didn't think your tits were this good. Most girls would've surrendered by now. At least your boobs are putting up a fight before my better set finally crushes them." Her opponent's eyes narrowed and she stared back with smoldering eyes, unblinking. Both girls looked incredibly sexy with their large breasts glistening with sweat.
Suddenly, Kelly pulled back, using her arms to keep Kate at bay. The crowd was surprised until they saw Kate thrust forward. She landed a heavy blow, and Kelly's tits wobbled on her chest, but even as she winced from the pain, Kelly reached around and grabbed Kate in a hug. Kate's eyes went wide as she felt Kelly's surprisingly strong arms begin pulling, forcing Kate's reddening boobs into the brunette's fleshy pair. Kelly resumed the snapping motion with her back again, forcing her tits into Kate's rhythmically. The curvaceous brunette having tenderized her opponent's breasts, thrust her big boobs into Kate's. This time, Upton's boobs gave just as much as Brook's, flattening at the point and pushing against her ribcage.
The American beauty was groaning with the close attack as Kelly seemed to pump her solid tits into Kate's. The younger girl's breasts seemed to be holding up as on every outstroke they retained their shape, but the maneuver was taking its toll on Kate's jugs. "Can you feel my big, powerful titties overwhelming yours? Are you ready to admit defeat? We both know you're just delaying the inevitable." the older brunette taunted. Those watching closely saw a slight grin on Kelly's face as she felt her opponent's large, perfect boobs yielding more and more, quivering slightly as the spunky brunette shook their tightly mashed chests. "See, they're already trembling in fear in front of my better set."
Kate seemed to know she had to do something, and anyone watching could see her mind racing. Her eyes lit up suddenly and she bent her knees. Kelly had been keeping her held close, but didn't expect the sudden downward move. It took Kelly just a second to figure out what had happened. Kate took advantage, quickly standing up, and with a sudden twitch of her lower back sent her firm, round tits into Kelly's rack, causing Brook to grunt and step back. Kelly took another sudden blow, and Kate pressed her advantage, flinging her thick breasts into the opposing pair.
Kelly groaned again as her breasts smashed across her chest, slamming up and then down shaking with the force of the impact from Kate's jugs. Upton pressed her advantage even more, swinging from the left to force her heavy left breast into Kelly's left. The blonde's flesh shook and wobbled over her chest as Kate held her breast against Kelly's and began sliding her heavy, firm tit over Kelly's larger counterpart. The busty, brunette groaned as she felt the mass of flesh push her own breast inward, shifting both the surrounding tissue and core of her tit. Her boob slid back as Kate continued, the latter pressing her flesh into Kelly's other orb. I watched as Kelly's right tit was pushed outward, before being covered by Kate's breast. Kate pulled back suddenly and Kelly's jug bounced back into its original position. Kate slid back, using her right breast to try to repeat the maneuver.
Kate leaned for another blow but as she came forward, Kelly's slightly larger tits came crashing down. The smack was a loud one, and the sound careened off of the walls echoing loudly throughout the room. Kate groaned as she felt Kelly's tits bury themselves into her flesh, but again, both women pulled away with comparable damage. Kelly's tits looked an angry red instead of their normal creamy tone, and they had been answered in kind by the sharp pink coloring of Kate's boobs. Kelly wasn't satisfied with the color and she slammed her heavy boobs on top of Kate's once again. Kate's tits splayed out slightly from the compression, flattening on the tops and pushing her flesh outward.
Kate gasped as she pulled back, muttering "oh f*ck" loudly enough for everyone to hear. Kelly grinned and swung down, aiming for Kate's sore boobs. Kate was frustrated, but still determined to beat the surprisingly tough brunette. As soon as she saw what the busty Brook had planned, she slammed her tits forward, staggering Kelly even as the latter's supple jugs slid over her collar bone. Kate pulled away, having gotten too close and slammed her famous boobs back into the opposing pair, this time slamming both of her big breasts into Kelly's. Both pairs flattened again, and Kate kept the pressure up. Kelly's breasts flew up, rolling from the impact, and Brook groaned as she felt the blow connect. The crowd watched as Kelly's breasts settled on her chest and Kate reared back. The brunette's tits dented before springing back. Kelly grunted and Upton showed her experience by spearing Kelly's heavy breasts again. Kate reached up to grip Kelly's shoulders and start thrusting her pert teats deeper into the opposing flesh.
"Had enough, little girl?" everybody heard Kate smugly hiss. "If you give up now, I'll take it easy on you." Kelly looked pained, but shook her head angrily. "Fine, I guess we'll have to do it the hard way then."
All four sweaty breasts flattened and ballooned, each returning to their round shape. Kelly's breasts shifted more as Kate dictated the movement, but both boobs slid and shifted as Kate shoved her chest at Kelly's rack. Soon, Upton began picking up the pace as her repeated thrusts, close as they were, came more rapidly, compressing and jostling Kelly's breasts with more frequency. Kelly seemed to welcome the contact, pushing back with her own boobs, though the contest seemed to favor Kate's pair. "Not so cocky now, are you?" Kate asked with a grin. "There's no way those pillows will survive against my perfect boobs." Many Upton supporters couldn't help but enjoy seeing the familiar confidence on Upton's face, and silently agreed with her.
Kelly tensed, her face twisting into discomfort as Kate's gorgeous, pert breasts struck a particularly solid blow. Kate grinned as she pulled back, then drilled her substantial boobs into Kelly's. Both pairs of breasts seemed to split, shaping around the impact point and jiggling. Kate's boobs shaped upwards, sliding over Kelly's teats, which were pushed down from the top, though they held up well considering the dense breasts atop them. Kelly twisted away, pulling her own substantial rack to the side, letting Kate's big boobs drop down. Kate followed her tits, but Kelly twisted just as hard the other way, sending her breasts over Kate's lush curves.
This time both pairs split time on top, as Kelly's left breast snaked up and over Kate's right boob and her right jug slid under Kate's left. They continued grinding against each other, their breasts almost occupying the same space in some fleshy misunderstanding of how physics worked. Aside from skin color, you couldn't tell where one tit ended and the other began. Both women began grunting at each pass. The audience wondered if the fight was drawing to a close, but both women stuck to their technique, ignoring the pain in what had to be their now sore breasts. All four breasts compressed against their counterpart, shaking and jiggling as the two women continued to grind each other out. Kate's breasts pushed forward for a moment, but when Kelly shoved back, her own jugs made some ground. Each woman placed her hands on the other's shoulder as they kept slowly pushing their boobs into each other.
Upton let out a frustrated gasp as she felt Kelly's meaty tits slip and slide into and across her larger pair. Had she looked down, she would have seen a very disturbing sight - her big jugs being pushed around for a moment before sliding into place. Some in the crowd were getting worried how Kate's perfect boobs seemed to be losing their much-celebrated firmness. At the start, Kelly's sizable tits had appeared to be giving up more ground than Kate's pert pair, but clearly the spunky brunette had managed to pound and grind that initial lead away. After a minute or so of grinding, Kelly changed tactics. She pulled away quickly, and Kate, mid slide, couldn't stop the strong blow of Kelly's heavy boobs slamming into her own. Kate's tits bent and folded around Kelly's, though nobody could tell if it was the damage to her tits or the sheer force that Kelly was able to put behind it. Kate's jugs reshaped, and Kelly mashed their boobs together, almost as if she had been savoring the blow.
The American beauty's right breast flattened at the point of impact, where Kelly's right breast slammed directly into Kate's. Kate's left tit slammed into her other big boob, but many audience members noticed that Kate whimpered, and the Kelly's grin told everybody all they needed to know about who got the worst of the arrangement. Kate's right tit dented and flopped inward, meeting Kelly's left tit as the busty brawny brunette dragged her torso through Kate's again. As her tit fell back to its original position, Kelly let herself pause for a moment, leaving Kate's perky but sore-looking right jug between her cleavage. Suddenly Kelly started shaking as her hands snaked outward and grip Kate's hip. As the audience watched the new tactic, they realized that Kelly was simply shifting left and right quickly, from one foot to the other. The younger girl's left breast was pushed outward, bouncing off of Kelly's meaty boob, and the crowd almost felt bad for Kate's right tit, trapped as it was between the other girl's impressive pair. "Sh*t," Kate groaned as her big teat was squeezed and pummeled in Kelly's powerful cleavage. She had only been stunned for a moment, and soon her own torso slid back and forth, trying to match Kelly's blows.
In moments, it appeared that every bit of their flesh was in contact, sliding, folding, bending and slapping. Brook's sizable boobs looked almost as if they were wobbling at times, while Kate's ever-so-slightly more bruised breasts were pushed around before bouncing back. Neither girl seemed to be gaining a good advantage. Suddenly, Kelly sent a shot into the underside of Kate's pert, sweaty boobs. Her attack sent the shocked American beauty's tits shaking uncontrollably upward, and Kelly grabbed Kate's shoulders before the latter could move back to regroup. Kate's big boobs were wobbling when Kelly quickly moved forward.The crowd, watched in awe as the spunky strong Brit slammed her tits forward, once again pushing in the gorgeous blonde's bigger tits. Both pairs seemed as though they'd softened, and while Kate's yielded more easily, Kelly's compressed more as well. The American beauty groaned as Kelly's meaty boobs invaded her large, glistening pair. "Wow," Kelly grunted as she tried to work her tits further in. "So this is what it feels like to crush your arrogant boobs, Kate? They're so f*cking firm." Perhaps realizing that it sounded like praise, Kelly quickly continued. "Gonna make crushing you so much more worth it."
"You're not going to beat me, Kelly. My perfect big tits are going to flat... Oh f*ck," Kate suddenly groaned as the older girl's round boobs burrowed into her pride and joy again.
Some in the crowd were wondering if Upton's tits had just been beaten by Kelly's surprisingly dense pair. The busty thick Brit pulled some distance between the two women and one could almost see the relief on Kate's face. Both pairs of tits were splotches of angry red on a pink background, and both wobbled considerably as they broke from the contact with the other pair. Kelly lifted her breasts again, and Kate gamely swung her tits up, aiming for Kelly's pair. She hit, but Kelly was still pulling back, minimizing the impact. Kelly still grunted as she felt the contact, though, and stepped back. Kate used the moment to swing her tits again, hoping to nail a haymaker blow to Kelly's left breast. The wild shot missed, however, as Kelly twisted to her right, and when Kate stopped moving, she was greeted with a shot to her still-quivering orbs. Kate grunted and then almost yelped; Kelly had not stopped with the single blow. Both girl groaned as Upton pulled her opponent in. At times, it looked as though Kelly's thick breasts were forcing their way into the younger blonde's large pair, while at others, Kate's bigger tits seemed to be pushing and pressing Brook's round boobs flat. The crowd remained silent while the two girls ground against each other, listening closely to the wet smack of their sweaty tits against each other and their grunts and gasps as their nipples scraped against the opposing flesh.
Kelly broke the stalemate by forcing her boobs forward, and Kate's ample breasts seemed to allow access, her flesh simply pushing in. Kate's boobs bounced up, jiggling delightfully as the busty Brook continued her blow, shoving her tits into the underside of the American beauty's big rack. The brunette slammed her heavy tits down, earning a long moan from her beautiful opponent. It was an intense sight, watching Upton's perfect boobs get forced down on her chest. Kate's taut flesh stretched, distending the breasts' tissue against the weight of Kelly's powerful boobs. "No... f*cking... way," Kate groaned. Kelly raised her own tits again and slammed down once more. Kate swore again as her tits shook, only regaining their original position when the curvy Brit pulled her large, fleshy orbs away. Kelly slammed forward, and the American beauty groaned again. Kate's hands fell to her side, and all present wondered if the last few blows had done her jugs in.
"Yeah, you're going down, Kate. I know you can feel those super tits slowly making way to mine. It's gonna be awesome, having you worship my superior pair in front of everyone," Kelly said in a low, husky voice. The chesty older Brit's arms wrapped around Kate's slender waist and forcefully pulled the girl into a hug. Kate's ample tits immediately splashed outward as they met Kelly's, but the Brit's own boobs compressed significantly as well. Both women groaned at the impact, and Kate started to struggle. She could gain no leverage, and her tits began pushing and almost pulsating from the rhythmic pressure the busty Kelly was applying. As Kelly began twisting her torso to the left and right, thrusting her heavy jugs into Kate's bigger pair as Upton's mighty breasts suffered. Kate's tits jiggled more than before, but Kelly wasn't done as she followed suit with her left breast, and then Kelly pushed her meaty tits into and over Kate's amazing but quickly softening rack.
At first, people wondered what was going to happen, as Kelly was moving slowly, savoring the hold and whispering something into her shocked opponent's ear. Then Kate's tits began flattening earlier than they had been, compressing at the point and moving outward with a more fluid motion. A chorus of "ooh" traveled around the room. Kelly had definitely loosened the American beauty's firm, round tits, and Kate's flesh slowly made way for Kelly's, even as Brook's own boobs compressed visibly. But while Kelly's breasts also gave ground, it was nowhere near as much as Upton's famous orbs were now yielding. Kate tried thrusting forward one more time. The end result was a dent in Kelly's meaty tits, and a noticeable wave of flesh from the younger girl's large breasts, radiating outward from the point of impact. In a minute Kate had stopped fighting, and Kelly was again leaning in to whisper into her ear. She pushed her supple tits slowly into the the American blonde's beaten breasts, and Kate didn't look down to watch her gorgeous tits fail her for the very first time in a long time. Her face was a mask of pain and disbelief at having been bested by her curvy British rival. Kate moaned, no doubt feeling the full breasts of her rival invade her softening jugs. As the entire world watched, Kate's tits seemed to slowly yield, drooping down and around Kelly's pair. The busty brunette continued tenderizing Kate's sore-looking tits, and then began bouncing her legs, sending her opponent's ample titflesh wobbling all over.
"Yeah, look at those big jugs bounce. Didn't think I'd be able to tame your precious set, did you Kate?" Kelly smirked, gloating. The busty Brit slammed head on into Kate's vanquished tits, watching with joy and triumph as her opponent's formerly powerful tits molded around her slightly larger set. Kate let her hands drop as Kelly gripped her shoulders. Kelly lightly shoved with her solid tits, and Kate's rack pushed up, her boobs almost flattening from the bottom as the older brunette humiliated her. The American girl's tits eventually slid down, and Kelly pushed her breasts over them until her were once again on top.
Kate groaned as her tits fell. "Okay," she said, her voice cracking just slightly. "You win, Kelly. Your stronger pair crushed my tits."
Kelly laughed, giving the audience a quick grin. Quite a few girls were cheering for the busty Brit, clearly eager to see her dole out even more humiliation on the girl whose frequent declarations of royalty and frequent smothers and splashes of the rest of the league had not earned their support. Apparently deciding to grant the crowd its request, Kelly pulled the younger girl in for more punishment. The audience watched as the triumphant brunette showed off, enjoying her win over the gorgeous blonde in front of the whole league. Crushing the American blonde's perfect boobs in such a public manner had to boost the busty Brit's confidence quite a bit - not that she necessarily needed that.
"Watch them fade. Look how those amazing tits slowly open up to mine," Kelly whispered, almost to herself. Kate's head dropped as she felt Kelly's tits once again displace her own. Kelly spent her time annihilating her opponent, pushing Kate's thick tits to the left and right, and up and down, and even holding them in place. Kelly shook her nice, full bum to some music in the background, instructing everyone to "Watch this American's overrated tits jiggle." And they did. As bad as many in the crowd felt for Upton, nobody could deny the impressive sight of her now slightly droopy breasts shake on her chest through the motion of another, better pair.
"Who has the best godd*mn tits around?" Kelly asked loudly. Kate sighed her surrender again.
"You do Kelly. Your amazing breasts outgunned my weak sacks. You have the best boobs in the league. They pounded mine into these bouncing jugs," Kate groaned.
"That's right Kate, my big boobs crushed your weak, bloated set," Kelly smirked proudly, obviously enjoying every second. Not that anybody could blame her really, defeating the American beauty's firm rack was one seriously impressive achievement. The curvy and victorious Brit hefted her victorious left tit into Kate's mouth. "Suck my better tit, Kate. Suck it like you mean it." The younger girl did just that, letting the nipple enter her mouth and basting it. Every pair of eyes were drawn to Kelly's quivering flesh as Upton gamely paid homage to her superior.
Kelly's shaky moans captivated the attention of the entire room, and the audience watched, mesmerized, as Upton continued to suckle on the busty Brit's best assets. They were ample and full rather than perky, looking more luxurious than sporty or statuesque. But there was no denying their power and attractiveness now - the busty brunette would not be denied today. Everybody could see Kate's formerly perfect tits sagging just slightly as she serviced Kelly's round, victorious teat. "Yeah, suck my big, strong boobs. They're the best there are," Kelly moaned, licking her lips seductively and staring down at her humiliated opponent.
Finally, the busty Brit gestured her opponent to get up, and leaned in to kiss each of Kate's tender boobs. The crowd watched as Kelly bounced the American girl's large jugs gently. "Wow, they really are gorgeous. Just like the rest of you, really," Kelly smiled, narrowing her eyes in playful jealousy. "But I think we all know whose boobs are better, don't we?" Kate nodded demurely, biting her lip as she stared at her opponent's winning teats with newfound respect. "And thanks for the fight, Kate, you sure gave me one hell of a match. But I bet you didn't expect to lose to me today, did you?" Kelly smirked.
Kate blinked back tears, looking at her foe in abject humiliation. "Yeah, I thought I'd flatten your pretty tits without too much trouble."
Kelly grinned at Upton, cupping her own sweaty boobs and bouncing them softly. Their plentiful flesh shook and rippled pleasantly, and Kelly's smile widened further. "And how'd that go, Katie dear?"
The modelesque American girl took a deep breath, glancing towards me and hanging her head a bit. "You crushed my overconfident boobs, Kelly," Kate admitted quietly, groaning as Kelly started to jostle Upton's slightly larger boobs for one last time. "Your big, beautiful jugs tamed my lesser set."
"They d*mn well did, bytch…" Kelly said with a snicker, "And don't you f*cking forget it…" Obviously, with the look of resentment and rage on Kate's face, she certainly wouldn't and once she recovered, a rematch would absolutely be in the works between them as there were definitely more matches planned in this titfight series, which was off to an epic start. But, today, bragging rights clearly went to the victorious British breasts of Kelly Brook and she was going to cherish this moment for a long, long time…
The End (For Now…)
Happy New Year to the BBU!!!

*We would like to take a moment to state that the results are modified and adapted from a match by Augur in his fantastic 'Titfight Academy' series, which you can read over at the Free Catfights forum. If you haven't and you're interested, please feel free to check it out. I'll be happy to provide the link to anybody who wants to. Future matches will also be adapting a few of the matches in the series and if we adapt any other work, we'll continue to give credit where credit is due. While we have added to and changed the work to reflect the current rivalry between Kate Upton and Kelly Brook, we hope you enjoy the story!