Post by girlsfriday on Feb 27, 2019 17:22:01 GMT
KATYA JONES VS MARIA VALVERDE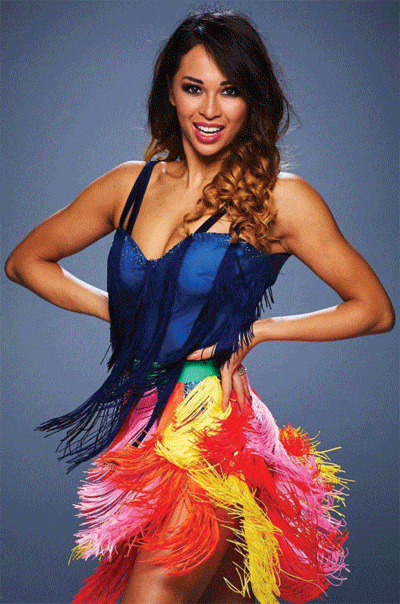 Vs
BBU Bout
Results: Lookout     Writing: Archer
Katya: 29 YO, 5'5 (1.65 m), 2-2-0. 2 KO since 2017, Free Agent
Maria: 30 YO. 5'5 (1.65 m), 2-1-0, 2 KO since 2017, Foxfire Atlantic Boxing
Before: Both fighters seem eager at getting the chance to appear on a PPV card. Russian-born dancer Katya Jones (from the BBU show "Strictly Come Dancing") sounds confident:
"I feel I have the better moves in the ring. Maria won't be able to land enough effective punches on me and I will wear her down. Being a 'free agent' is not good. I am hoping this will finally get me the attention of a manager who can really build my boxing career."
Spanish actress Maria Valverde does not seem impressed with the comments of her opponent" "Bah! She can run around the ring all she wants. It just proves she would rather wear an opponent out rather do much actual fighting. That is not MY way. I attack! It may take me a while to corner her, but when I do she will pounded into defeat!"
Katya scowls when she realizes what Maria is saying and confront her: "Are you calling me coward?"
"You were the one bragging about your ability to run away. What was I supposed to think?" Maria retorts. "You may not like being called a coward but that;s what you sounded like to me."
Katya then explodes in a mixture of Russian and English and shoves Maria. Maria responds with an angry mix of Spanish and English, Maria recovers from the shrug and gives Katya a slap into the face, Katya slaps Maria back. Maria grabs Katya by the hair and Katya knees the actress in the crotch. Maria howls in pain and releases Katya's hair. Katya gives Maria another slap and this time Maria grabs in a bear hug and down they go kicking and screaming. Their dresses become hiked up revealing glimpses of lacy panties and gartered stockings. Alas, the row is broken up by BBU Security men, but not before both of them leave their skirts on the stage floor leaving them to exit in their undies.
After a pre-fight like that, there is bound to be ill-will when Katya and Maria meet in the ring on fight night. Katya is in an electric blue one piece with black gloves and boots (blue laces). Her hair is pulled back in a battle braid. Maria is in a light grey one piece with dark gray gloves and boots (with light gray laces). Her dark hair is also pulled back into a battle braid. Two fighters jostle and push against each other trying the patience of the referee. After stern scolding Katya and Maria quiet down and the ring instructions are completed. Off they go to their corners and son enough the bell rings.
R1: Katya crosses everyone (including Maria) up by charging right at her as soon the bell sounds. Maria is plainly startled to have Katya pounding away at her to the body and then snapping off quick shots to the chin. Maria finds herself jabbing hard to try to keep from being driven back into her own corner. Intense action at close range has ringsiders excited as the two exchange short hard ones in close to the body. Breasts, ribs and stomach getting most of the leather, but Katya likes to shake Maria up with surprise shots to the chin and swats to the jaw, Maria seems to be the effective of these and slowly gives ground as she still resists being driven into her own corner. Rapid-fire punching down to the bell. It's a close-fought round, but the judges give it to Katya Jones by a narrow margin.
R2: Maria comes out fast this round. She's not going to make the same mistake twice. She catches Katya with a solid left-right combo to the chin. Katya's legs shiver as she falls back, Maria advances with more shots aimed at the head. Now Katya gets to show her mobility as she moves smoothly to put some distance between herself and Maria. Maria showing some mobility herself as she moves with Katya and keeps on the pressure. Back and forth they go with Katya trying to duck and dodge, but Maria staying with the elusive dancer and keeping her head ringing with shots to the side of the head. Katya looking shaky as the round draws to a close, tries to use her jab to keep Maria back, but Maria now finding Katya's chin, spinning her around as the bell rings. Katya very wobbly getting back to her corner. Maria looks quite pleased going to her own corner.
R3: Katya seems to shake off the blows she took in the previous round as she comes out smoothly and goes right at Maria. Brisk exchange as the two maneuver around each other. Katya very good at this, she is able to use her mobility to draw Maria off balance and get to her jaw and head with quick rights and lefts. These blows  seem to rock Maria and she falls back as Katya advances. Maria covering her face and head, but Katya happy to work Maria's body with hooks to belly and ribs. Maria trying to get her off with the jab, Punches splattering againsy Maria's head and body, but she seems to shrug them off as she keeps pressure on Maria hard to the torso. Maria all doubled up and grimacing as the round ends. Nice turnaround for Katya as she is one walking to her corner with a look of satisfaction while it's long, slow trudge for Maria Valverde.
R4: Maria and Katya both away from their corners at speed. Katya starting to circle, but Maria moves fast, cuts her off and pounds her to the face with driving lefts and rights. Katya stumbling back, her face suddenly swollen and bloody, but Maria is right with her and adding the to the damage with every punch. Katya struggling to get her jab going as she tries to get her legs to work as well. Maria eating some of the jabs as she steers Katya onto the ropes, Katya huddling on the strands Maria pounds her in the ribs, Katya shuddering and shaking under the impacts, but somehow stays on her feet until the bell sounds, Maria steps back, She's won this round wide, but Katya still stubbornly on her feet as she moves slowly back to her corner.
R5: Katya looks slow as she comes out of her corner and Maria is on her at once. Hooks to the belly doubles Katya up with a  groan, Then Maria brings uppercuts up into Katya's overhanging face, Katya's head snaps back and Maria brings a hammering right uppercut in under her chin. Katya's legs suddenly shoot out from under her as she crashes on her back. Maria off to the neutral corner. Katya struggling to get up as the referee begins to count, but she can do no more than roll onto her side and curl up in a ball of pain and disappointment,
"SEVEN!...EIGHT!...NINE!...TEN!...YOU ARE OUT!"
THE WINNER: MARIA VALVERDE KO5.
After: Maria walks the ring waving to the crowd and savoring her win. She ignores Katya Jaones who is being helped to her corner on buckling knees,
"I knew she would not be able to run from me," Maria tells the press. "Once I caught her it was a simple matter of doing enough damage to put her down and out. Oh, yes, she did surprise me in the first. Clever of her, but, as you saw it did not help her in the end. Now I can look forward to my next fight."
The defeated Katya Jones can only say: "When she got to me, her power was just too much, she hurt me in the 4th and I couldn't shake it off, so I was finished off in the 5th. I am sorry I couldn't win. I am no giving up. I will be back!"
Nice little fight while it lasted. Katya did have some good footwork, but it wasn't enough against the pressure Maria was able to put on her. Win should be good news for Foxfire Atlantic and hopefully get Maria some more action. Meanwhile Katya Jones is obliged to labor in Free Agency Miseryland.