Post by girlsfriday on Apr 19, 2019 11:08:02 GMT
Vs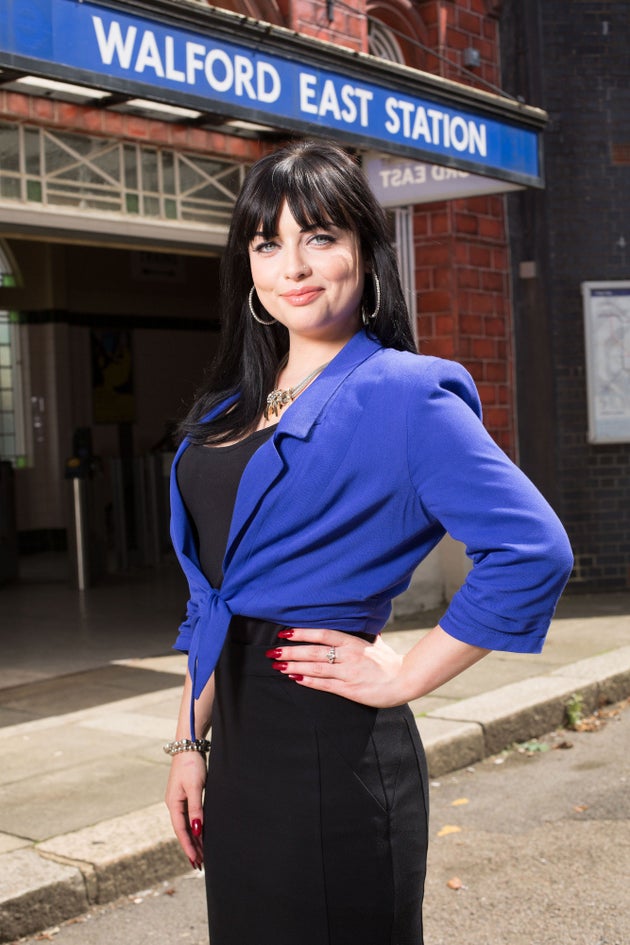 (Written by Girls Friday)(Fight Club UK vs Marti's Maulers)(EastEnders legacy fight: Charlie Brooks vs Shona McGraty)Several weeks ago:
Shona had kneed Lacey between her legs, then she shoves Turner into the bar, where she rips off the top to expose her heated rival.
Reaching around from the back of Lacey; Shona got her talons into the breasts of Lacey, making her yell out as her knees buckled, the effect of the low blow mixed with this torture was weakening Lacey quickly.
Soon she could be heard pleading "please get her off me!" With Jessie and Kelli both stepping into pry them apart, Shona getting in one last kick on the arse of Lacey as she wanted to keep beating on her.
Lacey gets consoled by Jessie as Shona yells "I'm the f***ing best on this set you bytch!" Raising her arms in the air as there is cheers from their costars.
Till the bar doors are flung open; all eyes turn to them as everyone looks stunned at who they see, Charlie Brooks is standing with her trademark grin looking around at the carnage in the pub, she asks "so did I miss something?"
Present day:
Charlie had returned to the EastEnders set that day seeing her stablemate Lacey Turner getting beaten by Shona McGraty, who'd claimed to be the Queen of the set, a title Charlie herself had once had.
Now Shona and Charlie were not friends anyway, Charlie had been one of Shona's victims in a BBU boxing ring in the past, where they had insulted each other throughout the build up.
But when Charlie heard Shona bragging about being the best cat fighter on set, well that was a challenge in her eyes to herself, one that had the people who'd watch the Turner vs McGraty fight licking their lips.
Unlike Shona's previous fights; Kellie Bright had no input in where and how this showdown would take place, with Charlie being the one making the demands, using taunts like saying that what Lacey and Shona had done was so boring to rile the decade younger woman up.
It led Shona to agreeing to be locked in the Slaters house bedroom on set, the two women would be filmed by cameras hidden in the room so neither could lie about the outcome, with the winner getting to humiliate the loser till they felt satisfied their alpha status was confirmed.
Betting was rife amongst there costars, with Steve McFadden even held a weigh in for the fighters, where they stood in their underwear flexing with grins as they found out that Shona weighed more but Charlie had a two inch height advantage over her.
Soon the time flew over till it was fight night; the producers weren't too happy knowing this was taking place but thought it was better to let the two let their anger out.
Now they stood at opposite ends of the room, both were wearing just their bra, knickers and black thighs, Shona's are blue with silver trim, Charlie's is red with black trim.
As soon as the door locks the fighters rush across to each other, one hand in the others hair as they exchange slaps to faces or body.
They can be heard snarling as they pull each other sound by the others hair, some begins to litter the carpet as the insults start with "bytch! C***! W****!"
Till Shona shows off her power by straightening them up, then grapples Charlie against a wall where she can start working her body with her right fist.
Charlie yells "you f***ing c***!" As she feels oxygen being driven from her body, she retaliates by stamping on her rivals foot to make her instinctively hop back a step, allowing her to land a wicked right slap across the cheek of McGraty.
Who finds herself being kicked back by a confident Charlie, Shona now is groaning out as her body takes the brunt of the kicks that drive her across the room to the opposite wall.
But Brooks goes for one kick too many, McGraty grabs her leg and trips her up to take her down to the carpet, leading to both rolling around spiting insults as they fight for top spot.
Their tights get clawed by their rival who seems to want to rip everyone away from the other as they use their other hand on the others bra to turn then over.
Charlie breaks the stablemate by grabbing Shona's knickers as she is mounted by the younger woman, pulling them into Shona's womanhood, a loud scream escapes the lungs of Shona as she bats at the hands of her rival.
Shoving Shona off her; Charlie stands up and yells "so much for you being the queen!" Kicking Shona in her ribs before telling her "get up bytch and fight me!" Maybe unwisely as she has Shona hurting.
Using the bed to stand up; Shona raises her fists but is met by a straight to her nose from Charlie, who leans out the way of a right to counter with a left across the cheek of Shona.
Who is still feeling the effects of the wedgie, Charlie holds Shona's head against the wall as she bashes her in the ribs with her right, telling Shona "you should never have accepted my challenge, I'm too much a bytch for you little girl"
Till Charlie's face turns red and she shuts up, in the midst of her assault she had left herself open to a mule like kick between her legs, Shona in desperation has scored a hit that made Charlie yelp out, followed by a elbow into her face that knocked her back.
While she was hurting; Shona knew she had to keep on top of things, turning she tackled Charlie onto the bed with both springing up a little on impact.
Shona then started throwing punches into the cheeks of her opponents, making them turn red as the noise of bare flesh on flesh could be heard in the room.
Charlie wasn't done though; reaching up she got her hands on Shona's bra to rip it away enough that she could sink her talons into the bountiful bust of McGraty, who again was on the defensive as she was shoved to the side.
Soon enough they are both locked in a catball, legs grapevined together as they squeeze the others breasts, tears are running down faces as this is a war of attrition.
Again though Charlie shows her ruthlessness, biting Shona on her cheek like a pit bull as Shona must be wondering if she is fighting a feral animal.
Shona panics and tries to shove Charlie away, but Charlie still grips her breasts and now takes the top position, where she hammers Shona's face with her fists.
"Please stop..." Sobbingly says Shona as Charlie continues blacking her left eye, realising Shona is done; Charlie moves up her body till she face sits her beaten opponent.
"Tell me who the alpha is in this room!" Yells Charlie, making Shona sobbing admit that it is her whose the better woman, making Charlie laugh into her face.
Charlie looks like she is done with Shona as she stands off her, Shona lays back staring through teary eyes at the ceiling, but Charlie shakes her head as she asks "did you think that's all I'd do?"
She mounts Shona again; who is pleading with Charlie to let her be, but Charlie shoves her reddened tits into her opponent's face, smothering her out with them.
Then she gets off of Shona; knocking on the door for it to be opened, Charlie turns to look into the room, telling the cameras "if you think I'm finished in Catfights, you are deadly wrong!" Then slams the door behind herself, leaving a beaten Shona to snooze this defeat off dreaming of revenge.