Post by girlsfriday on May 29, 2019 8:01:07 GMT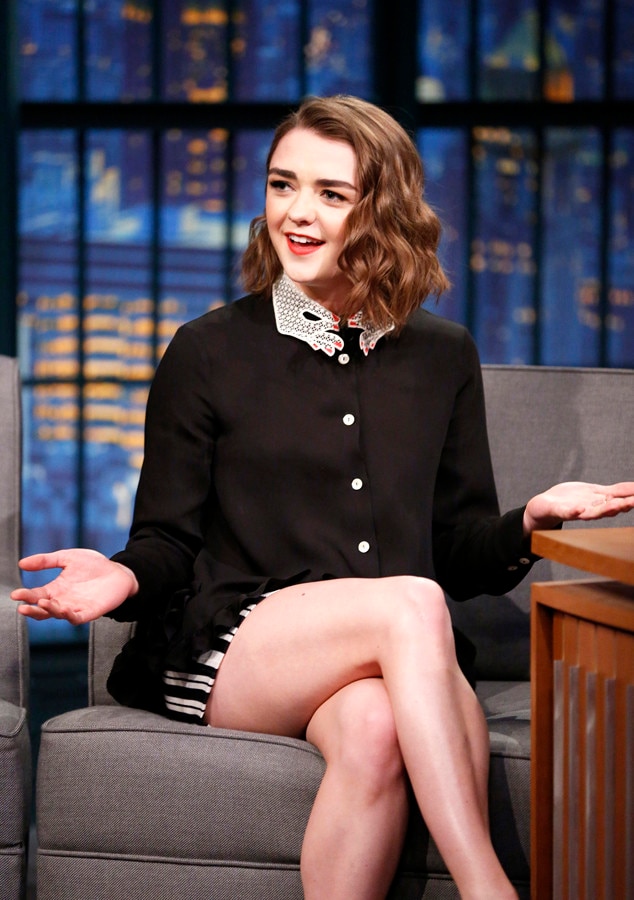 Vs
(Written by Girls Friday & Lookout!/Results by Lookout!)(Girls Friday vs Lookout! Atlantic Boxing)Intro:
It's the final season of Game of Thrones and listening to two of the biggest stars of the hit series, it couldn't come fast enough.   Rumors have been flying of a rivalry between these two, in addition to other stars like Sophie Turner, but tonight, the Night's Watch on the Wall couldn't keep these two apart.   Both of these girls might be smaller, but what they lack in size, they certainly make up for in intensity. 
Maisie is 22 years old; she stands 5'1, she holds a record of 13 wins, all by way of knockout, with 5 defeats.
Emilia is 32 years old; she stands 5'2, she holds a record of 14 wins, 13 by way of knockout, with 13 defeats.
These two have fought twice; the first fight was Maisie's debut as she defeated Emilia by stoppage in six rounds on the 20th June 2016.
But only one month later Emilia would come back with a vengeance on the rookie, forcing the referee to stop the fight in five rounds, times have definitely changed for both women.
Maisie comes out first, just beaming as she pumps her fist into the air, looking confident.  Addressing the press as she declares, "Leave one wolf alive and the sheep are never safe. When people ask you what happened here, tell them the North remembers. Tell them winter came for House Targaryen.   When people ask you whether Emilia Clarke can win, tell them Not Today. Isn't that right, little Dragon Princess?" as Maisie sticks out her tongue.
"I am not your little princess. I am Daenerys Stormborn of the blood of old Valyria and I will take what is mine, with fire and blood I will take it.." as Emilia's eyes narrow, then laugh, "But, seriously, I'm Emilia Clarke and I'm much better than Maisie.  When it comes to the end of Game of Thrones, only one of us can be on the throne and she is going to learn it's me. The Dragon QUEEN!!" 
Maisie clad in a white sports bra that reads 'Not Today' in pink letters across her chest with matching gloves and shorts - hair in a battle bun; - Emilia clad in a black sports bra with the words 'Dracarys' written across her chest in red letters with matching gloves and shorts - hair in a fighting ponytail.   This fight is set for ten rounds in the flyweight division as the bell rings and the battle begins...
Round 1:
At the bell both fighters circle the other with their jabs flickering out, they have similar styles of being a technical fighters, which leads to an early chess match.
Maisie is the one who loves to have solved a way to take control of the action, dipping in with a jab to the body, then using her speed to sidestep a right to the top of her head so she can counter with a right to the side of her opponent's head.
The speed advantage seems to be Maisie's as she uses it to dart inside and out of Emilia's range, annoying the older fighter with her movement.
But Emilia isn't some rookie as she shows it by biding her time, when Maisie comes in this time she slams a left hooks to the side of her head, then steps inside to land two thudding hooks to the body.
They end up rubbing heads as they let their hands go in the inside, the crowd getting a grandstand finish to the opening round.
At the bell they turn to return to their corners, getting wiped down by their coaches as they smile at them, neither looks worried by what the other can deal out so far.
Round 2:
This time Maisie starts off the faster; throwing more combinations as she gets in close before retreating to space as she gets clipped in return.
But Emilia starts doubling up her jab in response, becoming a harder target to get inside of, with the older fighter watching Maisie like a hawk.
She lands a right across Williams face when she sees an opening, Clarke using her strength over the younger woman to back her into the ropes, where her speed isn't any real use.
When Maisie grabs at the sports bra of Emilia to try to turn them around like in their first two fights, the referee jumps in to pull her glove away, telling both them won't stand for any of that tonight, maybe they studied the first two fights before this one.
Maisie gets an unforeseen bonus from that though as she moves off the ropes, getting back some rhythm as she feints with a jab before lashing a right across her rivals face.
Again the two at the ten second warning let their hand go, as the bell rings after they nearly clash heads, both blames the other for the near clash, scowling before they return to their corners.
Round 3:
Feinting more as she comes out; the chess game continues as Maisie tries something different after a bad last round, when she spots an opening off a feint, Maisie lands a straight between the gloves of Emilia.
She follows up with two right hooks to the body, before a straight lands on top of her head, leading Maisie to retreat back and look for a fresh opening.
Back and forth go the fighters; with Emilia catching Maisie coming in, then knocking her backwards, to Maisie slipping punches to come inside to work.
It's Maisie who lands the best punch of the fight so far, landing a double jab to the gut of her opponent, then an uppercut splits Emilia's guard to knock her head back.
Maisie tries to show Emilia she can bully her back off that punch, using her shoulder to drive the older fighter into the corner, where Maisie works the body and sneaks in some shots to the breasts of her costar.
The round ends with Maisie smiling at her corner team, who tell her "good work but you can't sleep on her, she is going to come out hard to get back level with you"
Round 4:
Emilia is quick out her corner, not letting Maisie get such a headstart as easily as the opening rounds, with Emilia getting in tight to start a classic flyweight exchange, heads rubbing as fists go flying.
Maisie tries to step back to open up for power punches; Emilia has seen this script before, firing a straight into the youngsters nose, followed by a left/right cross combination.
That forces Maisie behind her guard as Emilia takes the center of the ring, she keeps Maisie towards the ropes so Williams can't dart in and out as easily.
Landing two body shots; Emilia opens up Maisie for her own uppercut, knocking her opponent onto the ropes where she works away, sending sweat off Maisie's body.
Pulling Emilia in with a glove behind her head, Maisie fires back with uppercuts to the body till the referee moves in to pull them apart, warning Maisie next dirty trick she uses will lose her a point, making Maisie protest.
When they resume her focus doesn't seem to be there as Emilia catches her with two clean punches straight between her gloves to knock her head backwards.
The bell soon rings with Emilia yelling "come on!" In a rare sign of real emotion in this fight, while the Girls Friday crew have to work on calming down Maisie as she accuses the referee of bias.
Round 5:
Like the last round both fighters come together in phone booth style fighting, heads grind together as the referee warns them to keep them apart, while they work the others body.
This time Maisie uses her left shoulder to bump Emilia back a step, before she lands an overhand right that turns her rivals head to the side.
Now it's Maisie's turn in this back and forth clash to take control of things, pinning Emilia behind her guard as she steps forwards to throw head hunting punches.
When she is mostly landing on gloves, she then switches up to the body as she shows the improvements she has made over the past year, as Emilia groans out with each hit.
Emilia lands a right hook to the side of Maisie's head, allowing her to bash the youngster back across the ring, making Maisie now have to cover up.
With the dying seconds of the round seeing Maisie now stuck on the ropes, the bell rings with both women returning to their corners looking a little frustrated that they can't seem to take control of this fight.
Round 6:
They bump heads early on as Maisie seems to have given up on outboxing Emilia, lunging in more then she has so far which is leading to them bumping bodies.
As Maisie goes to step in with a straight; Emilia sidesteps her to counter with a left hook that lands on the chin of Williams that gives her a wobble to her step.
Emilia quickly flows in with a left cross to the side of Maisie's head; THAT OPENS MAISIE UP TO AN UPPERCUT THAT SENDS HER TO HER BACK!
The crowd all stand cheering as Emilia raises her fists into the air heading to a neutral corner, 1...2...3...4.. Maisie is blinking as she lays spread eagle on her back, 5...6...7.. Turning to her side, Maisie spits her gumshield out 8...9...10 that's it for Maisie, she is counted out!
Winner Emilia Clarke KO Round 6After:
Both women sweaty and exhausted as this is the first time they've seen each other since filming the Game of Thrones series finale, but it's clear from the competition they've delivered here today that it won't be the last between them.    Emilia comes over to Maisie's corner as her corner moves in protectively, but like the Dragon Queen she is, Clarke just brushes right past them to storm right into the corner, enveloping Maisie in a big hug.   The fans cheering this display of sportswomanship as some clever announcer starts playing the 'Game of Thrones' theme song in the background as the crowd roars its approval - both for the long-running show and the match put on by these two women.   
It's not all sunshine between these two proud fantasy stars as they do exchange some trash-talk, both of them still very fierce, despite the battle that they've just been part of.   But, at the end of it, they are also exchanging some smiles as the two of them shove each other, playfully at first and then not so much as the ref gets in between them.   Maisie and Emilia exchange one more hug as the two of them head to the center of the ring, both of them taking a bow and soaking in the cheers of the crowd.
Beaming, Maisie finally departs with a final high-five to her co-star as Emilia smiles, "Maisie is as tough as they come.   No question and of course no spoilers if you haven't seen the show, but nobody on our cast is taking down Khaleesi.  Ask anybody who was back down there  - Natalie, Lena, Maisie, Nathalie, Rose or even freaking Sophie - I am the Mother of Dragons and if you want to take me on, you're going to feel my wrath.   Fire can't take down a dragon and so, if you mess with me, you're going to get burned.   I will burn down EVERYTHING in my path to get to a title around here, which I deserve.   I am no ordinary woman - my dreams will come true.   So, anybody who decides to try to stop me, it's going to be Dracarys time, bytches." as she blows some kisses to the fans as the theme music for her character blares over the loudspeakers.  
While one of the biggest television shows in history may have come a close, it appears there are more stories to tell and new rivalries to explore in the world of the FCBA and the BBU - which, despite the (overall) happy ending to this match, can be just as treacherous as the world of Westeros!