Post by Vassago on Aug 30, 2019 0:26:30 GMT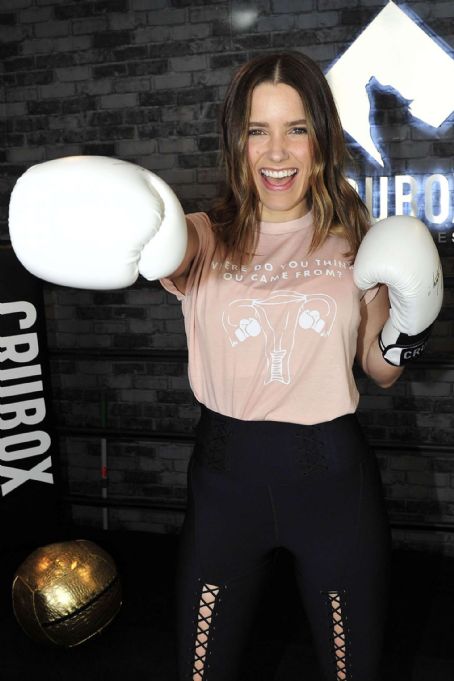 Vs
(Written by Girls Friday/Results by Lookout!)(Girls Friday vs Lookout! Atlantic Boxing)Intro:
The feud between Jenna Louise Coleman and Sophia Bush moves into a fifth round, with both women tied up two wins apiece, they head to the gold coast to fight on the beach under JMD rules.
Sophia is 37 years old; she stands 5'4, her bra size is 32C and holds a record of 29 wins, 27 coming by way of knockout, with 23 defeats, she is a former FCBA JMD champion.
Jenna is 33 years old; she stands 5'2, her bra size is 32D and holds a record of 54 wins, 51 coming by way of knockout, 14 defeats and 1 draw, she is a former BBU flyweight champion and a former FCBA JMD champion.
These two were interviewed separately by Denise Van Outen on the beach they are going to fight on, with Sophia sitting on the beach smiling as she chats with Denise before getting down to talking about the fight.
Asked about how she felt knocking out Jenna in their last fight, Sophia replies "honestly few things in the ring give me as much pleasure as knocking out the chipmunk, I mean look at her fat face!"
After laughing Sophia adds "I don't think I hate anyone remotely close to Jenna, when we first met she was so pompous about herself, I get it now you play a Queen, it doesn't make you one Jenna!"
The subject then turns to this fight, first time they have fought on the sand, will it change their tactics? The American answers "it does a little, it is harder to move around a soft surface of course, we will be fighting more on the inside and I am looking forwards to it, getting to smash her tits and face in is going to be so much fun!"
Jenna meanwhile looks more business like as she shakes hands with Denise and stares out to the sea, telling Denise "I have waited so long to get that chubby bytch back in the ring after her fluke win, have you seen her f***ing social media accounts, having a picture of me as porky f***ing pig!"
Denise just nods before asking so what will you do differently this time around, Jenna replies "I'll simply batter her into a mess, never forget that Sophia has been chasing me since our first fight, she never has been able to dominated me in these series of fights, just scrape a win to keep on my tail"
Anger on her face; Jenna adds "this venue I have hears favours her as it will mean more slugging inside fighting, fact is when I smash her tits off her chest and she begs me to stop, then she and everyone else with grasp that she doesn't even belong in any ring with me"
Fighting time; this is a special set up agreed by both women, a rope marks out the ring in the sand, with no posts or ropes as the fighters can fight outside the designated ring, just a judges table sits nearby and two different coloured stools are there for now.
First to the ring comes Sophia wearing a white bikini with black trim, black gloves and her hair is tied back into a ponytail as she comes to the ring with Taryn Terrell beside her wearing a gold bikini.
Stepping inside the roped area; Sophia warms up after getting her gumshield in, Taryn telling her to smash Jenna into submission at her feet.
Jenna now heads to the ring wearing her traditional tardis blue bikini and gloves, her hair is braided as Nicole Ritchie acts as her second, wearing a red bikini as she stares across at Taryn.
The referee doesn't bother bringing the girls to the center of the ring, both agreed they wanted to just get things started as quickly as possible, the bell rings to start 10 rounds of JMD action.
Round 1:
At the bell both women come out trading jabs as they move around each other, Jenna dips down to land the first combo of the fight, a jab/right hook to the body before she dances back to range.
They are both throwing hard shots when they move in close, fighting close to the center of the ring as they kick up sand while moving.
When Jenna tries to dip down to move inside, Sophia lands a double jab to the top of her head, then as Jenna moves back a step, a right buries itself into the cup of Coleman's left jug to make her grunt out.
Sophia begins to apply pressure on Jenna, stepping in close to work the body and tits of her rival, who fires back in close as they start to slug it out.
Using her left shoulder to bump back the Brit; Sophia lands an uppercut to the left tit of Coleman, threatening to knock it out of it's cup as she bashes her back near one side of the ring.
Jenna tries moving sideways to not be such an easy target to hit, with the bell ringing to end the round with Jenna looking annoyed that she was bullied around the ring so easily at the end.
Round 2:
Back out the come to fight at the center of the ring; Jenna moving her upper body more to be a harder target to hit, while she throws probing punches to the body of Bush.
The American lands a jab/straight combo to the face of Coleman, with Sophia stepping in closer to land two rights to the side of Jenna's left boob, focusing on one boob it seems to make Jenna quick sooner.
Problem is it becomes too obvious; so Jenna reads the attacks coming and slips out the way before landing her own shots across Sophia's boobs to make her gasp out.
Dipping under a wild right; Jenna lands two rights to the ribs of Sophia, then an overhand left to the side of her head to knock her to the side.
Sophia does land a double jab off the face of Jenna when she comes in close, the round comes to a close with both women going toe to toe in the final seconds.
Returning to their corners; the tension in the air is rising already as they stare across the ring at each other, coaches washing them down as they tell their fighters what they need to do to grab control of this fight.
Round 3:
As they begin the round trading in close; Jenna is looking to get more compact as she works the ribs of her bigger opponent, making her groan out.
Till Sophia nudges her back; with a right hook smacking Jenna across her face, followed up by two more punches to her face as Sophia powers forwards.
For the first time in the fight they are both outside the boundaries of the ring; Jenna trying to duck down to get out of the way of the Americans punches.
But Sophia steps to the left and fires a straight into the ear of Jenna to make her step back shaking her head, cruelly Bush follows up with more punches into the jugs of the Brit.
When the bell rings Sophia smirks at Jenna as both know that was a clear round to Sophia, who jogs back over to her corner, while Jenna has a longer walk back to hers, where Nicole gives her a pep talks while icing her jugs.
Round 4:
Sophia looks to keep the pressure on her rival early on, coming straight at her as Jenna looks to move around more to not be such an easy target.
Feinting with her left; Jenna throws an overhand right that smacks Sophia to the side of her head, opening up the American to more punches to her face, as she finds herself being pushed out the ring.
With Sophia needing to push back Jenna; both end up getting in tight to basically brawl, with them throwing to jugs and bodies as their heads rub together.
Shoving apart from each other; Sophia lands a crisp jab/right cross combo to push back Jenna, missing with a left hook though as Coleman slips it and counters with an uppercut to knock back Bush.
The final seconds of the round see both fight towards the ring again, Sophia needing to cover up after taking two straight shots to the face, Jenna landing a left across her boobs just before the bell with both women shoving each other.
Eyes lock as the referee has to get between them as they walk back to their corners, their coaches cleaning them up as both looks to be grimacing at being touched around their boobs.
Round 5:
Thudding her gloves together before she comes out; Sophia is looking to get back at Jenna after a bad round, landing more double jabs as she looks to make it harder for the smaller fighter to come inside her reach.
Jenna needing to wait for an opening as she feints more, ducking a jab she steps inside to land two right hooks to the body and a left under the right boob of her opponent to push her back.
Shoving Coleman back a step; Sophia lands two punches into her face, with a right across her mouth, blood trickles from the cut lip of Jenna as she steps back and wipes the blood on her glove.
Back and forth goes the action as Jenna keeps harassing Sophia in close, while Sophia looks good when about to work on the outside.
A missed left cross by Bush leaves her open to a right to the side of her cheek, she is knocked outside the boundaries of the ring as Jenna dips down and works the body.
The bell rings with Sophia getting told off Jenna that she is a weak old flabby bag, which if not for the referee nearly starts a brawl between them, both getting warned by the referee to listen to them.
Round 6:
Drilling more straight shots into the top of Jenna's head as she moves around the "Victoria" star, Sophia looks to have a laser focus right now to hurt Jenna.
Just about side stepping a right hook; Sophia lands two punches straight into the bloody lips of Jenna, knocking her back to the boundaries of the ring, AN UPPERCUT SENDS JENNA TO HER BACK OUTSIDE THE RING, SAND GOES INTO THE AIR!
Sophia raises her fists in the air as she is waved back to a corner, 1...2...3... Jenna shakes her head as she pushes up to all fours, 4...5....6... Pushing herself up to a knee, Jenna watches the count, 7....8.. Then gets to her feet with a little wobble to her step, thudding her gloves together as she looks ready to get going again.
As they are told to fight; Jenna is fighting more defensively, maybe still buzzing from the knock down as Sophia stalks her around the sand, throwing jabs to try to gauge range.
Sophia lands two punches into the bloody lips of Jenna, stepping in closer to land a nasty looking left to the jug of Coleman, who grabs hold of Bush in a clinch.
When the bell rings with them still locked together, Sophia seems to trip Jenna and the two fighters scream at each other as they grapple in the sand and throw short digging punches to the others body.
Their coaches are needed to rush out and separate them, kicking at each other as they are taken back to their stools and warned to not pull that shit anymore by the referee or the fight will be tossed out by them.
Round 7:
Jenna looks to be boxing more off the back foot, letting Sophia come at her after the knockdown, maybe a little lack of confidence from the Brit as she takes several jabs to her face.
As Sophia is stalking her around the ring, firing punches into those bloody lips of Jenna to make her cry out, a grin on the face of Bush tells the story of whose more confident of the two fighters.
When Sophia goes for a right to the jugs of Jenna, she gets caught across her jaw by an overhand left that turns her head, a follow up right seems to have Sophia's legs turning to jelly!
Trying to clinch up with Coleman; Sophia is nudged back by a left forearm to the chest, WITH AN OVERHAND RIGHT ON THE BUTTON SENDING SOPHIA TO HER BACK!
Jogging to a corner; Jenna stares down at Sophia ready to pounce if she gets up, 1...2...3...4.. Sophia turns to her front, shaking her head to clear it, 5...6... But it becomes clear as she is reaching instinctively for the ropes, 7...8.. That she isn't all there right now, 9...10 ending up being counted out!
Winner Jenna Louise Coleman KO Round 7After:
Again Jenna takes the lead in this very personal feud, raising her fists in the air as she yells "that's it bytch! Stay f***ing down!" At her vanquished foe.
Who has Taryn checking on her; helping Sophia over to her corner so she can work on fully bringing her back around, when Sophia does she is bitterly disappointed after hurting Jenna in the sixth.
After getting her gloves taken off; Jenna storms over to the Girls Friday corner, pulling Sophia off her stool by her hair, Taryn protests but knows it is pointless as Jenna shoves Sophia to her back in the middle of the ring.
Mounting Sophia with her backside sitting firmly on the American's jugs, Jenna rubs her butt in to them as she tells her rival "I always tell you that you are not even a tenth the woman I am, yet you keep needing this lesson your fat ass bytch"
Slapping Sophia before adding "get it through that thick skull of yours, you will never be better then me! Guess I need to remind you why" moving back so she can shove her tits into Bush's face.
Sophia throws desperate punches from the bottom into the body of Jenna, but the Brits grip is too tight, soon Sophia weakens and then passes out due to the lack of air.
Giving Sophia one last insulting slap across her face with her jugs, Jenna stands up and poses arms flexed for cameras, her foot on the chest of Sophia as once again Jenna takes the lead in this feud.
As Jenna struts off the beach with Nicole though, it would be hard to say that this feud is finished, with Sophia coming around with smelling salts, she stares daggers at Coleman after being helped to sit up.