Post by girlsfriday on Sept 25, 2019 12:52:39 GMT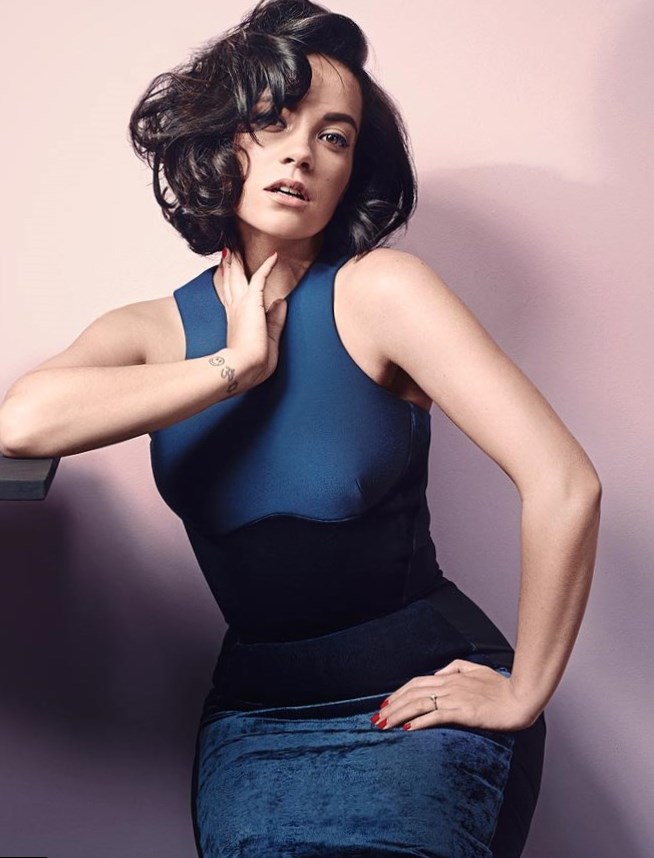 Vs
(Written by Girls Friday/Results by Lookout!)(Fight Club UK vs Girls Friday)Intro:
The next fight at the BBU Arena in Cardiff sees Lily Allen and Maisie Williams fight it out, hoping to get the notice of the BBU flyweight champion with a great performance.
Lily is 34 years old; she stands 5'2, holding a record of 14 wins, 13 coming by way of knockout, with 6 defeats.
Maisie is 22 years old; she stands 5'1, holding a record of 15 wins, all her wins coming by way of knockout, with 7 defeats.
The two fighters were interviewed at the gym stable, with Anna Woolhouse asking the fighters about this fight, starting at the Fight Club UK gym where Lily finishes sparring with her coach and manager Katie Price.
They finish and Lily steps out the ring wiping her sweaty brow with her red boxing glove, saying "hey Anna! Glad to see you so I can tell you about that little bytch I am going to have a pleasure to knock out"
Anna smiles as she nods at Lily; who tells her "every time I see Maisie she bugs me, she acts like a big shot after beating a bunch of broken down bytches"
Thudding her gloves together, Lily continues "she has made a big mistake coming for me, I hit harder then anyone she has fought, I hope whoever the flyweight champion is watches as I am coming for them"
Lily heads off to get changed as Anna turns to the camera to say "wow" at how intense Allen was, before Anna heads off to the Girls Friday gym.
Finding Maisie shadow boxing in front of a mirror, Anna waits and when Maisie is done; the youngster rushes over to hug her before they begin talking about the fight.
The actress tells Anna "Oh so Lily thinks that I am an annoying bytch? I am going to have fun with her as I show her what a real boxer looks like"
Maisie continues with a grin "I mean I have seen footage of Lily of course, to me she is simply clumsy and too busy swinging for fences then actually boxing, I'll school the old hag" winking as she finishes.
Fight night; Lily comes out with Katie beside her, they are talking on the way down the aisle, smiles on both their faces as they seem confident about tonight.
The singer is wearing a white sports bra with three red stripes down the sides, matching trunks and shoes, red gloves and her hair tied back into a ponytail.
Stepping through the ropes into the ring, Lily gives the fans a quick wave before settling into her corner, where she is warming up while waiting on her opponent.
Who promptly comes out with Lauren Berlingeri and Eva Carneiro beside her, Maisie smiles as she waves to her supporters, then begins her walk down to the ring after a quick breath.
She is wearing a red sports bra with white trim, matching trunks and shoes, white gloves and her hair is also tied into a ponytail.
Climbing into the ring; Maisie mounts the bottom ropes of the corner she is in, yelling "come on!" To the fans while raising her arms into the air, hopping down to warm up soon enough.
The fighters come to the center of the ring look cool and confident, smirking as the referee goes through their final instructions.
When asked to touch gloves; Lily seems to put a bit muster behind her bump, knocking back the hands of Maisie, while grinning at her as they exchange an intense stare.
Turning back to their corners; Maisie is told to keep her head, as the bell rings soon enough to begin 10 rounds of flyweight action.
Round 1:
At the bell both women come out trading single jabs, Maisie looking the more agile of the two dancing side to side, while Lily is more aggressive as she walks down the youngster.
It's Maisie landing the cleaner punches early on, dipping under punches to land clean body shots that make her opponent groan out, then dancing up on her toes away back into space.
Lily though cuts off the ring; catching Maisie with a straight to the top of her head, followed by a left across her face, beginning to push back Williams towards a set of ropes.
Forcing Maisie to push her back to get off the ropes, the two women's eyes lock as they continue this dance, Maisie landing more punches in volume when she can move, Lily powering onwards when she closes that space down.
It leads to the final seconds of the round; both fighters trading in tight, heads grinding as they let their hands go, swinging hard shots in to bodies or shoulders as things get scruffy.
At the bell they separate and return to their corners, knowing that they need to step things up after a very evenly fought round.
Round 2:
The opening to the round looks similar to the last round, Maisie getting on her bike to start, annoying Lily with her quickness with her fists and feet.
Till Lily can catch her with a left across her face, a follow up straight smacks Maisie on her mouth to open her up to more punches to her head.
Maisie needing to nudge back Lily again, this time Allen stays in close to force Maisie into more fiery exchanges then she'd like to be in.
The power of Lily on show as she knocks back Maisie with two straight punches into her head, forcing Maisie behind her gloves along the ropes as the older fighter steps in closer.
Only single punches are coming from Maisie, who is finding herself pinned behind her guard by the hard shots from Allen, who switches up to the body with hooks when she can't land up top as cleanly.
At the bell Lily raises her right fist in the air, knowing she definitely won this round, her coach telling her to break down Maisie with her power.
Round 3:
Lily starts off more quickly to try to stop Maisie getting into gear as quickly, they are trading at mid range around the ring, more punches starting to land cleanly as heads get knocked back.
A missed right by Lily though leaves her open to two hooks to the body, Maisie showing she won't be bullied so easily as she dips her head down before going to work on the inside.
It's now Lily needing to shove back Maisie, moving after her with a jab/straight combo that finds air as her opponent slips both punches before moving into space.
With Maisie dodging and countering Lily, focusing mostly on the body of the singer to make her grunt out, taking mostly clipping shots to her head.
When the round comes to a close; Katie scolds Lily for not keeping the pressure on Maisie, while across the ring Maisie looks excited to get back out there after a much better round for her.
Round 4:
They come out trading jabs to start, Lily trying to move back on the front foot again, landing a nice crisp right across the face of the actress to begin driving her back towards the ropes.
Again though Lily misses with a left cross, paying with a right straight into her stomach, then an overhand left across her cheek, Maisie moving away into space afterwards.
An annoyed look crosses Lily's face as she doesn't seem able to pin down Maisie, instead getting counter punched more by the more agile Williams.
Who is enjoying the control she is having, taking a few clean punches to her face but mostly dodging shots before punishing Lily with shots of her own.
Ending the round with a right across the face of Lily, who when the bell rings has to be held back by the referee as she wants to swing at the turned around Maisie heading back to her corner.
This time Katie needs to calm down an irate Lily, who sits on her stool stewing over another bad round, the fact she can't seem to lay down her power on her opponent is what is making her mood so much worse.
Round 5:
Changing tactics somewhat; Lily is looking to make this more a street sort of fight, using her left shoulder to bash back Maisie towards the ropes, she is forcing the actress into more tighter exchanges.
Both bark in effort as they slug it out, sweat flying off both their bodies as they keep nearly clashing heads, without her space to move and dodge though, Maisie is not winning the exchanges now.
Instead her lip is busted open by a right across it, Lily knocking her along the ropes the cross punches till Maisie is forced to clinch up to force the referee to step in to break them apart.
Once apart Maisie is trying to get her legs moving again, Lily though is keeping in close, forcing phone booth style exchanges to the delight of the crowd.
Not to the Girls Friday corner though, who are watching Maisie keep getting bullied near the ropes, falling back into a shell as the seconds tick away in the round.
At the bell Lily pounds her chest as she yells "you are done little girl!" At Maisie, who looks upset at the tactics of Allen, the referee needing to stay between them as they exchange insults before returning to their corners to be cleaned up.
Round 6:
Of course Lily tries the same tactic as the last round; the problem is Maisie is expecting it, catching Lily after sidestepping her with a left hook on her nose.
Crying out in pain; Lily has blood trickling from her nostrils as Maisie ducks down to work the body, both women trade in close as tempers raise.
When Maisie dances back around the outside of the ring; predictably Lily gives chase, missing a right hook earns Lily a right into her gut, her eyes shut as she winces.
Looking badly winded now, Lily is covering up as Maisie now sticks in her face, throwing in body shots that are clearly hurting Allen.
Who pulls Maisie into a desperate clinch, sucking in air as they exchange shots to kidneys, referee breaks them up before warning them to keep things clean.
As they begin fighting again; it is Maisie now being more aggressive, Lily is stuck behind her shell now as the focus of the smaller fighter is the body of Lily.
The bell rings to end a dominant round for Maisie, with Lily rubbing her stomach as she sucks in air while sitting on her stool, Katie is furious with her fighter for getting caught out as easily as she did.
Round 7:
Lily almost looks a shell of herself as she comes out, Maisie having more freedom to work now as Lily isn't anyway near as aggressive as she was before.
Swinging a right hook as she tries to catch out Maisie, all it does is open her up when Maisie dips down, ALMOST SURGICAL WITH HER STRIKE, MAISIE CATCHES LILY CLEAN ON THE LIVER WITH A HARD RIGHT, LILY COLLAPSING TO ALL FOURS!
The Maisie supporters stand and roar as she pumps her right fist in the air on the way to the neutral corner, 1...2...3...4.. Lily spits out her gumshield to the canvas, 5...6.. Holding her stomach as she rolls to her side, 7...8.. Lily is breathing hard as 9...10 she is counted out!
Winner Maisie Williams KO Round 7After:
This might be the best performance of Maisie's career, defeating someone who is a top fighter with her speed on full show tonight.
Maisie jumps for joy as she looks mighty proud of herself, her coaching team rushing into the ring to hug her, telling her how proud they are of how far she has come as a fighter.
On the other side of things, Katie is furious with Lily as she berates her for an underperformance as she sees it, all the while Lily is laying on her side sobbing from the pain running through her body.
It's the Fight Club UK cutman who has to check on Lily, help her slowly up and to her stool, as Katie just stares angrily at her.
Across the ring in the Girls Friday corner; things are much more happier, Maisie getting wiped down and a drink as her gloves are taken off.
Lauren patting Maisie on the back as she tells her "babe you keep this level up and gold will be around your waist, I am sure of it as everyone in our stable is" making Maisie wipe away a tear and thank her for that.
Meanwhile Katie has stormed off out the ring, leaving a bitterly disappointed Lily to sit with just the cutman looking bewildered by what is happening.
When the referee brings the fighters to the center of ring, Lily does get up under her own steam, though holding her stomach still with her right hand.
While Maisie gets her hand raised to a loud cheer from her fans, she yells "thank you!" To them before turning to see Lily scowling at her.
Tension rises in the ring again as Lily says "I underestimated you, next time I'll knock you out cold" as her and Maisie square up nose to nose, angrily staring the other down.
"I guess you don't learn so easily do you bytch" replies Maisie as Lauren and the Cutman rush in to pull the two fighters apart.
Lily pushes the hands on her off; then leaves the ring probably looking to have words with Katie Price, trouble in Paradise there clearly.
Inside the ring Maisie calms down to pose for cameras, hands on her hips as she smiles with Lauren and Eva standing behind her.
They soon leave the ring together; pundits are saying that Maisie at the tender age of 22 may already be the best flyweight in her stable, how will Elizabeth Henstridge and Ivana Baquero react to that in future?