Post by girlsfriday on Feb 26, 2020 17:10:52 GMT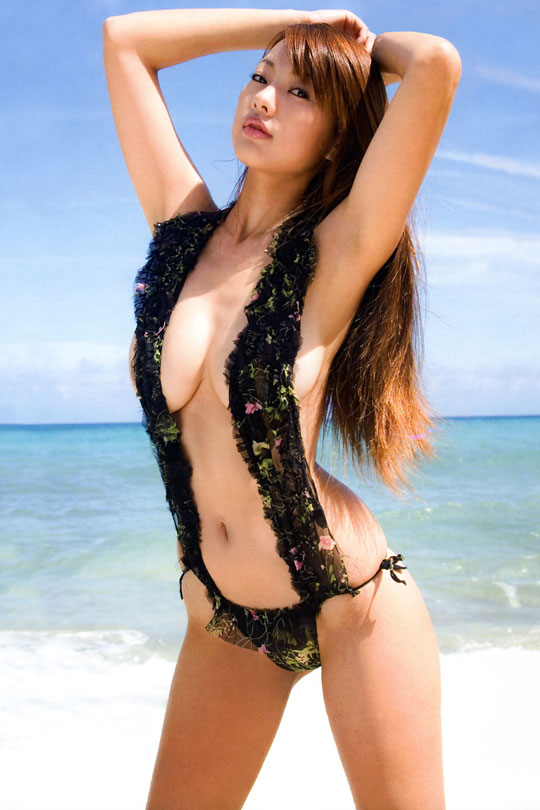 vs
(Written by Girls Friday/Results by Lookout!)(Front Street Japan vs Girls Friday)Intro:
An international clash sees the BBU lightweight title on the line here tonight, Sayuki Matsumoto challenges Alessandra Ambrosio for the latter's title in what should be a hard hitting contest.
Sayuki is 34 years old; she stands 5'7 ¾, holding a record of 16 wins, 15 coming by way of knockout, 5 defeats and 1 draw, she is a former BBU lightweight champion.
Alessandra is 38 years old; she stands 5'9 ½, holding a record of 41 wins, all coming by way of knockout, with 12 defeats, she is the current BBU lightweight champion, this being her ninth title defence.
After Sayuki knocked out Alessandra's former stablemate Jessica Michibata on the Boxing day PPV, she made it clear she wanted a shot at the champ, who seemed very keen to get it on with the former champion.
Two months later and as they meet face to face in bikinis (baby blue for Sayuki, yellow for Alessandra) the looks they give the other isn't a friendly one by any stretch.
When Sayuki is asked to go on the scale for the weigh in, she instead bats the hand away tapping her arm and shows Alessandra how much she dislikes her with a cracking right handed slap that turns the head of the Brazilian.
The crowd of journalists rush forwards to get better photos as Sayuki yells something clearly not nice in her native Japanese at Ambrosio that just can be heard under the roars of the journalists.
A second crack rings out as Alessandra slaps back Sayuki, turning her head as both women have a red mark where the slaps landed picture perfect.
Soon hair is pulled as they stumble around the stage, management crews surprisingly letting them have a few moments to release some of their pent up aggression, even as they nearly fall over the scales they should be weighing on right now.
Once they go to the ground, their managers step in to pry the fighters apart, a few kicks land from both as they are pulled apart, each fighting to get free, not caring that their tops are looking a little lower then when they first appeared on stage.
Both just spitting venomous insults at the other, all the stories about how proud they are and some rumours of the two wanting this fight for a while looks to be true if these scenes are anything to go by.
The women have to be taken off the stage on separate sides and the weigh in done in their dressing rooms, both coming under the weight limit to make sure this fight is official.
Fight night; Sayuki is out first with her coach the legendary Hamada, heading down the aisle wearing a red silk kimono, Sayuki has her eyes firmly on the ring as she looks riled up already.
Hamada helps her fighter with her kimono, taking it off to reveal a red sports bra with a white diamond shape in the center, white trunks with red trim, red shoes and gloves, while her hair is tied into a ponytail.
Getting into the ring, Sayuki roars as she raises her fists into the air, a swagger to her step as clearly she feels tonight is when the title comes home to her once again.
Someone who obviously disagrees with that is Alessandra, who heads out with Taryn Terrell and Eva Carneiro beside her, the championship being held by Taryn as they all look business walking towards the ring.
The champ is wearing a black sports bra with gold trim, black trunks with "AA" on her waistband in gold letters, a gold star either side, black shoes and gloves, while her hair is braided.
Climbing inside the ring, Alessandra normally would give the crowd a shake of her hips, tonight she heads straight to her corner as both fighters scowl across the ring.
The referee obviously normally brings the fighters together at the center of the ring, instead after the incident at the press event, the referee simply tells both women to stick to the rules, while showing them the prize they are fighting for tonight.
After getting confirmation from both fighters they are ready, the bell is rung to start 10 rounds of BBU lightweight title action.
Round 1:
"Ding" they both start off bodying up, working punches into the others bodies and some sneaky punches into the others boobs.
While this isn't a JMDD fight, both women look keen on hurting their opponent anyway they can, some of their body shots look low towards the others waistband.
After the first minute of mainly deadlocked action, Alessandra nudges back Sayuki with her left shoulder, landing a right cross to the cheek of her opponent.
Another two shots drill into the face of Matsumoto to keep her back, Alessandra maybe realising she needs to box if she is to win this, a brawl is too close to call.
Sayuki shows Alessandra she can box too though, firing back after getting knocked to the ropes, first ducking under a straight to land two body shots then moving off the ropes.
The final minute sees both women land some beautiful punches across the others face, Alessandra buries in a right to the body, an overhand left cracks Sayuki to the side of her head.
The round comes to an end with Sayuki being moved around the outside of the ring by an aggressive Alessandra, both stopping at the bell with a glare, turning back to their corner with the crowd roaring for them.
Round 2:
A jabbing exchange kicks off the round, circling each other as their eyes are locked, looking for openings for their power punches to land.
Alessandra uses her reach advantage to land a left/right straight into the face of Sayuki, looking to back up the Japanese star to the ropes.
A straight though slams into the mouth of the champ, a left hook turns her head as Matsumoto comes fighting back hard, leading to a hard hitting exchange at the center of the ring.
Both seem to wordlessly decide to step back to reset after they take a right hook across their faces, eyes full of hate as they circle up on their toes, corners shouting for them to f*** up their rival.
Alessandra tries to land a left hook that Sayuki just gets her head out the way, countering with a straight into the nose of the Brazilian, a left hook follows to make Ambrosio step back.
In the final seconds of the round, Sayuki has Alessandra pinned behind her guard, mostly landing on the guard but has some success with punches to the sides of Alessandra's body.
The round ends with Sayuki getting a nod from Hamada, both are stone faced even after a good round for them, knowing they can save getting excited for coming home with the title.
Round 3:
Slamming their gloves together as they come out their corners, both these rivals are keen to get back at each other, standing to trade in flurries as the crowd are roaring the fighters on.
Cheeks are turning red from the clean hits they are hitting, neither can break the stalemate though in these early exchanges, they are very evenly matched it seems in the early going of each round.
A missed right by Matsumoto leaves her open to a sneaky left to her boob, an uppercut knocks her back onto her heels, causing her to groan as she moves back.
Alessandra pressing back Sayuki towards a corner, swinging to the body when Sayuki's guard protects her head, getting grunts from the Japanese fighter, while she is barking her with effort.
Clinching up with Ambrosio, the referee is needed to break the fighters apart as they are trading insults and sneaky kidney shots.
After they are split apart, Alessandra keeps on the front foot, Sayuki not looking happy having to back up, fighting around the ring as Sayuki is herded near the ropes.
The round ends with Alessandra getting a pat on her back from Taryn, Eva washing her down as the fighters have eyes locked across the ring, the tension in the ring is clear for all to see.
Round 4:
Alessandra is looking to make sure she is the one keeping control of this fight, a right across the lips of Sayuki causes a cut on the bottom lip, blood trickling down the chin of Matsumoto.
Who understandably isn't happy about that, she pays back Alessandra with a straight into her left boob, a left hook lands to the ear of the champ.
Using her left forearm to unbalance Alessandra, Sayuki is coming back at her rival, switching up where her right fist is landing, making Alessandra bellow "bytch" in a rage.
Near the ropes goes Alessandra, who like Sayuki doesn't seem to enjoy being on the back foot, they slug it out in close, Sayuki looking to be landing the harder shots.
A left hook catches Sayuki in the final minute of the round, Alessandra coming back at her opponent as they move back to the center of the ring.
Toe to toe they go in the final moments of the round, barks ringing out along with thuds, they end up clinched up with the referee needing to pull them apart as the bell rings, the fighters in a power struggle as they grind boobs, wanting to compete in every way possible it seems.
After being pried apart, they exchange a hard stare, before turning back to their corners, coaches cleaning them up as they tell them to keep focused.
Round 5:
Things seem to have calmed down as they step out their corners, exchanging more carefully aimed punches then simply slugging it out.
Sayuki tries to use her left forearm to nudge back Alessandra, instead she eats a right hook to the side of her head, a double jab knocks back the head of the Asian fighter to the disgust of her coach.
Back in control seems Alessandra, landing some beautiful three punch combos to send Sayuki back towards the ropes, more blood running from the lips of Matsumoto.
Landing some good punches off the ropes, Sayuki is showing she won't be pinned back so easily, a left/right straight into the face of Alessandra's nose makes Sayuki grin, especially as blood now trickles from the champs nostrils.
Each time Sayuki is getting off the ropes though, she can't build off it as Alessandra is able to knock her back towards the ropes, with both wincing when their wounds are getting caught.
Soon enough the bell rings to end the round with both women stepping past each other, an angry look on their faces as the ill will seems to be growing between them.
Round 6:
Stepping out their corners with eyes firmly locked, they move around trading stiff shots to the others face, Alessandra stepping in closer but misses with a straight, AN UPPERCUT SENDS ALESSANDRA TO HER BACK!
The crowd roar as Sayuki raises her arms in the air while heading to the neutral corner, 1...2...3...4.. Alessandra turns to all fours shaking her head, 5...6... She crawls to the ropes, 7...8.. Pulling herself up to her feet with help from the ropes.
The referee allows Alessandra to continue, Sayuki of course comes straight at her, landing a left/right straight into the face of the champ to knock her back.
Alessandra pulls Sayuki into a clinch, again they end up in a grappling match, legs tangle up and they go tumbling to the canvas, both corners look worried, hoping the fall wasn't too bad, as the referee gets both apart and they push up to their feet.
The champ could be very lucky as a time out is called so the referee can warn them to keep this fight clean, both nod and begrudgingly fist bump as an apology, one that doesn't look meant.
Back at it, Sayuki has the control of the round firmly in her fists, backing Alessandra up on their exchanges as she lands several crisp punches into the face of Ambrosio, causing more blood to flow freely from the champs nose.
The round ends with Sayuki looking to have a little strut to her step, knowing she has Alessandra hurting, Hamada wiping her down and telling her to be ruthless to win this fight.
Round 7:
Alessandra is up ready for the next round after getting cleaned up, Sayuki though is in her face, it isn't pretty the way the challenger attacks the champ, going near the waistband of Ambrosio with her body shots.
Back goes Alessandra as she is driven back by some nasty looking punches, swelling forming around the left cheek of the Brazilian for the world to see.
But a missed right hook by Matsumoto leaves her open to a left that slashes across her eye, Sayuki cries out and backs off, a cut above the eye of the Asian has the Front Street Japan corner look worried.
That seems to give Alessandra some spirit back, both women nearly clash heads as they let their hands go, they are wincing when they get hit to their wounds.
Sayuki's right eye looks bad enough that the referee calls time for a doctor to check it, Sayuki looking worried as it is being cleaned up, the doctor tells her to protect it because the fight will be stopped if the cut gets worse.
Coming together again; the battlers don't want to give an inch, the crowd loving the spirit shown here as they slug it out, Alessandra desperately wanting to get at that cut, getting caught out though by Sayuki drilling her in her nose.
The bell rings with both women turning back to their corners, corner teams working on patching up both women, Sayuki has the doctor watching to see how the cut is treated.
Round 8:
Sayuki gets the OK to continue, both women have some blood on their bras, gloves stained in it as this grudge fight has certainly lived up to that billing.
Knowing holding back will hurt her, Sayuki is getting stuck into Alessandra with some nice body shots, hoping it seems to bring down the guard of the champ to knock her out with a hook up top.
Instead she gets caught on that cut, an uppercut sends Sayuki back into a corner, with Alessandra bashing her around her face with a barrage of punches, ANOTHER UPPERCUT TAKES THE LEGS FROM SAYUKI, WHO FALLS TO HER BACKSIDE IN THE CORNER!
The Girls Friday crew jump for joy, Alessandra staring daggers at Sayuki from the neutral corner across the ring, 1...2...3... Sayuki wipes some blood from the cut as it trickles down the right side of her face, 4...5...6... Turning to use the ropes to get up, 7...8.. When Sayuki is close to getting up, she falls back to her backside 9...10 Matsumoto is counted out!
Winner and still BBU lightweight champion Alessandra Ambrosio KO Round 8After:
It was billed as hard hitting and boy are both women clearly feeling this fight, Alessandra's incredible run as champion continues as she roars to the heavens.
Sayuki meanwhile looks to the canvas, gloves on her bent legs as she looks lost in thought, wondering why she couldn't find the energy to get up.
Things don't get better for her as Alessandra pushes her to her back with her right boot, standing with feet either side of Sayuki as she spits out her gumshield on the tits of the beaten challenger.
"Bytch I thought you were supposed to be feared, I just f***ed you up and anytime you wanna fight again, I'd happily f*** you up again, just not for the title since you don't deserve it" Alessandra roars into the face of Sayuki, who stares up defiantly.
Hamada and Taryn quickly step into the ring, both seem to have enough respect from their wrestling days to not start trouble with each other as they meet up next to their fighters.
Instead Taryn gets Alessandra away from Sayuki, telling her "that was an awesome knockout, she'll be having nightmares about that for years" getting the first smile for Alessandra since she won.
While Sayuki is helped up by Hamada to her feet, they should be proud of Matsumoto's performance tonight, no shame in losing to Alessandra, especially after putting down the champ.
Both women get cleaned up and patched up, the crowd are still buzzing as the fighters are still scowling across the ring at each other.
Sayuki doesn't come to the center of the ring, instead she is helped out the ring by her coach, she has her head down as they head up the ramp to the back, it will be interesting to see where she goes as Sayuki is still one of the best lightweights in the BBU.
Inside the ring Alessandra is bruised and battered, she has the title around her waist now as she poses for the cameras, grinning at the cameras as they photograph her victory pose, arms flexed and her right leg bent to her side to flex her thigh.
After all that is sorted, Alessandra leaves the ring with her corner team, all look proud of overcoming another tough test, with Alessandra one fight away from being tied for most BBU title defences in history.
Who will be the fighter to get the chance at stopping that happening, an old rival or someone new rising through the rankings?