Post by girlsfriday on Feb 26, 2020 17:13:42 GMT
Vs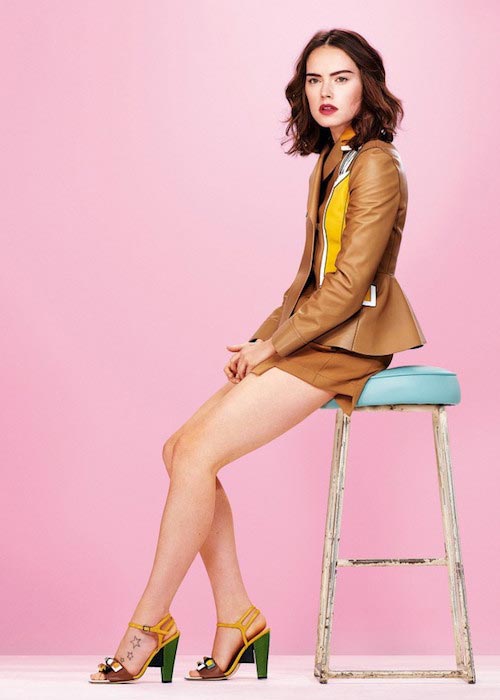 (Written by Girls Friday/Results by Lookout!)(Girls Friday vs Knockout Babes)Intro:
Tonight marks the first defence of Daisy Ridley's BBU bantamweight title, she has chosen the undefeated Olympia Valance as her opponent here in the BBU Arena in Cardiff on PPV.
Olympia is 27 years old; she stands 5'8, holding a record of 11 wins, all coming by way of knockout, with no losses.
Daisy is also 27 years old; she stands 5'7, holding a record of 17 wins, 15 coming by way of knockout, with 8 defeats, she is the current BBU bantamweight champion.
Coming into this fight it is seen as hard to split the two, Daisy with the bigger fight experience, Olympia with the undefeated record to prove why she earned the first shot at the new champ.
The fighters seemed OK around the other at the weigh in, they had a steely gaze when they came together for the face off photos, smiling though when that was over and they moved each side of the podium.
Olympia was up first on the scales wearing a red bikini, coming in at 118lbs as she flexed her arms for the crowd, looking excited by the occasion as she hopped off the scales and headed over to her side of the stage.
The champ meanwhile handed off the title to her coach, dropping her blue robe to reveal a blue bikini, Daisy came in at 115lbs as she poses with her index finger on her right hand to show she is the number one, once done she stood on her side of the stage beaming.
First up Olympia got a chance to say her piece to the journalists, she starts off by saying "I'll be honest I didn't know when this day would come, I saw fighters I believe I am better then get a title shot when my record speaks for itself, it was a frustrating time for me"
She smiles more warmly though as she says to her opponent "I want to give a big thank you to Daisy, it doesn't mean I'll go any easier on you, but you had the guts where your predecessors didn't to face me, you are a worthy champion in my eyes" nodding over to Daisy in a sign of respect.
Daisy interjects "well I couldn't not pick the best challenger for my first defence, all the great champions laid a marker in that first defence to show the world it wasn't a fluke that they won the belt in the first place, I don't intent to take the easy route of has beens or cream Puff challenges" Olympia even gives a clap for that speech.
Though Daisy turns to Olympia to continue "while I respect you and think you are worthy for the title shot, I know I am better then you, I need to show the world that is a fact and show you that being a great prospect, doesn't make a champion in waiting every time" both women share a rye smile at that comment.
With Olympia firing back "we'll see who the better fighter is soon enough darling, though I've already told Holly she won't be the only one in the family with a title around her waist, yours would look perfect around this toned waist" tapping her abs to prove her point.
Daisy giggles before replying "oh we will see alright, I like you and your spirit, this title though isn't leaving my waist" she gets the title in her left hand so she can raise it in the air.
There's clearly some tension brewing between these two, for now they come together for a handshake before leaving the stage separately.
Fight night; out comes Olympia first with her new coach Hilary Swank beside her, Cut woman Eva Carneiro follows them as they head down the aisle, Olympia chatting with Hilary as both look up for this.
The Aussie is wearing a red sports bra, red trunks with "Valance" in gold letters on the waistband, red shoes, red gloves with gold thumbs, while her brunette hair is up in a fighting braid.
Stepping inside the ring, Olympia raises her fists into the air as she bounces on her toes at the center, after soaking in her supporters cheers, she heads to her corner to stretch and get a reminder of the game plan for tonight.
Now out comes Daisy with her coach beside her, the coach holds up the title as Daisy points at it with a big smile, they then head down the aisle with Daisy jogging as she looks keen to get this fight started as soon as possible.
The English fighter is wearing a blue sports bra, matching trunks with "Ridley" in Union Jack pattern letters, blue gloves and shoes, her hair is back in a fighting ponytail.
Climbing through the ropes, Daisy bows to each side of the ring as her supporters roar for her, Daisy blows them a kiss before jogging over to her corner to go through her routine.
The referee brings the women to the center of the ring, holding the belt up for the world to see, the fighters each look confident as they smile while facing off.
Told to touch gloves; they respectfully do so, though when Daisy wishes Olympia luck, Olympia replies "you'll need it" though she winks to show it isn't meant in any real malice way.
Once they are in their corners and the gumshields are in, the referee signals for the bell to start 10 rounds of BBU bantamweight title action.
Round 1:
"Ding" both fighters come out with similar stances, left hand not too high as they mostly throw single jabs to start, testing the others reflexes as they move their upper bodies.
The first minute sees both engaged in a chess game, Daisy landing the first real hard shots with a jab to the mouth, followed by a right to the ribs of the Aussie.
Next time she goes to the body with a jab, Olympia shows off her hand speed with a right across the top of her head, a left hook to the cheek of Daisy backs her off.
Olympia though is the first to really step up a gear it seems, landing a right between the gloves of the Brit to knock her head back, forcing Ridley to the outside of the ring with two more punches straight into her face.
Maybe it's Daisy showing the more nerves, she is landing some nice shots, the greater volume of punches is coming from Valance though, who is keeping the center of the ring through sheer work rate.
The final moments of the round sees Daisy take an uppercut that pushes her to the ropes, she covers up as Olympia quickly steps in and goes to work to the body up till the bell.
A smile adorns Olympia's face as she knows that was a great opening round for her, Daisy on the other hand is getting her limbs massaged to release the clear tension she is holding.
Round 2:
Coming out their corners trading stiff Jabs as they circle, they are showing good guards to block most of the shots coming their way.
Olympia is looking the more aggressive though after a good first round, banging in several punches on the abs of Ridley.
Who comes firing back though after catching Olympia a little flat footed with an uppercut, knocking back the challenger with three more clean shots across her cheeks to get her fans cheering.
A right to her face does make Daisy take a step back, quickly though she dips under a left cross to rifle in two hooks under the ribs of Valance to make her hiss out.
This is becoming a much better round for Daisy, showing off flashes of the brilliance that got her the title in November, dodging some wilder shots from the challenger to punish her to the body mainly.
When the bell rings to end the round, Daisy gets a nod from Olympia to say you got me there, both look relaxed as they sit on their stools getting advice from their coaches on what is needed to win this fight.
Round 3:
More punches in bunches coming from both women, they are staying more in closer to trade now as they look to be trying to enforce their will on the fight.
Again Daisy slips a left cross, digging in two right hooks to the body of her opponent to make her groan out, Daisy just misses with an overhand left as Olympia gets her glove up in time.
A double jab to the face of the Brit makes her step back, Olympia doesn't rush forwards this time, instead she starts picking her punches better as she moves more on her toes.
Missing with a right cross though in the final minute of the round leaves Olympia open to a counter left to the body, an uppercut knocks her back a step.
With Daisy coming on strong again to bash back Valance to the ropes, where the Aussie covers up as Daisy sticks to the body, looking to wear down the soap star.
At the bell Daisy raises her right fist into the air as she heads back to her corner, her coach giving her the thumbs up as after a slow opening round, Daisy has certainly gotten a handle on the fight.
Round 4:
Now it's Daisy who looks keener to engage Olympia, stepping forwards behind her jab as she stalks around the challenger, moving her head to dodge most of the punches coming back at her.
A right catches Olympia across her cheek, making her back up as the Ridley supporters are roaring their girl on, Olympia needing to shove back her opponent after taking two more hooks to the body.
Heading into the second minute of the round, Daisy misses with a left hook as she steps in, AN UPPERCUT ROCKS HER HEAD BACK BEFORE A LEFT HOOK SENDS DAISY TO HER BACK!
Everyone is stunned at what they saw bar Olympia, who marches over to the neutral corner, 1...2...3....4... Daisy sits up with a shake of her head, watching the count, 5...6... She pushes herself up to a knee, 7...8.. Beating the count as she pushes up, looking like it was more a flash knockdown then a bad one.
The referee allows the fight to continue, Olympia pushing on with renewed confidence as Daisy mainly boxes off the back foot.
An uppercut just misses Olympia's chin as Daisy nearly punishes her for rushing in, Olympia nodding at Daisy with a grin as they exchange single punches while up on their toes.
In the final seconds of the round, Olympia uses her left shoulder to bump Daisy to the ropes, landing a left/right cross combo to the face just before the bell rings to end the round.
A great round for Olympia as Hilary is looking excited that her first BBU fight coaching could very well be a title win, Olympia looking happy with herself as she smiles over at a much more subdued Daisy.
Round 5:
With wind in her sails, Olympia looks to push on after that knockdown, trading on the inside with Daisy as they body up, the crowd are getting louder as the fight seems to be reaching fever pitch.
Daisy catches Olympia across her face with an overhand right, a left to the mouth of the challenger certainly has removed her smile, especially as Daisy presses her back towards a corner.
Smartly Olympia knows she doesn't want to get pinned down, clinching up with Daisy to force the referee to step in to pry them apart.
Sweat glistens off their bodies as they are trading more punches with their feet planted, marks are starting to show on cheeks and around their bodies.
More so on Olympia's body as Daisy dips under a jab to land a right to the abs, an overhand left hits the guard of Olympia, the uppercut that follows though buries itself through the gloves to find the chin of Valance.
Who is finding out why Daisy is the champion, her toughness on show after being put down the last round, taking control of the center of the ring while drilling most of her punches into the abs of the challenger.
As the round ends; there's definitely a more determined look on both fighters faces as they return to their corners, half way through the fight and it is hard to tell whose really ahead, even with a knockdown going the Girls Friday fighters way.
Round 6:
Starting to feint to draw each other into a trap, it's almost like both are on the same wavelength to start this round, several jabs cleanly land through the others gloves as they almost both seem back in chess mode.
A straight onto the nose of Daisy breaks the deadlock, Olympia pounding a left into the side of Daisy's head to send sweat flying into the air.
When Olympia can control the center of the ring, she is looking great right now, making Daisy's cheeks look red with straight punches keeping the champ to the outside.
Daisy is able to slip a straight to come inside, head under the chin of Olympia as she drills in three clean body shots, getting shoved back though by Valance to create some space to work in.
A left across the face of Daisy opens her guard to another straight to her nose, some blood is starting to trickle from the nostrils of Ridley, while she is being pressed backwards.
The final moments of the round sees Daisy trying to fight her way off the ropes, Olympia though is landing the better punches due to being able to load up more.
The round comes to a close with both women taking a deep breath as they sit on their stools, sponges wash them down, the Knockout corner works on stopping the bleeding from the champs nose.
Round 7:
Clashing at the center of the ring, Daisy is looking to get back on the front foot, she lands a nice uppercut to the body that looks to hurt Olympia.
But when she tries to build off it, a right smacks Daisy on her nose to cause more blood to flow from it, Olympia able to knock her back with a follow up right hook across her jaw.
When Olympia backs up Daisy towards the ropes, the Star Wars actress ducks a left hook and drives in a right to the body, followed by an overhand left that sends sweat off of Olympia.
Getting out of the corner, Daisy is starting to put her combinations together, keeping Olympia now towards the ropes as she outworks the woman after her title.
Olympia is still landing some nice punches to the face of Daisy; making this a fight, she is being kept along the ropes though so is much easier to hit of the two.
A left hook hammers the ribs of Valance, who hisses out and fires out a cruel right to the left eye of Daisy, that stops Ridley in her tracks for now as both women reset for a moment.
Coming together for a heated exchange in the final moments, sweat flying off both women as feet are planted, landing real hard shots that can be heard thudding when they hit.
The round ends with both women giving the other a hard look, they turn back to their corners and must be wondering what they need to do to win this, neither can control the fight for long.
With both women breathing harder as they sit on their stools, though Olympia might be looking the more tired thanks to the body work she has suffered from the opening bell.
Round 8:
Neither is going to give up anytime soon as they bash away at the others face with big shots to begin the round, Daisy getting in closer to drive back Olympia into a corner.
Again Olympia shows her intelligence to quickly pull Daisy into a clinch, though it is a front headlock that earns her a warning from the referee as she is forced to release the hold.
The next time they come together, Daisy misses with a right to the body, Olympia sidesteps in time so she can counter with a left hook to the cheek of the champ.
Two more hooks send Daisy into the ropes as Olympia seems to be looking to finish things, Daisy covering up tightly as Valance throws a flurry towards her head, most land on the gloves of Ridley though to frustrate the challenger.
A right to the abs of Daisy makes her clinch up now, the fighters happy to take a moment to rest on the others shoulder, the referee called upon again to break them apart.
The final minute of the round sees Daisy boxing more on the outside, each lands some crisp punches to the others face, swelling around their cheeks on show now.
The bell rings with the fighters standing hands on hips taking a breath as they look at what they've done to their opponent, seeing that while they are hurting, so is the woman trying to stop them leaving with the belt.
Neither sits on their stool as they return to their corners, maybe showing they are not tired, even as their chests rising up and down rapidly seems to show that is false.
Round 9:
Thudding their gloves together as they step out their corners, things are starting to get a little scruffy, not landing as cleanly as before, sometimes ending up bumping bodies as they lunge in with shots at similar times.
There definitely seems to be more tempers flaring as they show tell the other to bring it on, planting their feet more to trade in close range.
That seems to be a big mistake for Valance, going into the second minute of the round, Daisy seems to find a second wind first, drilling in three piston like body shots to bend Olympia over.
An uppercut sends Olympia stumbling backwards as the crowd all stand up, while Olympia lands two jabs to the face of Daisy, A RIGHT HOOK CATCHES HER FLUSH ON HER CHIN, THE GUMSHIELD FLIES OUT AS OLYMPIA COLLAPSES TO HER SIDE!
The Knockout corner is jumping for joy as Daisy jogs to the neutral corner, resting her arms on the top ropes as she stares at Olympia on the canvas.
1...2...3... The referee stands near Olympia as Hilary and Eva scream for her to get up, 4...5...6... There's a glassy look to the eyes of Olympia as she opens them up, 7...8.. Rolling to her back now, 9...10 that's the end of Valance tonight!
Winner and still BBU bantamweight champion Daisy Ridley KO Round 9After:
What a way to make your first defence! Daisy looks relieved somewhat as she tiredly raises her arms into the air, Olympia certainly tested her but the belt is staying around her waist.
The Girls Friday crew rush into the ring to check on Olympia, thankfully Olympia seems to be coming fully around as she is helped to sit up, she is heard to say "sorry guys" with her head down.
After Hilary and Eva help her to stand, Daisy comes over to the woman she just brutally knocked out, checking if Olympia is OK, the Aussie replying with a thumbs up as Daisy nods.
The fighters share a quick embrace as Eva says she'd like Olympia to go to the medical room to be checked on, Daisy telling Olympia "you gave me hell out here, I can't wait to fight you again" with Olympia thanking her as both show great sportsmanship to the delight of most in the crowd.
Getting helped out the ring, Olympia definitely looks wobbly on her feet, the crowd applauding her for a great effort but she just didn't have enough to overcome one of the best pound for pound fighters in the BBU today.
Inside the ring the title is wrapped around the waist of Daisy, who poses for the cameras with her right index finger in the air to signify she is the number one, a big beaming smile on her face as her fans chant her name.
Her coach pats her on the back as they say "I am so glad you were our first choice for a signing, you have been phenomenal" making Daisy blush as she thanks them for that.
After doing a lap of honour inside the ring, blowing kisses to all those who cheered her on to victory, Daisy looking great tonight as she struck to a game plan of wearing down Olympia and continues to reign supreme as champion.
Leaving the ring, it will be interesting to see if Daisy decides to have another title defence or will wait to see who wins the Contender Six tournament to be her mandatary defence, all that matters for her now though is an ice bath and a good nights sleep after her hard work tonight.