Post by Dave Knowles on Mar 2, 2020 11:41:10 GMT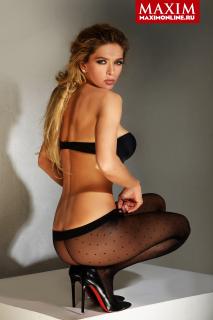 Catalina is unbeaten in BBU, having knocked out Georgia May Jagger and Nicola Roberts in brutal fashion, but this is a huge step up, not only top billing in a PPV event, but she will be opposing the experienced 38 year old Ukranian, with the winner destined to fight former bantamweight champion Dorota Rabczewska, probably next month
Vera is wearing a red bikini for this fight, with matching gloves and boots, with Catalina in pink basque and black panties, her gloves and boots also pink
Round 1
Vera is clearly very excited about this fight, and she's looking good in the opening exchanges, thudding her right jab into Catalina's face, as the Colombian struggles a little to come to terms with her taller opponent's reach, and perhaps with the occasion, Vera landing again, popping Catalina's head back, the younger girl not sure where to go, or what to do as the Ukranian starts to work her backwards, using her size and experience to keep Catalina on the defensive, the younger girl not realising that she's being pressed backwards, and she has no room for escape as Vera unleashes some heavy shots to her body, Catalina having to fight in a small space as the bigger girls keeps her in that corner, the Colombian doing her best to fight her way out, but Vera's longer reach is a nightmare for her, Catalina's punches either coming up short, or having little power, whilst every punch Vera lands is solid, and she gets full value for each one, Catalina surely grateful to hear the bell for the end of a torrid round
Round 2
Catalina is already showing some signs of being on the wrong end of Vera's punches, her left cheek reddened and raised, and the Ukranian is immediately taking her to task in round 2, just sending her backwards with that stiff right jab, nailing the Colombian's left cheek again, and she really does need to prevent that from happening, because Vera will work on her and leave her in a mess, Catalina not taking a backwards step now, though, bravely standing up to the older girl, stepping several centimetres closer than she did in round 1 so that she can land her punches, but that gives Vera more opportunity to land hers, and she hurts Catalina with two solid right jabs, then a left hook, the younger girl in trouble, flailing her arms a little, Vera hitting her again, sending her backwards to the ropes with a left hook to her jaw, then getting her again with a right hook, and that's a good punch! Catalina flops backwards, and she's down! The referee counts slowly, and Catalina is back up at 6, her nose bleeding slightly, Vera grinning, "Want more, huh?" and they set at it again, Vera banging punches into Catalina's face, the younger girl getting the better of Vera at close quarters though, hitting her midriff with some powerful punches before the end of the round
Round 3
Can Vera finish Catalina off in round 3? She certainly gave her a beating in the first 2 rounds, but Catalina is a tough girl, and she's weaving her head side to side now, getting inside Vera's reach, and giving her body some punishment, Vera not looking so good at close quarters as she has been at distance, and she's not enjoyed the start of this round, telling Catalina, "Get back, and box, not wrestle!" but the Colombian's finding some decent success at close quarters, those body punches certainly beginning to drain Vera, who gets pushed backwards and thumped to the midsection, opened up and Catalina bangs a pair of punches to the older girl's tits, annoying her, and that makes Vera untidy, tries to punch her way out of trouble, but she eats leather from the younger model, who shows Vera what she's got for the first time, swatting Vera's head left and right before Vera hits Catalina with a couple of solid jabs, ending the round well, but Catalina's back in the fight!
Round 4
Catalina comes out strongly, and rips a left hook into Vera's body as soon as the girls meet, and she's hurt Vera with that punch, bent her over at the waist, which lets her follow up with a swift left and right hand combination of punches to the Ukranian's face, and she drops to the canvas! Vera gets up at 7, but she seems stunned, and she isn't focussing well on where her younger opponent is, so Catalina thuds s few punches into her body whilst she gets her senses together, then slots a neat left hook across her face to send her backwards, Vera looking vulnerable as she splats against the ropes, but she shows her resilience, takes more punches, but doesn't buckle, and even fights back, hurting the Colombian with her straight punches, Catalina having to cover up as the round draws to a close, with Vera trying to unload uppercuts between her defensive gloves
Round 5
The girls are probably level in terms of points, but it's Vera who looks stronger, the older girl again reverting to punching Catalina from distance, using her height and longer reach to her advantage again, the younger girl not having much of an answer when she's being outboxed like this, Vera's red right glove smacking into her face more often now as she begins to tire, Vera next switching her attention to Catalina's gorgeous body, her punches making satisfying slapping noises as the land, with the Colombian groaning and gasping, Vera asking her, "You want more of this?" but Catalina is showing her resolve now, as she fights back, exchanging some heavy punches with Vera, even though the taller girl is obviously hurting her, and really starting to make a mess of her left cheek and eye, blood seeping from the grazes on her cheek, and her eye itself almost half-closed, as Vera gives her younger opponent a hard time, but can't quite find the punch to drop her in this round.
Round 6
Catalina's been patched up, but her left cheek looks very sore, a glowing beacon for Vera to hit – and the big Ukranian doesn't hesitate to do that, popping some nasty jabs right on it, Catalina struggling to take this punishment, her legs seeming to wobble as she steps backwards, where Vera cracks a pair of hard hooks to her face, and puts her down for a second time in this fight! Catalina rolls over, looking close to the end of her tether, but she beats the count at 8, and when the girls resume, she hits and hurts Vera with a little flurry of punches to her face, the older girl seeming to relax, as if she had already won, and now Catalina starts to teach her a lesson, stepping up her footwork, showing no ill effects from that second knockdown, and she's pinning Vera in a neutral corner, working the older girl over so much that it's Vera who looks relieved to have survived the round, after thinking she had won.
Round 7
This fight is becoming more difficult to predict – Catalina has taken more punishment, but it's Vera who looks more tired, and the younger girl is surely bluffing Vera now as she bounces out on her toes, stabbing out jabs at the taller girl's face, Vera getting caught with more punches than in the early rounds, and when the Colombian drills a couple of fierce right hooks into her body, she backs away, looking shabby, Catalina grinning as she puts the older girl against the ropes, then uses a neat left hook to move her more towards a neutral corner, and this is what Catalina loves! She's hammering punches into Vera's body, bending her over and really knocking the strength and fight out of her, Vera gasping and groaning, as Catalina promises her, "Won't be long! Then you can taste my ass!" giving her a straight, deep right to her belly to end the round in style, Vera just about able to slide along the ropes to her stool
Round 8
Catalina gets off her stool with a steely look in her eyes – well one and a half eyes, because her left is partly closed, and she takes her time before ripping the first couple of punches into Vera's body, just to make sure the Ukranian's had enough, then she hits her face, left, right, another left, and Vera drops to the canvas, her face bloodied, but she gets to her feet at 7, Catalina looking shocked, but she shrugs and hits the older girl again with a right hook, then a left, and another, putting Vera down again, Catalina raising her arms in victory, Vera somehow scrambling up again, using the ropes to support her, and she's on her feet at 9, sways and stumbles, and the referee calls a halt, saving her from further damage.
Result: Catalina Otalvaro stopped floors Vera Breshneva in round 8
That was one tough fight between two tough girls, and Catalina won maybe because she just wanted it that bit more, and she will surely be a handful for Doda if the girls meet each other next time out.
But, for now, she just wants to make sure Vera is ready to learn her lesson, and smiles to see her being pushed across the ring towards her, so that she pushes the Ukranian to her knee, and presents her with her round buttocks, "Get kissing, then, bitch!" and, with a sniff and a sob, the beaten Vera kisses and licks Catalina's asscheeks until the Colombian becomes bored with her, then she turns around, grabs the back of Vera's head, and pulls the older girl's face into her crotch, and keeps her there until she passes out