Post by Dave Knowles on Apr 7, 2020 16:22:11 GMT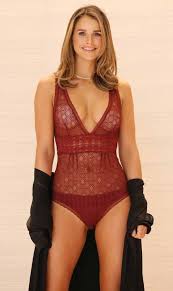 Another pair of girls looking for a stable at welterweight, as 34 year old Irish babe Vogue, takes on the beautiful 24 year old Dane, Solveig, with big Leah Francis a very interested spectator. Vogue will start a hot favourite, her only defeat being in a title fight against Joan Smalls, who broke her nose and knocked her out eventually, but again this is a fight which will be won by the girl who wants it more.
Both girls look superb as they parade in the ring, Solveig in a red top and white panties, Vogue all in green, the girls each showing their national colours in their clothing
Round 1
There's some good movement from both girls in the opening round, Solveig looking surprisingly aggressive, taking the fight to Vogue, who doesn't step back, but stands and counters, and now they hit each other with solid jabs, Solveig letting go a sweet right hook to jolt Vogue sideways, the Irish girl giving her a couple of left jabs and a right cross in return, then a left hook, and a right to the ribs, Solveig in trouble and hurt, steps back, gets tagged with another left hook, and hits the floor! The Dane gets up again at 7, flexing her jaw, but Vogue doesn't look like she's ready to let the younger girl off the hook, and she lays into Solveig, landing big, hard punches to her body, the Dane wide-eyed and backing off, no longer prepared to stand squarely in from of the Irish girl to swap punches with her, and Vogue has looked very impressive in the opening round
Round 2
A 60 second sit down seems to have done Solveig good, as she's back on track in round 2, and she swaps jabs immediately with Vogue, then lands a neat right cross on the Irish girl, who nods to acknowledge that the last punch stung her, but she hits back, staggering Solveig, who drops back, but Vogue's too keen to hit her again, and gets picked off by the Dane, but not with any decent punches, so she fights through, and pings Solveig again, ripping her head backwards with a left uppercut, before banging some punishing shots into her body, and that puts the Danish babe back to the ropes, and she's giving her a bit of a working over now, laying her gloves into that lovely body, making Solveig gasp and groan, as Vogue takes round 2 with some ease
Round 3
Vogue looks in the mood to finish this fight, but she isn't finding Solveig as easy to hit in the opening moments, the Danish babe more elusive, getting herself up on her toes to stay out of the Irish girl's way, and Vogue is becoming frustrated, throws a lunging left hook towards Solveig, which misses, and, as Vogue follows through, the Dane hits her, catching her with short, sharp right hand punches to her face, not big shots, but enough to stop Vogue from attacking, and she goes backwards and shields herself as Solveig approaches her, the Danish girl capitalising on Vogue's rash move, thudding a couple of very nice punches into her body before the Irish girl is able to respond, and even then she beats her to the punch when Vogue sets herself to trade, and she looks really annoyed at the bell
Round 4
The girls resume, and Vogue looks a very determined young lady as she makes her way towards Solveig, and she unloads a big jab and hook combination straight away, and Solveig looks shaky after that, wincing and wobbling a little, Vogue allowing herself a little grin as she hits the younger girl again, this time with a straight right to her gut, then sets her backwards to the ropes, and lets go a left hook to her jaw, Solveig swaying gently, then another right and left to her body, followed by a second left hook to the jaw, and that's put Solveig down again! She rolls over from her back to her front, and she's trying to beat the count, only to fall backwards onto her ass to be counted out
Result: Vogue Williams knocked out Solveig Mork Hansen in round 4.
Vogue looked good in her fight tonight, and must surely be edging towards a stable contract, although that may have to wait until she's fought Leah Francis. As for Solveig? She didn't fully recover from being decked in the first round, and was always struggling to stay with Vogue after that.