Post by girlsfriday on May 1, 2020 14:36:38 GMT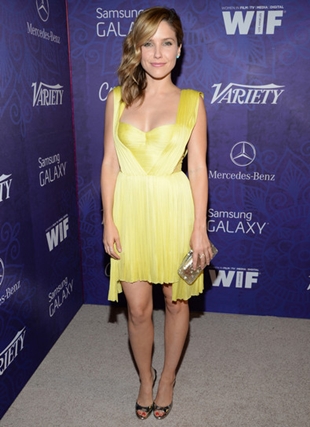 Vs
(Written by Girls Friday/Results by Lookout!)(Girls Friday vs This is Glamour)Intro:
Two former JMD champions fight it out for the first time now, Sophia Bush and Lacey Banghard both want to be back holding a diamond encrusted title bra on their bountiful busts.
Sophia is 37 years old; she stands 5'3, her bra size is 36C, holding a record of 32 wins, 30 coming by way of knockout, with 28 defeats, she is a former FCBA JMD champion.
Lacey is 28; she stands 5'1, her bra size is 30G, holding a record of 13 wins, all coming by way of knockout, with 6 defeats, she is a former BBU JMD champion.
Both have had their biggest successes under JMD rules, though with the BBU JMD division growing, a win here would be massive in keeping them in the title hunt.
Each was interviewed at their gyms by BBU TV reporter Georgie Thompson, who first travelled to Newcastle to visit the Girls Friday gym, finding Sophia finishing working over a punch bag.
Wiping some sweat off her brow, Sophia smiles as she heads over to Georgie; after sharing pleasantries, Sophia tells the interviewer "I know Lacey is a tough scrapper, hell I watched her fight with Rosie Jones, who is a great fighter in her own right, Lacey was so close to pounding her out"
Tapping her jugs with her right glove, Sophia continues "but these girls are the toughest around, Lacey will need to really be on her A game to beat me, I've been waiting for a chance to prove myself in the BBU, Lacey is my way of showing I'm still a contender" smiling as she nods at Georgie.
At the This is Glamour stable in the heart of London, Lacey is finishing up sparring with stablemate Lucy Pinder, both smiling as they hug each other in a sweaty embrace, showing how hard they were working.
Sitting on the ring apron as Georgie is waved over, Lacey tells her "god I can't wait to smack that American sl*t back across the pond with tears in her eyes, why do these FCBA rejects come here expecting to dominate?" With Georgie shrugging her shoulders in reply.
"See I've been the best in this division, I remember when people said I was too small to be a factor in JMD, all you have to do is go ask those who thought the same way till they stepped foot in the ring with me, they all know how great I am" Lacey says looking fired up.
"As for our beloved champ Charlotte (Church) I'll be seeing her sooner then later to take the title back, she is living on borrowed time" finishes Lacey before hopping off the apron to go shower.
Fight night; out comes Sophia with Taryn Terrell and Eva Carneiro beside her, she waves to the crowd as she walks down the aisle, a confident smile on her.
The American actress is wearing a white bikini with black trim, black gloves, while her hair is tied into a ponytail as she steps through the ropes into the ring.
Where she blows kisses to the fans, then as Taryn tells her it's time to get serious, she begins to warm up by stretching, knowing she will be in for a real workout tonight.
Out comes Lacey now with her coach Melinda Messenger behind her, she struts down the aisle looking like she hasn't a care in the world, grinning as she stares at the ring.
The English model is wearing a red bikini with red gloves that have gold thumbs, her hair is tied back into a ponytail too, with her sliding into the ring and cupping her jugs at the center of the ring for all to see.
Getting up and jogging to her corner, she works Melinda's hands over like they are punch pads, getting told off Melinda "send this bytch packing back to America" with Banghard nodding in reply.
Brought to the ring center by the referee, the fighters have steely looks for each other, their coaches rubbing their shoulders as even they glare at each other, tension clear for all to see between these two camps.
When they are told to touch gloves, they swipe them with their opponents set, turning on their heels to return to their corners, the bell rings to start 10 rounds of JMD action.
Round 1:
Both head out towards the ring center with a steely gaze towards their opponent, trading stiff jabs as they try to find their range, Lacey looking more mobile of the fighters, moving side to side as Sophia tries to push forwards.
The first big punch attempt comes from Sophia, who swings a right cross at the boobs of Lacey, just grazing the front of the bikini top though, leaving herself open to a double jab off her lips as a warning of what could happen if she isn't careful.
Moving around the center of the ring, Lacey is the one having more success as they get to the half way stage of the round, countering the slower Sophia with some hard punches straight into the center of her boobs, making them mushroom slightly back into her rib cage.
With Lacey landing a hard combo on the inside, two rights to the body of her opponent, then swings an overhand left to the jaw of Bush to turn her head.
As she starts pushing back Sophia towards the ropes with punches to the body, Lacey gets caught with a left cross to her cheek, an uppercut that knocks her back a step, Sophia taking the time to move back away from the ropes.
With more pounding punches coming from Sophia to the top of Lacey's boobs, making the younger fighter have to cover up more in the final forty seconds of the round.
Which comes to an end with Sophia thudding her gloves together to release some anger, Lacey smirks as she turns back to her corner, knowing she has gotten off to a great start in this fight.
Round 2:
Again it's Banghard who gets off the starting blocks quicker, her footwork mixed with impressive hand speed is giving Bush some real trouble so far, forcing the American to tighten her guard up more.
Which is hard in a JMD fight, each time Sophia blocks punches to her jugs, she is getting hit across her jaw with overhand punches that turn her head in the opening minute of the round.
Till Sophia finally times Lacey darting inside, she steps to the left side to dodge a jab, pounding a left hook around the guard to the ear of the model, making her grunt out loud as her head turns.
Finally Sophia gets to show off her skills, she lands a double jab/straight combo into the face of her opponent, knocking back her head, while forcing her guard up to protect her beautiful face.
When that happens the meaty hooks of Bush come flying in, landing to the sides of Banghard's boobs to make her cry out, each boob that gets hit slams into it's sister, making Lacey grit her gumshield as to not cry out loud.
Getting sick it seems of being pushed around, with thirty seconds to go in the round, Lacey shoves her way in close, with both women butting heads as they go to the body, the headbutt though makes both step back and shake their heads.
The round comes to an end with both scowling at the other, returning to their corners, where both seems to blame the other for the clash of heads; one thing is for certain, that was a much better round for Sophia after a dismal start.
Round 3:
Coming back out to the ring center with harder looks towards their opponent, both begin slipping punches then landing hard counters, aiming mainly for the others bountiful breasts.
Bush lands the first real power punch this round, blocking a straight punch before stepping inside with an uppercut under the left boob of Lacey, nearly jarring it out it's cup as Lacey can't help but cry out.
Pressing back Lacey to the outside of the ring, the bigger punches are coming from Sophia, who is able to rare back more as Banghard has the ropes close to her back.
That doesn't mean Lacey is helpless, something she shows at the halfway point of the round, parrying a straight to step inside with two ripping hooks under the ribs of her foe, who groans out as she starts getting pushed back across the ring.
A nudge by Sophia with her left forearm opens things up, both women going toe to toe with foreheads grinding, boobs are shaking around as they swing in short sharp hooks and uppercuts that has both women basically mauling their rival.
At the bell they shove apart, Lacey telling Sophia "you ain't gonna win bytch" maybe trying to build her confidence after another bad round or simply showing bravado.
Round 4:
Coming back out her corner, Lacey is making a greater effort not to get stuck near the ropes, doubling up her jab more along with feints, causing Sophia a new headache it seems.
Especially when Lacey manages to land an overhand left to the cheek of Bush, two follow up uppercuts come in as the American hisses out, her head tilted back slightly as that certainly stung her.
Now it's Sophia stuck near the ropes, Lacey moving side to side while switching up her punches, forcing Sophia onto the defensive, needing to block most of the firepower coming at her tits.
Drilling a jab into the top of Lacey's head, Sophia lands a right hook to the jaw of Banghard to turn her head, start building up momentum again as she rifles another two punches straight into the lips of the model.
Who finds herself back at the center of the ring, again they end up on the inside, bodying up while swinging hard hooks to the body and boobs, each groans out when they are hit clean, bodies reddening up along with their impressive breasts.
The round comes to a close, the fighters each look annoyed by the fact they can't seem to keep control of this fight for long enough to end it, Lacey maybe more feeling that as she got some great momentum going, yet was struck in a slugfest to end the round.
Round 5:
Looking to start the same way she did in the last round, Lacey moves side to side before darting inside, Sophia seems to be reading her better though, catching the Brit coming in with some hooks as they both land at similar times.
This time as Lacey comes in, Sophia sidesteps her before landing an uppercut that comes up smashing up Lacey's breast, then lands on her chin to wobble the smaller woman.
The Girls Friday corner erupts with screaming to batter Lacey, Sophia not needing an invitation as she smashes in two hooks to the jaw of Banghard, AN UPPERCUT AGAIN RIPS BETWEEN THE BREASTS OF LACEY TO HER CHIN, SENDING HER TO HER BACKSIDE!
The crowd goes wild as Sophia woos while putting her hands above her head, after being nudged towards the neutral corner, the count can finally begin, 1...2....3....4.. Lacey shakes her head as she rubs her sore boobs, 5...6... She pushes up to a knee with a grimace, 7...8... Pushing the rest of the way to her feet to a loud roar.
The referee checks and allows Lacey to continue, quickly though she is swarmed by Sophia, who smothers her under hooks to those bountiful breasts.
Sweat flies off them as Lacey is howling, her top drops down enough for Sophia to start smashing her fists straight into the fronts of those boobs, MAKING LACEY TURN HER BACK AND SHOUT "F***! I'M DONE!" REFEREE STEPS IN TO HALT THE FIGHT AS LACEY QUITS!
Winner Sophia Bush TKO Round 5After:
Nothing more impressive then making an opponent quit, especially when that opponent was a former champion, Sophia getting the job done tonight with a brutal barrage of punches.
The winner is quick to toss off her gloves, grinning as she gets to give Lacey a little extra punishment for daring to fight her under JMD rules, glee in the face of the American as she turns Lacey around in the corner.
Ripping the remainder of her bikini top off Lacey, Sophia tells her "you put up a good fight, these things though proved they don't belong in the ring with mine though" to prove her point Sophia presses her sore tits into Banghard's.
Who cries out as her head tilts back, Sophia rubbing her boobs side to side really get Lacey howling in pain, all the while Sophia is yelling "feel the difference you simple minded w****!"
Once she has had enough fun with that, Sophia steps back as Lacey takes a knee, the beaten woman facing down to the canvas as Bush grins looking at her defeated at her feet.
Pulling Lacey up by her sweat drenched hair, she looks her in her eyes as she says "never dare claim your breasts are better then these" she presses Lacey's head into her boobs, something she has now got vast experience in doing, her grip secure on the head of Lacey, who can't breath as she is being smothered.
When Lacey's arms are limb, Sophia releases the grip and nods at Melinda to come get her fighter, Melinda glares at Bush as she takes Lacey from her, looking like she wants to tell her this isn't over.
Instead though Melinda focuses on getting Lacey back to her corner, where she wakes her back up with smelling salts, Lacey so out of it though she asks "mommy what is that awful smell?" Looking embarrassed when the fog lifts from her head and she realises what she said.
Getting out the ring with Melinda's help, Lacey is sobbing as her face turns red, she doesn't look like she'll forget this night anytime soon.
While Sophia on the other hand poses proudly at the center of the ring cupping her breasts, giving a wink to the camera as Taryn and Eva are laughing at Lacey, waving her off to the back.
When all that is over, Sophia finally gets her hand raised in victory, she is beaming as she blows kisses to the crowd, then leaves the ring with her crew, hoping she can get herself into the JMD title picture with wins like this one.