Post by girlsfriday on Jul 10, 2020 9:33:00 GMT
Florence Pugh: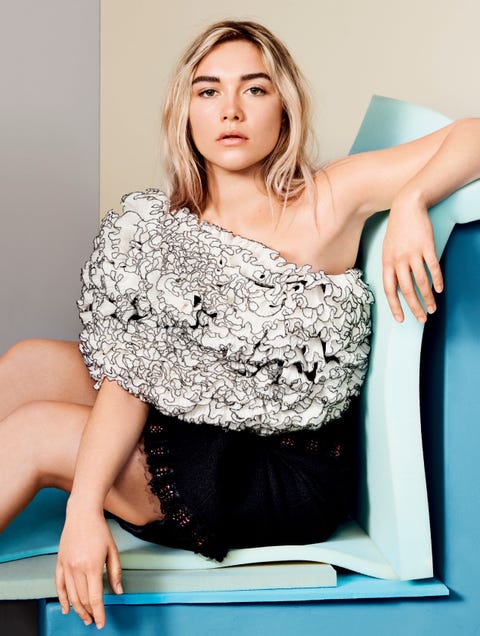 VS
Gina Rodriguez:
Tale of the Tape:Florence Pugh:
Age: 24
Height: 5'3 ¾
Debut
Vs
Gina Rodriguez:
Age: 35
Height: 5'3 ½
3-3 (3KOs)
(Free Agent vs Free Agent)Written by Girls Friday/Results by Lookout!)Intro:
Our second fight tonight with our second debuting star, the "Fighting with the family" and upcoming Marvel movie "Black Window" actress Florence Pugh makes her first appearance in a ring, she takes on the tough Latin born actress Gina Rodriguez here in the Royal Albert Hall.
While Gina is over a decade older then Florence, she hasn't a bad record making some question Florence's agents choice of opponent for her debut fight.
Florence explained to the BBU TV networks Denise Van Outen "we picked Gina because I want to test myself right out the gate, over the past few years I have been doing fight training for films, gotten a few amateur scraps and I feel ready to step into a boxing ring for a professional bout with someone I have respect for"
She continues after getting a drink of water with "it helps that Gina is a nice person, I know the fans will want us trash talking, but I have seen Gina box and she is a great technician between the ropes, if I can beat her then I can say I have a bright future, if not then I know what I need to work upon"
Gina meanwhile also talks to Denise, telling her "to think it has been two years since I was last in the BBU, I've enjoyed having a few bouts back in America, this is where I begun my career and I'll never forget it" beaming with a smile as she looks happy to be back in the UK.
When asked about Florence, Gina replies "she seems a sweetheart, I expect when she gets into the ring she'll unleash a hidden dark side (laughs) I know she has been sparring with Scarlet Johansson, hell that might be why Scarlet has been on her own impressive run in America, I have to watch Florence closely in that ring as there might be more to her then meets the eye"
Fight night; Florence is first through the curtain, smiling as she bounces on her toes and enjoys the love of the crowd, the Oxford native blows kisses to the fans as she heads down the aisle towards the ring.
She steps into the ring wearing a black bikini top, black trunks with red trim, red gloves, she is barefoot, with her hair tied back into a fighting ponytail.
Bowing to each side of the ring, Florence looks excited to get her first fight going, bouncing on her toes as she looks up the aisle, her coach reminding her to not lose her focus.
Out comes Gina now, she gets a good reception too, the popular American waving to the crowd as she heads down the aisle, a beaming smile on her stunning face.
She is wearing an orange bikini top, matching trunks with her surname in white on the waistband, white gloves, she is barefoot too and also has her hair tied into a ponytail.
Getting inside the ring, Gina pounds her chest with her right glove before preying in her corner, she shadow boxes to warm up after as her coach tells her not to take it easy on the youngster.
The referee waves the fighters to the ring center, where both look each other over with a little smile, looking relaxed in each others presence as their coaches massage their shoulders to keep them loose.
They bump gloves with their opponent respectfully, a nod and a wish of good luck from both coaches as it seems friendly enough, when they are back in their corners the game faces are on, the bell rings to start 10 rounds of flyweight action.
Round 1:
At the bell they move out their corners with a nod to each other, both up on their toes circling, trading probing punches as they look similar in their stances, left hand out as they keep their right near their face.
Giving the youngster something to think about after the opening thirty seconds of feeling each others skills out, Gina drills a double jab into the mouth of Florence, following up with a right to the chest as the Brit lifts her guard up.
Looking a little tentative, Florence isn't throwing more then one or two punches, allowing Gina to get her rhythm going, the veteran landing some nice punches around the body of Pugh to make her wince out.
Backing Florence up to the outside of the ring, Gina herds her around near the ropes, looking comfortable she won't be pushed off her base at the center, Florence mostly focused on blocking at the moment.
As they head into the final moments of the round, Florence shows a taste of her skills, slipping a straight to bang in two rights to the body, dipping under a left cross as she lands a jab to the abs of Rodriguez for her most sustained attack of the round.
Sadly for her fans it comes as the bell rings to end the round, Florence's coach massaging her arms as they tell her to relax and let her punches go; they believe in her.
Across the ring Gina sits on her stool looking relaxed as she listens to her coach; the plan is simple, stick to boxing around Florence to open her up the pressure the rookie into making a mistake before ending this.
Round 2:
Coming out her corner with a bit more fire, Florence doubles up her jab to match Gina's intensity, there's a flurry of punches exchanged at the center of the ring to get the crowd excited, heads getting knocked back before they retreat and reset.
Using her upper body and speed more, Florence let's Gina come at her, before dodging a straight to land in an overhand right to the cheek of her opponent, a left cross to the other cheek follows to make Rodriguez step back and nod her respect.
Gina of course has her own tricks up her sleeve, sending a jab into the chest of Florence, that opens up the rookies guard to a straight that knocks her back a step.
The American looking to apply that pressure as she herds back Florence towards those ropes, she misses with a left cross though, eating an uppercut instead to make her groan "f***" as she backs up.
Growing in confidence as the round progresses, Pugh actually pushes back Gina late in the round with a crisp double jab/straight combo under the left eye of her opponent, knocking back Gina towards the ropes, where she crowds her to work the body till the bell rings not long after.
A thumbs up greets Florence, she is beaming as she is sure that she has won her first ever round as a fighter, while across the ring Gina nods at her coach as if to say "yep she caught me there, I'll do better next time"
Round 3:
Boxing more moving side to side, Gina is trying to give the rookie a new problem to solve, bashing Pugh up the middle with punches that knocks back the Brit's head.
Ducking down more so she can move inside to work the body, Florence starts to get her rhythm going again till she gets clipped across the side of her head by a right hook that makes her retreat back.
Feinting with her jab, Gina steps in with a right hook to the jaw of her opponent, A LEFT HOOK THEN CRACKS FLORENCE ACROSS HER OTHER SIDE OF HER FACE AND DOWN TO HER BACKSIDE SHE GOES!
Not much celebration for Gina, all business tonight as she heads to the neutral corner, 1...2...3.. Florence shakes her head to clear her vision, 4...5...6.. Pushing up to a knee, she looks annoyed that she got caught like that, 7...8... Pushing to her feet, Pugh nods to the referee she is OK.
The fight continues with Gina trying to land a big right hand, usually she is good at setting it up behind her jab, Florence showing good defensive skills to block or slip punches, proving that the knockdown was more a flash one then a nasty one.
Though Florence can't land much out her guard, she finds herself crowded to the ropes by Gina, who targets the body of Pugh, making her grit her gumshield as she tests those abs out.
The round comes to an end with Gina getting a nod of respect from Florence, making the veteran smile as they turn back to their corners.
Round 4:
Wanting to keep the pressure on Florence, Gina comes out her corner with her jab doubled up, while her right is locked and loaded to detonate a big punch if she can find an opening.
Florence though is holding onto Gina when she is backed up, taking advice from her coach to do anything to disrupt Gina's rhythm, it is working it seems even if Gina is scoring the points so far.
Separated by the referee, they trade at the center of the ring, flurries come from both as they show off their hand speed, Gina managing to win the exchange with a right across the mouth of Florence, busting her bottom lip open to the delight of her corner crew.
But just past the halfway point of the round, Florence dips under a right hook to hammer in two left hooks under the ribs of Gina, who backs up a step, not quick enough as Florence knocks her back with an uppercut.
Now on comes Pugh as she bashes back Gina to the ropes, forcing Rodriguez now to engage a clinch, the referee needed to break them apart as they push against each other.
Less then a minute to go, Florence too keen it seems to build off her success, rushes into a right cross to her cheek, a double jab smacks back the head of Florence.
With Gina driving her into a corner, where Florence has to focus on protecting herself more then firing back, the bell rings to the relief by the looks of it in the Pugh corner.
Who tell their fighter that she needs to keep focused, Florence nods as she listens to her corner while getting her bloody lips cleaned up.
Gina across the ring looks to be enjoying this scrap, a good workout for her so far as her coaching crew seem confident, telling her to keep going on this path and she'll be getting her hand raised.
Round 5:
Trading as they move around the ring, Gina wanting to knock back Florence against the ropes, meeting resistance though as the youngster ducks or parries punches before landing some sweet counter punches.
Gina tries to slow the pace down as she moves to cut the ring off, landing a jab into the lips of Florence to make her wince, she lands a follow up right cross to knock back her opponent.
But when it looks like Florence is going to end up in a corner again, she dips down while pushing Gina back with her left forearm, moving into space as she waves Gina to bring it, the American chuckles at that as she nods.
Back and forth they go as Gina can't seem to stop Florence rallying back, sweat gets knocked off both fighters as they eat combinations while boxing around the ring.
With under a minute to go Florence slips a straight to land a left hook to the ear of Rodriguez, an uppercut follows to the abs of Gina to make her groan as Pugh now presses forwards.
Landing some nice cross punches to the temples of Gina, who has to now shield her head as she ends up near the ropes, the tables turning as Florence now is being the aggressor, showing her smarts off by switching up her targets to keep Gina on the back foot.
At the end of the round Florence takes a deep breath as she smiles, her coach patting her on the left shoulder as they praise her for a much better round.
Across the ring Gina is told not to get too comfortable, she needs to keep Florence on the back foot, Gina taps her gloves together as she nods to her coach.
Round 6:
Boxing around the ring again, Gina looks to be leading the dance as she comes after Florence, the rookie though looks to be the one landing the better punches, using her hand speed to beat Gina to the punch.
Slipping a jab, Florence opens up Gina to a right hook to the jaw, then a left lands to the chin, the American shakes her head as she backs up two steps, those definitely gave her some concern.
Maybe more to worry about as Florence buries a left to the stomach, then an uppercut to knock back Gina to her heels, driving Rodriguez into a corner as she lands four clean rapid fire punches into the beautiful face of Gina.
Who has a cut under her right eye, Gina goes to clinch up but another uppercut connects, FLORENCE SLAMS A LEFT HOOK TO THAT CUT BEFORE A RIGHT TO THE JAW SENDS GINA OUT THE CORNER TO FALL FACE FIRST ONTO THE CANVAS!
A stunning barrage there as Florence looks stunned she did that, the referee politely nudging her to the neutral corner, 1...2...3...4.. Gina looks up with glassy eyes, 5...6.. Blood runs down her right cheek from that cut, her corner yelling her to get up with under a minute to go, 7...8...9...10 she hasn't the strength to, Gina is counted out!
Winner Florence Pugh KO Round 6After:
A bit of a surprise tonight, especially after Florence got her first taste of what it is like to be knocked down, she came up trumps in the end against a very skillful opponent with that great barrage of punches.
The winner jumps for joy with a beaming smile, her coach rushed into the ring to go hug her, she has a few tears of joy as this is a huge moment in her life.
While Gina is helped up to her stool, she looks a little shell shocked by how the fight ended, her coach telling her she just made one mistake and it cost her tonight.
Over comes Florence after her gloves are taken off to check on Gina, the two embrace as Gina can be heard saying "kid you have a great future ahead, I know it" with Florence thanking her so much for giving the fight.
Gina jokes after they stop hugging "maybe I need to spar Scarlett Johansson" making Florence laugh before she replies "you need to be a Black Widow to do that" both laughing and joking after only moments ago trying to knock each others lights out, showing why both women have a following with their friendly demeanors.
Helped out the ring so she can get tests done to check she is OK, Gina gives the crowd a wave as she seems fine, her left eye is cleaned up before they head off up the aisle, even in defeat she looks happy enough with her effort tonight.
Back in the ring Florence now gets a taste of how a winner feels, her right hand is lifted up in the air by the referee, she blows kisses to the crowd as her family and supporters chant for her.
Wiping her tears away, Florence yells "thank you!" To the crowd, she leaves the ring and takes the time to sign some autographs for the fans, before she heads up the aisle, pundits wondering if we could be seeing a prodigy if she can replicate tonights result.