Post by girlsfriday on Jul 31, 2020 20:33:58 GMT
Kelly Gale: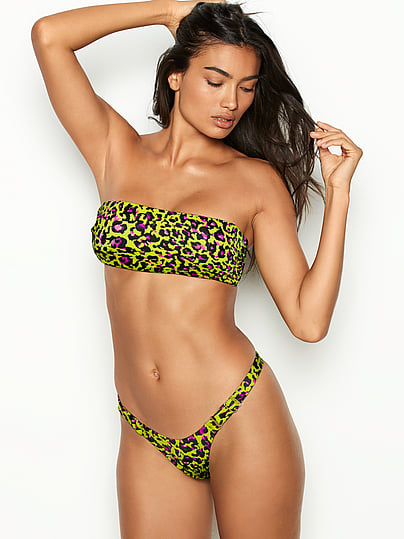 VS
Elisabetta Gregoraci:
Tale of the Tape:Kelly Gale:
Age: 25
Height: 5'9 ½
11-4 (10KOs)
Vs
Elisabetta Gregoraci:
Age: 40
Height: 5'9
9-3 (9KOs)
(Girls Friday vs Free Agent(Written by Girls Friday/Results by Lookout!)Intro:
Big time fight for both Kelly Gale and Elisabetta Gregoraci, each wants to make a statement at the expense of the other, they step into the BBU Arena here in Cardiff on PPV to settle it in the ring.
They have trash talked across social media, Kelly claiming after Elisabetta lost her last fight "I hope she at least puts up a fight against me #oldbytch" to support from her fans.
Elisabetta seeing comments in those veins over Kelly's social media accounts makes a video for her own, sitting wearing a baby blue bikini with matching boxing gloves, her toned body glistening with sweat after finishing working over a punch bag in her home gym.
"Listen you skinny bytch, I have had it up to here with you (jabs the punch bag) you can call me all you want but never question my stamina or desire, I am going to send you packing honey back to the minor leagues after I smash your face in" says Elisabetta with fire in her eyes.
After working the bag over with hooks that make it shake side to side, Elisabetta finishes up by looking to the camera with a grin, telling it "just look at your former friend Sara Sampaio, she was booted from your stable because they realised she wasn't good enough, I think she has a spare seat waiting for you to join her doesn't she? I'll gladly toss you out your stable if they want to give me a call" laughing as the video ends.
The week before the fight both held what can be best described as open workouts online, with videos of them sparring, doing sit ups, weights, etc, each time finishing the videos with threats of what they will do to each other in the ring.
Fight night; Kelly is out first with Gisele Bundchen beside her and Eva Carneiro, she bounces on her toes at the top of the aisle, raising her right fist to the crowd as they cheer her, then she jogs down the aisle telling herself "knock this bytch out" psyching herself up.
She is wearing a yellow sports bra with blue trim, matching trunks and shoes, blue gloves with yellow thumbs as she channels her national colours of Sweden in her attire, hand pulled back into a braid.
Stepping into the ring, Kelly taps her cheeks with her gloves as she gets to her corner, chatting to Gisele about staying away from the big power punches of her opponent.
Elisabetta heads out now down to the ring, her eyes firmly locked onto it as her coach follows behind her, thudding her gloves together as she marches down the aisle, Elisabetta looks firmly in the zone.
She wears a navy blue sports bra with matching trunks, gloves and shoes, honouring her Italian nationality, her hair is pulled back into a fighting ponytail.
Getting inside the ring, Elisabetta pounds her chest as her fans cheer her, both fighters locking eyes across the ring, Gregoraci's coach telling her to hurt Kelly early to make her respect Elisabetta, who nods in reply.
The fighters come together at the center of the ring, they shake their arms as they want to keep lose, a few words exchanged till Elisabetta gives Kelly a shove, all hell breaking loose as coaches need to keep their yelling fighters back.
Herded back to their corners, the referee tells both fighters he expects a good clean fight, both agree and after things seem to calm down enough, the bell rings to start 10 rounds of lightweight action.
Round 1:
A clash of styles straight from the off, Kelly more up on her toes moving around Elisabetta, who is coming straight forwards at the younger fighter, both women throwing probing punches to get their range right.
Elisabetta digs in two straight into the abs of Kelly, just missing with an overhand right as Kelly moves her head out the way in time, countering with a jab as she dances back.
The speed of Kelly starts to give Elisabetta a few headaches, she isn't landing as cleanly as the Swedish fighter is, Kelly landing to the cheeks of the Gregoraci.
Under a minute to go, Elisabetta finally catches Kelly with a straight to her cheek, she lands a follow up left/right cross to the cheeks of Gale, giving her fellow model a taste of her power.
Forcing Kelly on the back foot, covering up as Elisabetta pushes forwards, when Elisabetta can't break through up top she swings to the body to knock air from the body of her opponent.
The bell rings with both returning to their corners, Elisabetta told to close the distance quicker, she nods as she looks annoyed with herself for not being able to do so, especially as Kelly is smirking at her.
Round 2:
Again that speed of Kelly is on show, she is ramming her jabs and straights into gaps in the guard of her older opponent, looking relaxed as she dances around the ring.
But Elisabetta after the first thirty seconds times her attack better, landing a double jab into the mouth of Kelly, then landing a right cross as she steps in closer.
Pressing back Kelly towards the ropes, Elisabetta cancels out some of the movement of the Swede, forcing more heated exchanges as this suits Elisabetta's style more better.
Another double jab knocks back Kelly, who has to cover up as Elisabetta tries to batter her head off her shoulders, Kelly manages to block several punches, the ones that get through though keeps snapping her head.
After clinching up with Elisabetta, the referee breaks them apart, allowing Kelly to get back on the move, getting some rhythm going as they lock into jabbing exchanges in the final thirty seconds of the round.
At the end of the round Elisabetta nods to her coach as she returns to her corner, as if to say "is that better?" With her coach smiling at seeing how fired up she is.
Round 3:
Doubling up her own jab more, Kelly is wanting to keep the distance where she wants it, up on those toes drilling Elisabetta to her marked up cheeks.
Elisabetta manages to get to the inside after dipping down under a right, hammering two punches under the ribs of Kelly to make her wince out, backing up Gale to a corner.
Quickly clinching up with Elisabetta, Kelly looks to the heavens as if to say what is going on, the referee breaks them apart with Kelly getting into space to work from.
Next time Elisabetta tries to step in with a right cross, Kelly sidesteps before pounding a left across the cheek of the Italian, followed by a right into the abs.
Keeping Elisabetta at range and sticking to her left side, Kelly starting to outbox the older woman, Gregoraci looking too flat footed right now to really make up the distance to land her big right.
At the bell Elisabetta stamps her right foot before storming back to her corner, her coach needing to calm her down a little, pointing out she knows she can back up Kelly, just needs to be patient about it.
Round 4:
Again Kelly keeps Elisabetta on the outside to start, throwing more combinations as both fighters let their hands go on the outside, Elisabetta waving Kelly to bring it.
Wisely though Gale doesn't want to get into a firefight on the inside with someone with that one punch knockout power, she is sticking to frustrating her and marking up her beautiful face.
After that opening minute, Elisabetta feints with her right before swinging a left across the jaw of Kelly, she quickly crowds her to make Kelly have to fight on the inside.
The fighters letting their hands go in close, Kelly tries to shove back Elisabetta, she leaves herself open to an overhand left to her cheek, an uppercut knocks back Gale to her heels.
Onto the ropes goes Kelly, final moments of the round sees Elisabetta land several punches through to the face of Kelly, busting the bottom lip of Kelly open with a right cross.
The round ends with Elisabetta pounding her chest as she steps back to her corner, her coach pats her on the back, telling her she is hurting Kelly.
Across the ring Kelly is getting her lips patched up, Gisele telling her don't get too cocky, reminding her that one mistake is all it would take for Elisabetta to knock her on her ass.
Round 5:
Trying to close down Kelly sooner, Elisabetta steps in with a jab/straight into the mouth of her opponent, just missing with an uppercut as Kelly leans out the way in time.
The more aggressive approach works for Elisabetta early on, driving Kelly to the outside of the ring, looking to smash her guard open as she starts throwing more uppercuts.
A sidestep to the left by Kelly leaves Elisabetta open to a left to her boob, a right lands on her jaw as Kelly dances out the way of a right hook aimed at her jaw.
Throwing in more counter shots, Kelly is tagging the chin of Elisabetta more, the Italian is wanting to land a big hook to get the respect of Kelly, she is just that little bit too slow.
With instead a missed right cross from Elisabetta leaving her open to an uppercut to her chin, two hooks quickly follow to send sweat flying off the older fighters head to the delight of the Girls Friday corner.
More so when Kelly dips a left cross, an overhand right to the temple opens the guard of Gregoraci, A LEFT TO THE OTHER TEMPLE SENDS ELISABETTA DOWN TO HER SIDE!
Jogging to the neutral corner with a smile, the Gale fans chant her name as she nods to them, 1...2...3...4.. Elisabetta turns to all fours, 5...6...7.. Shaking her head as she tries to get up, 8... She is badly shook up though, 9.. Falling back to her left side 10 as she is counted out!
Winner Kelly Gale KO Round 5After:
Another notch on Kelly's growing record, she mounts the bottom ropes of the corner she is in, raising her arms into the air with a grin as the crowd cheer loudly for her.
Elisabetta getting checked over as she is helped up to a stool, she shakes her head to clear the cobwebs as the shot to the temple definitely buzzed her.
Thankfully Elisabetta is able to stand on her own after a few moments, a little shaky but seems to be not dazed anymore, her coach hugs her as they tell her "don't worry too much about tonight, next time will be your night"
Over comes Kelly after she gets her gloves taken off, she tells Elisabetta "after all that crap you spouted about sending me to free agency, look at you bytch" both sets of coaches hold their fighters back before things erupt again between these two, who just seem to have a natural dislike for each other.
Instead Elisabetta is helped out the ring, her coach knows she is in no shape for a bare knuckle fight right now, heading back to their locker room as Gregoraci fans tell her she'll get Kelly next time.
While the winner steps to the center of the ring, getting her right hand raised to the delight of her fans, Kelly blows them a kiss with her left hand, her face marked up but she is beaming over this victory.
After doing a lap of honour inside the ring, Kelly heads out the ring with her corner crew, she is steadily getting momentum, only one defeat in her last five, if she can get a marquee victory under her belt then she very well could be in title contention.