Post by girlsfriday on Sept 30, 2020 20:18:50 GMT
Daisy Ridley:
VS
Dorota Rabczewska (Doda):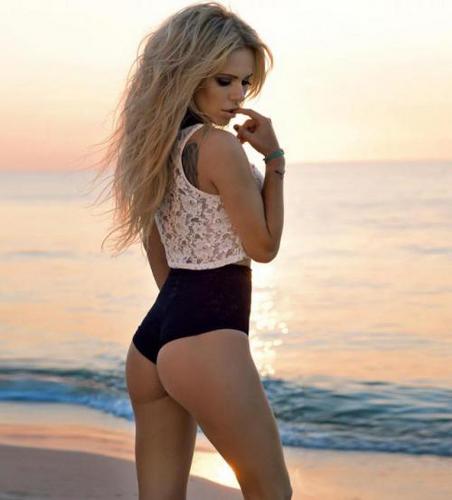 Tale of the Tape:Daisy Ridley:
Age: 28
Height: 5'7
21-11 (20KOs)
Former BBU bantamweight champion.
Vs
Dorota Rabczewska:
Age: 36
Height: 5'6 ½
20-5 (20KOs)
Former BBU bantamweight champion.
Knockout Babes vs Lioness Club)(Written by Girls Friday/Results by Lookout!)Intro:
Two former champions looking for a way back to the top, Daisy Ridley and Doda battle it out knowing a win can move them back to towards the bantamweight title, the BBU Arena in Cardiff is the venue for this clash.
Coming into the fight since losing their titles life hasn't been the easiest for both, Daisy coming off a defeat against Joey King on Friday, while Doda comes in off a win against Amanda Clapham earlier this month.
Before the fight both women were interviewed coming into the arena by Anna Woolhouse, Daisy was up first with her coach Jennifer O'Dell beside her, Daisy smiling as she looks in a good mood even off a loss.
Asked about how she is feeling, Daisy replies "well I would have preferred not to have been knocked out by Brie, it hasn't dampened my spirits though as I know I have it in myself to be a champion again" Jennifer patting her on the shoulder as if to reassure her that's the case.
Jennifer tells Anna "Daisy is good enough to be the best, it just all comes down to her confidence, I am working hard to make sure she understands that" Daisy nodding along with a grin.
"Doda is tough but I can do it, keep her at arms length then wait for my opening, I know she can be beaten if I am smart" says Daisy as Anna wishes her luck, Jennifer telling her "she doesn't need it" as both Knockout babes head off.
Doda stands with her cheeky grin, grabbing the microphone from the hand of Anna, telling her "nobody needs to worry about you, they only want to hear from me" nudging Anna away with a bump of her hip to knock her to the left of the singer.
"Listen Daisy I don't care if you have whatever powers you have in Star Wars or if you have a replica title belt at home that says you are a great, you are stepping into the ring with me and I am simply the best around here" says Doda as she stares at the camera, then heads off to her locker room.
Fighting time, out comes Doda with Jennifer beside her, she wears a blue hoodie with the hood up, waving to the crowd as she jogs down the aisle, a big beaming smile on her face as she looks excited to get this fight started.
The hoodie is helped taken off by Jennifer, Daisy wearing a baby blue sports bra, matching trunks and shoes, her hair tied back into a ponytail, she bows to each side of the ring as her fans cheer and whistle her before she returns to her corner to warm up.
Now out comes Doda with her coach Melanie Brown, she grins as she heads down the aisle, in no hurry as she struts with arms out at her side as if to tell the crowd to focus purely on her.
She steps into the ring wearing a red sports bra, red trunks with white stripes down the sides, matching shoes, red gloves, her hair is tied back into a braid, she thuds her gloves together as she stares across the ring at her opponent.
The fighters come together at the ring center, eyes locked as neither are smiling now, it is all business for them as the referee goes through the final instructions for both, though they look more interested in each other then the instructions.
They thud their gloves into the opponent's set when they are told to touch up their gloves, jogging back to their corners as they look up for this, soon enough the bell rings to start 10 rounds of bantamweight action.
Round 1:
Boxer versus puncher here as shown by their stances, Doda a little more open with her guard along with her feet being more planted, Daisy up on her toes with a textbook looking guard.
Both test the other out with jabs, though Doda is the first to try to land a big right hook, not showing that much respect for her opponent's talents, though maybe she will as she takes a double jab after she misses.
Daisy more controlled of the fighters, landing the cleaner punches as she dances around the center of the ring, burying her punches into the side of the Polish fighters head.
Though after the half way point in the round, Doda switches up to the body when she moves to the inside, nearly headbutting Daisy to do so as she looks to rough up the actress, pushing her towards the ropes.
Where smartly Daisy gives Doda a nudge back with her left, moving away from the ropes so she can get back to boxing on the outside, annoying the older fighter with her skills.
At the bell it is Jennifer looking all smiles as her fighter returns to her corner, knowing that was a great start for them, compared to Dorota looking pissed off on her stool as she looks across the ring at her opponent.
Round 2:
Trying to keep back Doda isn't an easy task, Daisy is looking good at it in the early going at least, doubling up her jab to stop the brash singer from rushing her, landing several good clean punches to the cheeks of the blonde.
Who times her attack better to feint before going under a jab to smack in a left hook to the body, then an overhand right smacks Daisy across her cheek, Doda looks unleashed now as she bashes back Daisy towards the ropes.
Like the last round Daisy tries to nudge back Rabczewska, she is finding that the Lioness fighter is relentless when she is in the mood, keeping the fight at least at midrange as both are firing in more punches in bunches.
A left hook crashes against the cheek of Daisy, with a straight knocking her onto the ropes, where Doda starts to work away on the flanks of the actress to make her grit her gumshield, landing to the body as she looks to wear down Ridley.
Who clinches up with Doda, the referee needing to step in as Doda pushes her head under the chin of Daisy's, referee warning her to keep things clean as the fighters move off the ropes, fighting the final moments of the round at the center.
Daisy looking at the ceiling like she wants to curse herself for letting Doda back at her, the Lioness Club corner looking more relaxed after a hard opening round, coming back strong this round.
Round 3:
Back out they come with eyes firmly locked behind their gloves, Daisy sticking on the move, not wanting to be put under pressure like the last round from the hard hitting singer, both landing stinging jabs as they try to establish their range.
A missed straight by Daisy leaves her open to an uppercut that knocks her back, Doda isn't a one dimensional fighter as she slams away with a mixture of punches to make it hard for Ridley to block them, the ones to the body seem to be having the most effect.
Though when Doda begins to focus primarily on the abs of Daisy, she leaves herself open up top to a left cross to her cheek, a straight to her nose makes her retreat as Daisy resets herself so she can make a comeback this round.
It ends up with Daisy getting dragged into a firefight, Doda using her experience to use her left shoulder to bump back Daisy, slamming hard overhand shots across the face of the "Star Wars" actress to the joy of Mel B.
The final moments sees Daisy step back with a double jab squarely onto the face of her opponent, following up with two hooks to the body when Doda puts her guard up as the bell rings to end the round.
While Doda didn't enjoy those shots at the end, she at least looked good for another round, Mel B wiping her down as she tells her not to let her focus waver against Daisy, who is getting told off Jennifer to up her work rate or let herself be bulldozed by Doda.
Round 4:
Using more then simply double jabbing Doda, Daisy is switching things up more to keep her opponent off base, landing several more counters when Doda tries to land a big right hand.
The blonde does manage to get inside with a right to the abs of Ridley, then lands a left cross up top as she looks to resume driving back the brunette, both barking with effort as they look to overpower each other.
Smartly Daisy uses Doda's momentum against her, stepping to the side as she pulls her left behind her opponent's head, switching their positions so Doda is aimed towards the ropes now, a straight smacking Doda firmly on the nose.
That puts Doda into her shell as Daisy starts to throw a flurry of punches at her, most don't land cleanly as they hit forearm or gloves, they are keeping Doda under wraps though, making Jennifer yell at Daisy to pick her punches better to score more.
Leading to more hooks to the ribs coming in, Doda groans out before she starts firing back, both let their hands go with seconds left in the round, Doda though doesn't seem able to generate the power she wants with the ropes stopping her loading up.
The round comes to a close with Doda looking in a mean mood as she heads back to her corner, Melanie pointing out she still hit Daisy with some good clean shots, she just needs to keep her eyes on the prize as Mel doesn't seem to think Doda is taking this fight fully seriously.
Round 5:
Boxing around the center of the ring as Doda looks to close the gap early, cheeks are being marked up by hard straight shots, Doda just misses with a right cross as Daisy leans out the way before jabbing the blonde on her nose.
That just seems to infuriate Doda as blood starts to run from her nostrils, cutting the ring off as she hunts down Ridley, the hard hitting singer crashes a left cross onto the jaw of Daisy, a straight knocks the actress back onto the ropes as Doda crowds her.
While both are working the others body, it is Doda landing the harder shots judging by the face of Daisy, grimacing with each clean hit that finds it's way into her body, making Daisy clinch up with Doda to slow down the assault.
Referee breaks them apart as Doda seen hissing insults at Daisy, looking to keep on the front foot as Daisy gives up real estate to her, both landing hard straight shots through mitts to faces.
Less then a minute to go when Daisy lands a hard left across the nose of Doda, who cries out as finally she looks hurt, Daisy knocking her back against the ropes till Dorota now clinches up with her, some blood drips from the nose of Rabczewska to the left shoulder of Ridley.
They are split apart with Doda digging her heels in to go toe to toe with a more confident Daisy, up until the round comes to a close with both women turning back to their corners, Doda needing her nose to be patched up as Mel just shakes her head at her.
Round 6:
Doda comes out looking to get into the face of Daisy right away, make her pay for the bloody nose, her temper though seems to be getting the better of her, Daisy easily stepping out the way before countering.
When a right smacks the nose of Dorota flush, it makes her stop in her tracks, a left hook lands across her jaw next as suddenly the Pole is being beaten back without any mercy by Ridley, AN UPPERCUT SOON ENOUGH SENDS DODA TO HER BACK!
"Yes!" Yells Daisy with a big grin, the referee needing to remind her to head to the neutral corner as she looks lost in her handy work, 1...2...3...4.. Doda rolls to her right side as blood runs from her nose to the canvas, 5...6...7... The blonde looks out of it as 8...9.. Daisy watches closely 10 Doda is counted out!
Winner Daisy Ridley KO Round 6After:
The great boxer beats the great puncher tonight, living up to the saying it seems, Daisy jumps for joy even as her cheeks are reddened up, Jennifer applauds her as she climbs up onto the ring apron.
The winner heads back to her corner to embrace her coach, Jennifer telling her "see what actually believing in yourself can do" making Daisy say that she knows that, both smile at each other as Jennifer helps take off the gloves of her fighter.
Meanwhile Dorota has to be helped to sit up, Mel working on stemming the blood flowing from her nose, not looking happy with her fighter, clearly believing this was a very winnable fight for her to start moving back to title contention.
Instead all they can do as Doda is helped to stand is look over at the happy Knockout Babes corner, Dorota sneering at them as she spits her gumshield out and tries to storm out the ring, she is still shaky though, needing Mel to help her out the ring.
Daisy notices that and shrugs her shoulders, telling Jennifer "if Doda ever wants to fight me again I am so ready to see that pout again" making both laugh as they see off the beaten fighter with a wave.
Heading to the ring center when she is washed down, Daisy is looking proud as she waves to some friends and family at ringside, her right arm is raised in victory as she jumps up and down.
Then she leaves the ring with Jennifer, looking up for another fight already as she talks about potential opponent's, maybe a fight with a foreign fighter or a domestic clash, Jennifer smiling warmly as she sees some new life in Daisy after a bad few months.