Post by girlsfriday on Apr 29, 2021 15:49:33 GMT
Katya Jones (Unattached) v Mimi Keene (Marti's Maulers)
(Written by Knowlesley/Results BBU)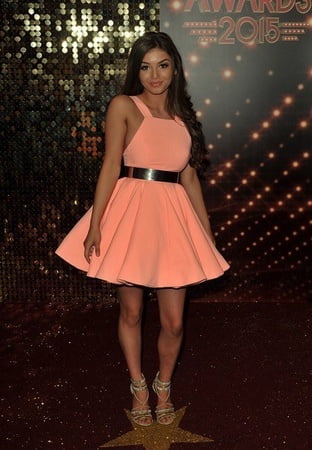 31 year old Russian darling Katya wants to start moving towards a shot at the BBU flyweight title, but her lack of management has stifled her so far, limiting the number of fights she's had, and now she fights 22 year oldf unbeaten Mimi. Who has won each of her two fights to date inside 4 rounds.  What can she make of sexy Katya?
Into the ring they come, Mimi wearing a white crop top and black knickers, Katya in a red bra and hotpants set, both girls ready to get on with this fight
Round 1
After some watchful circling by both girls, there's some good work from Mimi, the Brit looking to take control of this fight early on, and pretty soon she has Katya backpedalling, the Russian carrying her gloves low, inviting the younger girl to attack her, and as Mimi falls into that little trap, Katya fights back and, after working the kid backwards pretty expertly with some solid punches to her body, she pins Mimi to the ropes and gets ready to hit and hurt her, but the technically correct Mimi is doing well to sway and block many of Katya's punches, the older girl looking frustrated, but not easing off, confident that she will find the gaps in Mimi's defence to hit and hurt her
Round 2
Mimi again starts the round more quickly than Katya, and she's popping the Russian babe backwards nicely and that's bothered the older girl, whose confidence is shaken some more as Mimi starts getting some nice combos through to her, bopping her face and now Katya seems a little unsure how to deal with the youngster, finding Mimi a little too awkward to punch as she sways and dodges, and thye frustration begins to tell with Katya missing clumsily, leving herself exposed, and Mimi rocks Katya with a nice right hook, Katya wobbling a little after that, and she's still not fully recovered at the bell
Round 3
This time Katya's ready for Mimi's abrasive start to the round, the younger girl not as well set this time around, but she's fighting fire with fire as the girls slug it out, Mimi hurting Katya again with her right hook, but Katya grits her teeth and gets through that, striking back as she punches in batches, her gloves slapping hard onto Mimi's young face, and now it's Katya back in charge, working the kid around the ring, and as the round draws to a close, she's forcing Mimi back into a neutral corner, where she peppers her face with some lovely punches, Mimi in trouble now, and clearly relieved to hear the bell, her face bruising
Round 4
The fight is still fast and furious, but Mimi seems to be losing her momentum whilst Katya's looking good now and she starts to lay into Mimi, the kid in trouble here as she fails to keep the Russian off, Katya hitting her left, right, left again, now a right to the body, another to the face, and Mimi drops to her knees, shaking her head, but up at 7, and doing what she can to fight back, which isn't easy for her because she's never been in the ring with a boxer this good, never been on the floor, and never been beaten, so she's not handling the hammering she's getting at all well, Katya strutting around and thumping her prey just as she wishes, inviting her to come forward, her jab making Mimi's face look very sore now
Round 5
If Katya thought she had this fight won, Mimi's proving her wrong now, as she whups punches into the older girl's face for a pastime, and this is a great effort from the younger girl, who looked all but beaten a short while ago, and she's shocked Katya into having to defend more than she would like as Mimi takes the fight to her, although she catches the Brit with a clubbing left to her jaw, drawing a lot of energy from her there, Mimi again starting to wobble, but she doesn't go down, still comes at Katya, who then makes a good move, swatting Mimi's face left and right, pushing the younger girl backwards  in the closing seconds of this round, and a solid right hook opens up a cut on her left cheek, which worries Mimi as the bell nears, the youngster beginning to look sad and surely done now
Round 6
A battered and confused Mimi's clearly uncomfortable as Katya reopens that cut on her cheek, and she's not reacting well at all, seemingly unable to protect her face and, as she tires, she's lowering her gloves, giving Katya the chance to lay into her, and now young Mimi looks distressed and is clearly hurt, and when Katya thumps another right hook into her waiting face, after a barrage of punches she hits the canvas for a second time, and she doesn't move as she's counted out
Result: Katya Jones knocked out Mimi Keene in round 6
Mimi didn't make the step up she needed to fight Katya, who looked comfortable in victory, but needs management if she's to really mount a challenge for the BBU flyweight title.  She courteously goes to Mimi's corner after the fight, and ruffles the girls hair, whilst Frankie Cocozza seems deep in conversation with Myleene Klass – will he offer Katya a contract?