Post by girlsfriday on Aug 30, 2021 12:20:38 GMT
Lorena Rae: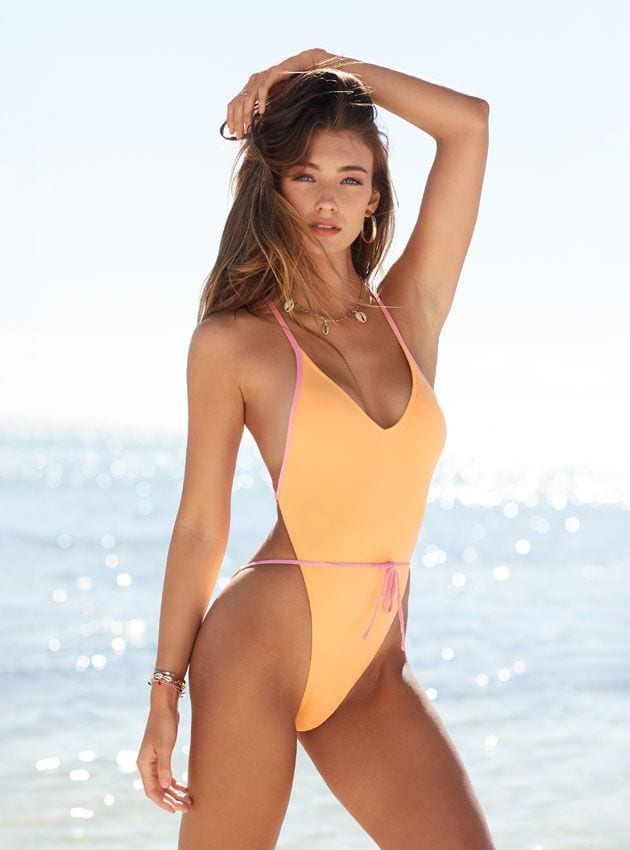 VS
Alexina Graham:
Tale of the Tape:Lorena Rae:
Age: 27
Height: 5'11
7-8 (7KOs)
Vs
Alexina Graham:
Age: 31
Height: 5'11 ½
6-1 (6KOs)
(Black Eagles Boxing vs Free Agent)Written by Girls Friday/Results by Lookout!)Intro:
We are here in Dubai on Jumeriah Beach, a hot spot for models going on holiday and recently the Celebrity Boxing world, with Germany's Lorena Rae and England's Alexina Graham have a belated Euro's clash on neutral turf or sand in this clash.
Lorena is starting to get attention again, first defeating Elsa Benitez a few short months ago, now this fight, then she has a Victoria Secret Tournament bout against Kelsey Merritt in September to look forwards to, not a bad way to show your talents off in a short space of time if you can get on a winning run.
She was asked by BBU TV reporter Kate Abdo on how she is feeling with this renewed attention as they sit on the beach the fight is to take place, Lorena answers "I am the best Black Eagles welterweight, so I should be front and center of the stable, when I knock out Kelsey in America then you'll see why I am being talked about again" smirking as she looks at the setting sun.
The subject turns to this fight, Lorena tells Kate "Alexina doesn't worry me one bit, sure her record looks impressive on the surface, as soon as she faced a good fighter though she wilted and found herself looking up at the lights, I am better then those she has faced here in the BBU, with our BBU welterweight champion hopefully back soon from vacationing on canvases around America, hopefully she notices what I can do and finally give me the shot I deserve" standing up afterwards to dust herself off, then leaving as she thanks Kate for letting her speak her mind.
Meanwhile Alexina has finally tasted defeat after going six fights unbeaten, getting knocked out in six rounds by Miranda Kerr in the same Victoria Secret tournament Lorena still has to looks to, pundits wondering how that will have effected Alexina as she goes into her first fight on the back of a defeat.
Talking to Kate in the hotel gym after working on her cardio that day for the cameras, Alexina stands next to a treadmill with a towel around her shoulders, smiling as she tells Kate "I am OK trust me, hearing the count of ten as my head was swimming wasn't fun one bit, to lose to Miranda frickin Kerr is far from the end of the world, she is one of the greats in celebrity boxing" taking a sip of water from her bottle of cold water, Alexina walks towards the locker room.
Where she stops nearby to tell the interviewer "oh and if Lorena thinks she is getting me at a low time for me, she'll see soon enough that the defeat has spurred me on to be better, you can't keep me down so easily, I am not losing my BBU undefeated record to her" nodding to Abdo before she heads off to shower with a pep to her step.
Fighting time with the ring posts set into the sand itself, we have two sets of bleachers facing each other on opposite sides of the ring, the judges table with the timekeepers beside each other on a third side, with a long red carpet coming to the ring.
First on the carpet is Lorena walking on wearing a black one piece swimsuit with matching gloves, she is looking business tonight as she struts to the ring, her coach Gina Wild walking behind her in a black string bikini all smiles as she waves for the crowd to cheer louder, when Lorena gets into her corner, Gina ties her hair into a ponytail as she tells her to wreck Alexina.
Who heads down the carpet like she is walking the catwalks, she is wearing a white one piece swimsuit with matching gloves, her hair tied into a ponytail already as her coach leads the way, stepping into the ring so she can give Lorena a hard stare, then jogs over to her corner, banging her gloves together as she seems to want to wash the taste of defeat away quickly.
Referee brings the two beautiful models to the middle of the ring, where they square up as the crowd whistles and cheers, both women nudged apart by the referee as it is certainly tense between them, a quick touch of gloves before they jog to their corners, with the bell ringing to start 10 rounds of welterweight action.
Round 1:
At the bell both fighters step out to the center, trading jabs as they look for openings, testing the others relaxes as they move in and out of range, Lorena looking the more aggressive though in the opening thirty seconds, burying a one-two square into the face of Alexina for the first meaningful punch.
A follow up left cross from the German fight though misses, with instead a counter right smacking into her face, Alexina then fires in a one-two of her own through the mitts of Lorena into her face, both slowly starting to land more leather as they get more comfortable with their opponent.
Alexina shows her speed off as she leans out the way of another cross punch, countering with another two punch combo into the face of her opponent, who she is beginning to outwork as she keeps Lorena at bay, making the Black Eagles boxer tighten her guard up a little more as they pass the halfway stage of the round.
When Alexina looks to be settled, Lorena parries a straight to get in closer with a right into the chest of the redhead to make her grunt out, a left hook catches Graham on her chin as she gets her head turned, Lorena pressing her onto the ropes as the crowd whistles, watching Rae finish the round off in strong fashion.
As the bell rings, both jog back to their corners looking at their coaches for advice after both had some good moments, Lorena is the one getting a little more advice as Alexina's coach was happy with the most part how she started off the fight.
Round 2:
Back out they come with Alexina starting the faster of the two, outworking Lorena early on with her combination punching landing more then not, Lorena stepping away from the middle of the ring as Alexina takes the center, Graham controlling the action from there.
As they are about to enter the second minute of the round, Lorena moves back out the way of a right cross after blocking a jab on her gloves, countering with a jab of her own into the lips of the redhead, she swings a right hook that lands on the side of her opponent's head.
That begins a reversal of fortunes as Lorena hammers back Alexina onto the ropes, the Nottingham native covering up and not throwing as much now, with Lorena bodying up to her, bashing her sides with short hooks till Alexina can hold on to her, forcing them to be pried apart.
Resuming fighting at the middle, Lorena is quick to catch Alexina with a straight through her gloves to her beautiful face, back goes Graham as she now finds herself being powered to the outside, Lorena even uses a few JMD tricks sneaking a hook across the underside of Alexina's boobs to make her bite on her mouthpiece.
At the bell Lorena has given Alexina an idea of what she can do, sitting on their stools again, Alexina is the one looking more keen for advice as Lorena seems to think she has her worked out, crowd whistling as they both stand back up for more action.
Round 3:
Alexina tries to get the range where she wants early by moving more side to side, she gets caught out though as Lorena gets in close quickly to bash in two short uppercuts to the body, the German fighter nearly headbutting Alexina as she gets right into her grill.
Both firing in hard shots in close range, Lorena seems to have the little bit extra on her punches between the two fighters, an uppercut knocks Alexina back a step before a left hook cracks her on the chin, Alexina looking worried as she stumbles a step to her left, guard up more tightly now.
Smelling some blood in the water, Lorena is driving Alexina around the ring near the ropes, with Alexina not doing much more then throw single punches and hold, she looks a little worried as she is simply being bullied around the ring at the moment, a left cross slams into her cheek then another uppercut to her chin forcing her to clinch again.
With less then twenty seconds to go, Alexina starts to fire back more again as she must realise she can't hold back as much, catching Lorena with several good clean shots to the face as Gina reminds her fighter to keep her guard up, at the bell it's another solid round for Rae, who looks a lot more relaxed of the two fighters.
Round 4:
Maybe that first loss on her record is playing on her mind, Alexina isn't firing out as much punches as the first round, allowing Lorena to work with more punches being hammered into the ribs of the redhead to make her groan out, finding herself backed into a corner by the end of the first minute, where she clinches again till the referee can split them apart.
Alexina gets a warning not to hold as much, forcing her to fire off more punches again, though they don't look full blooded punches, Lorena batting a few aside to rifle her own between the mitts of her opponent, Alexina shelling up when her bottom lip starts to bleed, Lorena muscles her to the ropes, where she bangs more punches into the sides, causing Alexina's porcelain skin to redden up now.
Past half way in the round, Lorena gets nudged back before eating a double jab into her face, Alexina showing a little fight again, though Lorena keeps crowding her as she is not looking to let the English woman off the ropes so easily, both women digging in punches in close range.
Last forty five seconds, Alexina gets off the ropes as she pulls Lorena around to try to swap positions, Lorena gets off the ropes as they trade around the center of the ring, Alexina doubling up her jab as she boxes more on the outside, not enjoying getting clipped on her bloody lip as she grimaces.
The round ends with both women walking to their stools, Alexina getting patched up as she is told to get her head into the game, Alexina admitting she let a little fear creep in, Lorena taps her feet into the sand, watching Alexina closely as she is wiped down.
Round 5:
Keeping up doubling her jab, Alexina wanting to find a way back into this fight after a torrid last three rounds, Lorena getting inside with several good body shots, getting clipped across the top of her head when she does as Alexina drops back a few steps to reopen the gap between them.
A left cross catches Lorena under her right ear to slow her charge, with a one-two follow up smacking into her face to snap her head back, Lorena trying to keep back her opponent now as Alexina must be feeling a flow of confidence, now she is the one walking down the younger fighter to the outside of the ring.
Lorena shows her fighting spirit to come back at Alexina with a chopping left cross then a right as Alexina now let's her guard get a little too loose, in tighter comes Rae as she goes back to chopping down Alexina with hooks to the body, making Graham groan with each clean hit as she is powered towards a corner till Alexina can clinch up.
Broken apart and heading back to the middle of the ring, Alexina hammers in another flush two punch combo through the gloves of her opponent as she is quicker on the draw, leaning out the way of a left hook as she opens up a cut now on Rae's bottom lip to even that score with a right cross.
Round comes to a close with Alexina on the front foot, she yells "come on!" Probably more to herself then her opponent as they turn to their corners, Lorena cursing under her breath as Gina looks bamboozled where that come from, telling Lorena to keep her left up more tighter as she can see Alexina is exploiting the space left behind.
Round 6:
Whistles and cheers ring out as the glistening fighters head out their corners, Lorena getting in a few good body punches under the jab of her opponent, taking a right hook across the top of her head though to make sure she doesn't get in too close as Alexina dances away.
Digging in more straight punches around the guard of Lorena, Alexina steps back out the way of a left cross before pounding a counter right onto the jaw of her opponent, then a short left uppercut on the chin has Lorena rocking back towards a neutral corner, ALEXINA SEES A REAL OPENING NOW, LIGHTING UP LORENA WITH SEVERAL HARD POWER PUNCHES, ANOTHER UPPERCUT SENDS LORENA ONTO HER BACK NEAR THE CORNER!
Loud cheers as Alexina raises her right fist into the air as she jogs to the opposite corner, 1...2...3... Lorena lifts her head up blinking, 4...5...6... She groans as she lays back down flat, eyes shut, 7....8.. Gina barking at her to get to her feet, 9...10 they fall on deaf ears as it's over!
Winner Alexina Graham KO Round 6After:
A great comeback for Alexina as she jumps for joy, the crowd whistling her as she blows them kisses for their support, jogging back to her coach to high five them, saying "God I can't believe I turned that around" the coach simply answering that they knew she could do it.
Meanwhile Gina isn't as complimentary as she walks to her fighter, arms out to her side as in German she yells "what was that!" Before finally helping out her fighter, Lorena needs the ropes to hold her up as she is still shaky, equilibrium gone from eating so many clean shots at the end there.
The ringside doctor steps in and actually helps her back to her stool, Gina still in disbelief that somehow it's not Lorena getting her hand raised, instead she has to watch as her fighter is checked over Alexina getting her right hand raised in victory, shaking her head at her.
Of course the winner is in a much more good mood, posing for the cameras with hands on her hips, blowing them kisses as she says "I am not going away Damaris (Lewis) that title belongs around my waist" hinting she wants the next BBU welterweight title shot.
While Lorena leaves the ring with Gina beside her, they slowly walk up off the beach, her stablemate Toni Garrn might be the only one back in their camp with a big grin over this result, hoping it will quiet down the bragging of Lorena for a little bit.
Blowing a kiss to every camera as she walks around the ring, Alexina making sure to thank her fans watching the feed as she looks simply overjoyed to have won this fight, leaving the ring when she is done, on this performance it could be too early for her to really contend with the champion, though she already surprised a few tonight, nothing to say she can't do it once again.