Post by girlsfriday on Aug 30, 2021 12:30:18 GMT
Raica Oliveira:
VS
Izabel Goulart: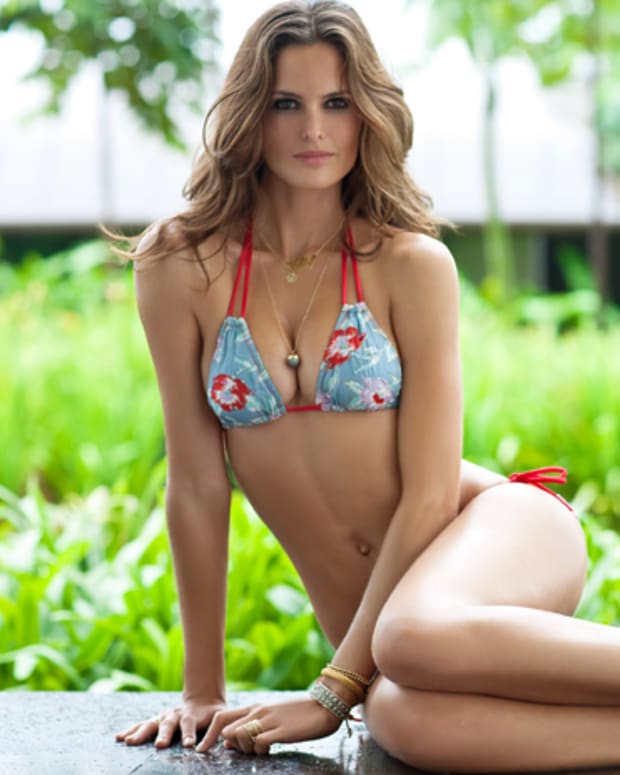 Tale of the Tape:Raica Oliveria:
Age: 37
Height: 5'10
2-2 (2KOs)
Vs
Izabel Goulart:
Age: 36
Height: 5'10
3-5 (3KOs)
(Free Agent vs Free Agent)(Written by Girls Friday/Results by Lookout!)Intro:
Two beautiful Brazilian models now clash for national bragging rights, Raica Oliveira and Izabel Goulart fight on Copacabana Beach, hoping to take a step up the rankings towards a BBU lightweight title shot sooner then later.
It's not often you have two friends boxing each other (though Yvonne Strahovski and Mary Elizabeth Winstead would disagree) in the celebrity world, Raica and Izabel can normally be found shopping together and even spar together, so it was interesting they agreed to fight.
Raica posted on her social media "can't believe that on the 30th June I get to fight one of my best friends on pay per view, never thought this photo would be more then just a fun photoshoot, here we are and Izabel you better bring your A game because I am bringing mine" she posted a picture from a photoshoot they did together.
In reply Izabel wrote "I love you Raica my friend but we need to fight to find out where we stack up in the ring, I know you have wondered it yourself, while I lost to Alessandra the last time I tried to prove myself as the face of Brazilian boxing, this time I won't fail, also when bringing up that photoshoot, I have another photo I prefer 😉 see you on the beach ✌" posing her own photo in jest.
After the exchange on their social media both women went on radio silence, reports from their camps were neither had even went to see each other or share a word, showing how much this fight means to them as a win would put them right into the mix for the number one spot in their national BBU rankings.
Fighting day has come now with no ring ropes, both have seemingly agreed to fighting with a rope marking off the ring shape in the sand, with a referee, cameramen and judges nearby, two different coloured stools mark off their corners as this is going to be an interesting set up.
First to walk towards the ring was Raica with her coach behind her, she is wearing a green silk robe, getting help taking it off as she stands in front of a red stool, revealing a lime green bikini with matching gloves, her hair in a ponytail as she bounces on the balls of her feet, stretching her arms to be ready for this clash.
Now here comes Izabel with her own quick walk to the ring, seemingly as keen to get this going as her friend is, Izabel has on a yellow robe that gets taken off as she stands in front of a blue stool, she is wearing yellow bikini with black gloves with yellow thumbs, her hair also in a ponytail as she matches Raica's warm up routine.
After a minute to warm up both are waved to the middle of the ring, hands on hips as they go chest to chest, for being friends they are taking this fight deadly serious, maybe out of respect for their friend they are going to give their all, touching up their gloves respectfully, they can't help saying good luck to each other before jogging to their corners, the bell rings to start 10 rounds of lightweight action.
Round 1:
Heading to the middle of the ring, they fist bump before getting down to business, trading stiff single punches as they look for openings, kicking up sand as they dance on their toes, Raica the first to try something as she dips down to land two short left hooks to the body, taking a right cross to the top of her head as they start to open up more.
Raica looks to press the pace, getting clipped on her cheek with a left cross, Izabel happy to box at range for the moment, peppering the cheeks of her opponent as Raica lands a few good punches to the tight abs of Goulart to keep her on guard.
As they pass the half way stage of the round, Raica slips under a left cross before slamming an overhand right to the jaw of her friend, showing she means business as she presses back Izabel towards the boundary,, throwing more power punches from her hips till Izabel is able to clinch up, referee needing to break them apart with fighters looking determined.
Final forty seconds sees Izabel start to throw more punches in bunches, slamming several good combos through the mitts of her opponent to snap her head back, Izabel keeping Raica back at bay, as they fight around the ring, with Raica thudding her gloves together at the bell, a good round for both with Raica maybe doing enough to win the round.
Round 2:
Back out they come throwing more punches in bunches, starting to let rip with real power punches as now it is looking really serious between them, feeling out process gone as Izabel cracks Raica with a left hook, she takes a right onto her jaw in reply when she tries to push forwards.
Two short hooks bash into the sides of Goulart's body after Oliveira slips under a straight, back goes Izabel again towards the boundary again, with short digging punches testing those firm abs out; stepping out the ring, referee gives them leeway as Izabel hits Raica to the side of her head with a left cross, boxing back into the ring with Goulart trying to switch the momentum around.
Past the first minute of the round, Izabel lands a one-two through the mitts of Raica, then steps back out the way of a left cross, landing a counter right across her friends face, Izabel bangs Raica out of the ring boundaries with a left/right cross combo, forcing Oliveira to clinch as Izabel looks all business right now, referee splits them up and leads them back into the ring.
Where they both go in hard, another hard fought round here as Raica finds a few more ways to get inside the reach of her opponent, while she gets clipped to the side of her head by cross punches, a little shove by Izabel has Raica open to a flush one-two combo square into her face again, which is beginning to be marked up around her cheeks.
At the bell they jog back to their stools, neither looking at their opponent as they focus on their coaches advice, getting wiped down as sweat starts to coat their magnificent bodies, Izabel bouncing on her toes as she stands first to show Raica she wants this badly, Raica nodding as she stands up off her stool.
Round 3:
Trading more hard shots as they exchange a little more closer, Raica looks to have the better upper body movement as she dodges under some hooks to dig her own counters around the torso of her friend, with an uppercut surprising Goulart as she ends up on her heels.
Knocked out of the boundaries by Raica, Izabel has to cover up as Raica has definitely took up her challenge to fight harder, a stiff jab catches Raica when she leaves her hands a little low swinging to the body when she can't find the success she wants up top.
Referee waves them back into the ring as the first minute passes by, the little break gives Izabel a chance to reset as she plants a one-two combo into the chest of her opponent to make her grimace, sidestepping a right cross to bang in a straight to the jaw of Oliveira to turn her head to the side.
But as Izabel is working her friend back, she misses with a right cross, taking a short right into her body, an overhand left cracks her on the jaw to turn her head, a follow up left cross sends more sweat from the brow of Goulart, who is finding herself being driven backwards as she covers up, Raica swinging in hooks, trying to batter her opponent into submission.
Izabel uses an opening to clinch up with Raica, both fighters grappling till they are split up, the bell rings with Izabel nodding as she returns to her stool, Raica smiles as she sits on her stool, enjoying the way things are going, the referee warning both to try to keep the fight within the boundaries if possible, they are getting a good workout chasing after these two fit women.
Round 4:
Izabel is starting to double up her jab more, not wanting to give her opponent as easier a time to get in closer, with Raica needing to jab her own way in, but she gets clipped coming in closer with a left cross for her trouble.
A missed straight by Raica leaves her open to a counter left onto her chin, an uppercut knocks her head back, onto her heels goes Oliveira as she is being hammered back, another uppercut opens up the guard of Raica as Izabel is really up for this.
Trying to clinch up with Izabel, Raica gets hit with a short right that turns her head, a left hook to the temple shakes up Oliveira as she stumbles back, A FOLLOW UP UPPERCUT SENDS RAICA DOWN ONTO HER BACK!
Izabel isn't celebrating as she goes to a neutral corner of the ring, 1...2...3...4.. Raica is slowly turning to all fours, 5...6... Trying to push herself up, 7...8.. She is buzzed badly as she wobbles, falling to her left side in the sand, 9...10 that's it! Raica is counted out!
Winner Izabel Goulart KO Round 4After:
Over goes Izabel to Raica, kneeling down to check on her friend as her first thought is for her, Raica slowly gets to her knees saying "I'll be OK, god you hit harder then I remember" smiling to show no hard feelings to Izabel, who pats Raica on her left shoulder as their coaches come over with bottles of water for them.
"God this stuff is going to be terrible to wash off, so thank you for that" jokes Raica as she is told not to mention it, both laughing and joking as if they weren't trying to knock each other out only moments before, hugging after Raica is helped to stand, they certainly won't need any help repairing their relationship after this fight.
Getting their gloves taken off, Raica lifts the left hand up of the winner, Izabel posing with her right arm flexed along with her right leg, winking to the camera as Raica says "don't get too comfortable, I will beat you next time we spar" laughing as they pose with fists up for the cameras.
Walking off the beach side by side, Izabel getting an important win to get the Brazilian fans on side, they walk with arms around the others waist talking of getting a bottle of wine and maybe an early night, chuckling as they give one last wave to the camera before they step off the beach.