Post by girlsfriday on Nov 30, 2022 0:12:15 GMT
Kelly Gale:
VS
Nabilla Benattia:
Tale of the Tape:Kelly Gale:
Age: 27
Height: 5'9 ½
W/L: 19-11 (18KOs)
Vs
Nabilla Benattia:
Age: 30
Height: 5'9
W/L: 7-3 (7KOs)
(Girls Friday Vs Free Agent)(Written by Girls Friday/Results by Lookout!)Intro:
We kick off tonight's action with a European clash. Sweden's Kelly Gale and Frances Nabilla Benattia face off for the first ever time. Both women are hoping to catch the eye of the lightweight champion. The crowd should certainly be alert to this one judging how stunning both women are.
Social media was where the fight was announced. Both women commented on the bout as Kelly posted "yep I am back in the BBU after a few unsuccessful fights in the FCBA lately. Still a win will push me right back where I belong. Too long I have been overlooked, it's about time I grab the chance a title and not just look from the outside in any longer." Very motivated to get into the title scene with the champion Holly Peers.
While Nabilla posted "I am going to fight Kelly Gale. Who is cute and all but really.. you all know who the better woman is fans. Come the pay per view I make it official after I beat her. Maybe I give her a nice early Christmas gift with my famous smother. Show the JMDD champion what she is missing." Along with a photo of herself showing off her impressive body with clearly showing off what she promises Kelly is ahead if she wins.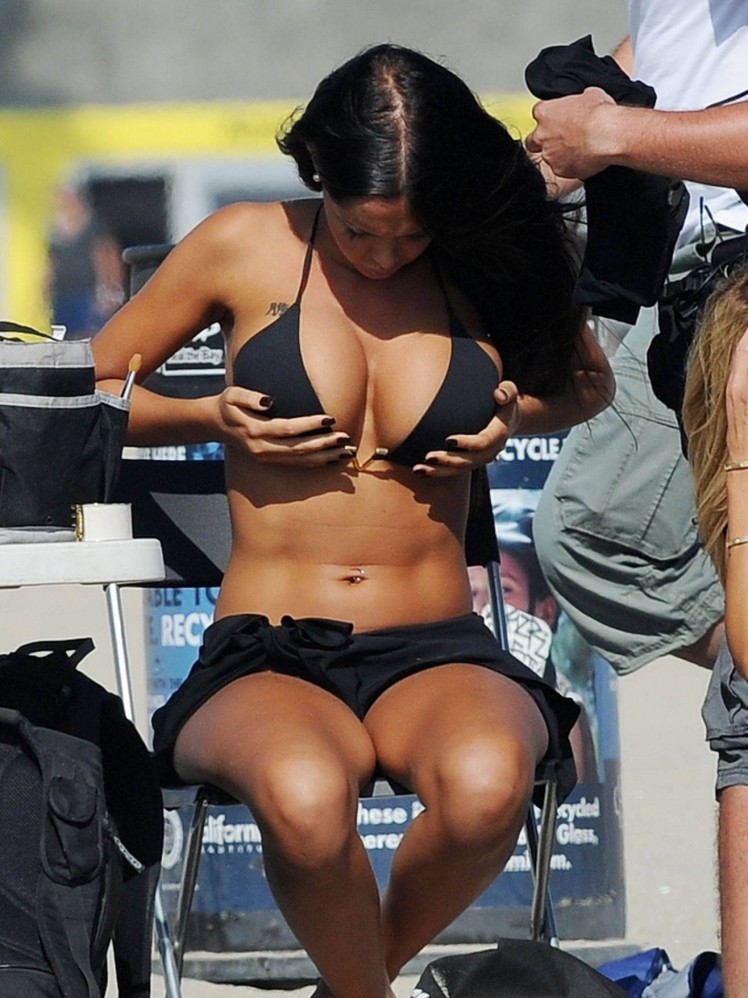 Fight night. First onto the stage in the BBU Arena comes Kelly with her coach Taryn Terrell and cut woman Eva Carneiro. She blows a few kisses to the crowd before her walk to the ring. She is wearing a yellow bikini with blue trim, blue gloves and her hair in a ponytail. Climbing into the ring with a smile. After tapping her cheeks though she is in the zone ready to battle it out.
Nabilla comes out with her coach as she wears a black satin robe that is has a high skirt line. Walking down the ring with a little swagger as she comes into this fight with a win behind her. She blows a kiss to a few guys at ringside holding the French flag up. After stepping into the ring, the robe is taken off by her coach to reveal a skimpy black bikini, navy blue gloves and her hair is in a ponytail. Cupping her gloves with a wink over to the opposite corner, Nabilla is reminding Kelly of her promise. Making the Swede scowl at her as this is getting personal.
Neither says a word when they come to the center of the ring for the final instructions. Simply putting hands on hips as they glare at each other. When told to touch gloves it is more a quick swipe then anything firm. Jogging to their corners to cheers from their supporters. The bell rings to start 10 rounds of lightweight action.
Round 1:
Exchanging jabs to start things off as they get a feel for each other. Eyes firmly locked as they step in like they are fencing. Kelly slams in the first big punch after feinting with her jab, she steps around a straight aimed her way to land a right hook on the ear of Nabilla. Landing a double jab after to push back the French woman onto her heels.
Nabilla finds herself being pushed around the outside part of the ring. Both trading combos but Nabilla can't find her way off the ropes. Having to move side to side as she is being outworked by Kelly. Who is landing crisp punches through the mitts of Benattia.
With less then forty seconds to go. Nabilla decides to go to her JMD experience with a left hook to her opponents tits. Kelly snarls but loses concentration long enough for a right hook to crack against her jaw. Nabilla forcing the issue as she drives back Kelly to the center of the ring. Working the body of Kelly up till the bell rings. Solid round for Kelly but she won't be happy how that ended there.
Round 2:
Nabilla looking to take the fight to Kelly. Both landing crisp punches through the others mitts to faces as they look to push each other back. Again Nabilla rams home a right to the chest of her opponent. Opening Kelly up to a left hook on the jaw as she takes a step back with a grimace.
Digging her toes into the canvas as she throws in hooks. Nabilla has Kelly backed to the ropes. Kelly pulling her into a clinch with both grinding their toned bodies together. Broken up by the referee, they resume with Kelly moving more around the outside part of the ring with her jab.
But another straight to the chest of Kelly. Who hisses as she tries to swing back. Getting caught with an uppercut that sends her back onto the ropes. Where she pins her to them till the bell rings to end the round. Great round for Nabilla as the French lass is grinning.
Round 3:
Again Nabilla comes out quickly. Kelly finding herself needing to try to match her intensity. A right hook hits Kelly on her cheek. A stabbing jab then pushes back the Swede. Kelly is forced back to the ropes again, her abs being tested by Nabilla as she throws piston like punches at her.
Kelly uses her left forearm to create space. Throwing in two short right hooks at the cheek of Nabilla. Moving away from the ropes but still has Nabilla stalking after her. Punching either at the face or chest of Kelly to push her back. Kelly ramming in jabs in reply to keep Nabilla charging through her.
Less then a minute to go, Nabilla missing with a left hook. Getting caught with a counter right across her jaw. Kelly taking the initiative to drive Nabilla back to a neutral corner. Pinning back Benattia as she looks to break her up with hooks and straight punches, most blocked on the arms of the French woman. The bell rings to end the round with both women staring hard at each other. Competitive nature's on show.
Round 4:
Kelly needing to get off the blocks quicker, doubling up her jab as she moves around the ring on her toes. Nabilla hunting her down as they slam straight punches into each others face. Nabilla starting to miss when she is swinging in her hooks to the jugs of Kelly, getting caught over the top with counter punches into her face.
A double jab/straight combo slams square into the face of Nabilla. Pushing her back to the ropes. Where she is slinging in hooks as Nabilla covers up. Punches coming back from Nabilla when she sees openings. Trying to move away from the ropes but getting caught by a left hook to her cheek to turn her head.
Less then forty five seconds to go, Nabilla boxing more defensively as she has Kelly now on the attack. Both drilling in punches to mark up their opponents face. With the round coming to a close. Both jogging back to their corners. Getting wiped down by their coaches as advice is given.
Round 5:
Pushing off their stools as they both look to push the other back early. Nabilla steps in with a straight under the chin of Kelly. Driving her back with hooks into her ribs as she gets right into Kelly's grill. Getting her into corner Kelly has to clinch up to slow her down.
They are split up and resume with Nabilla on the front foot. Too keen to do so as a left slams across her cheek. Nabilla misses with a right cross as Kelly dips under it, an uppercut sends her to her heels moments later. Kelly slamming in more punches square to the face of Benattia to knock her head back. This time Nabilla needing to hold on as both have needed to stop their opponents momentum.
Final minute to go, they trade stiff punches as they look to push each other back. Kelly gets clipped with a left hook on her cheek. Nabilla pushing back Kelly to the ropes. Shelling up for the final moments of the round. Nabilla throwing hooks into her stomach till the bell rings. Nabilla tapping her gloves together as she marches to her corner. While Kelly takes a breath to keep herself calm as Taryn tells her to not lose focus.
Round 6:
Nabilla looks to get back to the inside quickly, instead a short right lands on her nose. Blood starting to run from it as Kelly lands a double jab on Nabilla's nose. The French stunner throwing back from around the outside part of the ring. Looking to catch her foe with a counter but just missing as Kelly moves her head out the way.
A straight into that bloody nose makes Nabilla cry out. Uppercut sends her against the ropes. Where Kelly steps in to throw in hooks. Nabilla desperately pushing her back as Kelly has a nasty look on her face. Ramming more punches into the face of Nabilla to snap her head backwards. TILL A RIGHT HOOK TO THE TEMPLE OF NABILLA MAKES HER LEGS TURN TO JELLY. A FOLLOW UP RIGHT HOOK SENDS HER TO THE CANVAS ON HER SIDE!
Kelly jogs to the neutral corner, eyes shut for a moment as she takes in a breath. 1...2...3....4... Nabilla rolls to her front. 5....6... Getting to all fours with a shake of her head, blood running from her nose to the canvas. 7....8... Nabilla pushes to her haunches but looks glassy eyed. 9...10 she doesn't get up! Instead getting counted out!
Winner Kelly Gale KO Round 6:After:
Kelly gets the win after a hard fought battle. Arms in the air as she returns to her stool. Taryn gives her a fist bump and a smile. Happy to see her come through this test. Kelly sitting on her stool to get a drink and washed down with a sponge by Eva.
Nabilla meanwhile needs help to her feet. Led over to her stool, Nabilla is checked over by the ringside doctor. She seems to have come fully around moments later. Her nose being patched up as she looks bitterly disappointed after having several strong moments in the fight.
Once both women are cleaned up they head to the middle of the ring. Nabilla is still a little shaky on her legs. After the result is announced Kelly gets her left arm raised in victory. Nabilla looks to the heavens as if to ask why it wasn't her taking victory today. Neither fighter says a word to the other. Instead Nabilla just heads out the ring with her coach beside her.
While the result wasn't what she wanted by any stretch. Nabilla should still take heart she produced a good performance. JMDD fighting seems more her strength. With a JMDD fight later with two big names in, maybe Nabilla should keep a close eye on that fight.
While in the ring Kelly tells the nearest camera "I will get my shot at the title. I won't wait too long." Arms in the air as she gets a cheer from her supporters. Kelly wanting to be in the title picture. Something that might be too early for her. Of course Holly Peers would have probably been watching this fight closely as Kelly can push herself into the frame for a shot if she can get on a real run.
For now she leaves the ring with her corner crew. Both Eva and Taryn put an arm around Kelly's back as they all are side by side with Kelly in the middle. Big smiles in the Girls Friday camp as this has been a big month for the stable.