Post by girlsfriday on Sept 28, 2017 15:03:29 GMT
Vs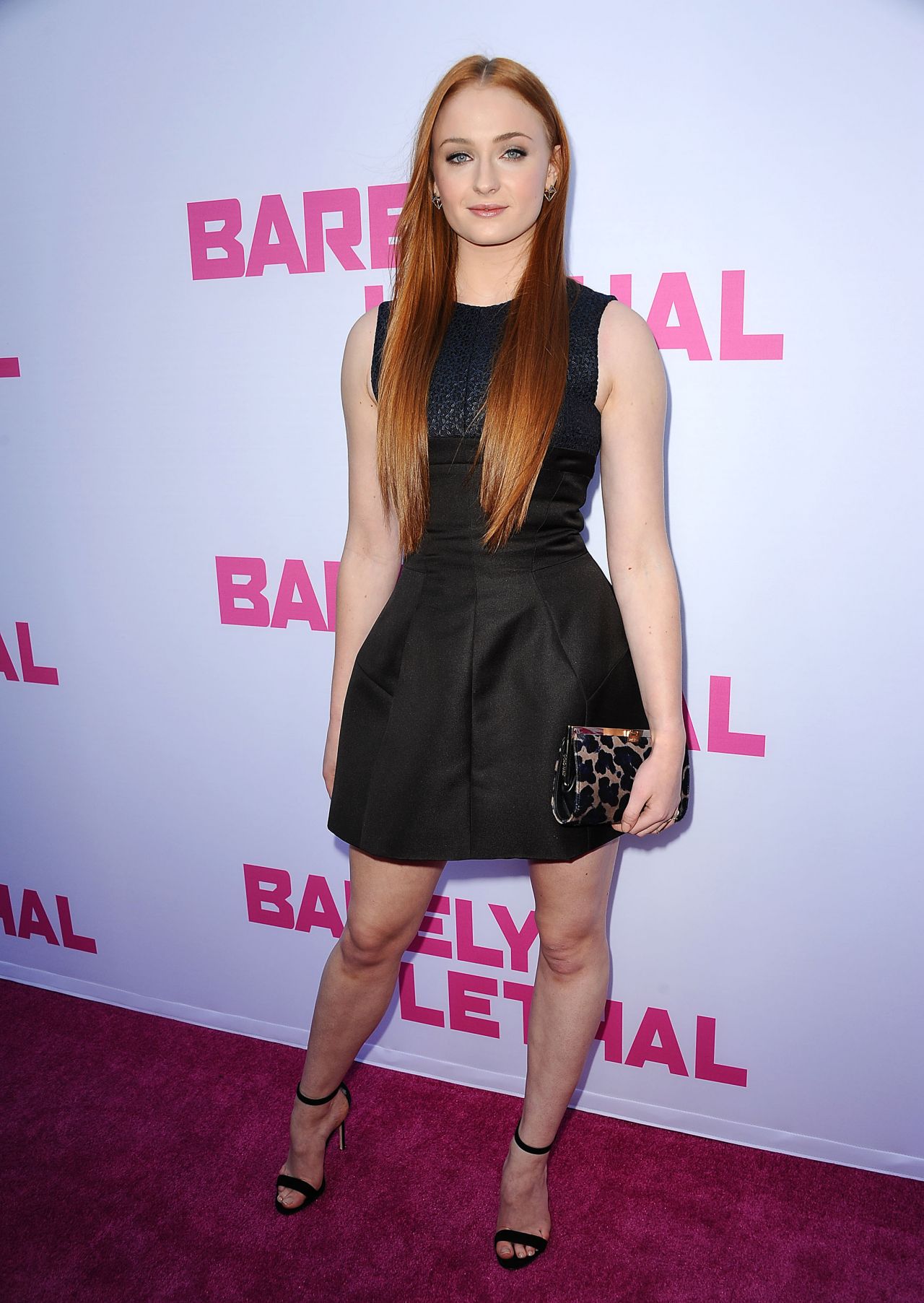 JESSICA MICHIBATA VS SOPHIE TURNERResults:Vassago Writing: ArcherBBU PPV Jessica: 32YO, 5'8 (1.73 m), BBU Record: 5-1-0, 5 KO since 2016, Girls FridaySophie: 21YO, 5'9 (1.75 m), BBU Record: 2-0—0, 2 KO since 2017, Foxfire BoxingBefore:
Jessica Michibata looks resentfully at Sophie Turner from the pre-fight podium.
"Sophie Turner comes in to the BBU. She beats my stablemate Kelly Gale. Then she beats my best friend Yasmin Verheijn. I decided right then and there that I was going to put a stop to her lucky streak—and I will!"
With that, the Japanese (of Argentinian descent) model gives Sophie another dark look and marches to her seat. She sits down, crosses her arms and continues to give the British actress hostile stares Sophie Turner looks more than a little bewildered as she takes her turn at the podium, but she then turns her back on Jessica.
"I am sorry Jessica feels that I have merely been 'lucky' in my first 2 fights here in the BBU. It is no fun watching your friends lose, but the fact is ((and now Sophie looks over at Jessica)) I was better than Kate and I was better than Yasmin. That's why I won. Luck was not a factor. I can see that Jessica is in a vengeful mood. I'm not going to be panicked when she comes at me as early in the fight as she can. Patience and a cool head are much better in a fight. I am sure when it is all over Jessica will realize I won because of my boxing skills, not something like "luck". Thank you all for coming, I think I have said all I intend to say. Jessica: see you in the ring!"
Sophie then turns her back on Jessica and exits. Jessica is not pleased at this and storms off the opposite side of the stage. Jessica in lacy light blue bikini lingerie set with light blue gloves and boots.
Jessica has her brown hair in a sleek ponytail. Sophie is in a lacy black bikini lingerie set with black gloves and boots. Her red hair is in an elaborate battle braid down her back. Sophie and Jessica giving each other cold stares during the ring instructions. Sharp swipe of the gloves and they go to their corners. The bell sounds…
R1:
Jessica goes right at Sophie and attacks her with driving lefts and rights to the stomach and ribcage. Sophie seems surprised by the strength of Jessica's punching and then as she is trying to work out what to do about it—Jessica gets an uppercut into the redhead's chin. Sophie falls back on shaking legs and flails wildly at the rampaging lingerie model.
Jessica now pumping nasty shots into Sophie's bra cups until Sophie finally drives her back with a stiffening jab. Jessica then trying for Sophie's head, but Sophie able to block or blunt these punches, Jessica pounds Sophie's belly and ribs until the bell rings.
Jessica then steps back and gives Sophie a quick head turn that brings Jessica's ponytail lashing across Sophie's face! Sophie outraged at being pony lashed, but referee moves in quickly to intercept her as Jessica scampers away
R2:
Sophie comes out angry this round, but it doesn't seem to do much for her boxing tactics.
She comes rushing at Jessica and promptly gets smashed hard to the jaw with a solid right and the follow-up left rakes across her chin. Sophie retreating in confusion as Jessica stays close and hammers Sophie's body, with uppercuts making Sophie's breasts shiver in their bra cups and shots to the stomach that soon have Sophie leaning forward and gasping for air.
Now Jessica able to bang punches off the sides of Sophie's head. Sophie now hunched up and trying to back away. Jessica just keeps up the pressure and Sophie has trouble getting much going in the way of counters. She manages just enough to avoid being shutout but Jessica Michibata wins her second round by a wide margin.
R3:
Sophie now a lot less aggressive and Jessica is more than happy be the one doing most of the punching.
Sophie does have a better organized jab, but it is not slowing Jessica down and the model she showing no signs of early fatigue.
In fact,Jessica is now showing some footwork that has Sophie confused and off-balance as the round progresses.
Sophie looks increasingly frazzled and then Jessica pulls off a neat feint with her left aimed at Sophie battered breast works and Sophie lowers her guard.
BANG! Jessica puts a strong right under Sophie's chin. Sophie stumbles back ends up taking a seat on the ropes. Jessica swarming in pounding away as Sophie goes face in gloves and endures the punching to the exposed side of her body.
Bell sounds and Jessica steps back. Sophie lowers her gloves to find Jessica looking down at her with a triumphant expression. Then referee moves in to send Jessica on her way. Sophie peels herself off ropes and trudges to her corner realizing that Jessica has won another round.
R4:
Sophie getting an urgent conversation with Foxfire trainer Rachel Nichols who has accompanied her on this trip.
It quickly becomes apparent that Sophie has adopted a new strategy, she charges at Jessica and plunge right into a fierce battle at close range, Jessica seems happy to fight like this as she and Sophie exchange body punching.
Jessica setting her feet and trying to use them to add push to her punching. Sophie starting to fall back again, but then Sophie rallies and uses the jab to hit Jessica hard to the breasts. Jessica's attack falters and then Sophie breaks through Jessica's high guard to smack her hard to the jaw. Jessica sent backwards as her knees start to sag.
Sophie cutting off ring and steering Jessica to ropes. Time runs out before Jessica is on the,but Jessica is left looking shell shocked and bewildered as Sophie Turner steals the round from her.
R5:
Sophie finds Jessica slow to react at the start of this round and this allows the redhead to work her body over in a methodical leather shelling. Jessica in full retreat forcing Sophie to give chase.
Sophie looking annoyed at these tactics and starts lunging at her elusive quarry. Turns out, this is just what Jessica appears to have been waiting for.
One lunge too many and Jessica stuns the redhead with a sidestep and quick shot to the side of the head. Then Jessica steps back in front of the momentarily frozen Sophie and unleashes a vicious right/left combo to the jaw.
Sophie now the one in retreat, trying to cover it with the jab, but Jessica counterattacking the vigour and has Sophie covered up and dominated by the bell. Now it's Jessica stealing a round from Sophie.
R6:
Sophie coming out aggressively, but the attempted comeback is crushed by Jessica.
Again using the feint this time aiming at the head of Jessica instead strikes Sophie in the solar plexus.
Sophie's knees buckle as she turns gray and folds into a kneeling position on the canvas. SOPHIE TURNER IS DOWN!
Again Sophie looks up at a triumphant Jessica,but again referee has to order Jessica to the neutral corner, Sophie able to pull herself together and rise to break the count.
Jessica comes charging back in, but now Sophie is showing some very good footwork as well as a covering jab. Jessica now the one frustrated by an elusive opponent, but the knockdown ensures she's won the round. Jessica breathing hard at the bell and looks disappointed at not being able to finish Sophie off this round.
R7:
Both fighters attacking early with Jessica going all-out to try to end this fight,but she can't seem to land a decisive punch on the now faster moving Sophie.
Sophie showing patience as she lets Jessica keep attacking and then breaking up the attacks with good jabs.
Jessica struck repeatedly to the face and she is starting to seriously lump up. Still, Jessica keeps punching away at Sophie's body, but it becomes evident that her punches are lacking the power of earlier rounds.
Sophie then counterattacks late in the round and drives Jessica back with strong rights and lefts that rattle her head. Sophie then hooking to the belly, sending tremors down Jessica's legs as she struggles to escape the bombardment.
Round ends with Jessica swaying, panting hard and suddenly looking exhausted. Sophie fired up, stands in front of Jessica and stares her down. Referee has to intervene and Jessica just walks slowly to her corner. Sophie smiling grimly knowing her late surge ensured the round goes into her column.
R8:
Jessica has a look of desperate determination as she comes out for this round. Sophie is coming at her hard, but Jessica is now trying to land a blockbuster punch that could turn this fight around in an instant. Trouble is, she can't land it.
Sophie ducking and dodging these punches and countering with jabs to chin and jaw, Jessica starting to fade as Sophie accelerates her punching and scores with a right cross to the jaw that spins Jessica around. JESSICA FALLS TO ALL FOURS. Jessica kneeling there, looks up to Sophie looming above her, but then Sophie moves to neutral corner when she sees referee headed over. Jessica makes an heroic effort and is able to stand and beat the count.
Referee seems uncertain about allowing this to continue, but Jessica insists she can go on. Referee waves Sophie back in and she proceeds unleash an awful pounding attack on a quickly overwhelmed Jessica.
Sophie going to the body first, just going at ribs and belly like they were a punching bag, Then she adds to Jessica's torment with driving rights and lefts straight into her breasts. Jessica hardly fighting back, covers her agonized chest with her gloves. Sophie unleashes a final flurry into Jessica's chin, Last right uppercut actually lifts Jessica off her feet and sends her sprawling on her back. Jessica rolling from side to side, arms around her chest as count starts. Jessica finally rolls to one side and tries to stand. She gets to one knee and the falls over onto her back.
"EIGHT!...NINE!...TEN!...YOU'RE OUT!"
THE WINNER:SOPHIE TURNER DEFEATS JESSICA MICHIBATA KO8.AFTER:
After waving and nodding to acknowledge the cheers of her many fans, Sophie heads across the ring to check on Jessica.
Jessica is slumped on her stool, a towel over head and staring down at the floor.
When she hears Sophie's footsteps she looks up. "I trust you now realize I haven't been winning due to mere luck," Sophie says.
"I knocked you down! I was SO close to beating you. Tell me it wasn't luck that save you" Jessica blurts out " I am tough. That's why I could get up after the knockdown and I hung in. You ran out of stream Jessica — I am in better shape and I have better boxing skills," Sophie pointed out.
"Stop rubbing it in," Jessica groaned. "I wasn't expecting the fight to last so long."
"But it did and I was strong enough longer to take you out. You're a good fighter Jessica, but tonight I was better and that's why I won," Sophie said.
"I hope you don't have hard feelings about it."
"The day I don't have hard feelings about losing is the day I need to hang up my gloves," Jessica retorted, but then added: "but if you are asking if I am angry at you, no, I am not. I admit you are good, but I warn you, BBU girls will be after you more than ever."
"Let them come," Sophie said. "I came here looking for challenges and so far I have found them. Thank you for the fight. I hope you'll heal up soon."
"Nothing a few days of ice packs can't cure," Jessica said with a smile. Then she rose and gave a surprised Sophie a hug.
"That was unexpected," Sophie said, "but thank you. Now I'll leave you in peace. Thank you." With that Sophie Turner walked back to where Rachel Nichols waited in the Foxfire. The crowd seemed to like the polite post-fight and gave both fighters a warm round of applause.
Jessica Michibata curtained gave Sophie as very stiff test tonight and came near to pulling off an upset, but Sophie Turner able to rally. Then better conditioning and footwork helped her turn the tables on Jessica and emerge with the KO win.
What next for Sophie Turner? No word out of Black Swan Hall, but 3-0 record to date has begun to attract attention. Next fight could be interesting.