Post by girlsfriday on Sept 28, 2017 15:07:44 GMT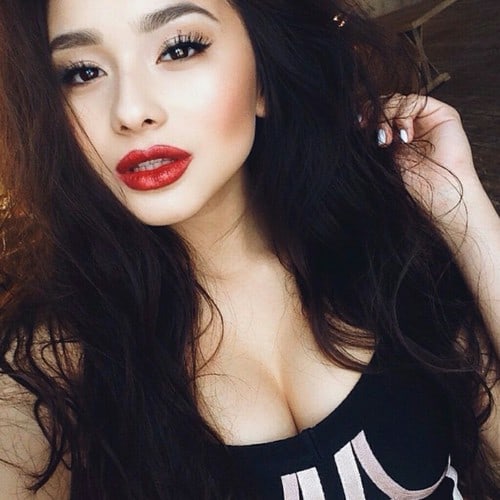 Vs
Diana Korkunova vs Mathilde Tantot
Diana:
(21, 5'5, 4:2 BBU, SIRENs)
Mathilde:
(23, 5'9, BBU Debut, Free Agent)(Written by Caspian/Results by Vassago)BEFORE:
Much fanfare as Diana Korkunova makes her return to the ring after a few-month hiatus. Spunky raven-haired beauty is all-smiles as she takes to the ramp in nothing but black undies, dark blue shawl draped over both shoulders covering everything but her belly button.
Her opponent tonight is French beauty, hot, blonde, sexy and all other sensational adjectives thrown into the mix to welcome the newcomer, as she towers over the SIRENs' little girl by comparison. Of course, some questioning the merits of such a match up whilst others asking if newcomer Mathilde Tantot might nullify her own height advantage when paired with someone like Diana. Regardless, French girl has French flair for snobbery alright, sneering at Diana when approached by reporters before the fight:
"They tell me that height iz everything in this game. Well, I'm four inzhes taller than thiz little child. It'll be so eazy to knock her pretty head off," Mathilde saying in that thick French accent of hers.
Diana not perturbed by comments, and rumour has it that the little brunette was the one jumped at the chance of this challenge herself, eager to prove that she can straddle more than one weight division.
"Everyone's been telling me I'm crazy for accepting this fight, much less getting myself excited for it. True that Tantot's taller (and meaner), but I'd like to think that I make up for it with what I've learnt in the ring so far, and of course, some blind luck"
As you can imagine, the weigh-ins are not exactly pleasant, each girl keeping their distance but clearly not out of respect for each other.
Diana is in black lingerie and red gloves, whilst Mathilde is in stunning red bikini, both their heads of hair tied into neat ponytails. Offer to touch gloves by Diana is decidedly ignored by Tantot as the round herds them back to corners. No surprises there, I suppose. Bell rings and here we go with ten rounds of Fly--? Bantam--? Catch weight action!
ROUND 1:
Diana's optimistic talk kinda comes to screeching halt when the blonde giant comes barreling down at her and she hesitates for a moment, unable to decide whether to fight or flee.
Worse choice is to freeze, and that's what Diana does, allowing Mathilde to score first stiff whack whack whap with tentative jabs to the face. Thankfully though Mathilde also taking her first baby steps, doesn't rush in to punish her off immediately, instead continues firing jabs from afar, but by now, Diana's blocking them as she gets in rhythm, of peppering her guard. Diana looks visibly annoyed, trying to deal with these death blows from above as Mathilde tries to impose her height, which leaves the Siren unsure about how to attack the taller woman. She resorts to throwing counter blows into Mathilde's body, which is an easier target, but for the most part Diana's the victim of the French woman's imposition on her this round, and the Siren lacks the aggression to fight back.
In final seconds, Mathilde takes another odd blow to her sternum but Diana not known for her stopping power and Tantot just grunts before sticking another jab into her face and chin.
Result is a drawn round overall with both girls hanging on to their own tails. I guess kudos to Diana who doesn't back away in the face of a bigger adversary threatening to blow her over...
ROUND 2:
Diana knows she has to up her tempo in order to actually score points, tries to go on the attack early this round but underestimates her rival. Mathilde comes straight at Diana and also starts to exert herself - both girls trade jabs into each other's face, Diana noticeably having to angle her blows at an upward angle to score on chin, whilst Mathilde having better luck looping her punches down below the eye level, letting gravity assist in landing her shots.
Soon, Diana has had enough of the back-and-forth, decides to weave her little head left and right and successfully denies Tantot of targets. Tantot getting more frustrated as her punches now barely even landing as the little vixen evades her with her smaller size and agility.
Diana with return fire now, sticking her gloves the vulnerable body, gradually withering away at resolve. Last minute however sees Diana make a mistake: she decides to suddenly surge forward to try and brawl - her first two punches land with a smack smack on Tantot's body, lurching her forward, but Diana gets greedy and tries to put her away there and then, burying right hand into pit of belly over and over, but Mathilde simply exerts her height and bigger size in close quarters, wraps arms around back of Diana's neck, controlling her with a huff, then slamming her own hooks into the poor girl's face as Diana gets thrown about like leaf in the wind.
Looks like another drawn round at first glance, but the stats showing Mathilde was the one landing more often that her rival, and every indication is that she takes the second round for herself.
ROUND 3:
Diana looking demoralised at the bell, perhaps some regret creeping in that probably fighting someone four inches taller than you is not such a great idea. Well, nothing she can do now but weather the storm.
And what a storm it is - Mathilde showing great stamina for her debut performance, keeps up the tempo by striding forward immediately and snapping right hand straight down the middle of Diana's guard, almost penetrating arms to sting the face.
A powerful shot nonetheless, as Diana experiences it first hand that a bigger girl equals bigger punches, throwing her back and about.
The rest of the round sees Diana continue to bleed out like she's caught in some bear trap.
She tries to switch gears mid-way by running away from Tantot instead of at her, but doesn't count on Mathilde's own speed to match her own as the French girl manages to stay on Korkunova's pace with her own long legs, continuing to hound the smaller girl with lefts and rights all the way to the bell.
ROUND 4:
It's Mathilde's corner's turn to advise their girl to go all the way in and finish her off, but the French girl finally appears to run out of breath and is slow to rise from stool.
She does as she's told though, walking in a straight line towards Diana but that eager spring in her step clearly all gone.
Diana is the one who scores first skin as she again absorbs another barrage of jabs to her forearms but immediately SNAPS BACK with a hook to the side of Mathilde's face! UGHH! Mathilde has look of shock - her lips form an 'O' as face rotates to one side. Taste of what it's like to get your head swivelled on its hinges for Mathilde as Diana repeats the move again with another blow to face.
Siren follows up with more digging punches up into the body and starts to see some well-needed light at the end of this tunnel. Crowds excited by this sudden change of fortunes: it's the bigger girl now staggering back to the ropes, one hand still cradling her jaw to check for damage, but Diana couldn't care less, comes chasing after her. Mathilde lets out another grunt as her stomach compacted in by one-two uppercuts straight to the middle, Diana getting her revenge with alternative punches into the blonde's chest and chin, chest then chin!
However, Korkunova is too slow in trapping the blonde in one corner, with Mathilde easily using her longer legs to create more and more distance between both girls, striding her battered form backwards.
And when Diana tries to carelessly follow after she's met in the face by a surprise haymaker from Mathilde, who steps forward and packs power into that right cross!
Diana's turn to groan it lands clean and hard on the nose, and now she's the one staggering back to the ropes, and there she hangs, panting hard. Here comes the bigger girl, intent of showing similar amount of mercy, barrage of punches landing on Diana's lithe body, spanking her just below the chest and above the navel to dull grunts from her thin lips.
Thankfully though, the bell rings just as Mathilde winds back to deliver knockout right hook to the face. Diana's saved, but certainly not looking like in the best shape! Tantot sauntering back to her corner with smug grin on her face, a 'I told ya f*cking so' written all over.
ROUND 5:
Tantot struts in to deliver the killing blow and Diana just looks caught in the headlights , eyes widen with grim realisation that she's bitten off more than she can chew.
Hard hooks start landing on her raised guard as Mathilde tries to dominate in the first minute and then put her away…
Diana getting buffeted about as the blows land on her arms and ears, but for the most part she shows her poise and composure as she hangs in there, but hell if she's clearly losing the round anyways on points.
Diana trying to use her feet to get away, create space by jabbing back at her assailant's face in periodic but effective punches, and at least prevents a shutout when her punches land clean on a frustrated Tantot's mouth.
Tantot growling each time she's denied, curses in French as she tries to knock this midget down for good, but so far can't find firm success.
That all changes in the third minute when Diana gets herded into a corner, absorbs another left right hook to her earmuffs which ruffles her feathers… but Diana has nowhere else to go but forward - she wades in close to deliver a spanking left-right combination along Mathilde's waistline, but puts herself in danger when Mathilde returns with a right hook that CRASHES into her face CLEAN! Diana's body torqued to one side along the ropes, and before she can recover, chin meets another haphazard uppercut as Mathilde lunges at her with another lucky swing.
Hell though - it's enough for Diana to go crashing down on all fours as her back rebounds on the ropes! KNOCKDOWN for the French beauty!
Crowd in uproar of course as they're clearly starting to pity the underdog in this fight.
No such lucky from Mathilde, whose condescending smile is back on track as she struts to neutral corner with both arms raised high.
Diana sulking but sucking in precious air, shaking her head vigorously as she tries to recover. Cutie pie look all but gone now, red-faced gritting of teeth as she rises back up bit by bit, recovers by the count of 7, showing a tenacity befitting of the older girls on the roster.
The round resumes and here comes Tantot AGAIN - that hopeful look all but evaporated as she wonders what the f*ck she has to do to put this smaller girl away.
Lots more, it seems. Diana backing away as much as she can for remainder of the round, not about to make that same mistake of getting trapped again.
And Tantot seems to be running of gas herself, chasing the agile girl and just swinging at empty air as the last few seconds ticks away.
ROUND 6:
Shouts of encouragement from the crowd contrasting against vicious taunting from Tantot in between rounds, who's trying to play psychological warfare with venomous "You're dead meat, Korky!" and "You can't run away from me forever!" Diana surprisingly still smiling as the bell rings and she comes forward to brawl, Tantot meeting her in the middle also eager to throw down, but eats a right blow all of a sudden from Diana, who decides to go with blitz tactics in the first minute, coming in with fast jabs and then scooting out of the way, evading her foe's big return hooks at her head.
Tantot showing off nothing but her frustration with those wild grunts elicited each time she takes a big swing but misses completely.
She's doing her best to follow Korkunova around the ring as her prey retreats, luring her in, but finding it harder and harder to sustain the momentum.
Her corner trying to shout advice at her: be patient and let her points do the winning, but it's going in one ear and coming out the other, as Tantot continues to overexert herself well into the third minute.
Diana weaving back, then bunching in cheek with right hand, bobbing other way then spanking right hook to the body, followed by a left uppercut that grazes Mathilde on the chin! Mathilde's stunned and suddenly wobbly as that last exchange too much trauma to bear…
She suddenly freezes on the spot, and Diana capitalises with a step forward and BANG - left hook swivels her head to the other side! DOWN SHE F*CKING GOES! Equally slender Tantot blown off balance by that beautiful hook, knocking her clean off her feet and down to one side! KNOCKDOWN for the Siren!
Diana leaning back on the ropes, looking slightly relieved for this brief respite.
Pundits get a good look of her equally battered body and reddened face - kudos to her for hanging in there so far with bigger opponent.
Tantot is blindly grabbing for the ropes as well, her eyes squeezed shut but her lips contorted in rage as she growls loudly at every step back up to her feet, looking for revenge at the count of 8. Uh oh. Could Diana have simply awakened the sleeping giant?
Referee waves to continue and here comes Tantot AGAIN, blindly charging at her foe! Diana prepared this time though, takes a jab, right hook up high as Tantot continues to wail away thinking sheer power will do the trick, ignores the counter blows landing one two three in between her attacks: Diana quick snapping of fists into the nose and lips, pushing the head back, then chopping under-hooks into the belly left right left folding the bigger girl over in half with a Uhhhggg.
Now Tantot is retreating, upper body hunched over and looking completely defenceless - Diana on her every step of the way backwards, stuffing more right hands into the body and chest... 30 seconds left on the clock but it's simply too much for the Frenchwoman to take! DOWN she goes on her knees for the second time this round, a deep moan from lips as the aching pain overwhelms her. IT'S OVER!!
Official Decision: Diana Korkunova defeats Mathilde Tantot via KO6!AFTER:
What a show what a show! Mathilde was leading on points after the fifth round, even knocking the Siren down once, but unfortunately she showed a glass jaw and vulnerable belly in the sixth.
Pundits speculating that she could be leaking punches despite contending physical presence. Now, she's recovering in one corner, looking dazed and face sweat-soaked, refusing to shake Diana's hand when approached when approached by the ever-gracious girl.
Diana insulted inside but not showing it, lets her open hand linger for a while in Mathilde's face, whilst the crowd jeers at the poor sportsmanship. Regardless of her behaviour, I have a feeling we're gonna be seeing much more of the Frenchwoman in the ring. For now, it says much that a fighter four inches smaller was able to beat someone bigger. Diana will be first to admit that she was having some missteps in her brief career, but now it's clear that she's on track for greater things to come with a big victory here tonight!