Post by girlsfriday on Nov 30, 2017 17:41:07 GMT
Vs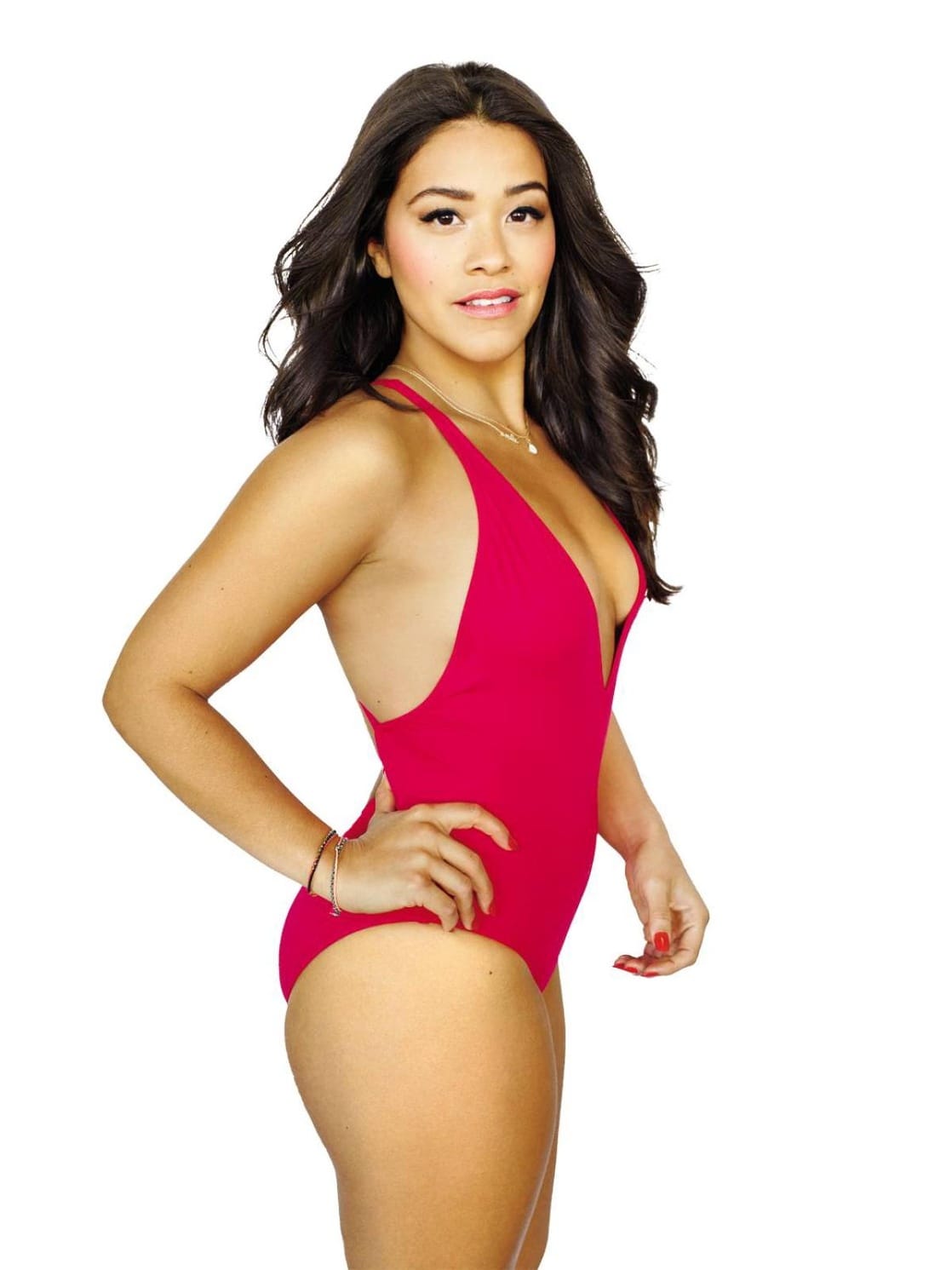 AMBER MARSHALL VS GINA RODRIGUEZ
Results:Lookout Writing: Archer
BBU PPV Bout
Amber: 29YO, 5'5 (1.65 m) BBU Record: 1-1-0, 1 KO since 2017,. Foxfire Atlantic Boxing Gina: 33 YO, 5'3 1.2 (1.61 m), BBU Record: 1-0-0, 1KO since 2016, Free AgentBefore:
"I have to admit is a little off that two North American TV actress are fighting here in the UK," says Canadian actress Amber Marshall (star of the long-running Canadian girl-and-her-horses TV show "Heartland", "but it's still a celebrity boxing bout and I'm here to win it. I'm 1-1 in the BBU right now and I mean to get back on the right side of .500 by beating Gina."
Gina Rodriquez, star of the American series "Jane, the Virgin" (The CW network) seems equally bemused and just as determined: "I will fight wherever I can find a bout. I've had action here and in the States, not many fights, but you need fights to get fights. So I am just as anxious to win as Amber Marshall."
BBU fans know Amber a bit better than Gina since she's had 2 fights in the last year.(Amber beat "Orphan Black" actress Tatiana Maslany, but lost to "Game of Thrones" actress Emilia Clarke) Gina had her 1 BBU fight in 2016 (where she knocked out Hannah Tointon). Both fighters willing to stir up the crowd. Amber appears first, she is wearing a "Western-look" fringed faux-buckskin one piece with a Stetson cowboy hat which she waves to the crowd and does stir up some support. (She is also wearing dark brown gloves and boots, her blonde hair is in double pigtails).
Gina Rodriguez down to the ring in a striking red one-piece swimsuit. She has matching red gloves and boots. Her dark hair is in a ponytail with a red ribbon.
Gina has a winning smile and stops to chat with interested fans lucky enough to be sitting in aisle seats. Crowd is now nicely warmed up as they meet in the ring.
No nonsense during the ring instructions. Both fighters seem serious and are here to fight.
Instructions are finished promptly., Touch of the gloves and the ladies are in their corners. The bell rings…
R1:
Amber wasting no time in going for Gina to the body, Gina's a bit smaller than Amber, but her body is an tempting target.
Amber sends her gloves plowing into Gina's belly, then smites her to the ribcage and adds some knocks to the breasts for good measure.
Gina standing up well to initial barrage counters with hooks to Amber's stomach, but shows she has a quick overhand right to smack Amber in the face.
Amber redoubles her body attack and she is pushing Gina back with her steady punching all over Gina's tempting torso.
Gina stubbornly fighting back with the jab and she goes clout Amber to the sides of the head swiveling it right and left as the blonde's pigtails dance. Amber then shifts attention to Gina's chin and rattles it with some nice uppercuts late.
Gina falling back a step or two, but promptly comes back only to be stalled by repeated Amber Marshall belly hooks. Gina fights back, but Amber landing better and it allows her to win a close opening round.
R2:
Gina comes back at Amber to start the second stanza of the night. She is hammering Amber's ribs over and over, Amber starting to feel the burn and tries to drive Gina back with counters to her body.
Gina seems to be able to the absorb the counters and continue her attack on the blonde's ribcage.
Then Gina realizes Amber's gloves are coming down to protect her ravaged ribs and Gina puts a quick one-two left/right to the chin.
Amber freezes for a moment and Gina getsan overhand shot directly into Amber's right eye.
Amber recoiling, but recovers to attack Gina in the breasts, Amber not known for jug mugging but she does shows a variety of breast punches from uppercuts to the undersides to straight driving shots and finally sweeping left and right punching.
Gina scowling, plainly not likely the attack on her breasts, but she gets her revenge by smacking Amber in that right eye and then bloodying her nose. Amber pulling back and Gina following with more rib punching to the bell. Gina wins this round close and has the satisfaction of Amber with a rapidly swelling discolored area around her right eye as well as blood dribbling down her chin from her afflicted nose.
R3:
Hard work by the Foxfire Atlantic cut crew gets Amber's bloody nose repaired and that right eye fixed as much as possible.
Amber ready for action at the bell and she goes at Gina with fierce determination.
Amber striking now at Gina's head and seems intent on seeing if she can give her smaller opponent a future black eye as well.
Gina showing good evasive tactics, moving her head and bobbing up and down to make her face a poorer target. At the same time she continues her pounding of Amber's ribcage, though she throws in belly hooks and the occasional overhand shot to the face. Amber starts circling Gina and firing away at the middle distance.
Gina not liking this as she has to lunge after the retreating blonde, but she can't seem to get in to her preferred close range.
Action is plentiful and the crowd is cheering them on as they duel to the bell,Amber finishes with a quick shot to Gina's mouth that splits her lower lip.
Amber now gets to see blood trickling down Gina's chin though the smaller brunette glares at her with defiance.
R4:
Amber on the attack again as the fourth stanza gets started, she returns to her circling, middle distance punching.
She initially goes for Gina's head, but Gina shows better defensive skill this time and Amber's shots are getting deflected or miss altogether.
Amber then comes in and starts working over Gina's body, Gina seems surprised that Amber now willing to fight in close and she gets banged hard in the breasts and belly before she can get her counters going.
Amber looking confident as she tries to increase the pressure, but then Gina unexpectedly steps to the side and smashes a right into the side of Amber's head.
Amber staggers away and Gina quickly pursues and brings left and right uppercuts into the blonde's chin. Amber's head snaps back as her gloves fall to her sides, Gina pounds Amber's wide-open ribcage AND AMBER DROPS TO HER KNEES! Amber looking pale and trembling as she wraps her arms around her ribs, Gina marching to neutral corner, referee moves in and starts to count.
Amber makes a great effort and gets to her feet at "EIGHT!" Referee seems doubtful about letting this go on, but Amber insists she can continue. Referee waves Gina back in and Gina goes right after those ribs, but Amber all hunched up protectively and using a desperate jab manages to hold off Gina to the bell.
However Gina's knockdown of Amber ensures that she has stolen the round away from the Canadian blonde and won it wide.
R5:
Amber looking stiff and uncomfortable coming out for this round. Gina is looking fired up and she closes in on the blonde striking first at those tender ribs.
Amber trying to keep back from those body shots, but Gina is pressing in hard.
Hooks going into belly and then back to the ribs, Amber trying to jab the brunette back, but Gina seems to sense a weakening prey and she comes forward with more hooks to the torso.
Amber hunching up again around her midsection, but then Gina makes her true finishing moves: hard rights and lefts smashing into Amber's undefended jaw.
Amber shudders to a halt, frozen and then Gina goes to the chin with quick uppercuts.
Amber somehow still on her feet and Gina gives her one last cracking right to the jaw. DOWN GOES AMBER! Amber spins away as her legs give way and she lands hard on her side. She rolls over onto her back and lies there, arms around her ribs as she moans softly, Gina wastes no time getting to neutral corner and referee moves in to do his duty.
Amber makes some efforts to rise, but all she can do is roll on her side and rise up on one arm just as the referee declares: "YOU ARE OUT!"
Amber hangs her head as Gina climbs the corner ropes and exults in her victory.
THE WINNER:GINA RODRIGUEZ DEFEATS AMBER MARSHALL KO5!After:
Amber helped back to her corner by the FAB corner staff and revived.
Then, suddenly,Gina Rodriquez appears, Amber takes one look at Gina and knows she's in for it now.
She gamely staggers to her feet "You want to walk me?" Amber asks.
"I was thinking of that, but then I had another idea," Gina says and spots a FAB attendant holding Amber's cowboy hat.
She snatches it away and puts it on. "I saw what you did with Tatiana Maslany, I think a bareback ride would be just the thing"
Amber turns pale, but knows she's just getting a dose of what she handed out to Tatiana.
She glumly sends forward so that Gina can hop on board, wrapping her legs around Amber's waist.
"Giii-uppppp!!!"Gina cries and digs her knees into Amber's ribs. Amber yelps and starts trotting.
"You can go faster than that!" Gina scolds and digs into those knees. Amber picks up the pace and Gina waves the Stetson as they trot around the ring. One… two circuits… Amber's knees are trembling. Gina has grabbed Amber's pigtails and uses them as reins to steer the panting, gasping Amber in center ring.
"I can't do this anymore!" Amber groans and falls to all fours.
Gina deftly jumps off and poses next to the exhausted Amber as she kneels on all fours.
She then places the hat on Amber's head, gives her a healthy slap on the rump and strolls away as Amber collapses in a heap.
"I wanted to be sure everyone remembered this fight," Gina explains later. "And I even gave amber her hat back. I'm sure she won't forget this fight. Heh! Heh!"
"I haven't got much to say," an angry and humiliated Amber says to the press. "1) I am sorry I didn't win. 2) I can't stand that woman and 3) I REALLY can't stand that woman, that's it, good night!"
Pretty even much of the way, but Gina Rodriquez's concentrating her efforts on breaking Amber Marshall down to the body certain set up her win.
Amber just worn down and set up for the final attack on her jaw and chin. Very good win for the free agent Gina, but a set-back for Amber.
It will be interesting to see what happens in their next fights.