Post by Vassago on Jun 1, 2018 20:59:39 GMT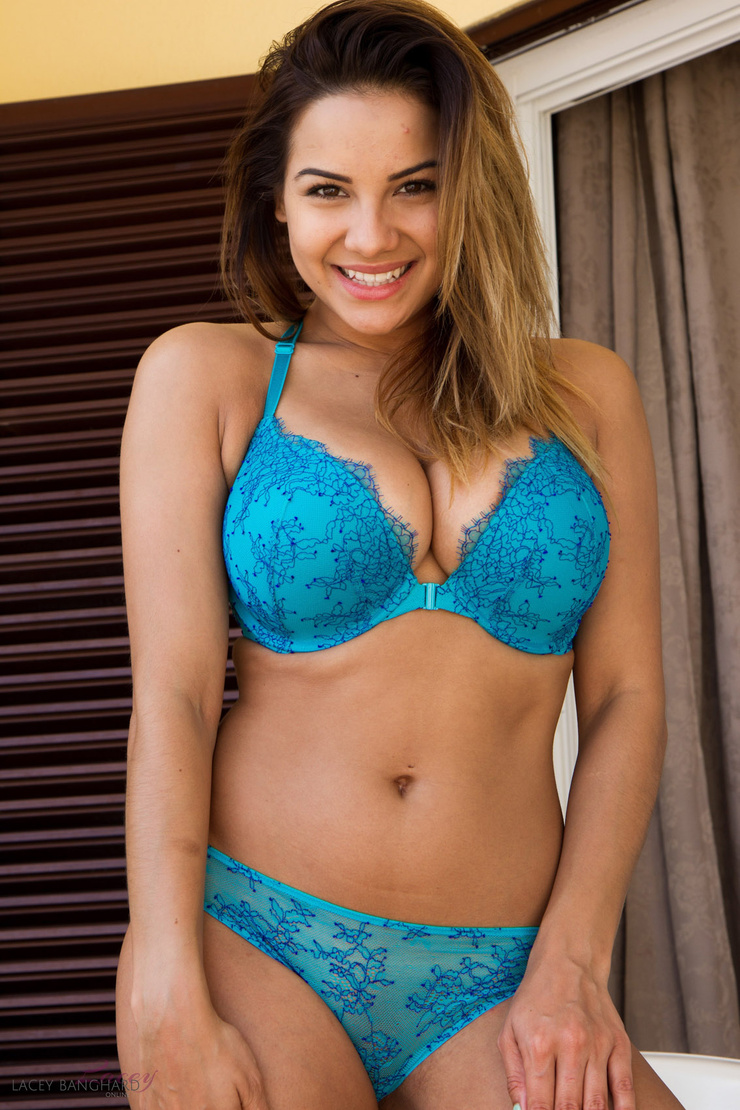 Vs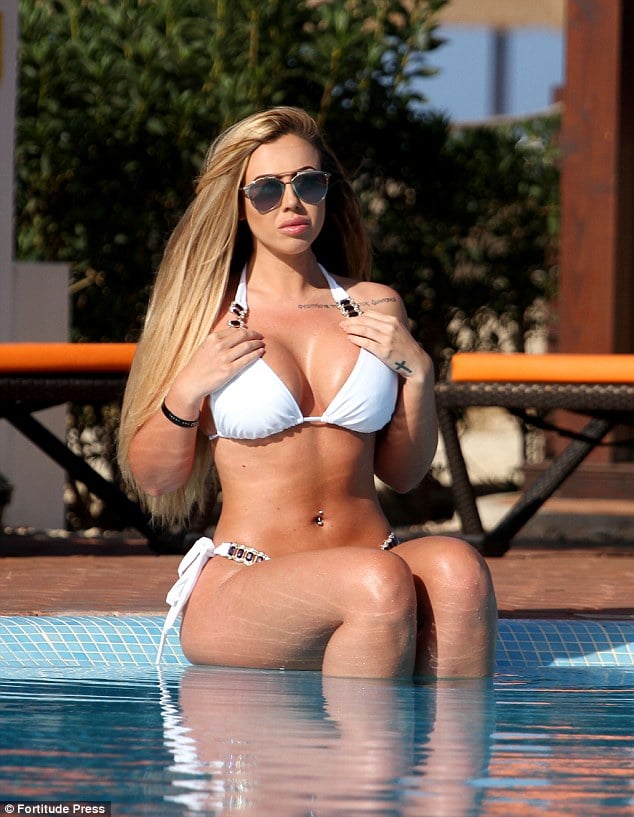 (Written by Girls Friday/Results by Lookout!)(This is Glamour vs Fight Club UK)Intro:
The BBU JMD title is on the line, page 3 model Lacey Banghard challenges Geordie Shore star and champion Holly Hagan in the BBU arena in Cardiff. Lacey is 26 years old, her bra size is 30G, she stands 5'1 and holds a record of 9 wins, all by knockout and 4 defeats. Holly is 25 years old, her bra size is 36G, she stands 5'3 and holds a record of 4 wins, all by knockout and 1 defeat, she is the current BBU JMD champion.
At the press conference; the fighters step on stage with their coaches and management teams, eyes locked in a vicious staredown already as the two stunning busty women come together. Going nose to nose and bumping jugs; Lacey tells Holly "god I'm going to have to get that title bra cleaned of your stink you dirty c***"" That earns her a shove from Holly, who screams at her "don't call me a dirty c*** you vile w****!" Leading to the girls slamming together and going to the ground with hands locked into the others hair. Security and managers Katie Price and Melinda Messenger struggle to pry these two hellcats apart, hair littering the stage and with rips in the dresses they wore. They are finally pulled apart and taking to their seats to properly begin this press conference, with security trying to create a wall between them. But Holly doesn't seem to be done with Lacey as she picks up her jug of water and tries to toss its contents over her rival, with most of it hitting the security guys. The women try to go for each other again, with organisers shouting "just get them off the stage!" Clearly miffed that the press conference has turned into a circus, though the journalists in attendance love it as the women are still snarling and throwing threats as they are herded off stage.
Fight night; Lacey comes out first with Melinda Messenger by her side, Lacey tapping her cheeks with her red gloves, she looks up for this as she jogs to the ring, the crowd cheering her on as she goes. Her attire tonight is a red bikini top and bottoms that show her impressive figure off, her hair is braided for the fight ahead. Stepping into the ring; she gives the crowd a few blown kisses but is quick to settle into her corner and begin warming up for her first shot at the title. Out comes the champion Holly with the diamond encrusted bra on, she has stablemate Chloe Goodman who probably wishes she held the title herself. With Chloe helping her remove the diamond encrusted bra at the bottom of the ramp, revealing that Holly is wearing a black bikini with gold trim and golden gloves, while her own hair is in a ponytail.
Holly spots an interested party at ringside in the front row; Cara De La Hoyde is sitting there with Holly telling her "take notes as you are next" before heading up the steps and climbing into the ring. Once in there she heads to the ring centre and shouts at Lacey "I'm going to love smothering you after I kick your arse pet!" With Lacey mouthing "c***" in reply.
The referee has been instructed to keep the girls apart till the bell rings, so he instead gets the title and as he reviews the rules with each fighter individually, he shows them what they are fighting for. Each touches the bra and tells it "your mine" as the referee gives it to the timekeeper and signals for the bell to be rung to start 10 rounds of BBU JMD title action.
Round 1:
"Ding" out they come; Lacey up on her toes more of the two, trying to outbox Holly early as she darts in and out with straight punches smacking the front of Holly's jugs. The champion looking to load up on her punches more, when she does catch Lacey across her jugs as the smaller fighter comes in close, the power of Holly shows as Lacey's jugs shake side to side and she winces. Neither looks shy to engage early as they trade stiff punches to the others jugs, not much of a feeling out process here for the fighters. Holly misses with a right hook as Lacey dances out the way and snaps a double jab off the chin of the Geordie Shore lass, with Banghard moving out the way of an attempted left cross from her opponent. The challenger using her footwork to step around Holly, banging her fists into the jugs of the champion, who looks a shocked at the speed of Lacey. But it's Holly's turn to surprise Lacey soon enough, barging into Lacey with her left; before throwing punches to the undersides of Lacey's jugs to make her groan out. It allows Holly to push Lacey onto the ropes, with the challenger firing back leading to a hard fought exchange, it's Holly controlling the action by being able to load up on her punches more, Lacey being kept on the ropes by those shots to her jugs. The bell rings soon enough but the girls are still going at it, the referee needing to risk his own safety to shove the two apart and warn them "you listen to me or I stop this fight" The fighters give each other a deathly stare as they rub their already reddening jugs, before heading to their corners to get cleaned up.
Round 2:
Out they come and straight away are at each other in the ring centre, jugs threatening to spill from bra cups as they bounce around the chests of the fighters. Holly forces Lacey to step back with two punches across her jugs, as she tries to step forwards though Lacey catches her with a double jab off her nose. The girls moving around and trading to the others jugs; Lacey though looks to be mixing it up more, testing the abs and chin of the champ as they fight. As Holly looks to rush Lacey; the smaller fighter dips under a right hook and comes up with two uppercuts to the left jug of Hagan to nearly knock it into the chin of the bigger girl. Lacey starting to catch Holly more easily as the champ is losing her temper, Hagan swinging with more power punches that Banghard ducks and dodges out the way of. The challenger lifting Holly's jugs up with stiff counter punches, the effects showing on Holly's face as she winces and instead of covering up, she keeps trying to power forwards. Holly does manage to catch Lacey with a straight to her nose and gets in close to bang away at the body of her opponent, getting groans from Lacey as she is being backed up to the ropes. As the round is coming to an end; Lacey shoving Holly with her left and slamming an uppercut into the chin of the champ to knock her back. The bell rings to end the round with Holly rubbing her jugs and stomping back to her corner pissed off, Chloe trying to calm her down as she ices up the jugs of Holly. While Melinda works on Lacey, who looks happy with her work, staring over at Holly with an eat shit grin as she sees the scowl on her opponent's face.
Round 3:
Holly looks to try to bully back Lacey early on; slamming her punches into the guard of Banghard, who is using her footwork to move back and side step Hagan when she tries to lunge in with a right hook. Another missed right leaves Holly open as Lacey dips under it and comes up with an overhand right to her temple. Holly shakes her head and takes a step back; leaving her jugs open for Lacey to start ripping uppercuts into them, making the champ howl out in pain and tears are visible in her eyes. Desperately Holly tries to cover up her jugs; leaving her head open to vicious hooks that make her stumble into the ropes. Lacey is just beating the stuffing out of Holly with piston like rights and lefts, Holly's jugs are knocked out her top as more uppercuts land on them, TILL HOLLY FALLS TO HER KNEES CRADLING HER BOOBS! Lacey jogs to a neutral corner with her arms up in the air as the count begins 1...2...3...4 Holly stuck kneeling down with her right on the middle rope 5...6...7 she is sobbing and spits her gumshield out 8...9...10 to the shock of the crowd Holly is done, WE HAVE A NEW CHAMPION!
Winner and NEW BBU JMD champion Lacey Banghard KO Round 3After:
Lacey's fans go wild as she pumps her fists into the air, while Denise Van Outen on commentary has to admit "I never saw the finish coming so quickly! Lacey just made one hell of a statement tonight" The former champion goes down to all fours and punches the canvas with her right, so pissed off that she was too badly hurt to beat the count.
Things get worse for her when Lacey rushes over to her and tosses her gloves off her back to tell her she is there, Holly tries to pretend she isn't there by staying looking down till Lacey pulls her up to her knees by her hair. When Holly tries to slap Lacey; she gets a knee to her battered boobs for her trouble, making her scream and beg "f***! Please let me go! I didn't mean to be such a bytch to you!" Lacey isn't having any of it; shaking her head as she tackles Holly to her back and mounts her, her claws digging into the jugs of Holly as she says "these tits are f***ing worthless like the rest of you c***"
Holly's begging falls on deaf ears; Chloe looks like she wants to help her out but the referee is busy holding her back so Lacey can take her victory rites. The new champion enjoys the look of utter defeat on Holly's face, before deciding to end things as a deafening "JMD!" Chant rings through the arena. Waving Melinda to take her bra off her, after Melinda frees Lacey's winning tits, Lacey gives Holly a few slaps across her boobs with them to rub in just how superior hers are, though she bites her bottom lip not to let out groans of pain herself. Before finally to the delight of the crowd; she pulls Holly's face into her jugs to smother her out, with Holly almost looking to embrace being put to sleep just so she can get out of this situation.
As soon as Holly passes out; Lacey tosses her down to the canvas and sits up straight with her arms flexed and her bare jugs proudly showing as the fans alongside the camera crews all record this historic moment. Getting off Holly; Lacey mockingly waves Chloe to come get her stablemate out the ring, with Chloe giving her a death stare of her own. But Chloe with help from several girls from the Fight Club UK stable rush out to help her get the slumbering Holly out the ring and to the back, with Holly stirring awake half way up the ramp and asking Chloe "did I do good?"
In the ring; Lacey soon gets the diamond encrusted bra onto her championship jugs, a big grin on her face as she flexes her arms all the while that is happening. As soon as the title is on her, she has one thing on her mind clearly; sliding out the ring with her gloves in hand, she finds Cara at ringside and tells her to her face "bring your gloves bytch because your next"
With Cara simply grinning at her and waving her to bring it now; which if not for Melinda stepping in front of Lacey in case she decided to take Cara's offer to fight now, she might have took it up. Instead it appears we know our next JMD title fight and the girls are keen to get it on with each other, Denise asks "is this where Lacey finally comes of age as a fighter or will she fall into the same trap as Holly and lose the title straight away?" Time will tell as they say. For now Lacey will probably go to the clubs tonight wearing the title on her jugs as she beams when talking to Melinda, who is in tears herself as she is so proud of Lacey right now, all the hard work is worth it for nights like tonight.