Post by girlsfriday on Oct 10, 2018 8:39:55 GMT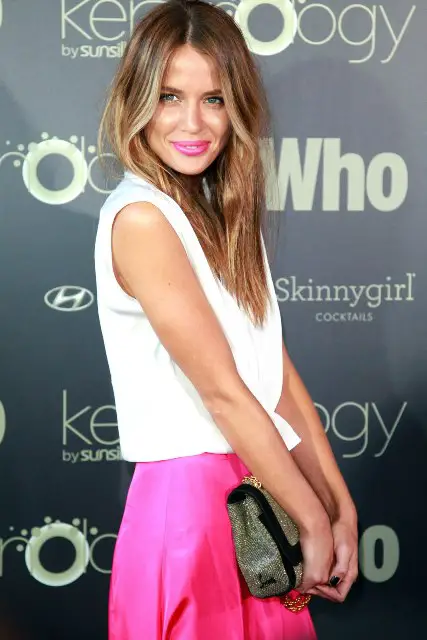 Vs
(Written by Girls Friday/Results by Lookout!)(The Metermaids vs Free Agent)Intro:
The first of three title fights tonight sees the ACB lightweight title on the line, Jodi Gordon looks to dethrone Mallory Jansen in the Suncorp Stadium.
Jodi is 33 years old, she stands 5'8 ½ and holds a record of 2 wins, both by knockout and 1 defeat.
Mallory is 29 years old, she stands 5'9 ½ and holds an unbeaten record of 3 wins, all by knockout, this is her first title defence.
The Green & Gold magazines Summer Cummings interviewed both fighters in the build up to the fight at their gyms.
Jodi finished up working the pads with her coach Holly Valance before she goes to talk to Summer, a smile on her face as she gives Summer a quick hug.
When asked about why she can win this fight, Jodi answers "I got here for a reason, I have shown I am one of the best in Australia today and Mallory frankly isn't anything special, so I am confident of bringing the gold home"
The next question is about why she sees Mallory as nothing special, getting a chuckle from Jodi as she replies "because who has she beaten, Rachel Taylor is bottom rung, Poppy Montgomery is an old hag and Berenice Marlohe is a never was, so how can Mallory claim to be the best?"
Jodi gets shouted over by Holly, with Jodi apologizing that she hasn't time to continue talking, instead jogging over to work the punchbag with Holly drilling her.
While Mallory puts on a whole open workout to the public, she works a punchbag, does all the different cardio exercises and weights, then heads in the ring to spar with a local fighter.
After that is done, she heads out the ring and tells Sarah "see that's why I am the champion, I know how to kick ass and I look stunning doing it"
She is asked about Jodi, getting a mocking reply of "who?" As Mallory takes a quick drink and afterwards says "oh you mean the silly little w**** who thinks they are taking my belt, she is someone who has fallen into my orbit but will be pushed back to the place where nobodies like her belong"
Mallory continues "look Summer; the girls around here simply are not in my class, I should be stepping out this organization and owning the BBU and FCBA, so I hope the big fighters from there take notice when I demolish this bytch!"
Fight night; out comes the challenger Jodi with Holly by her side, Holly can be seen giving Jodi a pep talk as she heads to the ring, Jodi nodding along as she looks focused on the task at hand.
She is wearing an emerald sports bra with gold trim, matching trunks, her gloves are green with gold thumbs and her shoes are green, while her hair is in a ponytail.
Climbing into the ring; Jodi shouts to the crowd that she's bringing the title home as she marches to her corner, then begins to warm up with Holly's help.
The champ is out next; Mallory wearing black sunglasses as she marches down the aisle to the ring, the title is around her waist as she looks cocky beyond belief.
She is wearing a white sports bra, matching trunks and shoes, with her brunette hair up in a fighting ponytail, before she steps in the ring; the glasses are taken off by her with the title by her coach, then gold coloured gloves are put on by Jansen.
Finally after all the show outside the ring; Mallory steps inside it and struts to her corner with a big grin on her face as her coach follows holding the title up.
The fighters are brought to the ring center and the referee takes the bell so they can show the two women what is at stake, both women touch the belt; leading to Mallory threatening to break Jodi's hand if she doesn't get off the title.
A shoving match breaks out between the fighters as they exchange threats, coaching holding their fighters back as nasty glares are being exchanged.
The fighters return to their corners without a glove touch, showing the lack of respect they have for their opponent's, just interested on starting 10 rounds of ACB lightweight title action.
Round 1:
As the round starts; Mallory gets a surprise as Jodi comes in quickly, slipping under a jab and coming inside to work away.
Mallory tries to move around the ring and get Jodi back with straight punches, but she clearly lit a fire under her opponent during the shoving match as Jodi is blitzing her.
The champion needing to cover up as a right cross catches her across her cheek, Jodi gets her head down and slams her punches into the body of Jansen.
Mallory pulls Jodi into a clinch and looks at the referee as if to say "get her off me" with the ref needed to step in to pry them apart.
Once they are apart; Mallory gets into space and starts to get her punching rhythm going, sidestepping Gordon and landing punches to the sides of her faces.
The bell rings to end the round with Jodi marching back to her corner, looking hyped as she wants to get back at Mallory.
Who sits on her stool looking annoyed that Jodi came right at her, leading to her telling her coach "she won't f***ing get to me so easily"
Round 2:
Jodi again keeps on the front foot, with Mallory fighting off the back foot, leading to an early stalemate as they trade single punches.
But Jodi slips under a jab and comes up with an overhand right, allowing her to start backing up Mallory around the ring.
The champion is covering up tightly and taking most of the punches off her gloves, with several punches finding a home onto the ribs.
Mallory nudges Jodi back with her left and lands a right across the lips of the challenger, before moving into space to work from.
Jodi attempts to get back in close end up with her missing with her punches as Mallory dances out her way, the champ hammering the sides of her face with counter punches.
Late in the round; Mallory lands a stiff jab onto the nose of her opponent, following quickly with two cross punches to put Jodi on the defensive for the first time.
The round ends not long after with Mallory still looking upset, even as her coach points out that she showed she can outsmart Jodi at the end of the round.
The Metermaid's corner though looks relaxed as they point out to Jodi that up to now she has controlled this fight, if she keeps pushing the champs buttons then she'll be taking home the gold is the message from Holly.
Round 3:
Jodi continues to try to pressure the champ, but Mallory seems to have an idea how to counter the tactic as she relies on her footwork more to move out the way and counter punch.
The challenger looking a little frustrated when she keeps missing and is taking stiff shots to her cheeks, marking them up for all to see.
But Jodi does manage to get inside after catching Mallory trying to sidestep her with a right into the champs ribs.
Then she comes straight up the middle to work, forcing Mallory once again to move back as Jodi's fans are loudly chanting for her.
Mallory though doesn't let her simply bulldoze her, instead Mallory uses her left shoulder to bump Jodi back and gets on the move again.
As Jodi stalks forwards; the fighters trade stiff jabs, WHEN JODI GOES FOR A RIGHT HOOK, SHE MISSES AS MALLORY LEANS BACK, THEN THE CHAMP LANDS A STIFF JAB TO HER NOSE AND A RIGHT HOOK OF HER OWN ACROSS THE CHIN OF JODI TO SEND HER TUMBLING TO HER SIDE!
The Gordon fans turn from cheering her to begging she gets up as Mallory struts away to a neutral corner, 1...2...3...4 Jodi shakes her head and pulls herself to the nearest set of ropes, 5...6...7 getting to her feet with a little wobble, she beats the count.
Mallory becomes the aggressor now; stepping forwards and banging her gloves off the guard of Jodi, who is looking to see out the round as she moves around the outside of the ring.
The bell rings to possibly save Jodi from being stopped, Mallory raises her gloves in the air as she heads back to her corner, confident that she has Jodi now.
Who is still shaking her head as she returns to her corner, Holly and her crew needing to work hard to help clear Jodi's head.
Round 4:
As the round begins; it's Mallory now taking the fight to Jodi, that knockdown seems to have drained confidence from the challenger as now she is the one guarding tightly as she moves around the outside of the ring.
Mallory keeps to using her jab; herding Jodi towards the ropes as she quickly claims the ring center for herself, she looks cocky with her grin as she punches away at the gloves of her opponent.
Jodi tries to slip inside the reach of Mallory, who simply moves back and cracks her across the top of her head to ward her back on the outside.
The champ looks in full control now as she has Jodi under wraps, Mallory uses her jab to force Jodi back, then when an opening appears; she starts firing the hard right punches through.
Jodi manages to dip down and come to work on the body of Mallory, who gives her a two handed shove, with the referee warning Jansen to keep it clean.
Jodi tries to get out her shell to make this a fight, but she can only land glancing shots at best and finds herself taking punches straight onto her face in return.
The bell rings with Mallory heard to be telling her coach "she is nothing! She shouldn't be in the ring with me!" As clearly all the confidence is in this corner.
The opposite corner sees Holly yelling at Jodi to suck it up after the knockdown and show Mallory who the better woman really is.
Round 5:
Back out comes Mallory with her mind on finishing this fight, she is landing her jab off the gloves and top of the head of her opponent as she marches forwards.
The champ goes to swing a right hook; BUT JODI DIPS UNDER IT AND COMES UP WITH AN UPPERCUT THAT KNOCKS MALLORY'S HEAD BACK AND THE CHAMP FALLS TO HER BACKSIDE!
Mallory shakes her head as the crowd look stunned too, 1...2...3 Mallory stares up at Jodi with a venomous look as she pushes her way up to a knee, 4...5...6...7...8 getting up to beat the count.
After the referee checks on Mallory, the fight is allowed to continue; Jodi sees her chance to finish this herself as she comes straight at the champ.
Both fighters let their hands go as go as Jodi forces the champion to fight on the inside, the older fighter drives Jansen back with an overhand right to her cheek.
Mallory ends up on the ropes as Jodi chews away at her body with short sharp punches, the champion needing to drag her into a clinch.
The referee is needed to break the fighters apart; both women snarling as their tempers start to get the better of them.
The round ends soon enough with both women trading insults as they pass by each other, sitting on their stools with their eyes locked across the ring.
Mallory is told to keep her head after being down, while Jodi is being told to keep on the attack as the champ is wobbled.
Round 6:
Jodi starts off straight away at getting into Mallory's face, both fighters trading in tight as Gordon is keeping the champ on the back foot.
As Jodi looks to drive the champ onto the ropes, Mallory pushes her back with her left and moves towards the ring center, where Jodi tries to get back into her face.
But Mallory lands a double jab on the nose of Jodi, leaning out the way of a right hook and countering with a straight into the smaller fighters face.
The champ starts to outbox Jodi again as she moves around her and counters the challenger, with a right smacking across the nose of Jodi to cause blood to flow.
Jodi covers up as she ends up getting knocked back by punches landing through the mitts to the bloody nose, ending up with Jodi stuck against the turnbuckles in a corner.
The challenger tries to fight back, swinging punches back and Mallory leans out the way, before firing back at Jodi with two punches knocking her opponent's head back.
The round ends with Mallory smirking at Jodi, telling her that she is going down as she heads back to her corner with swagger to her step.
While Jodi has to have her nose patched up, she looks close to tears as Holly works on her, the coach having to try and perk her fighter up.
Round 7:
Jodi comes out with her guard up; but it isn't long till Mallory starts hammering through her gloves onto her face.
Several punches smack onto the bloody nose of Jodi to make her loudly cry out as she is backed up towards the ropes, WHEN JODI TRIES TO SWING A DESPERATE RIGHT HOOK, IT FINDS AIR AND AFTER A LEFT ACROSS HER NOSE, A RIGHT HOOK ACROSS THE TOP OF HER HEAD PUTS HER DOWN TO THE CANVAS!
Jodi holding her nose as she lays on her side, 1...2...3...4 Holly is shouting at Jodi to stand up, 5....6...7 but tears are running down her face as 8....9...10 she ends up being counted out!
Winner and still ACB lightweight champion Mallory Jansen KO Round 7After:
Mallory had a hard time against a very gung ho opponent, but she keeps the title with an impressive finish as Jodi lays on the canvas with blood running from her nose.
The ringside doctor checks on Jodi, sitting her up and begins to patch up her nose, while she cries over the pain and losing this shot at gold.
She is helped up by Holly after her nose stops bleeding, Holly putting her arm around her shoulders as she consoles her fighter on the way back to their corner.
All the while Mallory grins as she leans against the turnbuckles in her corner and stares at Jodi, while her coach takes her gloves off and wipes the sweat off her.
Mallory tells her coach "I hope someone realises how good I am after beating that waste of space" as she gets a grin and nod from them in reply.
Both fighters come to the ring center for the final result, Mallory grabs the belt off the referee and when her name is announced, she holds it up for the crowd to see.
Then she gets into Jodi's face to brag and tell her that she hopes she has broken her nose, which riles up Jodi to give her a shove and nearly starts a brawl if not for the referee getting between them.
Holly pulls Jodi back and tells her that she'll get her revenge someday, getting Jodi to nod and leaves the ring to head to their locker room.
While Mallory glares at Jodi as she leaves the ring, the champ holding the title up as she steps to a side of the ring.
Mallory soon enough steps out the ring and gets the title around her waist, hands out at her side as she gets her name chanted by her fans.
The champ will be hoping that she can use this fight to get big fights in other organizations, but will have a lot of tough ACB fighters after the lightweight title, so won't be able to take her eyes off the ACB.