Post by girlsfriday on Oct 31, 2018 9:38:59 GMT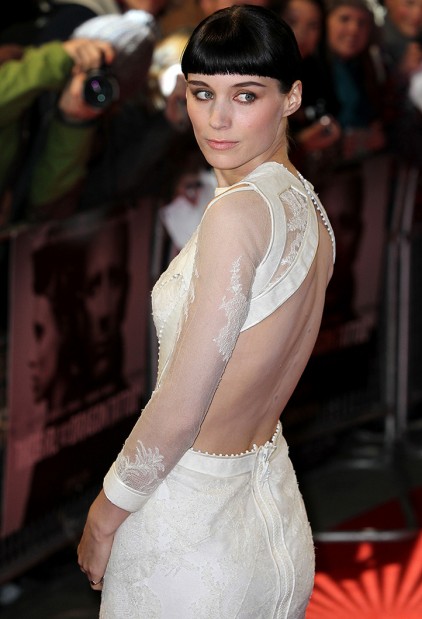 Vs
(Written by Girls Friday/Results BBU)(Free Agent vs Free Agent)Intro:
The opening bout of tonight's BBU PPV in Newcastle's O2 Academy sees Rooney Mara and Katherine Jenkins do battle.
Rooney is 33 years old; she stands 5'3 and holds a record of 1 win, that by knockout against Malese Jow and 1 defeat to Ivana Baquero.
Katherine is 38 years old; she stands 5'4 and holds a record of 5 wins, 4 by knockout and 17 defeats.
Both fighters were interviewed at their training camps, with Katherine finishing weight training, taking a moment to towel off before she heads over to the press for a quick word.
"I can't believe I get to step into the ring with a Hollywood star, I loved Rooney in the Dragon Tattoo movie, she really was kick ass!" Says an excited Katherine.
Who continues "but this is about my own career in that ring, so I'm working my arse off to get into shape to beat her, I feel I have enough left in that tank to do it" grinning as she finishes up and heads off to train after being shouted at by her coach.
While in her gym; Rooney punches the punchbag, eyes focused on the bag as the press awaits her, with her coach telling her to keep hitting harder.
Once she is done, she heads over to talk, saying "look I'm busy, all this fight to me is another step to getting a BBU flyweight title shot, so watch closely what I do as that's where I'll do my talking"
Rooney turns and goes to work on the speed bag, all her focus is on training for this fight and not on anything else it seems.
Fight night; out comes Rooney first with her coach behind her, she is wearing a black sports bra, black trunks with a green dragon symbol running around the waistband, black shoes and green gloves, her brunette hair is braided.
Stepping into the ring after her march down to it, she gives the fans a quick wave, but looks all business as she jogs to her corner and begins shadow boxing.
Now out comes Katherine with her own coach by her side, she is wearing a red sports bra, red trunks with a Welsh flag on the front of her waist band, red gloves and shoes, while her blonde hair is in a ponytail.
Climbing into the ring; Katherine blows kisses to the fans as she heads to her corner, limbering up with her coach giving her a pep talk as Rooney can be seen just glaring at her.
The referee brings the fighters to the center of the ring, where Rooney continues to stare at Katherine, who is all smiles as she bounces on her toes.
When they are told to touch gloves; Rooney gives Katherine's gloves a hard bang, making the Welsh lass stop smiling and instead stare hard at her, as both jog to their corners so they can begin 10 rounds of flyweight action.
Round 1:
Out come both fighters behind stiff jabs, they score several times through the others gloves as they dance up on their toes.
Rooney looks the quicker though as she dips under a straight and moves inside to work the body, forcing Katherine to move back and land a double jab.
It looks like Rooney doesn't see Katherine as a threat, dipping under a jab; she continues to come inside to work, throwing punches to the breadbasket of her opponent to drive her back.
Katherine has to shove back Rooney and lands a double jab to her head to make her think this time as she tries to charge forwards.
The veteran starts to get her jab landing more precisely as she looks to keep Mara back, stinging the face of the actress while she keeps on the move.
But late in the round; Katherine's jab is parried and she eats a left across her lips, followed by an overhand right that knocks her to her heels.
The bell rings with Rooney driving her near the ropes with piston like punches up top, the brunette is like a silent assassin as she just stares hard at Jenkins, before turning and heading to her corner.
Katherine looks a little unnerved by the way Rooney looks to have no emotions, she chats to her coach about it, who reminds her to focus on the boxing.
Round 2:
Katherine comes out looking more focused as she boxes off the back foot, landing several punches to the top of her opponent's head to keep her back.
It looks to frustrate the American; as Rooney looks to find a way inside to put more pressure on Katherine like the last round.
But Katherine is surprising some by controlling the pace, using her footwork and rangy punches to keep the action to the outside.
Till Rooney parries a straight; she dips under the follow up left cross and comes in close to land short sharp body punches that make Katherine groan out.
Katherine nudges Rooney back, but Rooney looks to have stepped up another gear and the blonde is struggling to keep her back now.
As punches start knocking the head back of Katherine, while Rooney's head movement and footwork keeps making the singer miss now.
A right smacks Katherine across her chin in the dying seconds of the round, with Rooney knocking her onto the ropes, where she has to cover up till the bell rings.
Rooney again gives her a piercing stare, before turning back to head to her corner, while Katherine looks annoyed that she let her back into the round after a strong start.
Round 3:
Katherine tries to keep the action to the outside; but Rooney is slipping under her punches and coming inside with ease.
Punches are starting to clip the chin of Katherine, who is looking bereft of confidence as Rooney starts to hammer her around the outside of the ring.
Katherine tries to match her intensity, when two hooks smack her across the cheek, there is a clear wobble to the knees of the Welsh lass and she looks to retreat.
Rooney is like a shark that smells blood, she keeps charging forwards; maybe too keenly as she gets hit to the top of the head more then her coach would like.
But she soon dips under a jab and comes up with an overhand left; THAT OPENS UP KATHERINE TO A RIGHT HOOK THAT SENDS HER TUMBLING TO HER SIDE!
Rooney shows the first bit of emotion this fight as she roars and raises her arms on the way to the neutral corner, 1...2...3...4 Katherine shakes her head as she turns to all fours, 5...6...7 using the ropes near her, Katherine pulls herself to her feet at 8.
After being checked on; Katherine is allowed to continue, where she fights ultra defensive, trying to survive the round as she moves back and throws out her jab more as a shield.
Each time Rooney manages to get in close; Katherine grabs her in a clinch to stifle her work, making Rooney look annoyed now.
The bell rings to give Katherine a chance to clear her head, while Rooney looks frustrated that she didn't finish things in this round, with her coach telling her to take the next chance when it presents itself.
Round 4:
As the round begins; it's clear the guard of Katherine is starting to open up, with Rooney striking through it to knock the blondes head back.
Katherine can only score clipping punches now, as Rooney keeps bobbing out the way, then gets caught with an overhand right from the American.
Now Rooney piles on the pressure; smacking Katherine across her face to put her on her heels, WITH A LEFT AND RIGHT CHOPPING ACROSS THE CHIN OF KATHERINE TO SEND HER CRUMBLING DOWN TO THE CANVAS!
Rooney pumps her right fist in the air as she heads to a neutral corner, 1...2...3...4 Katherine laying spread eagle and staring up at the lights, 5...6...7...8 she still hasn't moved as 9...10 she is counted out!
Winner Rooney Mara KO Round 4After:
Rooney is starting to put wins together, showing tonight why there is an aura around her in some peoples eyes as she flexes her arms.
While Katherine is checked on by the ringside doctor and her coach, she is helped to sit up as she holds her jaw and can be heard saying "she hits like a hammer"
Rooney goes over to check on Katherine, who nods that she will be OK as Rooney smiles at that, showing she can play nice with her opponents.
Katherine is helped to her corner to get cleaned up, before she heads to the ring center with Rooney coming from across the opposite side.
The winner getting her hand raised; with Katherine showing respect by clapping Rooney, then leaves the ring to allow Rooney a chance to celebrate.
Rooney bows to the crowd; thanking them for their support as she does a lap inside the ring, looking the total opposite to the woman who entered the arena before the fight begun.
She'll be hoping to celebrate more nights like tonight in the BBU, with questions still on if she can reach the potential people believe she has.